Reducing our footprint at 35,000 feet 
Aviation by its very nature involves constant movement and the Virgin Australia Group is a business on the move. Throughout our proud history we have never been static and we strive to enliven the travel experience for our customers. As our business has grown and evolved, so too have our impacts.
We are conscious of the responsibilities this creates and we are determined to be conscientious, diligent and thoughtful about how we can enhance our positive contributions whilst addressing our environmental impacts.

Preserving Tasmanian forest
Each year we offset 30,000 tonnes of CO2 emissions, helping to preserve more than 28,000 hectares of forest.

Reducing food waste
Virgin Australia donates over eight tonnes of food to OzHarvest each month, providing over 16,000 meals to people in need.

Recycling materials
We are leading the development of the sustainable aviation fuel industry in the Region through our sustainable fuel trial in Queensland.
Latest Projects
'Tinamirakuna' takes to the skies
In partnership with our community partner, Greening Australia, we recently named one of our 737s 'Tinamirakuna', the traditional name for the Macquarie River which flows through Tasmania. This choice of name for the aircraft acknowledges the important environmental restoration work of Greening Australia in the Tasmania East region, and forms a central part of a massive restoration program currently being undertaken by Greening Australia.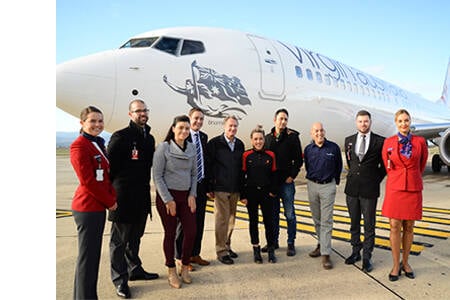 Emissions management
We are committed to minimising our emissions in a number of ways, such as our comprehensive fuel efficiency programs, focus on sustainable aviation fuels, and improved cooperation with key partners.
Carbon offset program terms and conditions
These terms and conditions contain important terms that you should be aware of.