The kiwis call it "tramping" and serve up some of the best hiking trails for nature loving travellers to plod-on from Queenstown lake side landscapes to mountain peak panoramas.
So, pack your camera, hiking boots, water bottles and layers and prepare to cross the prettiest national parkland and abundant private farming land trails on these top 10 Queenstown hikes.
Need to know:
Before you head off on some big hikes let the team at Adventure Smart know your intentions in case you get lost or don't return. Know the weather forecast and pack layers in your daypack, merino tee, base layer, shell jacket and the like, and wear sturdy trail runners or hiking boots. Ensure you have high energy snacks and a torch should you get lost after dark, matches are also a good idea.
Check in with the Department of Conversation Office in Queenstown for any trail alerts. Nothing worse than showing up to a closed trail. Plan My Walk is a good website to utilise before heading out.
Queenstown Hill Time Trail, the heart burner
Photo by: Queenstown NZ
Time needed: 1.5 - 2 hours
Distance: 3-5km return
Trail: moderate to challenging
Starting point: Belfast Terrace car park (or downtown if you want to add some extra elevation). View on Google Maps.
Highlight: Basket of Dreams
Don't be fooled by the 2.5km length, the muscle in this Queenstown Hill hike is all in the 500 metre elevation gain. If you're fit you'll eat it for breakfast but we suggest taking your time through the pine forest as you wind your way through the town's history. You'll find six "stops" on the Time Trail with information and illustrations revealing Queenstown's original Maori settlements and the region's gold rush era.
You'll be rewarded at the top of Te Tapunui with the Basket of Dreams sculpture created for Queenstown's Millenium Project combing art, landscape and heritage. If you have any breath left after the climb then expect it to be taken away by the jaw dropping views of Lake Wakatipu, the Remarkables, Cecil's Peak and Bob's Peak plus the town below. Remember to continue on to do the loop track for more views.
Tiki Trail, straight up to the skies
Time needed: an hour one way
Distance: 2.1km one way
Trail: Moderate but steep
Starting point: Gondola base station on Brecon St. View on Google Maps.
Highlight: The woods
An iconic Queenstown trail for those who like to earn their vistas. The trail is filled with Douglas Firs and native beech and takes hikers to Bob's Peak where dare devils throw themselves off with nothing but a bungee rope tied to their ankles. You'll share some cross sections of the trail with mountain bikers so do keep an eye out. Once you pop out of the woods expect to drink in lake and town views.
Take a luge, zipline or bungee at the top or sip on a cocktail at the Skyline Gondola restaurant while watching everyone else, then catch the gondola back down, or continue on the Ben Lomond trail (see below) or turn around and challenge your knees on the hike back down.
Ben Lomond, day tripper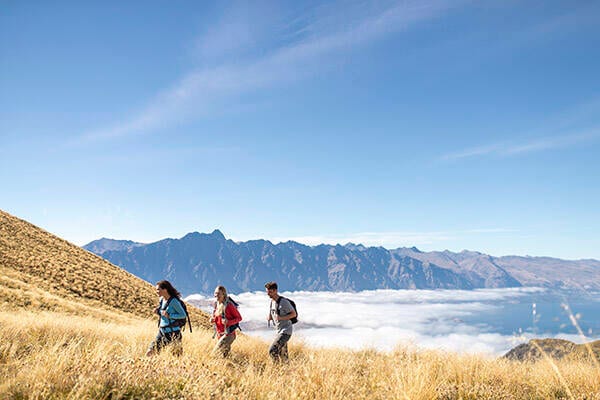 Photo by: Queenstown NZ
Time needed: a full day
Distance: 11kms return
Trail: moderate to challenging
Starting point: Gondola base station on Brecon St. View on Google Maps.
Highlight: the sense of achievement
This full day Queenstown trail requires significant energy so ensure your pack is filled with water, snacks and extra layers as weather changes quickly in these parts. If you're keen you'll start on the Tiki Trail to warm up the thighs but if you want to knock an hour of your hiking time then take the Skyline Gondola to the top and follow the Ben Lomond trail signs from Bob's Peak.
You'll be hiking to the Ben Lomond summit (1748m) with views across the alps to Mt Aspiring to take the mind off your burning thighs. Take a break at the Ben Lomond saddle where the track crosses with the Moonlight Track (see below) before hitting the more challenging, and steep, scramble to the summit. The trail here is exposed, but it's not technical, just narrower than what precedes it, so be warned.
Moke Lake (and the Moonlight Track option)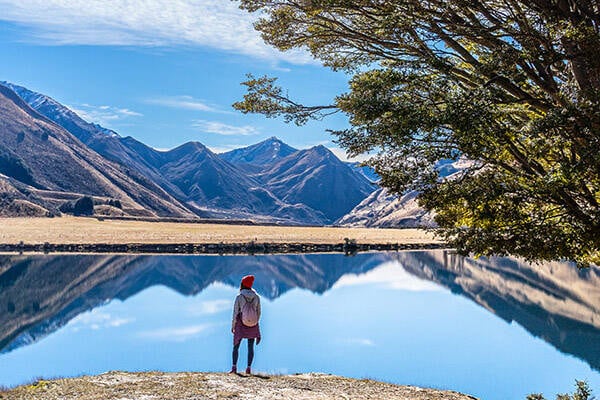 Photo by: Queenstown NZ
Time needed: two hour loop
Distance: 6.5kms
Trail: Easy
Starting point: Gondola base station on Brecon St. View on Google Maps.
Highlight: Mirror images
The mirrored waters of Moke Lake are a 15 minute drive from Queenstown and an Instagrammers delight. The Moke Lake loop track is an easy meander with plenty of photo stops to capture the mirror image of mountain ridges and big skies reflected on the pristine waters.
To get there drive the road to Glenorchy and take the Moke Lake Road turnoff about 10 minutes out of Queenstown. This road is steep and becomes unsealed gravel for the last few kilometres. Park at the campground and choose your loop, east or west.
Those looking for a challenge can take the one way Moonlight Track from Moke Lake to Arthur's Point for a pint at the Canyon brewing company, after 14kms of hiking you'll need it.
Bob's Cove, lakeside hiking love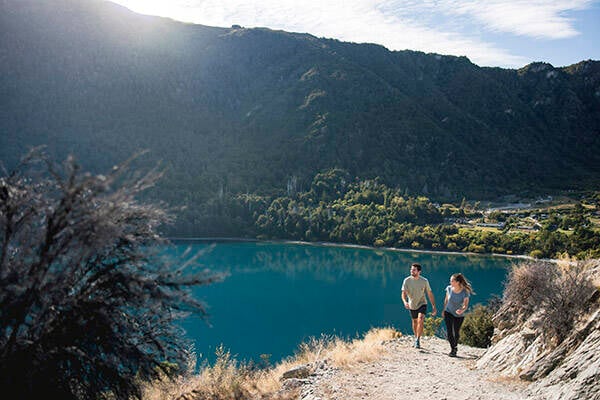 Photo by: Queenstown NZ
Time needed: 1-1.5 hours
Distance: 3km loop
Trail: Easy to moderate
Starting point: Bobs Cove Recreation Reserve car park. View on Google Maps.
Highlight: Being so close to the lake shore
Pack your swimmers and your nerve for a Wim Hoff dip in Lake Wakatipu on this pretty loop track out to Picnic Point in Bob's Cove not far from Queenstown downtown. Wander through beech trees and manuka on the lakeshore past an historic 1800s lime kiln that mined limestone for the Queenstown Courthouse and Kawarau Bridge. Then take the rocky climb to the lookout for sparkling views before heading down to Picnic Point and the loop back to the car park. Mission accomplished.
Lake Hayes locals favourite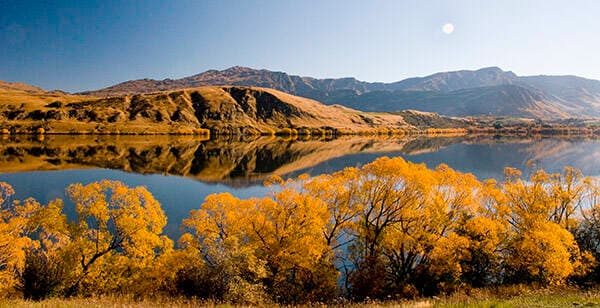 Photo by: Queenstown NZ
Time needed: 2 hours
Distance: 8km loop
Trail: Easy
Starting point: Access from picnic area parking. View on Google Maps.
Highlight: hidden boatsheds and jetties
You'll find Arrowtown locals taking to this trail at any time of day at any time of the year. The path is a loop track, mostly flat and well paved so makes for an easy stroll alongside mountain reflections on the still waters. Expect flocks of Australasian crested grebe and some pretty lakeside homes to dream about. Take your bathers in summer as there's a lakeside beach with floating swimming platform then head to nearby Akarua winery afterwards for some waffle carb loading.
Sawpit Gully Trail thigh burner
Time needed: 2-3 hours
Distance: 7.9km loop
Difficulty: moderate to challenging
Starting point: Carpark at the Chinese Settlement in Arrowtown. View on Google Maps.
Highlight: the Arrow River
This is a firm local favourite and a great heart raiser if you take the clockwise option as you'll be served up a steep trail to begin before you hit the saddle for a meander back down. Expect some pretty beech forest scenes along the Arrow River as you head skywards then follow the signposts uphill to Sawpit Gully. When you hit the tussock saddle you'll have views out to Lake Hayes and even an old miner's cottage. Head to the local's favourite Fork and Tap pub for a post hike meal in the beer garden.
Tobin's Track, short and sweet
Time needed: 1 hour
Distance: 2.4kms
Difficulty: moderate
Starting point: Ford Street in the Wilcox Green reserve car park. View on Google Maps.
Highlight: Wakatipu Basin viewsw
When you're short on time but you still want the workout and the views in one, then you hit up Tobin's Track, an Arrowtown local gem. It's basically one road uphill to a lookout with memorial bench seats and views from Arrowtown over to Lake Hayes and The Remarkables. The track was built by Thomas Tobin back in the day as an access track to Wanaka, hence the name. You'll find what remains of Tobin's old family cottage on the walk up.
Roy's Peak, social media star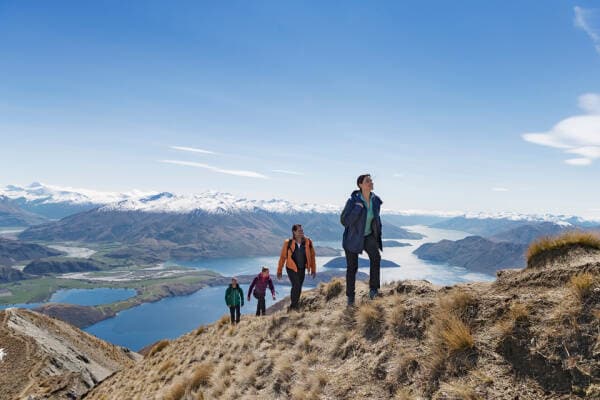 Time needed: 5-7 hours
Distance: 16kms return
Difficulty: challenging
Starting point: Roy's Peak Track carpark on Mt Aspiring Road. View on Google Maps.
Highlight: the view across Lake Wanaka and beyond
Across the Crown Range near Wanaka you'll find the famed Roy's Peak where social media stars go to capture themselves on Instagram. Who can blame them, the view is that good. You'll have to hike to get there though, a lot. An 8km hike with a 1200 metre gain in elevation one way to the peak, then return back down means put aside a day for this trail. The conservation area does cross private farming land and is closed for October due to lambing season. Expect alpine meadows and tussock grass with stunning views over Lake Wanaka and Mount Aspiring, oh and there may be a queue for the iconic Instagram shot when you get there so be patient.
Routeburn in a day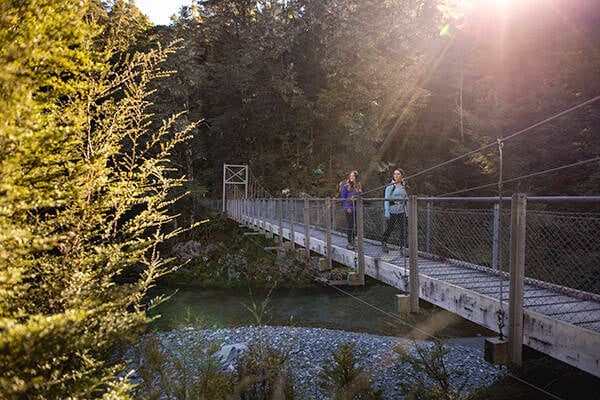 Photo by: Queenstown NZ
Time needed: 5-8 hours
Distance: 9.2kms
Difficulty: moderate to challenging
Starting point: Routeburn Shelter near Glenorchy. View on Google Maps.
Highlight: the swing bridge
The famed Routeburn track traditionally takes three days but you can do the best of the walk in a day trip from Queenstown. Expect crystal clear Route Burn River waters, swing bridges and a steady climb (over 600m of elevation) to Bridal Veil Waterfall through beech forest to the Routeburn Falls Hut, then return.