Why? Because Queenstown is packed with attractions that have nothing to do with the white stuff. From ziplining to indoor skydiving, wildlife encounters to day trips, craft breweries to great restaurants and some of New Zealand's very best wine, this is your guide to getting the most out of Queenstown without ever strapping anything to your feet.
Queenstown Luge & Gondola
The Skyline Luge is one of the most popular attractions in Queenstown, and for good reason. Getting behind the wheel of your own souped-up go-kart and hurtling down a hill is a huge amount of fun – and that's only half the experience. To get to the track you can hike up the hill (be warned, it's steep!) but most people ride the gondola, a five-minute journey offering some of the best views in all of Queenstown. From there, a chairlift takes you to the top of the luge track where you'll be given your own cart and let loose on the winding downwards trail. Pro tip: book multiple luge rides – one go-round will definitely not be enough.
Craft breweries and beer tours
There's a very good chance that Queenstown and surrounds boast the highest craft brewery-to-resident ratio in all of New Zealand. Breweries in Queenstown itself include the pioneering Altitude Brewing and the spectacular Canyon Brewing overlooking the Shotover Canyon. Then there are the brew bars – check out tiny Atlas Beer Cafe and rustic Smith's Craft Beer House – and that's all before you even leave the town boundaries. For a taste of what's on offer, in Queenstown and points beyond, join Queenstown Beer Tours or Hop On Hop Off's craft beer tour.
iFly Indoor Skydiving
Otherwise known as a vertical wind tunnel, iFly is the place to experience the adventure and adrenaline that Queenstown is known for, without having to climb a hill, put on a lifejacket or conquer your fear of heights. Or perhaps you love the idea of skydiving, in theory, but aren't so keen on the whole "jumping out of an airplane" part of the experience. Safe for all ages and requiring only a short orientation session prior to taking flight, iFly is one of the most fun things to do in Queenstown without ever getting wet.
Lord of the Rings tours
The stunning scenery around Queenstown played a major role in the Lord of the Rings movies and the Hobbit prequels, and there's no shortage of options if you want to see the places frequented by Frodo and the gang for yourself. Heli-hiking, van tours and 4WD adventures are among the ways to reach Middle-earth locations like Lothlorien and Isengard, both must-sees for any lover of the movies. Expect a memorable day out led by local guides with plenty of behind-the-scenes stories.
Kiwi Park
The kiwi may be New Zealand's national bird, but you're not going to spot one on your average walk in the bush. That's because they're both rare and nocturnal, making a purpose-built facility like the one at Kiwi Park your best bet for an up-close-and-personal kiwi experience. Set in extensive park-like grounds not far from downtown Queenstown, Kiwi Park is home to more than 20 species of native wildlife including the cheeky kea parrot and the ancient reptile known as the tuatara. Viewings of the notoriously shy kiwi are guaranteed with every ticket.
Onsen Hot Pools
Take a moment to recharge during your adventure-packed trip to Queenstown with a soak at Onsen Hot Pools, a complex of private, cedar-lined hot pools overlooking the magnificent Shotover Canyon. This is your opportunity to sit back, relax and really take in the jaw-dropping views for which this part of the world is so renowned. In keeping with their setting, the Japanese-inspired, Kiwi-owned pools are architecturally designed, with retractable roofs that allow you to bathe under cover or in the open air at the press of a button. This is a boutique operation with a small number of pools, so booking is essential.
Ziplining
In the mood to fly through the air? Queenstown has you covered, with not one but two zipline experiences on offer. Located on Bob's Peak, the mountain that's home to the gondola and luge (and those famously incredible views), Ziptrek Ecotours offers a number of aerial tours for all confidence levels. Zipline pros should check out the Moa tour, featuring the world's steepest zipline that can reach speeds of up to 70kph – but don't worry, there are options for the less brave zipliners among us too. Twenty minutes out of town is Kawarau Zipline, which will have you swooping high above the Kawarau Gorge. The world-famous AJ Hackett bungy is right next door (they're operated by the same company), so it's easy to combine a zipline ride with a bungy jump for double the thrills.
Wineries and Wine Tours
The Queenstown and Gibbston wine region may be less famous than Central Otago next door, but the quality of its wines – and wine experiences – are just as good. This part of the world is renowned for pinot noir wines, and there are few better places to taste them than at the cellar doors of superb Gibbston wineries like Amisfield, Gibbston Valley, Peregrine and Chard Farm. They're all easily accessible from Queenstown by car, but if you don't have a set of wheels (or a sober driver), there's a huge number of wine tours to join, from bespoke private tours to hop on, hop off buses. Focus on the closer Gibbston wineries, or venture further east into Central Otago proper – the choice is yours. You can even do a wine tour by bike!
Hiking in Queenstown
New Zealand is a nation of walkers, whether they're setting off on multi-day hikes – or "tramps" as they're known here – or getting out into nature for only a couple of hours. The area around Queenstown is world-famous for the quality of its hiking, and if doing a "Great Walk" like the legendary Milford and Routeburn tracks is on your bucket list, the town is a good place to base yourself. Looking for something a little less time-consuming? Hikes to the summit of Ben Lomond or Queenstown Hill – in the Māori language, Te Tapanui – will reward you with soul-soaring views across Lake Wakatipu and the Remarkables beyond, and have you back in town again in a matter of hours. Not a fan of hills? The Gibbston River Trail is the perfect mix of (flat) walking, superb scenery and gourmet eating and drinking, with numerous wineries along the trail, plus a brewery, restaurant, cheese store and pub.
AJ Hackett Bungy Jumping
It was on the Kawarau Bridge just outside Queenstown that bungy jumping as we know it was born. Kiwi daredevil AJ Hackett opened the world's first commercial bungy jumping operation here in 1988, and today thousands of people still arrive to swan dive over the edge and into the air. It's not just its history that makes the Kawarau jump so popular – this is the only bungy in Queenstown that can dunk you in the water, if you wish, and where you can jump in tandem with a friend. For the ultimate adrenaline rush, there's also the Nevis bungy, another AJ Hackett operation – at 134 metres, it's New Zealand's highest bungy jump. There's no two ways about it, this one's scary. It might also be the most thrilling thing you ever do.
Shotover Jet
It's hard to judge the most-loved adventure attraction in New Zealand, but the Shotover Jet is definitely in the running. That's partly due to the setting – rides take place in the spectacular Shotover Canyon, where the Shotover Jet is the only jet boat company allowed to operate. But it's mostly down to the remarkable expertise of the drivers, who perform apparently death-defying (but actually very safe) stunts, including their famous 360-degree spins, as they steer their boat between the towering cliff faces. A ride of pure adrenaline, and an absolute Queenstown must-do.
Queenstown restaurants and nightlife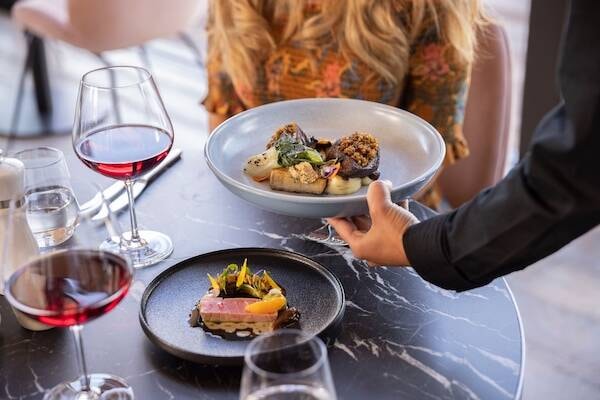 The excitement doesn't stop when the sun goes down. Queenstown is home to some of New Zealand's best restaurants, cosiest drinking dens and wildest nights out. There are eating options to suit all tastes and budgets, and you'll definitely want to try a burger from the world-famous Fergburger, purveyor of what many call the best burgers in New Zealand (tip: get there early, phone ahead, or be prepared to queue). Fergburger's popularity has been spun off into a mini Ferg empire in downtown Queenstown, including Fergbaker, home to great pies and baking; Mrs Ferg, a gourmet gelato store and cafe, and Ferg's Bar, a boutique bar and casual eatery. For something a bit more fancy, you can't go past the fine dining at The Sherwood, the local favourite Rātā, or the elevated comfort food at Jervois Steak House.
Not yet hungry and just looking for a place to get a quiet drink? Order up a cocktail or a glass of local wine at Bardeaux, an artisan tequila at Little Mez, or an expertly made mojito at Habana Boutique Rum Bar. In the mood to party? World Bar, Rhino's Ski Shack and Attiqa are good bets for DJs and an upbeat vibe that keeps going into the wee hours. .
Day trips from Queenstown
It's not only the stunning scenery and endless adrenaline attractions that make Queenstown so appealing. The town is also perfectly placed for all manner of day trips through one of New Zealand's most beautiful regions. A 20 minute drive from central Queenstown hardly qualifies as a day trip, but the historic village of Arrowtown has so much on offer you could easily spend a full day there, exploring its rich gold mining history and enjoying some of the best eating and drinking in the area. A slightly longer drive, but just as worth it, is Wānaka, a lovely lakeside town on the other side of the Crown Range. Known to many locals as "Queenstown as it used to be", Wānaka has become increasingly sophisticated in recent years, but still retains its small-town charm.
Other great day trip options include wildness playground Glenorchy and a tour of Central Otago towns including Cromwell, Clyde and Alexandra. Whichever direction you go, you're guaranteed endless jaw-dropping vistas that will have you pulling over for photos again and again. No car? Arrowtown is easily accessible by local bus, and both Wānaka and the towns of Central Otago are visited on the many tours setting out from Queenstown every day of the week.