With GoPro involved you know that the next 48-hours are going to be jammed with adventure and adrenaline. So, let's strap in, this is one mega itinerary.
day one
Arrival into Queenstown + Evening activity
12:30PM – Touched down on Virgin Australia's first direct flight from Sydney to Queenstown since March 2020, and we were greeted with open arms.
4PM – Earnslaw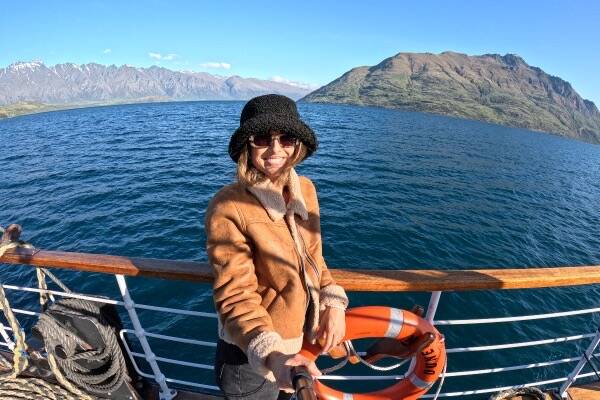 The Earnslaw is a working Steamboat which is over 100-years old. Here's a hot tip for you; when you get onto the boat go straight up to the bow. From here you'll get the best views leaving the town and once you've taken that breathtaking, postcard worthy view in, then head inside and grab yourself a drink and enjoy the ride.
Because it is a functioning Steamboat, you can watch the crew as they shovel coals into the fire to power the boat. With a century of legacy, you can learn all about the Earnslaw's history on your ride over. Back in the day, its main use was to transport sheep from nearby Walter Peake to Queenstown.
I am big on my food, so it was straight to the buffet for a gourmet BBQ dinner. I am gluten-free and there was a wide variety of foods to cater for all dietary requirements. Stand out for me would have to have been the Pork & Crackling. Delicious and done to perfection!
If you head over on the lunch shift, then you will also have the chance to meet the famous Highland Cows and other farm animals.
Now I am saving the best bit for last! The boat ride back might have been the best day of my life. There was a live Pianist and we all sat around the keys, with a songbook, singing along to the classics… thank me later.
10PM – Check into The Dairy Hotel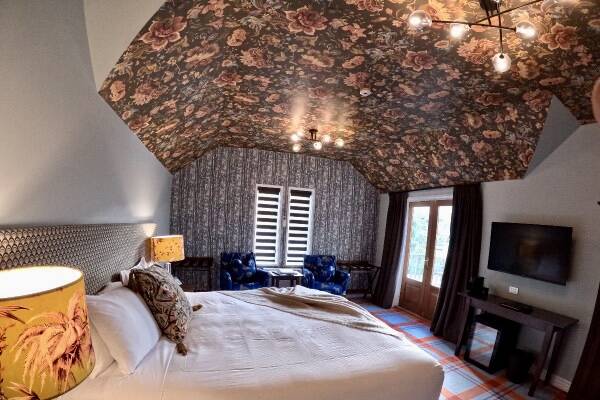 After a big day of travel, boat rides, food and singing it's time to chill out and get some sleep at The Dairy Hotel. This hotel is quirky and has that modern country charm to it. Each room has its own uniqueness and the hotel also offers many common areas with complimentary sweets and treats.
It's located in the heart of Queenstown, which makes it easy to get around by foot - as a lot of activities offer Pick Up and Drop Offs in the town centre.
DAY TWO
8am – Breaky at the hotel first, then we were asked to pack and change into some clothes that you don't mind getting a little muddy or wet.
9am - We are off to Oxbow which is just a short drive from town.
First up is the only 4-Seater Jet Sprint Boat in the world, this baby goes fast!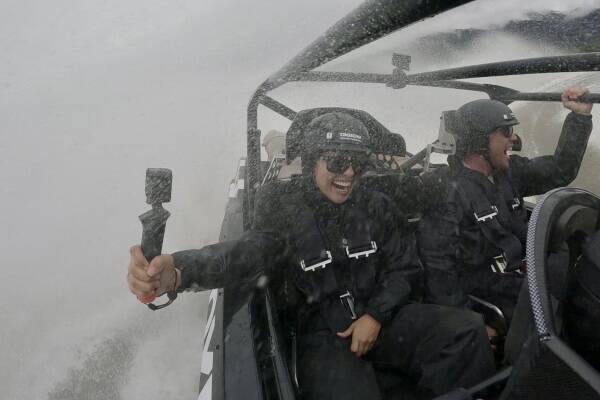 We zipped around the course and got absolutely soaked on a few of the corners. It goes from 0-100km in just 2.5seconds! GoPro's were mounted in all the right spots to capture all the reactions. The boys surprisingly were the most scared on this activity. I couldn't stop laughing and screaming with fun.
Then it was time to get dirty.. in the Ultimate Off Roader. Where you nearly go sideways, upside down, down a huge vertical drop and get covered in a lot of mud (hot tip: so keep those goggles on). This is where our GoPro's really got put to the test, we had them on the ground in the dirt, mounted to all the poles and in our hands to capture the full (dirty) experience.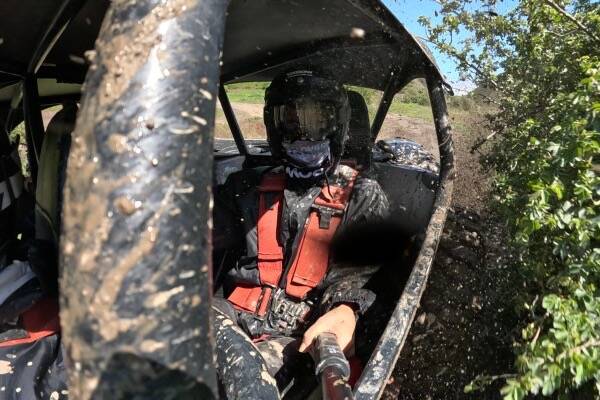 So if adrenaline is your thing visit Oxbow!
12:30pm - Amisfield Winery
Next we slowed things down with a trip to a winery and indulged in the delights and degustation. This is a mouth-watering, sensory experience with all of the meals coming out looking like fine pieces of art and paired wines to match (if you take that option).
New Zealand is famous for their wines because of the climate, clean air and UV rays all playing apart in creating their impeccable drops. My favourite was the 2008 Pinot Noir.
3:30pm - Zipline and Luge
This is an adrenaline fuelled trip and it just keeps delivering. Time to take a ride on the Gondola and book in for a ZIPLINE, with Ziptrek Ecotours and fly through the trees. You'll see views from above Queenstown all the while zipping past what feels like fern gully's treehouse.
If you feel daring ask the lovely staff to teach you how to go upside down. It's all about perspective.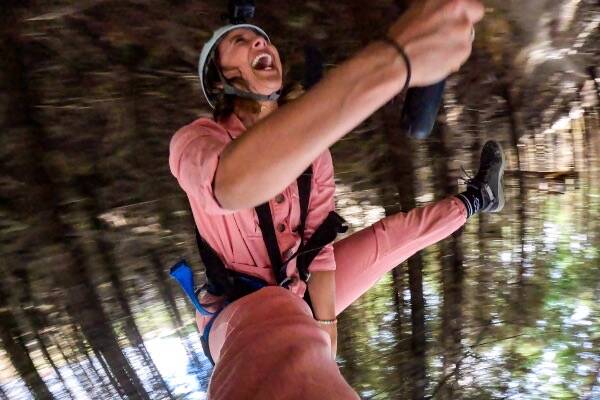 Once you've been through the zipline course head on up Skyline to the Luge. There is also a café up there to have lunch, get a snack and a drink if you fancy. The luge is a fun, competitive activity to do with friends or family. Race down the mountain all the while taking in Queenstown below.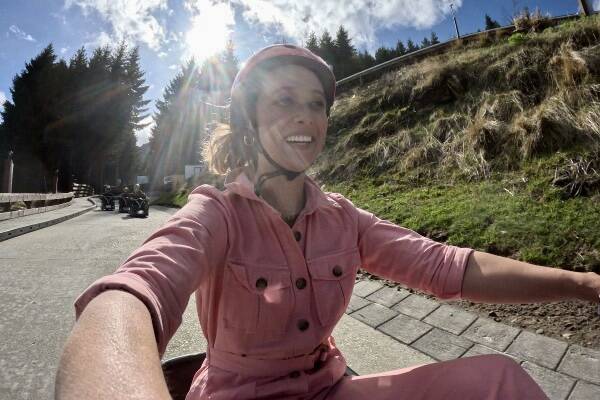 Time to call it a day and gear up for one last action-packed day before flying home.
Day Three
7:30am - Rafting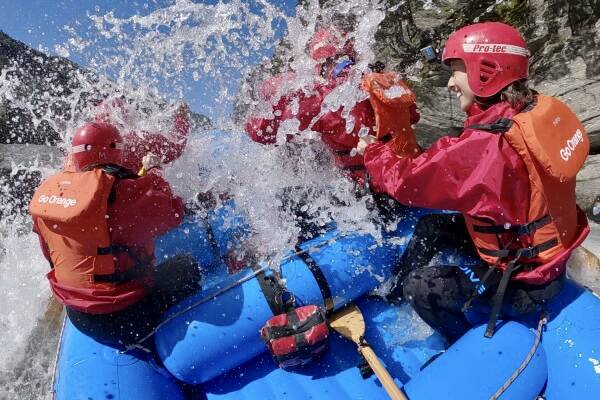 New Zealand has some of the best waterways in the world for rafting. Whilst we were on our trip there had been a lot of rain (and apparently that's a good thing for rapids).
Firstly, we were given an extremely thorough safety briefing, then our wetsuits / helmets and a 45-minute trip to where you start your journey. The drive is down an old miner's path, which is closed to the public. Another hot tip; sit on the left-hand side of the bus. When you get to the end of the drive it's a pretty spectacular view of where you're about to get into, not to mention a giant drop off too.
The Rafting itself was the definition of adrenaline. All the guides are extremely knowledgeable and safety is the most important thing. So make sure to listen to them, because it can get pretty intense (but epic) out there.
3pm - Paragliding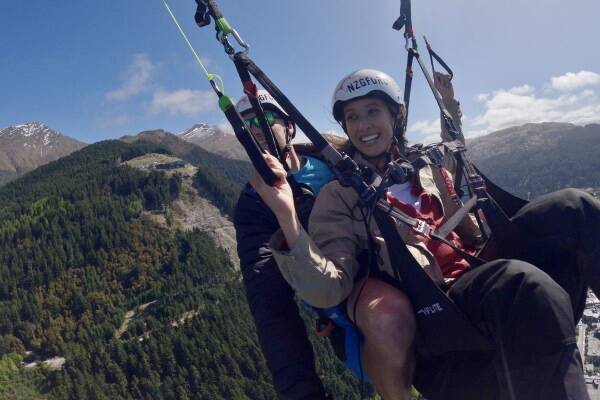 If you want to try and squeeze in one more activity then Paragliding would be my pick. It is back up at the top of Skyline, where we were met by our guides and they will walk you to the launching point. Paragliding is very dependent on the wind, so you'll have to wait until it is the perfect conditions, with the right gusts and then put all your trust in your guide.
There's something exhilarating about running off a mountain and being caught by the wind in your parachute as you soar in the sky. My guide let me take the reigns for a while as we glided around high above Queenstown. You can keep the experience mellow or if you're like my friend Kyle, he opted for tricks and did some insane dips and spins. You decide!
For all my adrenaline junkies, that's a wrap. time to have a Ferg Burger and edit all our content from GoPro.
So don't be afraid to step outside of your comfort zones, take a few risks, have fun and make memories with new friends along the way.