Ubud is a town located centrally in the Gianyar province of Bali. Ubud is as much known for its lush green landscapes and rice paddies, as for being the spiritual heart of traditional Balinese life. And with so much to see and do here, it's no wonder Ubud is one of the most popular areas in Bali.
Ubud is the place to enjoy many of Bali's best activities, like roaming its rice terraces, bathing in its waterfalls and exploring its temples. Some of the most popular Ubud attractions include Tegallalang Rice Terraces, Tirta Empul Temple and Tegengungan Waterfall. 

Ubud is a world-famous mecca for those seeking relaxation, restoration and spiritual practices. Here, spas, yoga retreats and wellness retreats abound. Engaging in this activities is the ideal way to spend time in Ubud, whether as a solo traveller or in a group. 

As you explore the town of Ubud, take in the village life around you, including locals going about their day and reflecting the local customs. Ubud is a place surrounded by incredible natural scenery, and there is so much to discover from walking trails, to rivers and more. 
For the culturally minded, there is a trove of temples, shrines and museums to visit in central Ubud – with a host of activities like traditional dances, local cuisine tastings and exhibitions by local artisans.  Ubud is one of the best places in Bali to take a cooking class. 

When planning your itinerary. make sure to include some of our recommendations below for Ubud's most worthwhile attractions. 
Table of contents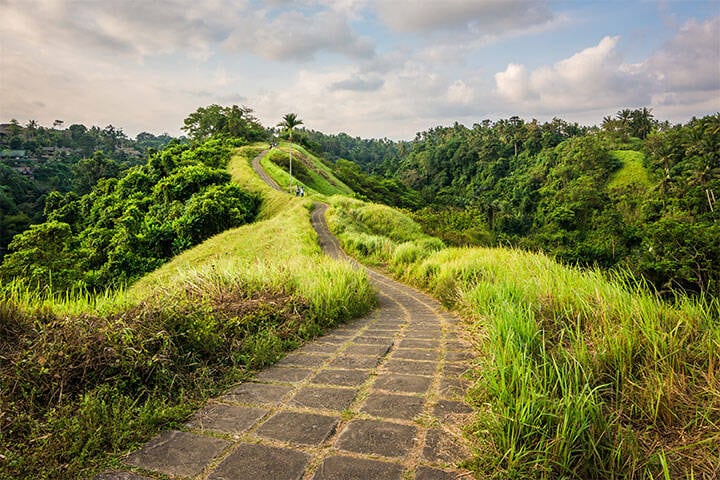 Photo: Nikjon on Getty Images Pro
The Campuhan Ridge Walk is an enjoyable self-guided trail which offers expansive views of Ubud's rice fields, palm trees and forestry. The Campuhan Ridge is an easy hike for those of reasonable fitness, consisting of a 2 km stretch of paved trail with a few hills to climb along the way. This activity is a lot of fun – the ridge views are breathtaking and allow you to see the vast rice fields, palm trees and forestry below.  
The hike takes about 1-2 hours – and it gets warm in the middle of the day, so consider your timing. There are a few shops and warungs along the way for snacks, water and fresh fruit – so stop in for fresh coconut water or tropical fruit for an added sense of adventure.  
This is a wonderful walk at sunrise as its quiet, peaceful and cool, with golden hour lighting, making Campuhan one of the best hikes in Bali.  
Cost: Free  

Location: Kelusa, Payangan, Jl. Raya Campuhan, Sayan, Kecamatan Ubud, Kabupaten Gianyar, Bali 80571, Indonesia 
2. Explore the Tegallalang Rice Terraces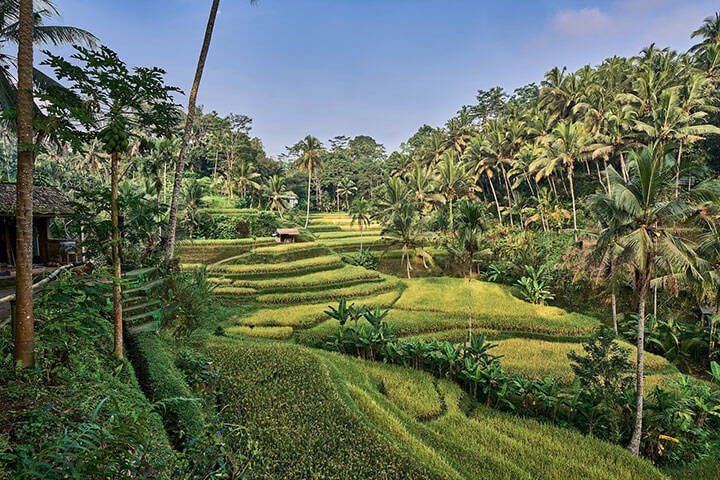 Photo: Norbert Braun on Unsplash
Tegallalang Rice Terrace (previously known as "Ceking rice terraces") is a stunning UNESCO-listed heritage site located in the north of Ubud. The rice paddies here are meticulously carved into the slopes, creating a captivating visual landscape that makes Tegallalang one of the best rice fields in Bali. Rice fields in general are a must-visit in Bali for their beautiful landscapes and greenery – but the iconic layout at Tegalalang is unique and worth a special visit.  
Beyond the natural beauty, visiting the Tegallalang Rice Terraces is a great opportunity to learn more about Bali's agricultural heritage and the centuries old 'Subak' irrigation system. Tegallalang Rice Terrace is only about a 20-minute drive from Ubud, and while at the rice paddies, make sure to visit the nearby shops for local handcrafts, artwork and souvenirs.  

For some added fun during your visit, make sure to strap into one of the famous swings that overlook the terraces. 
Cost: Free, but donations are requested by locals to gain entry. Expect to pay around IDR 10,000 (~AUD$1) 
Location: Jl. Raya Tegallalang, Tegallalang, Kec. Tegallalang, Kabupaten Gianyar, Bali 80561, Indonesia 
3. Find treasures at the Ubud Art Market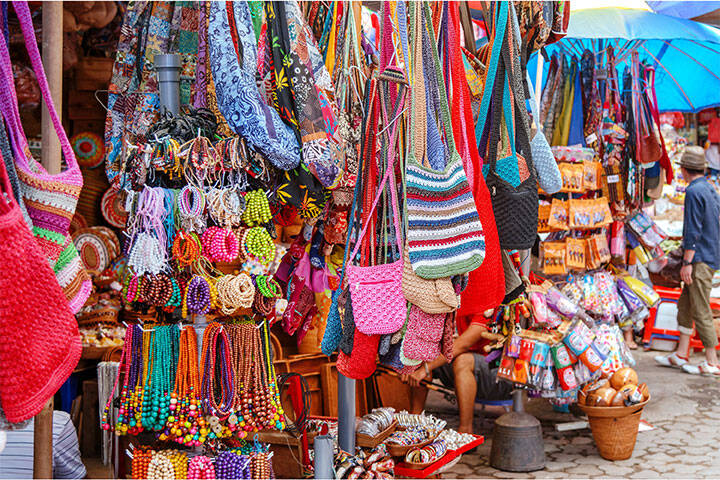 Photo: Nikada on Getty Images Signature
The Ubud Art Market, known by locals as Pasar Seni Bud, is a thriving market and hive of activity in the centre of Ubud. Located opposite the Royal Ubud Palace, the market is open daily - offering a vibrant atmosphere and long stretches of stalls filled with artisan crafts and wares. Most of the goods on offer have been crafted in neighbouring villages, making Ubud Art Market one of the best markets in Bali. Here you can find artisan quality items for men, women and children - including scarves, sarongs, woven bags, jewellery, handmade crafts, homewares and artwork – at bargain prices.  
Expect a lively atmosphere from about 9am-5pm each day, and make sure to brush up on your negotiating skills. As a general rule, take your time to think and don't accept the first price offered.  
With the Ubud Monkey Forest just 1km down the road, this is a great activity to combine it with – just make sure you come here AFTER, not before, to ensure the monkeys don't run away with your goods!  
Cost: Free entry 
Location: Jl. Raya Ubud, Ubud, Kecamatan Ubud, Kabupaten Gianyar, Bali 80571, Indonesia 
4. Take a yoga class at the Yoga Barn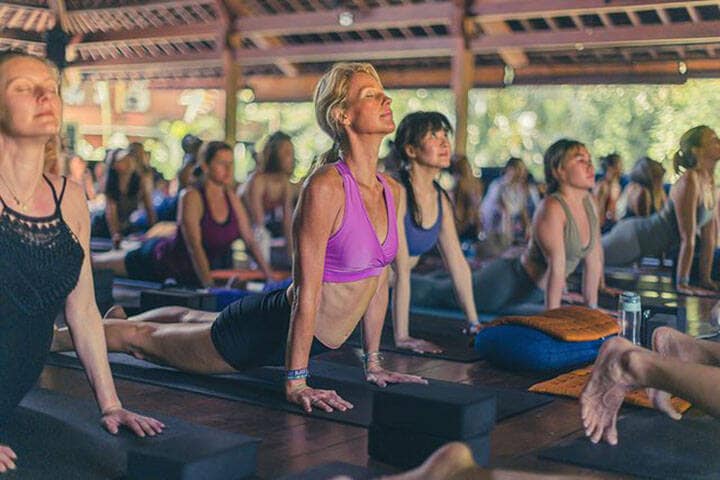 Located in downtown Ubud, the Yoga Barn is a mecca for yoga-lovers throughout the world. A veritable oasis for learning, self-discovery, wellness, healing and inner transformation, the Yoga Barn is one of the best yoga studios in Bali.  
The Yoga Barn has seven studios, with more than 100 classes on offer per week from yoga and meditation to dance, healing treatments and wellness sessions. The studios are known for their tropical surroundings, allowing a deep connection with nature throughout the duration of the classes. 
A single "drop in" class at the Yoga Barn costs around 150,000 ($15 AUD), with a number of multi-class cards and monthly passes available as well. World-class night events are on offer as well, which are hosted regularly and include moon events, sound healing and group dance.  
Yoga is an iconic activity in Ubud given this province of Bali's reputation for spirituality practices and wellness. Many resorts offer yoga classes for free as part of their on-site activities, for you to have the full Eat, Pray, Love experience without leaving your hotel.  
There are a number of other excellent yoga studios to choose from in Ubud – including Radiantly Alive, Intuitive Flow, the Ubud Yoga Centre and the Ubud Yoga House. Many of these locations are excellent places to come for yoga instructor certification as well. For a truly unique yoga experience, make your way to Ambar Ashram in Nyuh Kuning for a lesson in Laughing Yoga.  
Cost: Single classes from IDR 150,000 (~AUD$15) 
Location: Jl. Sukma Kesuma, Peliatan, Kecamatan Ubud, Kabupaten Gianyar, Bali 80571, Indonesia
5. Get a Balinese Massage at Ubud Traditional Spa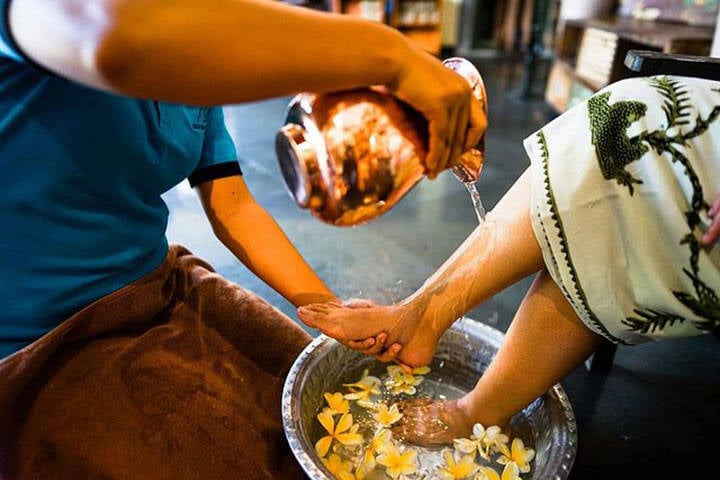 Photo: Ubud Traditional Spa
More than just an indulgence, the Ubud Traditional Spa is a fantastic place to experience Bali's wellness culture and a relaxing immersion into its traditional healing practices. Located in the traditional village of Payogen, the Ubud Traditional Spa is a family-run establishment renowned as one of the best spas in Bali.
There are only 4 treatments on offer, but each of these has been carefully crafted to provide the optimal experience to guests. From the Rice Farmer Massage, which is based on a traditional massage given to the rice farmer by his wife after a long day in the field, to the Ubud Royal Massage – which involves two sets of therapists – there is no doubt that you will leave this spa in a state of relaxation and wellness. With a relatively low cost, the value of the treatments speaks for itself.  
The journey to Ubud Traditional Spa is short from Ubud central, and the spa offers free transportation to and from the spa within Ubud as long as there are two guests involved. To reserve for one person, there is a small fee.  
Ubud has plenty of other spas if you want to look further for the perfect spa. Check out Jaens Spa Centre, Sang Spa and Yoga, PutriUbud or DaLa Spa.  
Cost: From IDR 216,000 (~AUD$22) 
Location: Jl. Rsi Markandya I Payogan, Kedewatan, Kec. Gianyar, Kabupaten Gianyar, Bali 80571, Indonesia 
6. Explore Ubud's temples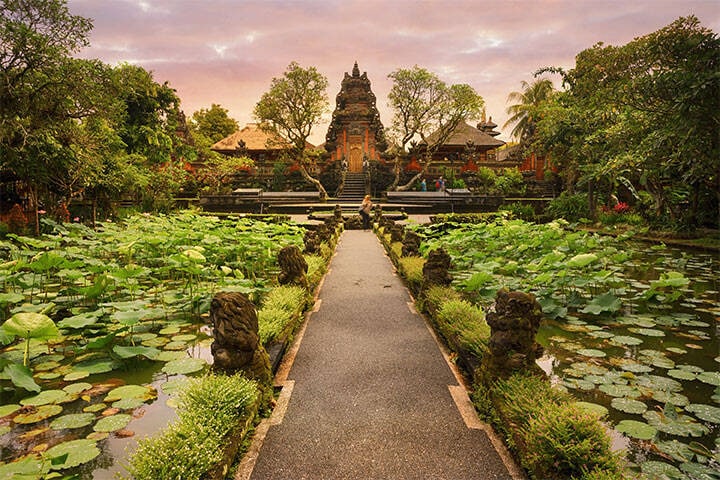 Photo: Tunart on Getty Images Signature
As Bali's cultural and spiritual heartland, it may not surprise you to hear that there are over 20 temples in and around Ubud, each with their own unique history, charm and significance.  
Saraswati, Goa Gajah, and Tirta Empul are three of Ubud's most popular temples, and each are as beautiful explore as they are steeped in spiritual and historical significance.  
Saraswati Temple (officially called Pura Taman Kemuda Saraswati) is located right in the centre of Ubud, but its tranquil water garden and lotus pond make it feel like a far-removed oasis. Saraswati Temple is dedicated to honor the Hindu Goddess Saraswati, who is the goddess of learning, literature and art – so it's fitting that the intricately carved temples and peaceful gardens are so beautiful to walk through.  
A bit further out of Ubud's centre in the Bedulu Village is the quintessential landmark of Goa Gajah Temple, aka Elephant Cave Temple. Goa Gajah is a Hindu archaeological site dating back to the 9th century and one of the most popular temples in Bali – and despite its name, you won't find any elephants there. The temple is most famous for the carved stone entrance, particularly the somewhat-menacing faces that are believed to ward off evil spirits. We recommend brushing up on some of the history before entering the temple complex or organising a local guide to truly appreciate the ancient relics and the sacred bathing temple. 
Those looking to explore Ubud's famous Tegallalang Rice Terraces should plan a stop at the Tirta Empul Temple. Tirta Empul temple is located in the village of Manukaya (about a 30-40 minute drive north of Ubud) and is best known for its holy spring water. Said to have purifying and healing properties, the holy pool and the ritual bathing ceremonies are a huge drawcard for visitors and locals alike. Be sure to leave time to wander the serene courtyard and gardens, and stop by the museum to view the artifacts, traditional Balinese sculptures, and ancient inscriptions that offer insights into the temple's history and the local religious practices 
As these temples are popular, arrive early to beat the crowds. A sarong is required for entry to each, so make sure to bring one along.  
Saraswati Cost: No admission fee 
Saraswati Location: Jl. Kajeng, Ubud, Kecamatan Ubud, Kabupaten Gianyar, Bali 80571, Indonesia 
Goa Gajah Cost: From IDR 25,00 (~AUD$2.50) for children and IDR 50,000 (~AUD$5) for adults. 
Goa Gajah Location: Bedulu, Blahbatuh, Gianyar Regency, Bali, Indonesia 
Tirta Empul Cost: IDR 50,00 (~AUD$5) 
Tirta Empul Location: Tampaksiring, Gianyar Regency, Bali 80552, Indonesia 
7. Spend half a day at Tegenungan Waterfall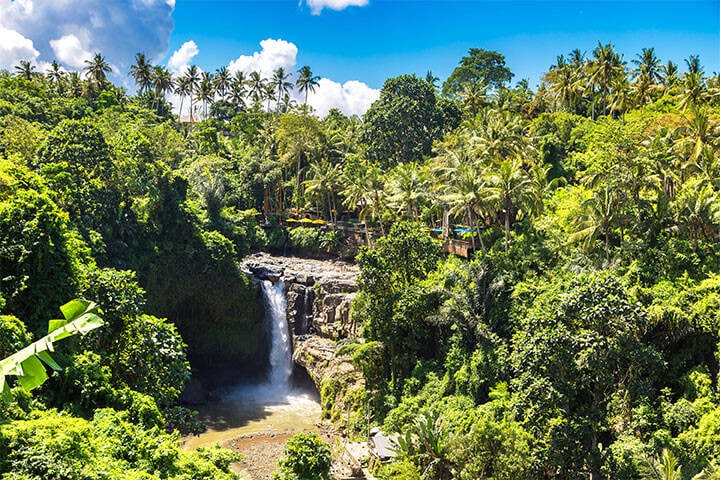 Photo: Bloodua on Getty Images
Tegenungan Waterfall, also referred to as Blangsinga Waterfall depending on which side you enter from, is located 20 minutes from Ubud. Nestled within lush Balinese rainforest, this majestic waterfall stands tall at approximately 25 meters, showcasing the awe-inspiring force of nature as water cascades into a pool below. The pool offers a refreshing spot for a post-hike swim, and there are various tourist-friendly installations for photo opportunities. 
Another advantage of Tegenungan is the nearby "river club," known as the Dtukad River Club. Positioned alongside the waterfall, this multilevel bamboo club provides a fantastic experience with two pools, party music, and waitstaff serving food and drinks, making it an ideal place for celebrations with friends. However, visitors seeking a tranquil nature experience should be aware that the club's noise may impact their visit. Remember to bring appropriate footwear, swimwear, a towel, and some cash for the entrance fee. It's best to choose a day with less rainfall to navigate the many steps leading to the waterfall, as the water can make them muddy. If you're exploring the area around Ubud, other noteworthy waterfalls to visit include Tibumana, Tukad Cepung, Manuaba, Sumampan, and Kanto Lampo waterfalls. The entrance fee for Tegenungan Waterfall is IDR 20,000 (approximately AUD$2), and it is situated in Kemenuh, Sukawati, Gianyar Regency, Bali, Indonesia. 
Cost:  IDR 20,000 (~AUD$2) 
Location: Kemenuh, Sukawati, Gianyar Regency, Bali, Indonesia 
8. Take a traditional Balinese cooking class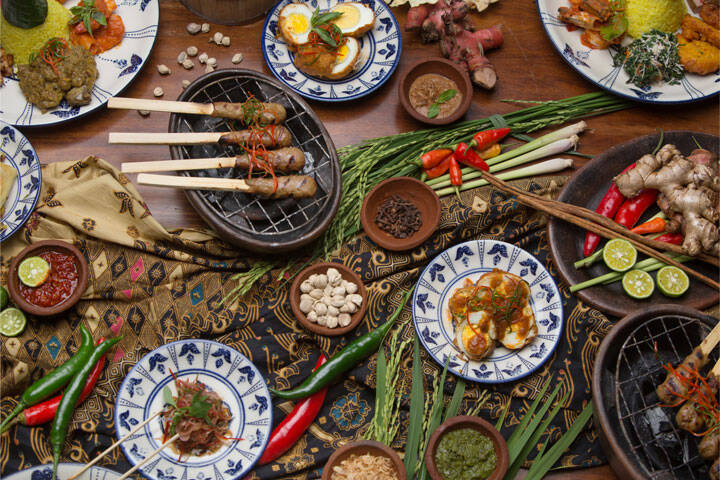 Photo: Space_Cat on Getty Images
There's no better way to experience Bali's food culture than with a cooking class in Ubud. Known for being Bali's culinary and cultural hub, Ubud is buzzing when it comes to food, with an international food festival held here each year. For an authentic Balinese cooking experience in Ubud, we recommend checking out the Subak Cooking Class – complete with a visit to the market, a rice tour, cooking class and a big feast to enjoy at the end. The teachers are fun, engaging and know their stuff, making Subak one of the best cooking classes in Bali. Not only do you learn to cook at least 9 traditional Balinese recipes like Mie Goreng, the experience is jam packed with info and fascinating insights into the local cuisine and the rice harvesting process.  
Subak is located about 30 mins from Bali, with pickup from your hotel included.  
Other cooking schools to try in Ubud include Bali Farm Cooking School, Paon Bali Cooking Class and Warung JB. 
Cost: Costs will vary across cooking schools, but expect to pay from roughly IDR 375,000 (~AUD$38) per person at Subak Cooking Class. 
Location: Jl. Werkudara, Tampaksiring, Kec. Tampaksiring, Kabupaten Gianyar, Bali 80552, Indonesia 
9. Go rafting on the Ayung River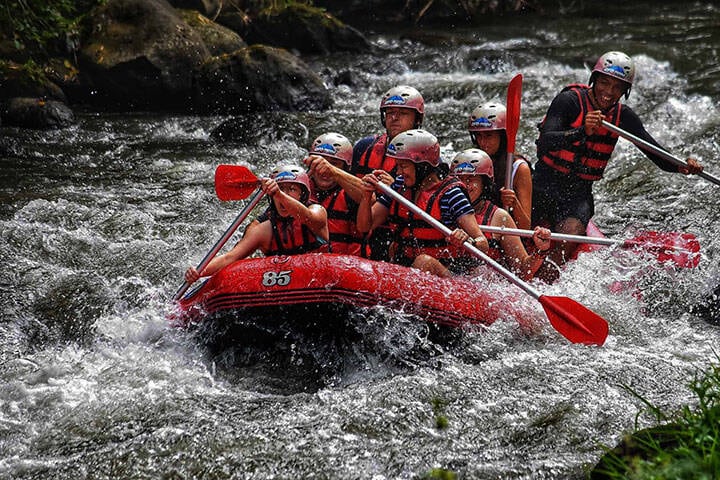 Had enough massages and wellness? It's adrenaline time! Whitewater rafting in Ubud is a dream activitiy for those wanting to experience Bali's incredible jungle scenery whilst doing something truly fun and exciting. But there's no need to be nervous, the white water rafting here is safe and not too extreme – there's a reason this activity is considered one of the best things to do in Bali.  
The Ayung River is the longest river in Bali (an incredible 75km!) and is widely considered one of the most picturesque spots for whitewater rafting. With its gentle bends, small drops and rocky terrain, it offers enough excitement for all experience levels (and is family-friendly). It's worth noting that the rainier Bali is, the faster and more intense the Ayung River rapids become. But don't worry, the funny and knowledgeable guides are there to make sure your experience is a great one!  
For a full day of thrill, we recommend combining this activity with a quad bike tour. Combined Quad Bike and White Water rafting tours are available through reputable tour companies. 
Cost: Price vary depending on your tour operator, but expect to pay roughly IDR 550,00 (~AUD$55) per person at Bali Red Paddle 
Location: East Denpasar, Denpasar City, Bali, Indonesia
10. Feast on local cuisine at a warung (small Balinese eatery) 
Eating in Ubud is an activity in itself, and dining at a warung is an unmissable stop on your culinary tour to Bali. A warung - the Indonesian term for a small family-owned business – is one of the best places to experience authentic local cuisine like Nasi Goreng (Indonesian fried rice), Nasi Campur (mixed rice) and satay. Besides being a budget-friendly option for those on the hunt for a delicious meal that's quick and affordable, dining at a warung is a cultural experience while in Bali. While Ubud has no shortage of warungs to choose from, Sun Sun Warung is one of Bali's best warungs – sometimes so busy that some have resorted to ordering takeout to enjoy the delicious meals at home! The buzzy diner is a short walk from the Ubud Palace, and offers delicious home cooking at affordable prices, warm hospitality and a tranquil garden oasis that make for a memorable Ubud experience.  
The menu features local favourites like Nasi Goreng and Mie Goreng but make sure to try the Nasi Campure Langit – a signature dish with blue steamed rice from 'eagle flower'! Vegetarians and vegans are also well-catered for, so there truly is something for everyone. We recommend leaving room for dessert, because the deep-fried bananas with ice cream (Pisang Goreng) is a dish you don't want to miss.  
Try to arrive before peak mealtimes to avoid a long wait or take the opportunity to explore some of the other delicious warungs in Ubud, like In Da Compound Warung, Sugriwa's Warung, and Murni's Warung. 
Cost: Meals at Sun Sun Warung start at IDR 19,000 (~AUD$1.90) 
Location: Jl. Jembawan 1 No.2, Ubud 80571 Indonesia 
11. Have breakfast at Milk & Madu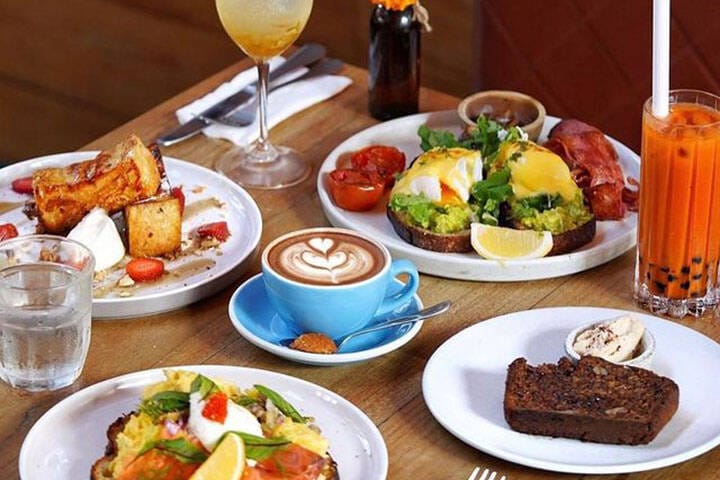 Milk & Madu is a top favourite amongst the expat community in Bali, famed for its generous spread of Western-style breakfast options. From eggs benedict, smoked salmon, healthy breakfast bowls and corn fritters to the best latte in the area, theres a reason it's considered one of the best cafes in Bali. Milk & Madu is centrally located – right by the Ubud Palace, Ubud Art Markets, and Saraswati Temple – making it the perfect first stop on a day of touring Ubud. Coffee made from Milk & Madu's own beans is a welcome kickstart to the day and, in our opinion, is best enjoyed with a freshly made croissant or pastry. The extensive menu caters to all tastes and dietary requirements and an exhaustive drinks list - pressed juices, healthy smoothies, and brunch cocktails are just the tip of the iceberg! 
Milk & Madu is an excellent choice for families, with its relaxed atmosphere, friendly service and a special menu for kids under 12. We recommend visiting Milk & Madu for dinner, too, especially for their famous fresh pizzas and spaghetti dishes. Gluten free pizza bases and vegan cheese are available, making it a great dinner option for big groups with different dietary requirements. 
Cost: Bakery items start at roughly IDR 10,000 (~AUD$1) and breakfast meals start from roughly IDR 60,000 (~AUD$6) 
Location: Jl. Suweta No.3, Ubud, Kecamatan Ubud, Kabupaten Gianyar, Bali 80571, Indonesia 
12. Watch a traditional Balinese dance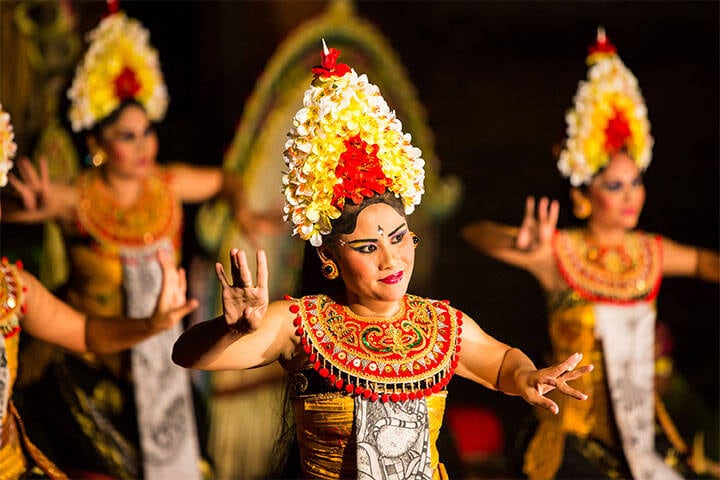 A highlight of any trip to Ubud is to witness a traditional Balinese dance. There are three main types of traditional Balinese dances to watch: Kecak, Barong and Legong. Each has its own cultural significance, eye-catching costumes, and cultural significance. 
The Kecak Dance ("Tari Kecak" in Indonesian) is a dramatic telling of the Ramayana story – a tale of Prince Rama and his adventures – performed by a circle of 50-60 bare-chested men wearing checkered Balinese sarongs. There's fire, there's chanting, there's rhythmic and synchronised arm movements, and most interestingly, there's no music! The entire dance is performed to the chants of "cak," which creates a mesmerising and enchanting atmosphere. 
Barong Dances depict the eternal battle between good (Barong) and evil (Ramada), with a mythical lion representing good, and a demon queen representing evil. Often performed during religious ceremonies and temple festivals, the Barong Dance combines storytelling, music, and elaborate animal costumes and is as captivating as it is educational.  
Finally, the Legong Dance is a refined and graceful dance performed by young women that's characterised by small finger movements, eye and facial expressions, and complicated footwork. Legong Dances originated in the 19th century as royal entertainment and depict angels divinely dancing in heaven, with dancers wearing elaborate and vibrant costumes and headdresses – making it incredible to watch how elegantly and quickly they move to the music.  
While these dances don't exclusively take place at temples, the spectacle is amplified when surrounded by the grandeur of temple architecture.  
Great for families, these shows usually take place in prominent temples like the Ubud Royal Palace (Puri Saren Agung) and the Pura Dalem Taman Kaja.  
The temples are free to enter during the day and are a nice place to visit in their own right – but they come alive in a different way at night, filling the courtyard with vibrant costumes, live music, rhythmic dancing and more. It's as enjoyable and entertaining as it is an educational immersion in Bali's traditions and heritage. 
The Ubud Palace dance performances take place every day at 7:30pm (except for Nyepi, the holy Hindi Day of Silence), whilst the one at Pura Dalem Taman Kaja is every Monday and Friday. Tickets are available for purchase at the door, but you will see flyers being handed out during the day on the streets of Ubud as well. We recommend you arrive more than 30 minutes early to secure a good seat. As the performance takes place outdoors, it's a good idea to apply mosquito repellent and wear a light jacket.  
Cost: IDR 100,000 (~AUD$10)  
Location:  
Jl. Raya Ubud No. 8, Ubud, Gianyar Regency, Bali 80571  
AND 
Open Stage Pura Dalem Ubud 80571, Indonesia 
13. Dance to live music at the Laughing Buddha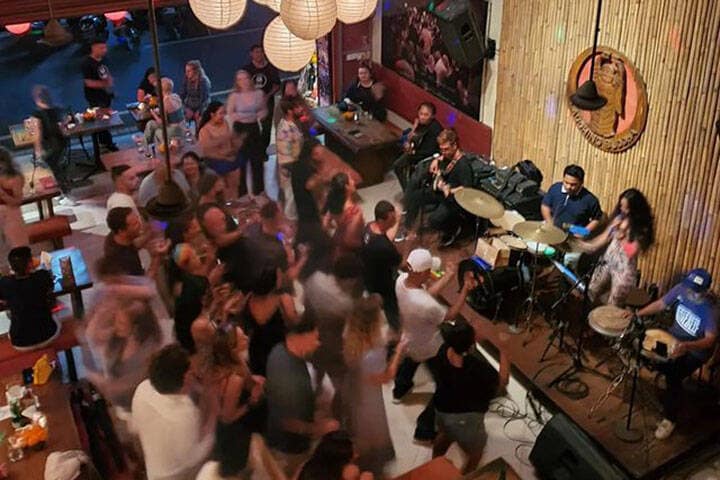 While Ubud is known for its serene atmosphere and is a haven for those looking for solitude, it's not without a vibrant nightlife. The best clubs in Bali are typically in Seminyak, Kuta and Legian, but Ubud is teeming with bars and live music venues to suit all tastes. The Laughing Budda is one of the most fun places to be once the sun sets in Ubud – the Asian-fusion restaurant is as known for its food as it is for its tasty cocktails and wide variety of live music. Located in Ubud's centre – just down the road from the Ubud Palace on Monkey Forest Road – the after-hours venue hosts live music and performances of different genres every night of the week and is always a great spot to dance, eat and drink the night away. The live gigs usually start around 8pm and it can get quite crowded, so we recommend arriving early to get a table – the Mojitos Happy Hour 2 for 1 starts at 4pm, so that's as good a time as any to get the party started. For those feeling peckish as the night wears on, you'll be happy to know you can get your fill of Asian-Mediterranean tapas, salads, noodles and curries until midnight.  
Cost: Entry is free and cocktails cost around IDR 115,000 (~AUD$12) 
Location: Jl. Monkey Forest, Ubud, Kecamatan Ubud, Kabupaten Gianyar, Bali 80571, Indonesia 
14. Go bird watching at the Blanco Renaissance Museum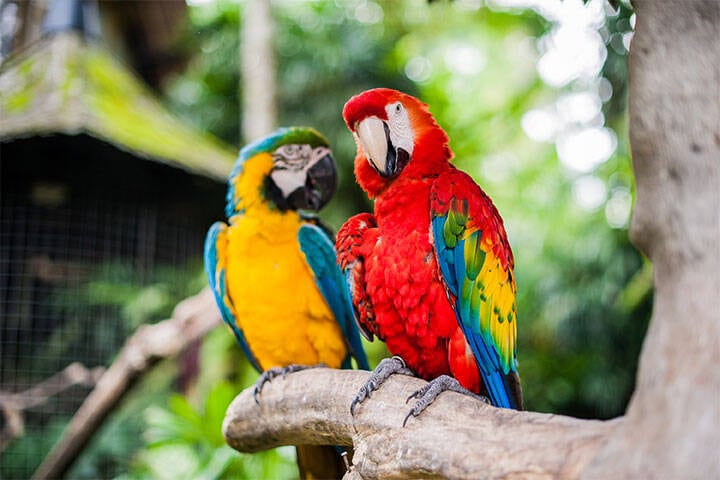 While Ubud's Blanco Renaissance Museum is a popular attraction for art lovers and culture seekers looking to learn more about the life and artworks of the Filipino-born artist, Antonio Blanco, it's become even more popular for the exotic and tropical birds that live in the museum's surrounding gardens. The home studio-turned-museum in central Ubud is one of the best museums in Bali and offers a wonderful insight into Antonio Blanco (known as the 'Dali of Bali') and his artistic journey. Visitors are able to explore his home and studio, and appreciate his portrayal of the Balinese culture, its natural beauty and the female form. While you won't be able to take photos inside the museum, the real picture moments are to be found in the gardens with the toucans, parrots, cockatoos, and rare Bali starlings. Beautiful from afar, but don't be shy to get up close and personal - some are tame enough to pose with you for a photo!  
Cost: IDR 150,000 (~AUD$15) 
Location: Jl. Raya Campuhan, Sayan, Kecamatan Ubud, Kabupaten Gianyar, Bali 80571, Indonesia