There's no better way to become immersed in Balinese culture and traditions than a visit to Bali's rice fields (often referred to as "rice terraces" or "rice paddies"). Amongst the oldest and most picturesque in all of Asia, a visit to some of Bali's most famous rice terraces, like Tegalalang and Jatiliwuh, is one of the best things to do in Bali. 

When choosing which rice terrace to visit, the main consideration is your itinerary, including the locations you intend to visit during your trip. Whilst some of the rice terraces in this list are truly spectacular, it's preferable to not have to drive many hours to get there! There are rice fields all over Bali, and it's not usually difficult to find a popular rice field located near most major towns like Ubud and Canggu. Other factors to consider when deciding which rice field is best to visit include the type of visual landscape you most want to see, proximity to other destinations and landmarks, and any value-add experiences on offer like swings, markets or cafes. The details you need for all are found in our listicle. 
In terms of the best time to visit, Bali's rice terraces are vibrantly greenest between April and November but provide stunning scenes all year due to succession planting. 
Rice is a staple food in Bali and has been grown and cultivated here for more than two thousand years. Bali's rice fields are considered sacred, with many statues, temples and rituals dedicated to Dewi Sri, the goddess of rice and fertility. 
Rice is grown across Bali in rice fields (sometimes called "rice terraces" or "rice paddies". Rice terraces are a levelled (or "terraced") crop carved like steps into the side of hills and mountains, allowing farmers to control the flow of water and grow rice more efficiently. A rice paddy, on the other hand, usually refers to a flat or slightly sloped field which is flooded with water. Most visitors prefer to visit rice terraces over rice paddies, for their aesthetic value and the ingenuity required for their construction. 
Bali's rice fields rely on the unique Subak irrigation system, which dates back to the 9th century and is World Heritage Listed by UNESCO. Subak allows water management, preserves biodiversity and reduces fertiliser and pesticide use, contributing positively to the environment while providing farmers access to good water without compromising quality or productivity. Subak is tied to Tri Hita Karana (literally: "three causes of wellbeing"), a Balinese philosophy which emphasises the connection between humans, agriculture and spirituality. 
So, without further ado, here's our comprehensive guide to Bali's top rice fields.
BEST RICE FIELDS IN BALI
1. Tegalalang Rice Terrace – UBUD, CENTRAL BALI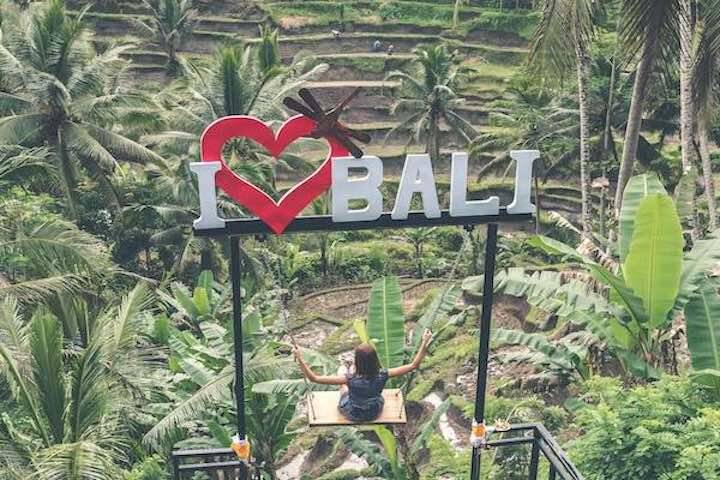 Open: Daily 6am to 7pm
Cost: 15-25k IDR ($2-3AUD).
Location: Jalan Raya Tegalalang, Tegalalang via Ubud, Gianyar, Central Bali. 
Tegalalang Rice Terrace (aka Ceking Rice Terrace) is Bali's most famous rice terrace and a UNESCO World Heritage Site, located about twenty minutes north of Ubud. The 360° hillside views here are excellent, with rows of emerald rice terraces which cascade down to create a stunning hanging garden effect. There are lots of permanent pathways and steps which make it easy to move around and allow space for the many visitors - many of whom come to capture the perfect Insta shot. 
The best time to visit Tegalalang is at sunrise and sunset, when there are fewer crowds and the light creates a mesmerising scene as it shines through the palm trees. Take a seat at one of the many swings strategically placed near the roadside around the valley, or pay to have a go on the Giant Swing at a cost of 150k IDR ($15 AUD), with entrance included. There's also no shortage of cafes to enjoy a drink or meal as you sit back and relax. Just keep in mind that Tegalalang can be crowded, and some visitors have reported attempts to be charged multiple entrance fees. 
2. Jatiluwih Rice Terraces – TABANAN, WEST BALI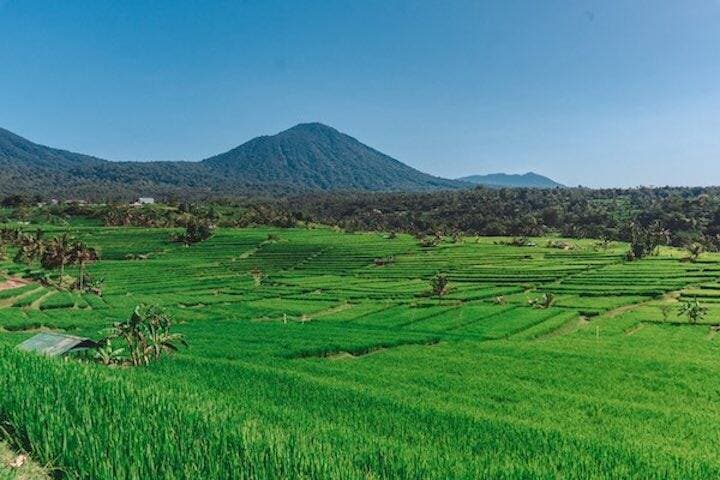 Open: Daily 8.30am to 6pm
Cost: Entrance costs 40k IDR ($4 AUD). Parking is an additional 5k IDR ($0.50 AUD). 
Location: Jalan Jatiluwih, Penebel, Tabanan, West Bali.
Located about 1.5 to 2 hours west of Ubud, Jatiluwih Rice Terraces is the largest rice field in Bali, and considered by many to be the most visually breathtaking as well. Stretching over 600 hectares across the slopes of the southern Batukara mountain range, this UNESCO World Heritage Site is a fantastic place to feel immersed in a serene ambiance as you explore the sweeping rice field vistas. It's a pleasure to walk around the undulating fields using the four dedicated (and colour-coded) concrete pathways, which take between 30 mins and 4.5 hours to cover. You can even cycle these trails by renting one of the bicycles at the entrance. 
Jatiliuh is a great place to come with a family - there are plenty of restaurants nearby and the trails are even stroller accessible. For a truly unique experience, book a night's stay at an accommodation amongst the rice fields and watch striking sunsets and fireflies light up the rice fields from your deck. It's worth taking a scenic drive through Tabanan and stopping at the nearby five-metre Yeh Hoo Waterfall before leaving the region.

Tip: For photography enthusiasts wishing to capture that perfect aerial shot of the sprawling green fields, it costs 150k IDR to fly a drone.
3. Sidemen Rice Fields – KARANGASEM, EAST BALI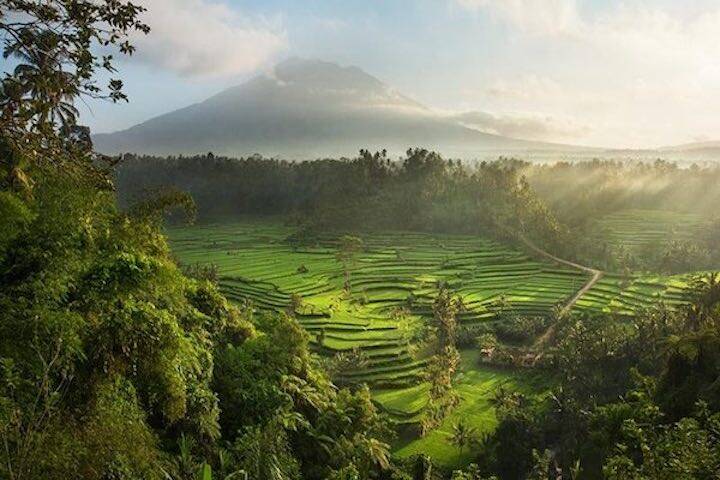 Open daily and free. A donation to the farmer is always appreciated. 
Location: Sidemen Village, Jalan Semarapura-Karangasem, Karangasem, East Bali.  
Sidemen Rice Fields is found roughly a 1.5-hour drive east of popular Balinese towns like Sanur, Kuta and Ubud. Whilst not as well known as Tegalalang and Jatiluwih, Sidemen Rice Fields are just as beautiful and peaceful. Relatively untouched, the rice fields cascade across the slopes of Mount Agung, Bali's highest mountain, offering an authentic view of Balinese life. These rice fields are quite plain compared to others, but this is an advantage in terms of the peace and solitude you can enjoy as you walk the gentle track. The locals here are very friendly, and it's lovely to watch the children play and connect with farmers working in their fields. 
Some visitors have trouble following the trail, which is not as well-defined as some of the more touristy  rice fields - there is a river crossing at one point so it's important to visit this rice field when the weather is good. We recommend wearing walking boots as there can be snakes in this area and it becomes muddy when it rains. 
Beside the rice fields, the quaint village of Sidemen offers  refreshing waterfalls, spiritual temples, beautiful beaches and the local markets if you want to stay for a bit longer. Allow time to learn about tuak (palm toddy) and arak (palm wine) production and the intricate traditional hand-loomed songket and endek weavings that Sidemen is renowned for.
4. Pupuan Rice Terrace – TABANAN, WEST BALI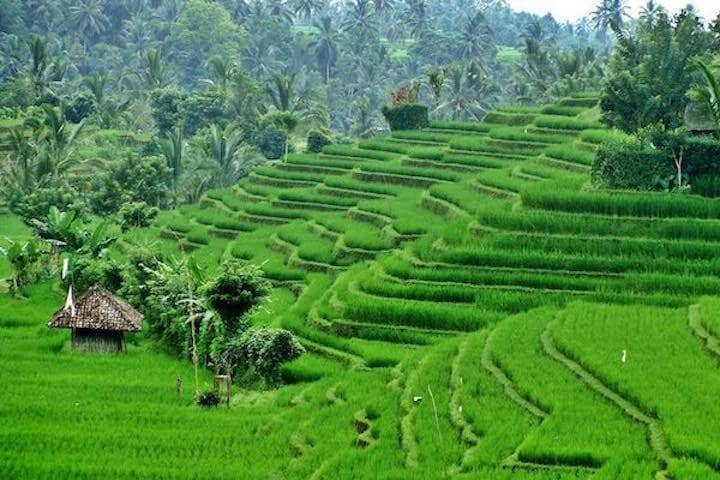 Open daily and free. A donation to the farmer is always appreciated.
Location: a few minutes north of Belimbing Village on Antosari Road, Pupuan, Selemadeg, Tabanan, West Bali.
Pupuan Rice Terrace is found a 1.5-hour scenic drive west of Ubud, and a few minutes north of Belimbing Village. Here you will find lush plantations of cacao, coffee, cloves, rare mangosteen and durian which add to the charm and vibrancy of the terraces . Spread below Mount Batukaru, the Pupuan rice terraces are unique for their strategically laid stones allowing water to flow down to each level, creating a gentle waterfall effect. Sunrise and sunset is always best for photo opportunities and trekking as it's coolest then. You'll also see farmers and their families tending to the rice paddies and laying cloves out to dry beside the road. Be sure to relax and sip a cup of the district's renowned Robusta coffee before seeing nearby tropical forests, tranquil waterfalls, hidden streams and a temple with monkeys. Pupuan Rice Terrace is very close to Belimbing Rice Fields, so there's an opportunity to visit both in one trip. 
5. Belimbing Rice Fields – TABANAN, WEST BALI
Open daily and free. A donation to the farmer is always appreciated. 
Location: Belimbing Village is a short detour off the road to Jatiluwah in Tabanan, West Bali.
The Belimbing Rice Fields are found a 1.5-hour scenic drive west of Ubud beside Belimbing Village. Set against the backdrop of Mount Batukaru, the beautiful rice terraces are surrounded by colourful coffee, cacao, clove, and tropical fruit plantations. Belimbing is a pleasant escape from Bali's hectic tourist areas, where you can soak in the serenity while exploring the rice fields on foot or by bicycle. There are many restaurants with beautiful views of the fields to pause for a drink or meal. 
It's worth venturing through the village to learn more about the local intricate wood carvings and handicrafts from the artisans. Be aware that fog can blanket the valley and any views during the rainy season. Belimbing Rice Fields is very close to Pupuan Rice Terrace, and is also on the way to Jatiluwih Rice Terraces - so you might consider visiting multiple rice fields in one trip. 
6. Pejeng Rice Fields – CENTRAL BALI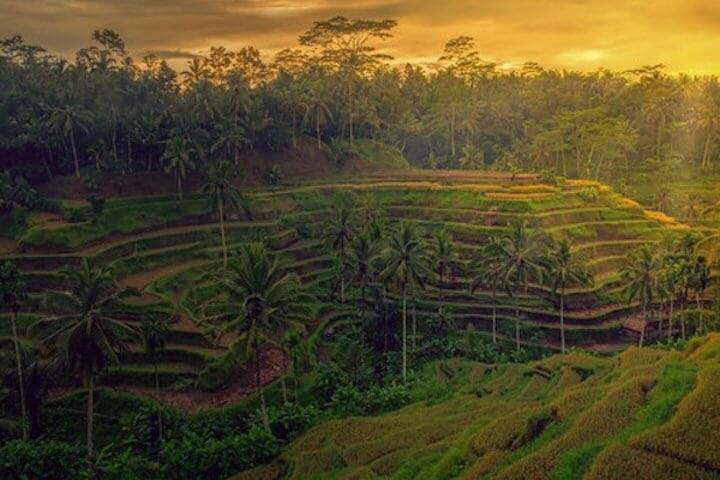 Open daily and free. A donation to the farmer is always appreciated. 
Location: Pejeng Village, Tampaksiring, Gianyar Regency, Central Bali.
Lesser known to tourists, the Pejeng Rice Fields have been cultivated by Balinese farmers since the 9th century. Nestled in the Petanu River valley 30 minutes east of Ubud, Pejeng has  fewer crowds and is more popular with hikers. Departing historical Pejeng village, the trails traverse the rice paddies and their ancient Subak irrigation system, continuing alongside riverbanks and between tropical fruit plantations and forests. Along the way, you'll pass quaint temples and villagers who'll happily sell you their wares. It's a magical way to see and connect with Balinese farmers, blacksmiths and artisans going about their daily lives. While in the area, don't miss the bronze kettle drum, Moon of Pejeng, near Pura Penataran Sasih. It's the world's most significant bronze-age antiquity.
7. Tirta Gangga Rice Fields – KARANGASEM, EAST BALI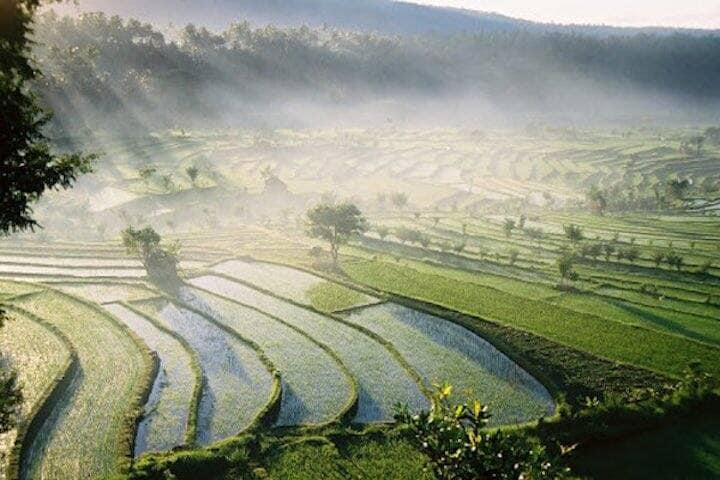 Open daily and free. A donation to the farmer is always appreciated.
Location: Jalan Raya Abang Desa Adat Jalan Raya Tirta Gangga, Ababi, Karangasem, East Bali.
The serene Tirta Gangga Rice Fields are found two hours from Kuta in East Bali's Karangasem Regency. These fields are not as steep as other areas, and visitors can easily walk, ride or take a guided tour through the hilly countryside. It's the perfect way to see local farmers working, livestock grazing, and children playing in the beautiful vibrant green fields. Be sure to visit the famous nearby Tirta Gangga Water Palace for its architecture, stone carvings, ponds and ornamental gardens, or even take a refreshing dip in the holy spring-fed pools before or after joining one of the trails beside the Palace.
8. Abang Subak Rice Fields – KARANGASEM, EAST BALI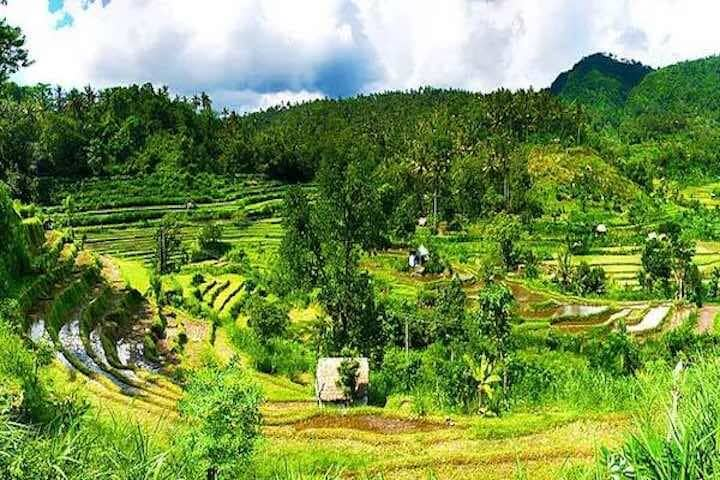 Open daily and free. A donation to the farmer is always appreciated. 
Location: Kecamatan Abang, Karangasem, East Bali.
The stunning Abang Subak Rice Fields (aka Abang Rice Fields) are located at Abang Village, north of Amlapura and around three hours east of Ubud. Little-known and unexplored, Abang Rice Fields are described as one of Bali's most picture-perfect rice fields by those who have stumbled across this hidden gem. Best viewed early in the morning, stop at the small lookout, which provides unrivalled views overlooking the treetops, with misty mountains and Mount Agung looming in the background. Then, soak up Abang's tranquillity while sitting beside the rice fields, counting dragonflies and enjoying a cool drink. It's a truly peaceful experience, and Bali at its most authentic. Although Abang is not yet a tourist destination, there's a range of accommodations nearby, including a Tree House, allowing more time to discover the beautiful champagne sands of nearby Jemeluk Beach with excellent swimming, snorkelling and shipwreck diving.
9. Rendang Rice Fields – KARANGASEM, EAST BALI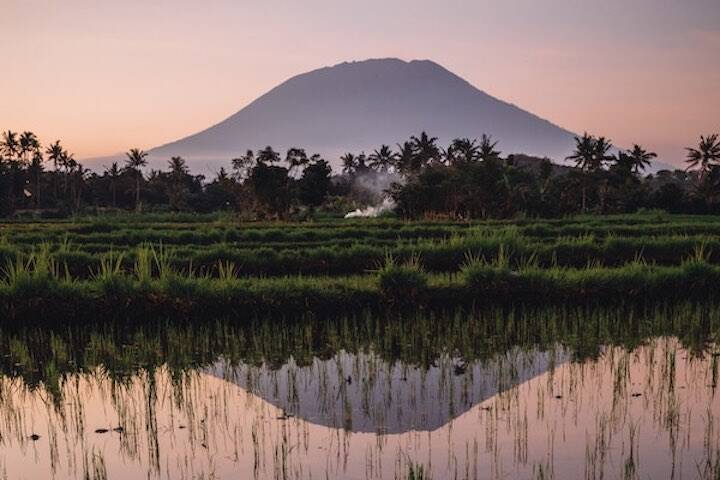 Open daily and free. A donation to the farmer is always appreciated. 
Location: Rendang Village, Jalan Raya Besakih, Karangasem, East Bali.
Found two hours east of Ubud, the scenic Rendang Rice Fields haven't yet been overrun with tourist interest. Flanked by mesmerising views of Mount Agung volcano and near Sidemen rice fields (see no. 3 on our list), the verdant Rendang rice fields offer a tranquil reprieve. It's easy to explore these fields alone and meet friendly Balinese farmers who welcome visitors and happily share their cultural knowledge. While here, don't miss the quaint mountain village of Rendang, renowned for its temples, in particular Besakih Temple, and the quirky stone statues that line the roadside. But if you want something more adventurous, white-water rafting at nearby Telaga Waja will fulfil the thrills.
10. Munduk Rice Fields – MUNDUK, NORTH BALI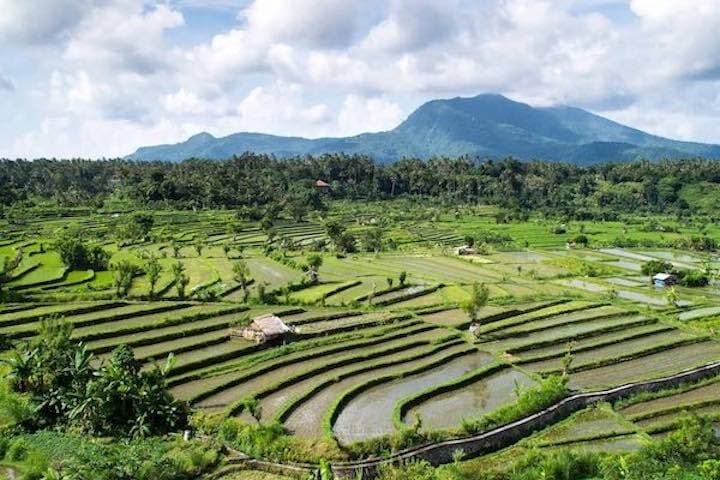 Open daily and free. A donation to the farmer is always appreciated. 
Location: Munduk Banjar, Buleleng, North Bali.
Found in the highlands of northern Bali, Munduk Rice Fields are located in Munduk Village, where many tourists stop to see the Munduk Waterfall. The rice fields here are not as well known, but they produce some of the world's best rice. The Munduk Rice Fields are over 1,000 metres above sea level, offering panoramic views over the valley and the famous "Twin Lakes" of Tamblingan and Buyan. Massive trees surround many of the fields, especially in the Gobleg and Gesing neighbourhoods, making for cooler, more pleasant walks. Whether hiking or cycling with a guided tour or on your own, look out for streetside stalls selling locally grown nourishing fruits like bananas and durian. For an extra immersive experience, choose an accommodation in the middle of a rice field and breathe in the sweet scent of ripening rice.
11. Pererenan Rice Fields – CANGGU, CENTRAL BALI
Open daily and free. A donation to the farmer is always appreciated. 
Location:  Jalan Babadan and Jalan Raya Seseh, Canggu, and Jalan Sempol,  Munggu, Mengwi, Badung.
Rice fields are not usually top of mind when visiting the surf-centric town Canggu, but the Pererenan Rice Fields are still worth a visit for those who enjoy exploring trails. Whilst Canggu's flat rice fields can't be compared to some of Bali's famous hillside terraces, they still offer tranquil green scenery and a reprieve close to the bustling beach areas. The best way to experience these fields is to walk or ride along Jalan Sempol and Jalan Babadan, passing the underrated Pererenan scenic rice paddies and watching local farmers tend their crops. You can even enjoy a relaxing meal or drink at the back patio of a restaurant with views over the rice fields.
12. Penatahan Rice Terraces – TABANAN, WEST BALI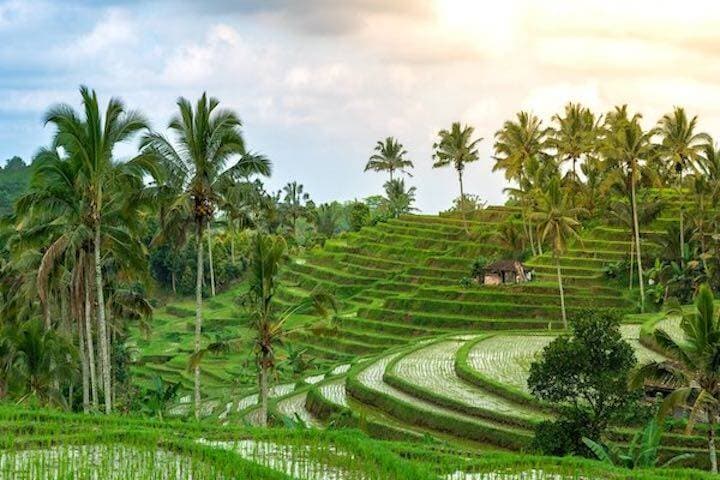 Open daily and free. A donation to the farmer is always appreciated. 
Location: Penebel, Tabanan, West Bali.
Tranquil Penatahan Rice Terraces are a little over 1 hour's drive west of Ubud, offering a serene escape from the bustling tourist areas. Here you can gain a glimpse of Bali's authentic and traditional side, whilst enjoying Penatahan's natural beauty. Outdoor enthusiasts will love the picturesque, lush green terraced rice fields, as well as the cascading waterfalls and scenic walking trails. Be sure to stop at Penatahan Village, renowned for its traditional Balinese architecture and vibrant art scene - where you can witness Balinese artists in action. For families we recommend combining a trip to the rice terraces with a visit to the nearby Bali Butterfly Park, and a soothing soak in the rich, warm mineral Penatahan Kaja Hot Springs.
13. Abuan Rice Terraces – BANGLI, CENTRAL BALI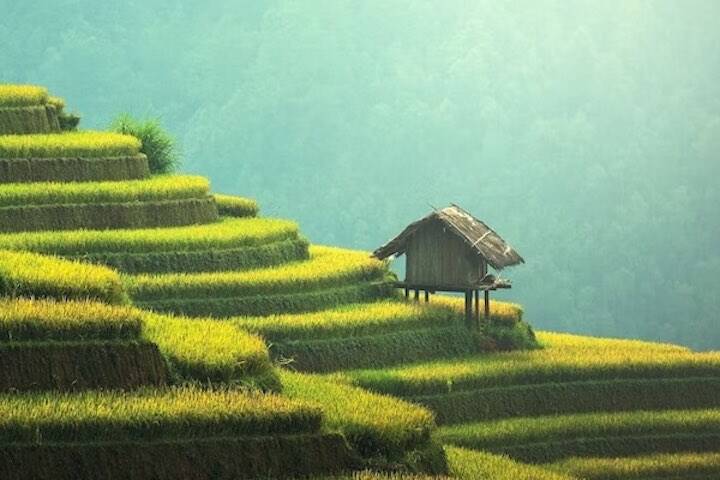 Open daily and free. A donation to the farmer is always appreciated.
Location: Kintamani, Bangli Regency, Central Bali. 
The Abuan Rice Terraces is a 1.5 hour drive from Kuta or Sanur in the hills of Kintamani, Bali's northernmost district. Close to Mt Batur, Abuan Rice Terraces captivates many who spend time in this unfrequented area. It offers visitors a tranquil atmosphere surrounded by lush forests, waterfalls and gentle rivers, with breathtaking views all year round. You'll also see some of Bali's more attractive temples in this area. If you need to expend some energy, there are a variety of mountain bike trails to suit all. Be sure to check out the idyllic village markets before leaving the area, where you'll discover a variety of intricate handmade items and traditional Balinese dishes.
14. Soka Rice Fields – TABANAN, WEST BALI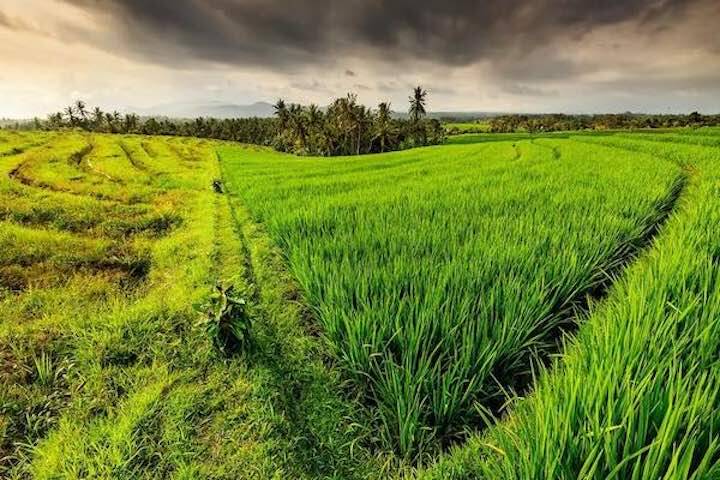 Open daily and free. A donation to the farmer is always appreciated
Location: Jalan Denpasar-Gilimanuk Km.45, Soka, Selemadeg, Antap, Tabanan, West Bali
Located in Tabanan 1.5 hours west of Ubud, Soka Rice Fields is a fantastic place to hear the sound of crashing waves from Bali's nearby west coast beaches, whilst enjoying green views all around. These neatly positioned rice fields are petite in size, but offer a wide and beautiful landscape to enjoy. Walking around is easy, and it's a great spot to watch local farmers doing their thing. The optimum time for viewing and photography is just before harvest in April and October, when the lush green rice stems are at their highest and tipped golden. For a different and impressive perspective, view the fields from the beach, just mere steps away.
15. Bangli Rice Terraces – BANGLI, CENTRAL BALI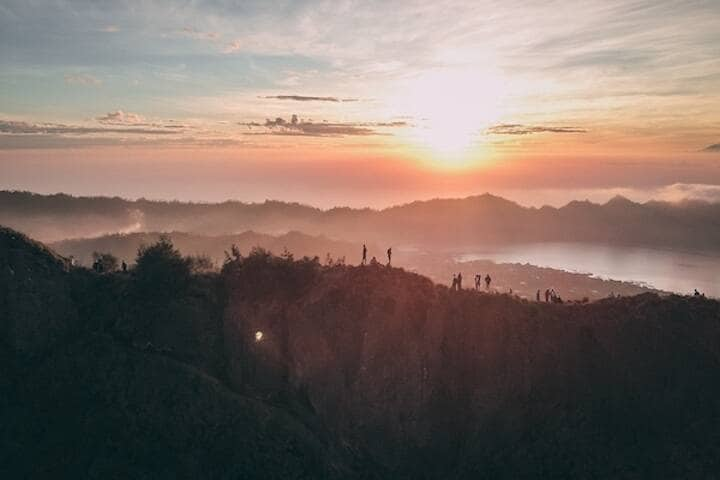 Open daily and free. A donation to the farmer is always appreciated.
Location: Kawan, Bangli, Central Bali. 
Approximately two hours from Denpasar in the centre of the island of Bali, Bangli Rice Terraces encompass some of the most spectacular natural beauty in the area. Think majestic Kintamani volcano, Lake Batur, Bali's largest lake and home to the God of Wisnu, protector of the cosmos, vast bamboo forests that provide most of Bali's construction needs, top-notch coffee plantations and the hillside-hugging emerald Bangli Rice Terraces. Each creates a serene and enchanting atmosphere. The captivating landscape of Bangli rice terraces, towering bamboo forests and the cooler mountain climes are conducive to all outdoor activities. Join a sunrise volcano trek, canoe across the lake, bath in Toya Bungkah lakeside hot springs, and go bonkers trying to decide which of the endless hiking opportunities to choose. All offer vast, breathtaking views and many Instaworthy scenes. Around Bangli, it's easy for visitors to become one with Balinese spirituality, traditional cultures and its mountain people. 
16. Antosari Rice Fields – TABANAN, WEST BALI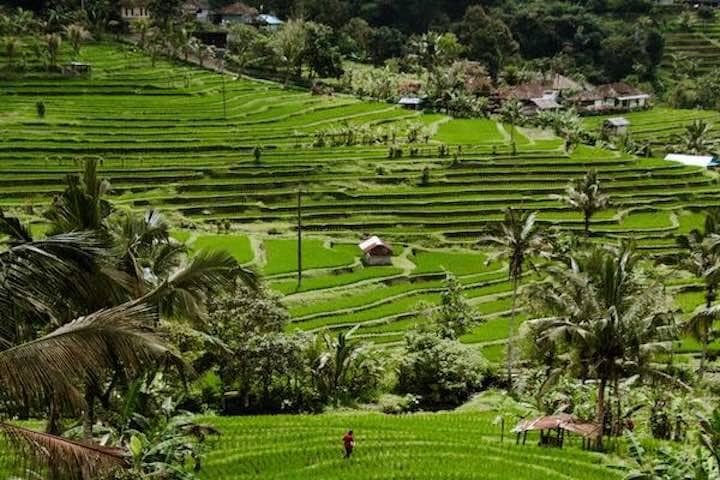 Open daily and free. A donation to the farmer is always appreciated. 
Location: Selemadeg Barat, Tabanan, West Bali.
The scenic hilltop landscape of West Bali's Antosari Rice Fields is a calming sight, located around two hours from Denpasar. The tranquil greens of Antosari rice terraces cloak the mountainsides with numerous shady and colourful cacao, coffee, vanilla bean, clove and banana trees growing between the fields. On most days you will be greeted by the distant sound of a flowing river through the valley, and it's a great place to watch Balinese farmers working their fields. There are various trails to hike here, which take on a spiritual atmosphere as you make your way through the surrounding temples. Cap off your day with a visit to one of Bali's most significant temples, Pura Luhur Batukaru - located on the slopes of nearby Mount Batukaru. 
17. Marga Dauh Puri (or Marga) Rice Fields – TABANAN, WEST BALI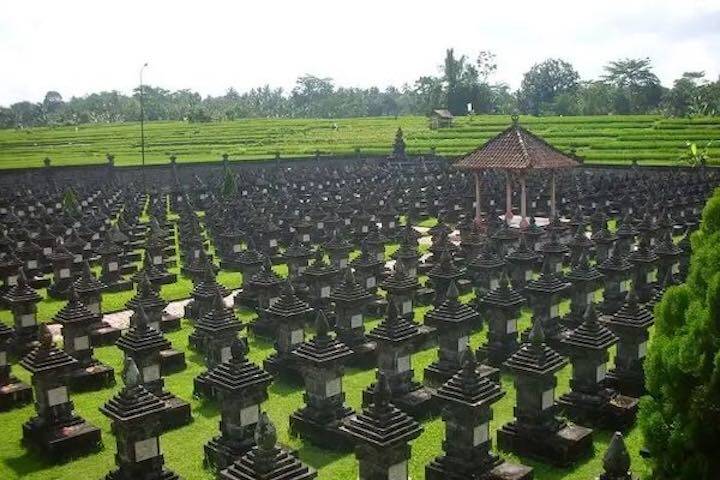 Marga Rice Fields open daily and free. A donation to the farmer is always appreciated.
Margarana National Monument open daily 8am – 5pm. Free.
Location: Kelaci, Marga Dauh Puri, Marga, Kabupaten Tabanan, West Bali. 
Marga Dauh Puri (or Marga) Rice Fields are around an hour's drive northeast of Tanah Lot on Bali's west coast, where the famous Tanah Lot temple is located. Whilst Marga is known more for its Margarana National Monument and memorial park (dedicated to the thousands of local Balinese who died fighting for independence from Dutch Forces during World War II). The dramatic darkness of the many memorial stones is softened by the lush green beauty of the surrounding Marga Dauh Puri Rice Fields, which offer a welcome reprieve. Silence abounds with few people, if any, around the monument and Marga rice fields. The serenity of this juxtaposition makes it difficult to grasp the magnitude of the battles.
18. Blahbatuh Rice Terraces – GIANYAR REGENCY, EAST BALI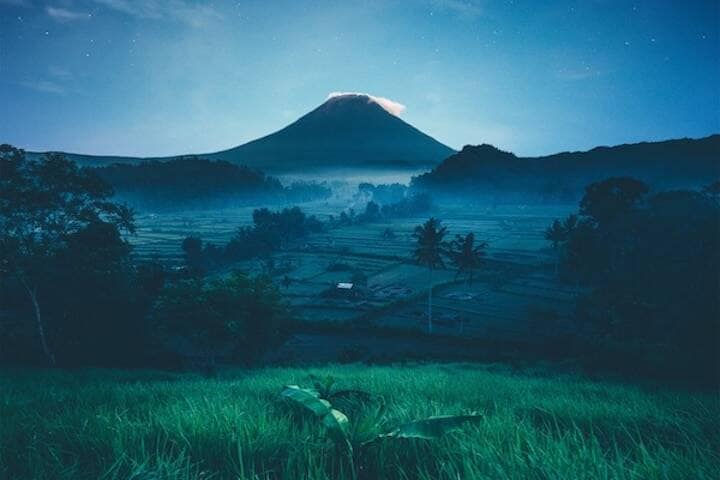 Open daily and free. A donation to the farmer is always appreciated.
Location: Blahbatuh Village, Sukawati, Guwang, Gianyar, East Bali.
For a peaceful escape from the more touristy areas of Bali, take a trip to East Bali's Blahbatuh Rice Terraces, found about half an hour from Ubud. This is an excellent place for visitors to enjoy the many hiking and bike trails, where you can also pause at refreshing waterfalls and streams along the way. Blahbatuh is a great place to stop on a day trip and combine the many nearby sites like Tegenungan Waterfall, Kemenuh Butterfly Park, Pura Dalem Blahbatuh temple, the Sidha Karya Gong Foundry (where gamelan instruments are made), and the massive statue of mediaeval hero Kebo Iwa.
19. Sawan Rice Fields – BULELENG, NORTH BALI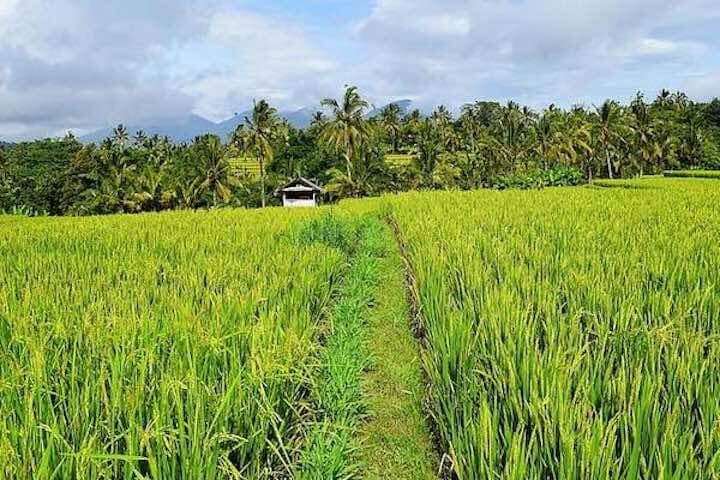 Open daily and free. A donation to the farmer is always appreciated.
Location: 7km inland from Jagaraga, Buleleng, North Bali.
Sawan is Bali's central rice-producing area, an hour's drive southeast of black sand Lovina Beach in Bali's north. The vast Sawan Rice Fields stretch as far as the eye can see and provide tranquillity and peacefulness only found in rural Bali. This is the ideal place for visitors to engage with the local farmers who will cheerfully explain their traditional rice cultivation and fruit harvesting methods. It's a fantastic place to stroll effortlessly between the rice fields, coconut groves, tropical forests and cooling waterfalls. Bali's most famous waterfall, Gitgit, is one of the many scenic waterfalls hidden between lush forests and rice fields (Sekumpul Waterfall is also located nearby). Relax and enjoy the natural environment or bath in the cold-water springs, which are said to cure many ailments. Sawan is also the centre for manufacturing gamelan instruments and gongs. While you are here, it's the perfect opportunity to see artisans craving and casting them.
20. Sebatu Rice Fields – GIANYAR REGENCY, CENTRAL BALI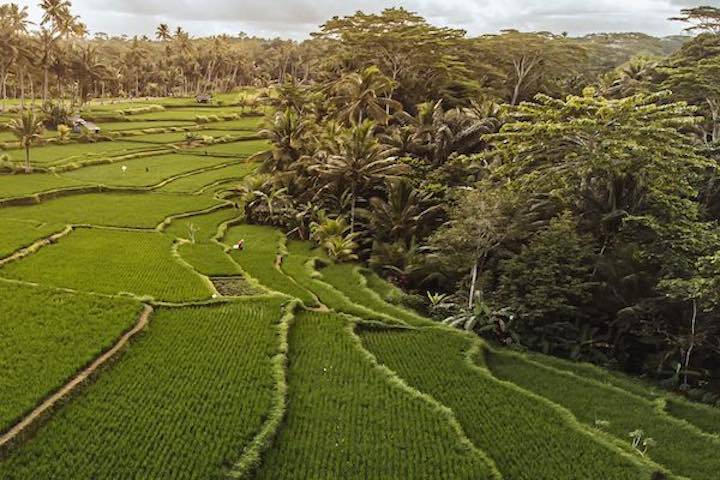 Rice fields are free. A donation to the farmer is always appreciated.
Tirta Empul Temple open 9am – 5pm. Cost: 15k IDR.
Location: Jalan Pakudui, Sebatu, Gianyar, Central Bali.
Just 30 minutes north of Ubud, Sebatu Rice Fields are naturally beautiful, quiet, uncrowded and very off-the-radar rice fields. Visitors can relax and pause to immerse themselves in Bali's spirituality and natural sense of place while strolling through the lush landscapes. The divine attractions allow time to soak up the peaceful atmosphere and Balinese way of life. At nearby Pura Tirta Empul Sebatu Hindu Temple's natural spring-fed pools, take the opportunity to join in a traditional holy purification ritual with locals. It's one of Bali's five most sacred temples, and its water is considered the holiest of water sources. Witnessing traditional craft-making in many small villages is also relaxing and another way to connect more authentically with the local Balinese.