Whether it's finding an ornate trinket to gift a loved one, a hand-crafted souvenir to furnish your living space back at home, or a much-needed snack as you explore, Bali's markets offer a plethora of opportunies for local shopping. Found in all major towns of Bali such as Seminyak, Kuta and Ubud, there's a reason a visit to Bali's markets is known as one of the best things to do in Bali. 

Some of the best markets in Bali include Badung Market, Kreneng Market and Sukawati Art Market. Others, like Pasar Tradisional Sayan in Ubud and Kedonganan Fish Market in Kuta, are highly authentic and considered to be the top markets in Bali amongst locals.
Bali has different types of markets including handicraft markets, clothing markets, wet markets (which specialise in fresh produce and meat), as well as night markets. Bali's night markets operate in the evening and often sell hot food to enjoy as you walk around.
The markets on this list are ranked in order of quality and popularity. It's important to consider location when choosing which market to go to, including other relevant factors like the type of market it is, parking, accessibility and other ways of value-adding to the experience, like nearby landmarks or the availability of hot food. 
One factor to consider when visiting Bali's markets is haggling. Whilst there are no hard and fast rules here, the price you are initially quoted is likely to be above, or sometimes well above, the value of the item. This is because the local Balinese vendors actually expect some haggling! We recommend deciding on a fair price and being willing to walk away if there's no middle ground to be found. 
When it comes to food and produce markets, keep in mind that food and hygiene standards aren't as high in Bali as in many Western countries. Fruit should be washed and any hot snacks or meals need to be purchased from reputable venues only. By taking food safety precautions, you reduce your risk of coming down with the dreaded Bali Belly.
One final factor to consider at Bali's markets is what you are allowed to bring back to your home country. In Australia, for example, it's not allowed to enter the country with fresh fruits, vegetables or meats, and certain items like fireworks and knives are not allowed either. Other items like wood carvings, coffee, spices or preserves need to be declared upon entry.
So, without further ado, here's our comprehensive ranking of Bali's top markets.
Bali's Best Markets 2023
1. Badung Market, DENPASAR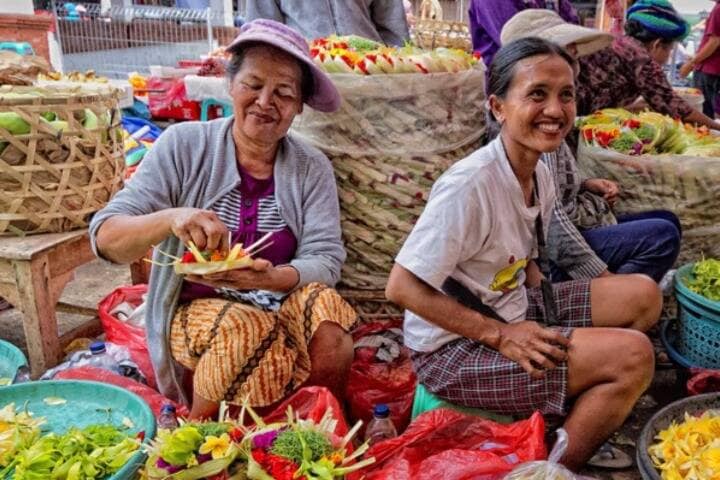 Opening Hours: 24 hours
Location: Jl. Sulawesi, Dauh Puri Kangin, pasar badung, Kota Denpasar, Bali 80221
Badung Market is the largest traditional market in Bali located in the heart of Denpasar and just across the river from the Kumbasari Art Market. This open-air wet market spans four levels and is a go-to amongst locals for fresh produce. On the first level , colourful fruit and vegetables overflow the baskets and tables, whilst the upper levels house a variety of stalls selling  herbs, spices, textiles, handicrafts, clothes and ceremonial items. Badung  Market is open 24 hours and with some haggling, items can be purchased at local prices. Add to the immersive, cultural experience of visiting this market by adding the nearby Pura Desa Hindu temple and the Bali Museum to your itinerary. Ample parking and modern facilities are a plus.
BEST FOR: Fruit and vegetables, accessibility and parking
DRAWBACKS: Some visitors have reported being followed by locals trying to sell them items
2. Kreneng Market, DENPASAR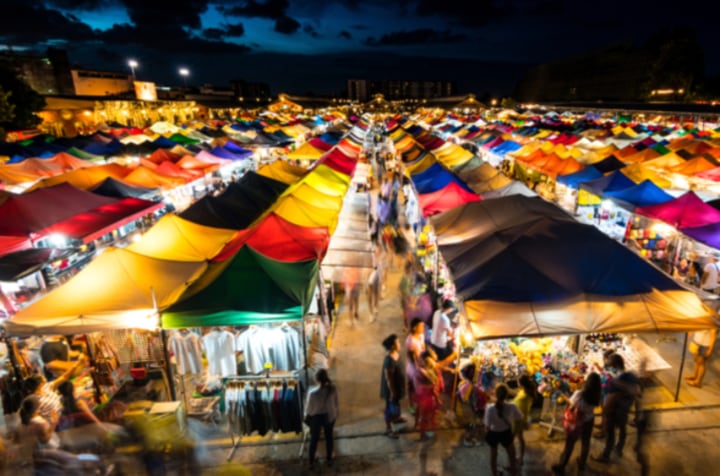 Opening Hours: 4am-3pm
Location: Jl. Cambodia No.24, Dangin Puri Kangin, North Denpasar, Denpasar City, Bali 80236
Kreneng Market is a traditional market open during the day, but nighttime is when it becomes truly worth a visit! Located in central Denpasar in an old, three-story building, Kreneng market has a vibrant atmosphere with plenty of options for street food, like red sticky rice and banana rai, and shopping opportunities for affordable clothes, jewellery and souvenirs. There are  two large statues, or 'guardians', found at the entrance of the market that are believed to keep the vendors safe. Street performers sometimes grace this market too – sometimes there is even a snake charmer or too! 
BEST FOR: Lively night time atmosphere 
DRAWBACKS: Crowded at times, parking is difficult
3. Sukawati Art Market, GIANYAR REGENCY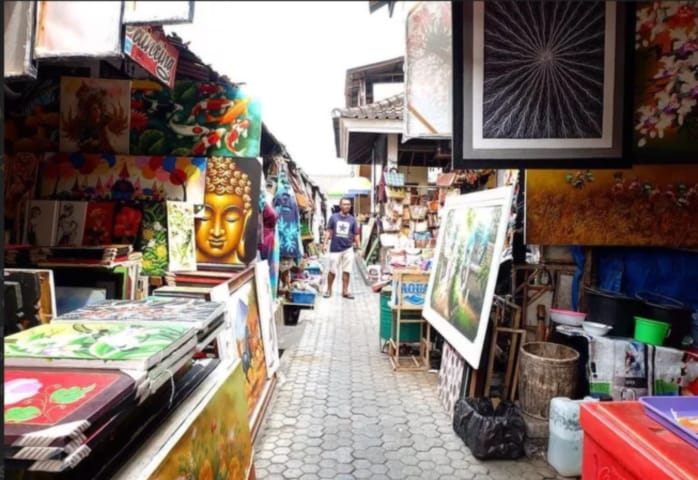 Opening Hours: 6am-6pm
Location: Jalan Raya Sukawati, Sukawati, Kec. Sukawati, Kabupaten Gianyar, Bali 80582, Indonesia
Sukawati Art Market, known amongst locals as 'Pasar Seni Sukawati', is a vibrant marketplace in the quieter region of Gianyar that covers three entire floors and spills out onto the street. Sukawati houses many of Bali's wholesale clothing sellers and is known for being a cheaper alternative  to other traditional markets in Bali. Along with being a few kilometres from natural attractions, such as the Tegenungan Waterfall and Hidden Canyon Beji Guwang, its reputation for good prices and modern facilities make it worth the 20 minute trip from Ubud. Hot tip: sellers are superstitious to set up a good day of profits with the first sales in the morning, and you can get a good price if you come early. Bargaining is part of the experience, so don't be afraid to haggle! 
BEST FOR: Affordable prices
DRAWBACKS: As it's located indoors, it doesn't have a traditional street market feel.
4. Pasar Senggol Gianyar - Night Market, GIANYAR REGENCY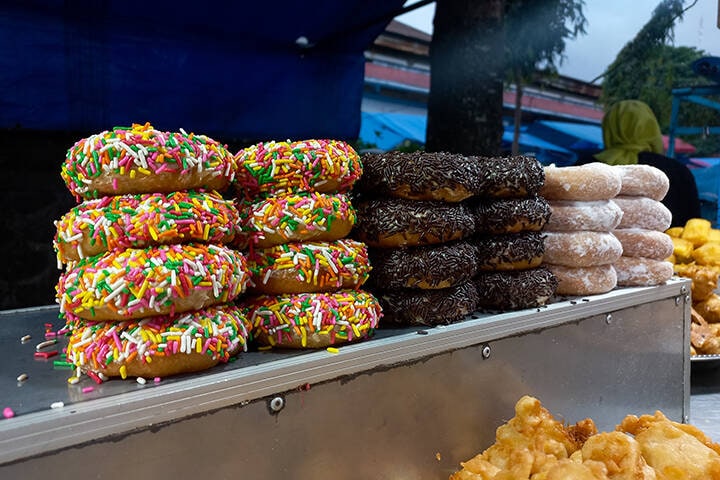 Photo credit by Anton, Adobe Stock
Location: Jl. Ngurah Rai-Gianyar No.38, Gianyar, Kec. Gianyar, Kabupaten Gianyar, Bali
Opening hours: 7 days a week, 3-10pm
Eat like a local at Pasar Senggol, a small but authentic night market best known for Balinese culinary delights like suckling pig (babi guling) and meatball soup (bakso). While the food is the main event, Senggol market sells clothing, incense, flowers, toys and handicrafts for sale as well. Like most places in Bali, the market is busiest on weekends, and it's best to arrive just after it opens – around 5.30pm – when the food is freshest and before the best dishes sell out. Located about 10km southeast of Ubud, this is one of the rare places where locals outnumber tourists. For this reason, you'll want to bring your phrasebook with you as many vendors won't speak English. Whatever you do – don't skip dessert!
BEST FOR: Traditional street food
DRAWBACKS: Distance and accessibility from Ubud centre – reviewers recommend asking your driver to wait and take you back to Ubud
5. Guwang Art Market, GIANYAR REGENCY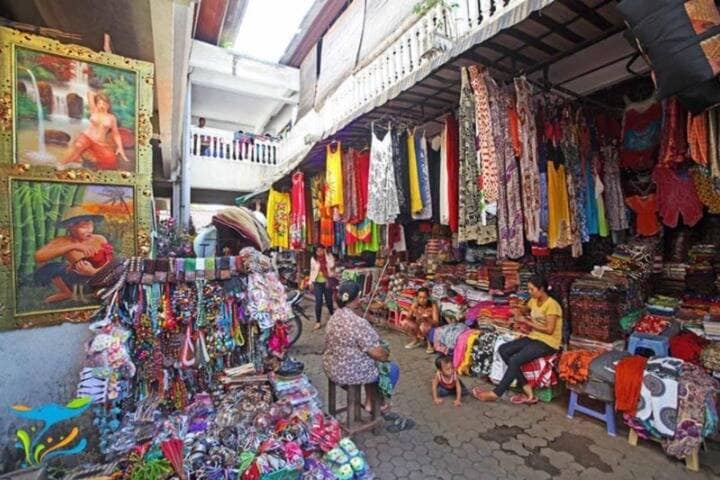 Location: Guwang, Sukawati, Gianyar Regency, Bali 80582, Indonesia
Opening hours: 9am-5pm
Guwang Art Market (aka Pasar Seni Guwang) is a traditional Balinese market in Guwang village which boasts the Hidden Canyon waterfall and watering hole. Guwang Market offers a wide array of prints, paintings and authentic artworks produced by local artisans. The market neighbours the iconic Sukawati Art Market – both markets sell similar items such as sarongs, batik pants, traditional crafts, ceremonial items and flowers. Guwang has a more spacious layout than Sukuwati, with fewer crowds and ample parking. It's worth checking out each market before deciding on your purchases, as friendly bargaining is expected.
BEST FOR: Serene shopping experience, paintings and prints
DRAWBACKS: Not a huge selection of unique items
6. Bedugul Traditional Market, CANDIKUNING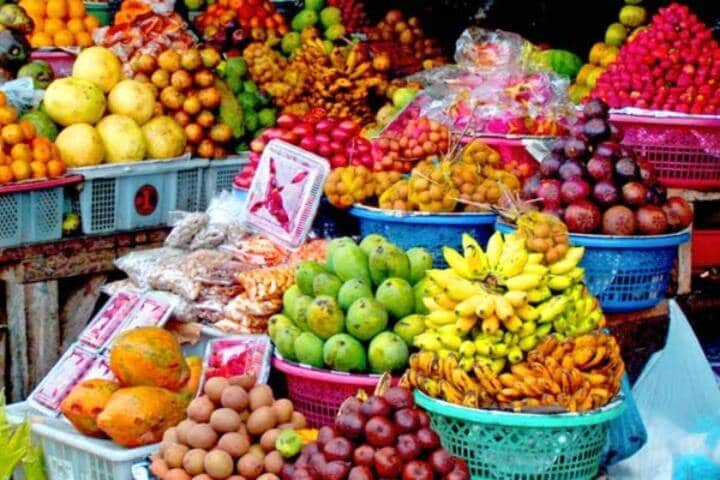 Location: Jl. Kebun Raya No.7, Candikuning, Kec. Baturiti, Kabupaten Tabanan, Bali 82191
Opening Hours: 9am-6pm
Bedugul Traditional Market has ample local Balinese produce for sale and is renowned for delicious tropical fruits like mangosteens, bananas and strawberries, which thrive in the cool highlands of Bedugul. Bedugul market also features a range of stalls selling souvenirs, toys, spices and clothing. Located in between the beautiful Beratan Lake and Eka Karya Botanical Gardens, the market s is worth a stop over if you are visiting these places already. Most vendors  offer samples of juicy fruit, so feel free to try before you buy. Bargaining at a rate of 40-60% is recommended, as the vendors are used to selling to tourists.
BEST FOR: Fruit and spices
DRAWBACKS: Prices can be high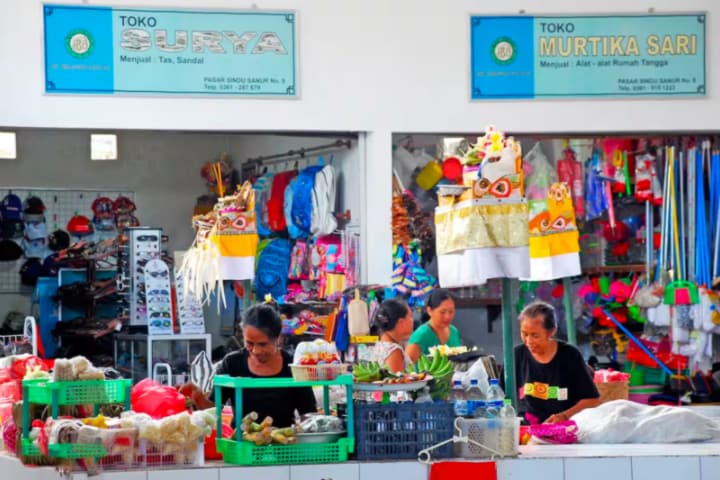 Location:  Jalan Pungutan No.2, Sanur, Denpasar Selatan, Kota Denpasar, Bali 80228, Indonesia
Opening hours: Daily 5am-11pm
Pasar Sindu is a traditional market with clean, modern facilities nearing the shore of Denpasar. In the early morning, Pasar Sindu is run as a produce market selling fruits, vegetables, spices, flowers and young coconut leaves for Hindu Balinese offerings. In the evening, it transforms into a night market known for affordable, authentic street foods like nasi goreng, lamb satays and martabak (a delicious, spicy omelette pancake). Despite the limited selection of stalls, there are plenty of tasty treats for a local dining experience.
BEST FOR: Value street food
DRAWBACKS: Limited selection of stalls
8. Art Market Kumbasari, DENPASAR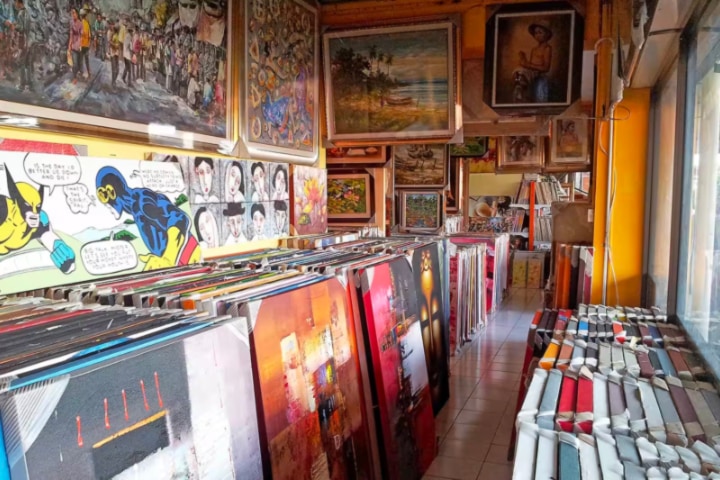 Location: Jalan Gajah Mada, Pemecutan, Denpasar, Bali 80111, Indonesia
Opening Hours: Daily 8am-5pm
Right on the Badung Riverfront in central Denpasar, Art Market Kumbasari is one of the city's main suppliers of arts and handcrafts. Split over four levels and featuring more than 1000 stalls, the size of this market means wholesale prices are available, especially for those who know how to haggle. There's not much you won't find at this market, so if you're strapped for time, this is a great option to collect all of the Balinese crafts, clothes, and ceremonial items you desire. For those thinking of redecorating, the store owners here even arrange shipping and packaging for bigger homeware purchases, like silver sculptures or large-scale paintings – so this is your chance to add some Balinese flair and colour to your space back home.
BEST FOR: Variety, homewares
DRAWBACKS: Busy, can be crowded
9. Pasar Endek Klungkung, KLUNGKUNG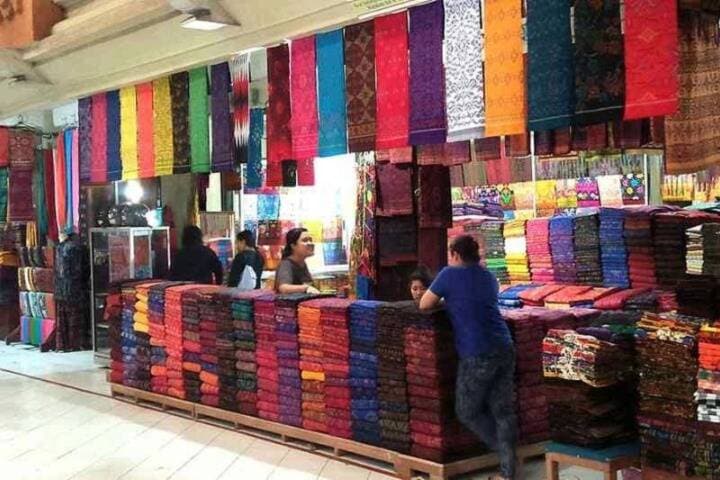 Location: Jl. Puputan No.7, Semarapura Kangin, Kec. Klungkung, Kabupaten Klungkung, Bali 80761, Indonesia
Opening hours: 4am-11pm
Pasar Endek Klungkung Market (aka "Klungkung market") is a large market best known for its wide and authentic selection of Balinese garments. Locals come here to buy ceremonial attire, like ikat – beautifully dyed, woven fabrics – and batik – colourful, wax-resist cotton. These labour-intensive dying techniques produce the gorgeous, detailed textiles that Bali is renowned for. Klungkung market is one of the best places in Bali to purchase traditional clothing and admire the local craftsmanship which produces these mesmerising fabrics.
BEST FOR: Traditional Balinese textiles
DRAWBACKS: Crowded, best to go early
10. Ubud Art Market, UBUD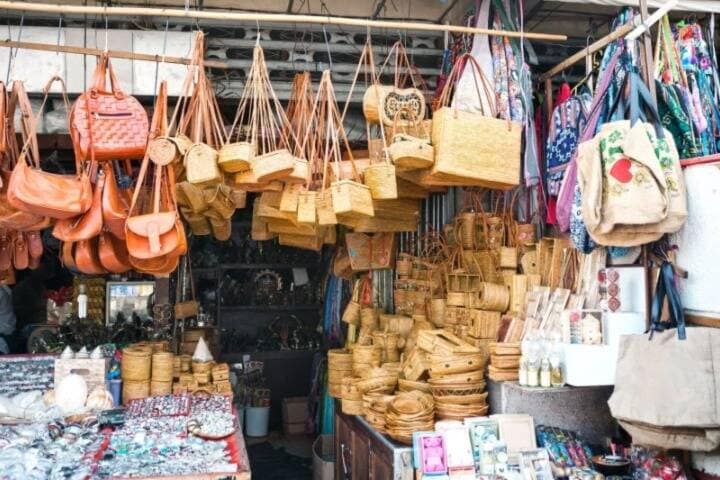 Location: Jalan Raya Ubud No.35, Ubud, Kecamatan Ubud, Kabupaten Gianyar, Bali 80571
Opening hours: 9am-6pm
Located in the centre of Ubud and within walking distance to the Monkey Forest and Ubud Palace, Ubud Art Market is one of the most popular markets in Bali. Best known for souvenirs and Balinese handicrafts, you'll find clothes, sarongs, jewellery and homewares as well. The market is busiest between 1-4pm when the tourist buses arrive, so it's best to visit before or after these hours, with the quietest time in the morning and the best deals at the end of the day. As many stores sell the same things, we recommend doing a lap before making any purchases. Fun fact: this market was a filming location for Eat, Pray, Love with Julia Roberts wandering the colourful stalls.
BEST FOR: Proximity to Ubud Central
DRAWBACKS: Some reviewers complain of high prices for tourists
11. Kuta Art Market, KUTA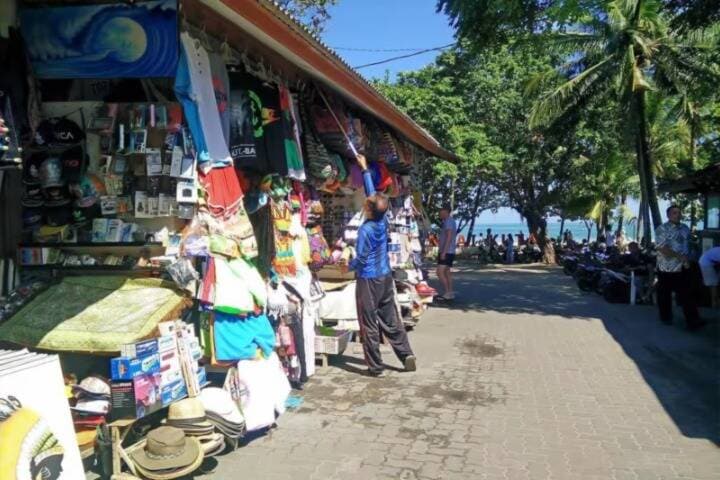 Location: Jalan Bakung Sari, Kuta, Badung, Bali 80361, Indonesia
Opening Hours: Daily, 8am-10pm
Take in the shoreside vista and pick up a bargain at Kuta Art Market, a small bazaar located right on Kuta Beach. Kuta Art Market specialises in classic Bali souvenirs like surfboard fridge magnets, sandals, singlets, sarongs and beer coolers. Western surfwear brands like Rip Curl and Quicksilver are  found alongside local Kuta crafts.
BEST FOR: Proximity to Kuta Beach
DRAWBACKS: Variety, authenticity
12. Taman Sari Market, NORTH KUTA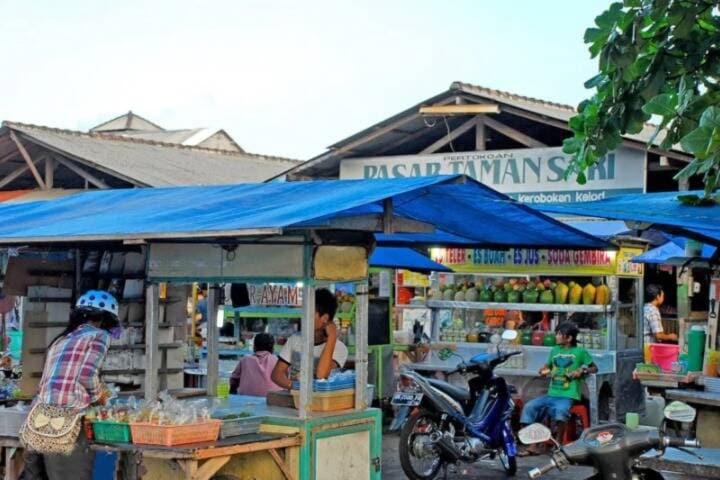 Location: Jalan Tangkuban Perahu No.1, Kerobokan Kelod, Kec. Kuta Utara, Kapupaten Badung, Bali 80361, Indonesia
Opening Hours: Daily, 5am-12am
Taman Sari Market is one of the few local markets of its kind close to Seminyak, with bundles of fresh produce and local food for sale. At sunset it turns into a night market with carts selling bakso and satay, making it a great dinner spot for those staying in the area.
BEST FOR: Fresh produce, street food
DRAWBACKS: You won't find souvenirs here
13. Pasar Tradisional Sayan, UBUD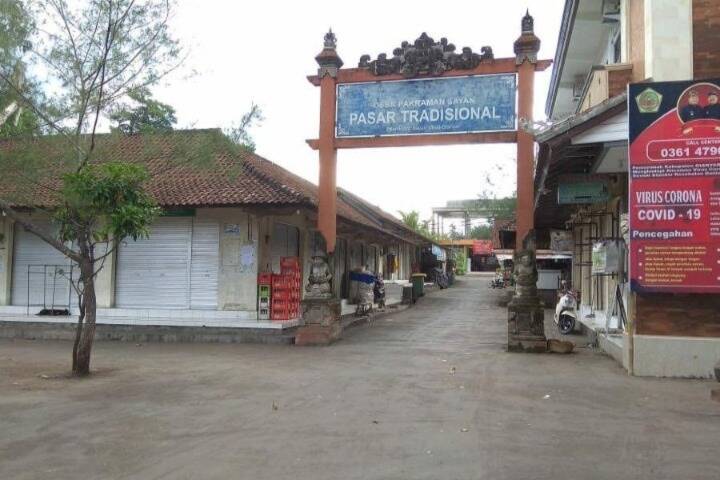 Location: Pasar, Sayan, Kecamatan Ubud, Kabupaten Gianyar, Bali, Indonesia

Opening hours: 6am-11pm
Pasar Traditional Sayan is a small local and classic traditional market in Gianyar. A great spot to shop for fresh produce and other items while mingling with friendly locals. Open until late in the evening, at nighttime there is a wide variety of dinner options and unique sweets to sample amongst the vibrant atmosphere. Bonus is the large parking space with green views of the rice fields.
BEST FOR: Traditional market feel, meeting locals,  food
DRAWBACKS: Limited souvenir selection
14. Canggu Sunday Market, CANGGU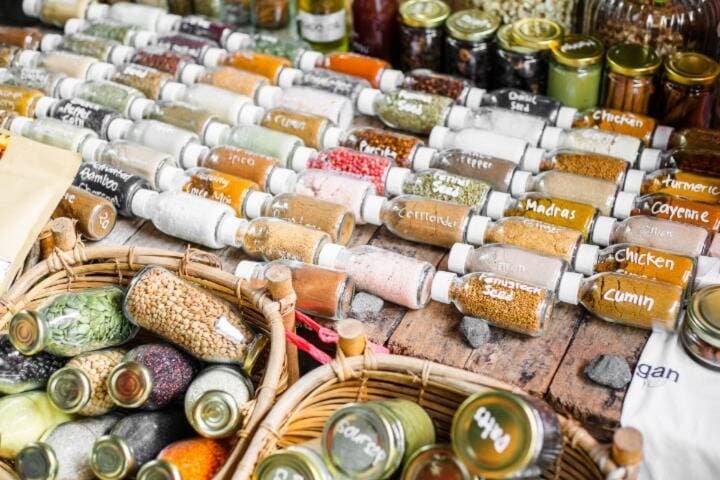 Location: Samadi Bali, Jln. Padang Linjong No. 39, Canggu
Opening Hours: 9am-2pm
Located at Samadi Bali yoga retreat, Canggu Sunday Market is a weekly farmers market and a relaxing stopover on a Sunday morning for organic harvest, gluten-free pastries, vegan food, home-brewed kombucha and other wellness products, like skin care and oils. Canggu Sunday Market is known for fresh organic coffee and healthy snacks which makes it the perfect spot to fuel up and start your day exploring beautiful Canggu.
BEST FOR: Organic produce and products
DRAWBACKS: Only open for a few hours once a week
15. Tanah Lot Market, TABAMAN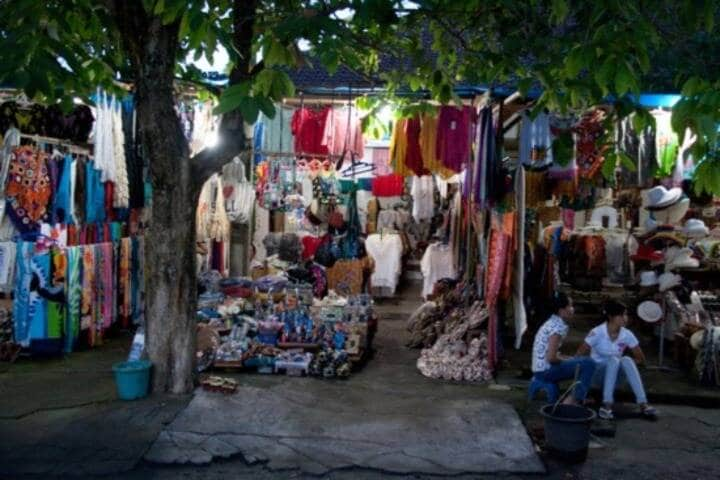 Location: Beraban, Kediri, Tabanan Regency, Bali 82121, Indonesia
Opening Hours: 5am-10am
Tanah Lot Market is located just outside the entrance to the Tanah Lot Temple. The market is a great stop over for souvenirs, clothing, woodwork, jewellery, and plenty of lunch or dinner options – like tasty fried rice, meatballs and cold drinks. One advantage of this market is that the merchants are known for being less pushy than in other markets in Bali. There are facilities and bathrooms onsite.
BEST FOR: Food, proximity to Tanah Lot Temple
DRAWBACKS: Variety of unique items, merchants aren't pushy
16. Kedonganan Fish Market, KUTA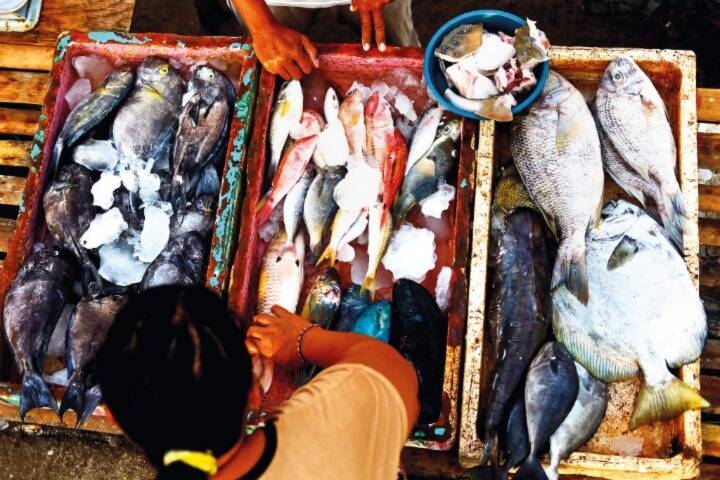 Location: Jl. Pantai Kedonganan, Kedonganan, Kec. Kuta, Kabupaten Badung, Bali
Opening hours: Daily, 7am-7pm
The Kedonganan Fish Market is the largest seafood market in Bali, located right on Kedonganan Beach in the south of Kuta. Just after sunrise, fishermen line the beach and unload their catches of the day – including nets full of red snapper, mahi-mahi, shrimps, crabs, lobsters and squid. Fish doesn't get much fresher than this, and they are sold here at  bargain prices. For a unique foodie experience, select your catch and take it to one of the nearby warungs (family-run eateries) where they  will cook it on the spot for a small fee. The market also sells fresh food, groceries, herbs and spices, making visiting a must for avid cooks. Watching the fishing boats come in while sampling the catch of the day is part of the authentic, fishing village experience.
BEST FOR: Freshly caught seafood
DRAWBACKS: Mid-day purchases - the seafood is freshest in the morning
17. Kuta Day Market, KUTA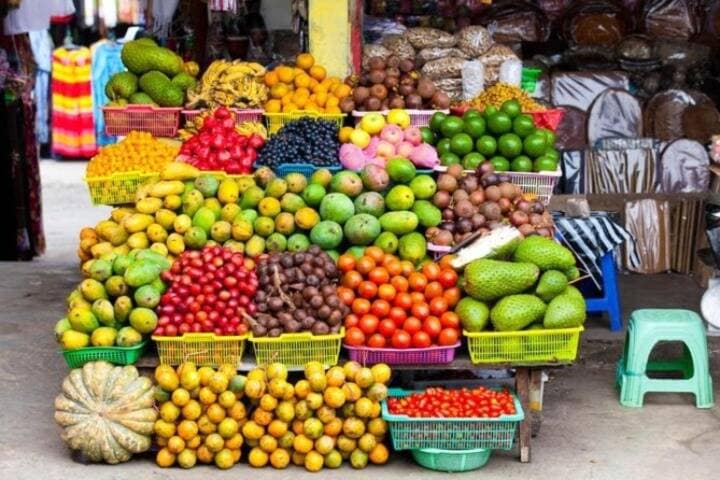 Location: Jl. Kediri No.48D, Kuta, Kec. Kuta, Kabupaten Badung, Bali 

Opening hours: Friday-Wednesday, 10am-12am. Closed Thursdays.
Kuta Day Market is a local wet market which sells produce like guava, passionfruit and jackfruit, and meats like lamb, chicken and beef. Geared mainly towards locals, it's best to visit early in the morning before the market becomes crowded and heats up. Find all your produce needs here for a good local price, and much cheaper than in the supermarkets. 
BEST FOR: Produce, cheap groceries
DRAWBACKS: No parking
18. Blambangan Senggol Night Market, KUTA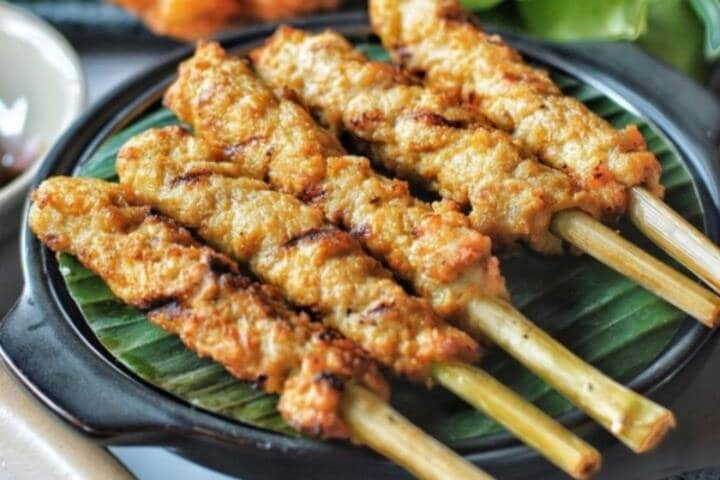 Location: Jl. Blambangan, Kuta, Kec. Kuta, Kabupaten Badung, Bali 80361, Indonesia

Opening hours: 7am-10pm
The Blambangan Senggol Night Market in Kuta is more of an outdoor food court than a market, with a few stalls open late selling authentic Indonesian food at local prices. This market is a good option if you're looking for a quick, cheap dinner in the Kuta area. 
BEST FOR: Open late, street food 
DRAWBACKS: Only a few food stalls, no souvenirs or clothing