Bali's cafe culture is thriving in tourist hubs of Canggu, Kuta and Ubud, whether for a delicious smoothie bowl, a much-needed caffeine fix, or a breakfast feast that rivals the options back home. A longstanding hub for tourists travelling Southeast Asia, Bali has been deeply influenced by Australian cafe culture. 

The best cafes in Bali, are those that visitors want to return to again and again on their travels, standing out for things like incredible food, the quality of coffee, the interior design of the cafe, the location or top service. 

In this guide, we rank the best cafes Bali according to a range of criteria, including food quality, atmosphere, quality of service, excellent barista-style coffee and amazing locations and interiors.
For each cafe, we highlight key information and provide tips on how what to expect, from the food and drinks menu, to the type of crowd it draws, and what its standout features are. 

Below are the top 5 Cafes in Bali.  

Revolver Espresso, Seminyak - Most Unique: Known for its unique decor and hipster atmosphere, Revolver Espresso in Seminyak offers a superb selection of coffee and innovative cocktails. 
Sisterfields, Seminyak - Best for Brunch: Bringing Australian cafe culture to Bali, Sisterfields is a vibrant spot for brunch lovers. Their all-day menu features tempting dishes like truffled scrambled eggs and pork belly.
Seniman Coffee, Ubud - Best for Chill Vibes: Seniman Coffee is a retro cafe with a wide variety of coffee from different Indonesian regions. The cafe's interior is unique, featuring bamboo ceilings and quirky rocking chairs. It's a great place for coffee connoisseurs.
Pison Coffee, Seminyak - Best for Live Music: Pison Coffee Petitenget is a trendy coffee shop known for its live music and stylish atmosphere. They offer a variety of coffee selections and a menu that includes delicious dishes like oxtail fried rice and crispy pork belly.
Watercress, Ubud - Best Eggs Benedict: Watercress Ubud offers a blend of Indonesian and international flavors in a rustic setting. Their menu includes mouthwatering beef burgers, eggs benedict, and healthy options like açai bowls.

For the full list of Bali's best cafes, consult our guide below!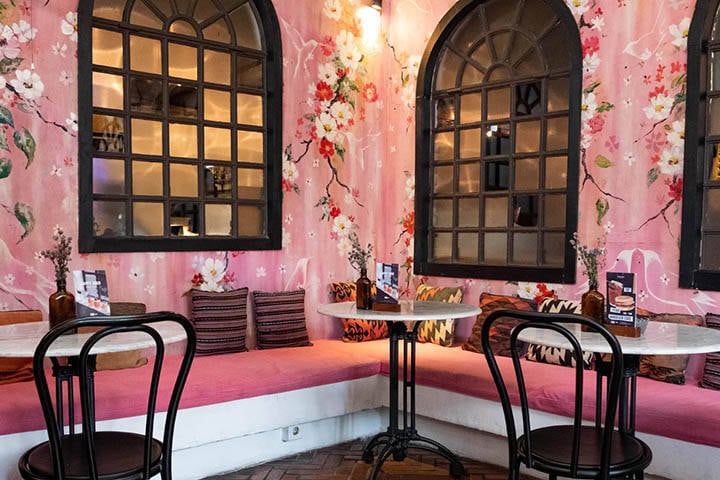 Credit: Revolver Espresso
Price: $$

Revolver Espresso is a trendy boutique café located in a charming side alley off the bustling streets of Seminyak. This hidden gem showcases one-of-a-kind decor that radiates a cool hipster atmosphere. With four distinct sections, each flaunting its own particular style, Revolver Espresso offers picture-perfect spots that are completely Instagrammable.
When it comes to coffee, Revolver Espresso offers a superb selection, with a few standout favourites like their long black, the killer chiller coffee, and the refreshing iced coffee shake. For those seeking more than just coffee, their cocktail menu is a treat, featuring innovative choices such as their signature espresso martinis. The dessert offerings at Revolver are equally impressive, particularly the tiramisu which is made with their signature espresso and contains just enough booze.
The menu at Revolver Espresso is delightfully diverse, catering to Western palates with options like breakfast burgers, mac & cheese, and crispy French fries. While the staff are notably friendly, it's worth noting that the service pace is sometimes a bit slow, so it's not always the best choice in a hurry. Additionally, the café tends to get quite busy and noisy, so come if you enjoy some hustle and bustle! 
Phone:  +62 812-3842-8343
Location: Jl. Kayu Aya No.Gang 51, Seminyak, Kec. Kuta Utara, Kabupaten Badung, Bali 80361, Indonesia
Hours:  7am - 11pm