Bali is just one of 975 islands that make up the Lesser Sunda Islands (also known as Nusa Tenggara), many of which are just as worth visiting. In fact, island hopping and island day trips are some of the most popular things to do when visiting Bali.
The best islands to visit around Bali for most travellers are the Nusa Islands (comprising Nusa Penida, Nusa Lembongan, Nusa Ceningan), the Gili Islands (comprising Gili Trawangan, Gili Meno, Gili Air) Komodo, Lombok, Flores and Menjangan.
Whilst each of these locations boasts tropical beaches, there are different advantages of each island to keep in mind when planning your trip. For example, Menjangan is considered one of the best islands in Indonesia for diving, as is Nusa Penida and Komodo. Komodo is the only island for tourists to easily spot the Komodo Dragon at the Komodo National Park. For those who prefer a quiet and secluded experience, the peaceful Nusa Ceningan or laid-back Gili Meno are an excellent choice. For partying, Gili Trawangan (aka "Gili T") is your best bet.
Whether you're travelling as a family, in a group or on your honeymoon, let us help you choose the island that best suits your preferences - including things to do, where to stay and how to get there!
Top 10 islands to visit around Bali
1. Nusa Penida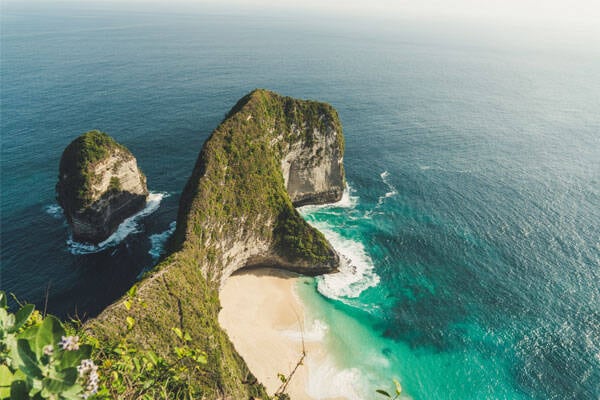 Photo by Paolo Nicolello on Unsplash
Nusa Penida is a beautiful, undeveloped island off the southeast coast of Bali – famous for its high cliffs, white sand beaches and crystal blue waters. Nusa Penida is separated from Bali by the Badung Strait, along with the neighbouring Nusa Lembongan and Nusa Ceningan islands, which together form "the Nusa Islands".
Some of the most sought-after sights in Nusa Penida are Kelinking Beach, Angel's Billabong, Atuh Beach, Diamond Beach and Crystal Bay,
The natural beauty of this island makes Nusa Penida a bucket-list destination, especially when it comes to activities involving sun, nature and water. From swimming, diving and snorkelling, to hiking and bathing under waterfalls – nature lovers will love all the things to do in Nusa Penida.
Nusa Penida is a world-renowned destination for diving, with excellent dive conditions all-year round, This is the only location around Bali to spot Manta Rays all year round. Oceanic Sunfish (Mola Mola) are around most of the year and there's a host of marine life to see like reef fish, colourful coral, stringrays, clownfish, turtles, barracuda and more.

Below are the 6 best activities to enjoy in Nusa Penida:
 
Dive with Manta Rays and Mola Mola at Manta Point
Explore the secluded Diamond Beach
Swim and sunbathe at the amazing Atuh Beach and Pasih Uug Beach
Take a refreshing dip at Angel's Billabong, nature's infinity pool
Snorkel offshore in the turquoise waters of Crystal Bay
Hike to the stunning viewpoint of Kelingking Beach.

The 5 best places to stay in Nusa Penida are below:
Adiwana Warnakali Resort
MĀUA Nusa Penida
Atalaya Villas Nusa Penida
The Angkal Resort
Penida Bambu Greezz
You can only access Nusa Penida by boat, which you can do from Sanur Beach, Serangan Harbor or Padang Bai Harbour. Make sure to book your fast boat tickets in advance if you're travelling in the high season (July and August)!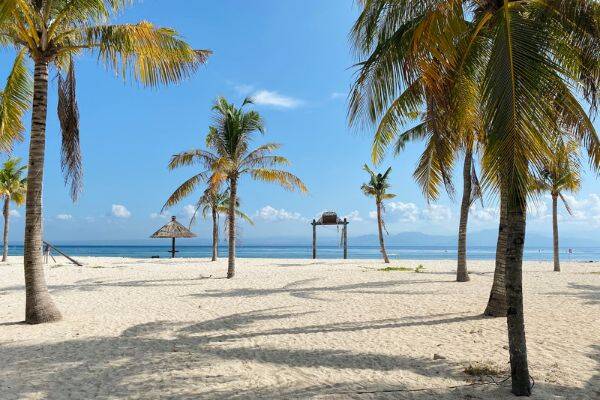 Photo by Dennis van Dalen on Unsplash
Nusa Lembongan is the second-largest of the Nusa Islands, located just a stone's throw from Nusa Penida. Despite its small area size (8km2), Nusa Lembongan has plenty to offer visitors, from stunning beaches to excellent surf breaks.
You can get to Nusa Lembongan from Bali in about 30 minutes on a fast boat from Sanur Beach, depending on the weather and water conditions. You can also depart from Benoa Harbour and Serangan Harbour.

Here are some of the best things to do in Nusa Lembongan:
Enjoy the sunshine, fine sand and crystal water at Dream Beach
Snorkel with Bali's colourful marine life at the Mangrove Point coral gardens
Visit the Gala-Gala Underground House for a little slice of history
Take a surfing lesson or simply watch the pros at Playgrounds surf break
Explore the Devil's Tears, where waves crash powerfully into limestone cliffs.
3. Nusa Ceningan
Photo by Danny de Groot on Unsplash
Nusa Ceningan is the smallest of the three Nusa Islands, but it's one of the most beautiful and peaceful places to visit around Bali. Connected to Nusa Lembongan by a bright yellow suspension bridge, Nusa Ceningan is only 3km long and 1km wide – but it's worth it for the stunning natural scenery, quiet seclusion and laid-back vibe. The island is small enough to walk around, otherwise you can rent a scooter to discover the island's beauty. If you're not so confident on a scooter, you can also rent a scooter and driver.
There are no direct boats to Nusa Ceningan – you'll need to first get to Nusa Lembongan, and then make your way across the famous yellow bridge on foot, motorbike or taxi. Otherwise, you can organise a private boat tour.

Best things to do in Nusa Ceningan:
Swim at Secret Beach
Try cliff jumping into the Blue Lagoon
Relax at Sea Breeze Beach Bar with its infinity pool and suspended hammocks
Have a cocktail and a side of zip-lining at Driftwood bar
Visit the Cingan Island Mangove, home to many species of birds and crab-eating macaques.
4. Gili Trawangan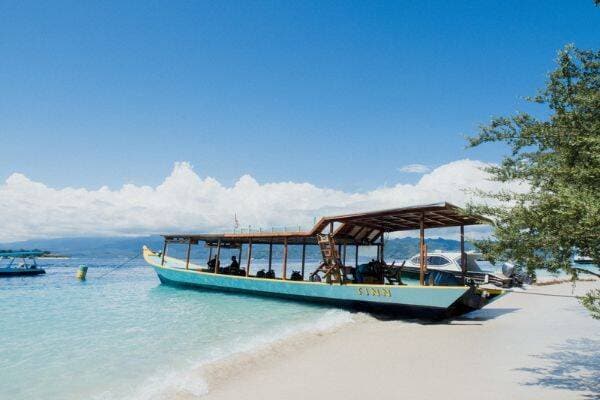 Photo by Uber Scuba Gili on Unsplash
Gili Trawangan (or "Gili T") is the largest of the three Gili Islands and considered one of the best tropical getaways reachable from Bali. Gili Trawangan is a quirky paradise - as much famous for its soft white sand and clear blue waters as for its vibrant nightlife and total lack of cars or bikes. That's right, the main forms of transport are bicycles or horse-and-cart!
The advantage of Gili Trawangan is the true sense of serenity and freedom it offers - whether you want to explore on foot, dive offshore for a swim with the turtles, or spend the night drinking and eating fresh seafood. This is the type of island to spend a few days on, as its small size, flat terrain and village atmosphere create an atmosphere of true relaxation and fun.
Watching the sunset from one of the beachside venues is a must, or bring your own drinks to the beach. Gili Trawangan is known to be the best island for parties thanks to its lively nightlife that offers everything from live reggae music to thumping EDM to casual Irish pubs. Just remember to bring enough cash as there aren't many ATMs on the island.
To get to Gili Trawangan from Bali, take a speed boat from Padang Bai, which can take around two hours. Gili T is very close to Lombok Island – it takes less than 20 minutes to travel from one to the other – so combine both of these island destinations into the same itinerary for an incredible experience.

Best things to do in Gili Trawangan:
Snorkel with turtles at Turtle Point off a glass bottom boat.
Scuba dive at Halik Reef for the beautiful coral and colourful marine life.
Cycle around the island to see the beauty in every corner.
Watch the sunset from the famous Sunset Swing before the party kicks off.
Party hard at clubs and music venues.
Take a horse cart around the island.
Rent a kayak or paddleboard and explore the surrounding waters.
Go horse riding along the beaches,
Take a day trip to Gili Meno or Gili Air.
5. Gili Air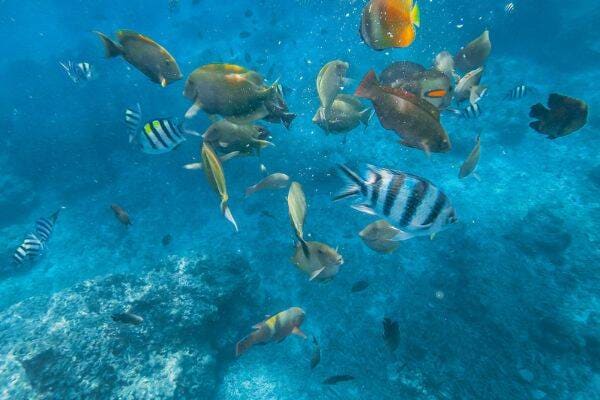 Photo by Ilyuza Mingazova on Unsplash
Gili Air is the quieter sister island of Gili Trawangan, offering relaxation and a break from the party scene. With its beautiful beaches and plenty of spots for swimming and snorkelling - as well a variety of tourist-friendly hotels and restaurants – Gili Air is considered one of the best islands for families to visit from Bali.
Be sure to bring cash, as there are only a few ATMs on the island.
To get to Gili Air, take a fast boat from Padang Bai, Sanur, or Serangan. The journey can take between two and three hours depending on your departure port and water conditions.

Best things to do in Gili Air:
Swim and sunbathe at Gili Air Beach
Snorkel with the sea turtles at the Turtle Sanctuary
Dive at Air Wall, a unique macro dive site
Spend a day cycling around the island (there are no cars)
Enjoy a calming yoga class or massage
Watch the magical sunset at Sunset Beach.
6. Gili Meno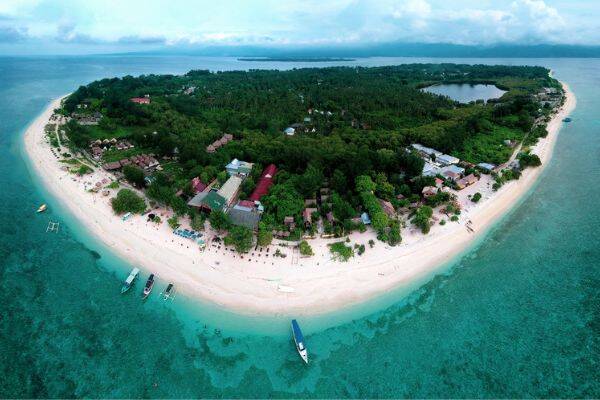 Photo by Mathis Jrdl on Unsplash
The smallest and most peaceful of the Gili Islands, Gili Meno is considered a remote tropical paradise that's perfect for those looking to take a break and disconnect from the bustle and crowds of Bali. Gili Menos' serene atmosphere is also exactly why it's considered the best island in Bali for a honeymoon (and has earned the nickname has the nickname 'The Honeymoon Island)
Expect to take things slow at Gili Meno, but make sure to spend some time snorkelling, especially to see the famous Nest, an underwater sculpture of 48 life-size human sculptures.
To get to Gili Meno, depart from Padang Bai on Eka Jaya. The journey should take roughly two hours, depending on weather and water conditions.

Best things to do in Gili Meno:
Snorkel at Turtle Point or dive to get up close and personal with the sea turtles
Explore the mangrove forest, especially for bird enthusiasts and nature lovers
Book a tour on a glass-bottom boat to see the underwater world without getting wet.
7. Lombok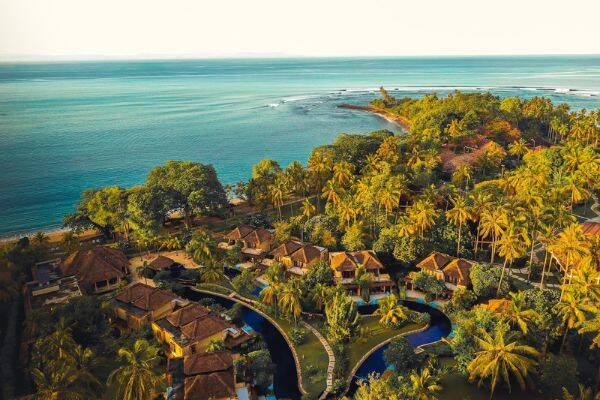 Photo by Tandya Rachmat on Unsplash
Lombok is a volcanic island located east of Bali in the West Nusa Tenggara province of Indonesia. Lombok is known as Bali's sister island, offering many of Bali's best features, like stunning natural scenery and warm hospitality, without overdevelopment and crowds.
Slightly larger than Bali, Lombok is home to pristine beaches, lush rainforests, refreshing waterfalls, excellent surf spots, rich culture, and Mt Rinjani, the second-highest volcano in Indonesia. The Lombok Sasak people are predominantly Islamic (whereas Bali is predominantly Hindu), which gives the island a unique cultural point of difference.
With its diverse surf breaks and all-year round excellent surf conditions, Lombok is a world-renowned destination for surfing. Home to "the best wave in the world" at Desert Point (which only the most experienced surfers should attempt to conquer), most breaks in Lombok are predominantly suited to beginner to intermediate skill levels.

The 5 best activities in Lombok are below:
Hike to the summit of Mount Rinjani, an active volcano
Take a day trip to the neighbouring Gili islands
Tour the traditional Sasak Village of Sade
Swim and sunbake at beaches like Senngigi, Kuta (Lombok) and Pink Beach
Visit the waterfalls at Tiu Kelep, Benang Stokel, and Benang Kelambu.

The 5 best places to stay in Lombok are below:
Katamaran Resort
The Oberoi Beach Resort
Pearl Sunset Resort
Amber Lombok Beach Resort
El Tropico Boutique Hotek
The quickest way to get from Bali to Lombok is by flight. Another option is to take a fast ferry from either Padang Bai or Serangan. The journey across takes between two and three hours. As Lombok is extremely close to the Gili Islands – a 20–30-minute boat ride – pair these destinations together for an unbeatable itinerary.
8. Komodo Island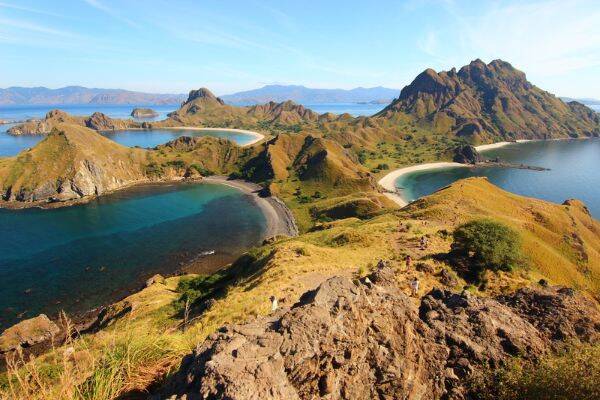 Photo by Rashel Ochoa on Unsplash
Komodo Island is located east of Bali and is famous for its Komodo Dragons, the world's largest living lizard species that looks almost like a living dinosaur! The most popular thing to do on Komodo Island is to take a guided trek to the Komodo National Park, a UNESCO World Heritage Site, to see the dragons in the wild. The hike itself is flat and easy, so it's suitable for all fitness levels. With its incredible views, diverse landscape and the ever-popular Komodo Dragons, it's easy to see why Komodo Island is the best island for animal enthusiasts and nature lovers.
To get to Komodo Island from Bali, you can catch a flight to Labuan Bajo and take a boat tour to Komodo Island. For those who prefer to travel by sea, take a ferry from Bali to Lombok, and then a ferry to Labuan Bajo. Due to the long journey to Komodo Island, it's not recommended to try to do it in a day – you'll need a few days for travel and to explore the area (including the nearby Padar Island, Rinca Island, and Labuan Bajo itself).

Other popular activities on Komodo Island include:
Visiting the beautiful Pink Beach
Snorkelling with Manta Rays at Manta Point
Hiking up to the scenic viewpoint at Padar Island to see the famous three bays - one with a white beach, one with a black beach, and one with a pink beach.
9. Menjangan Island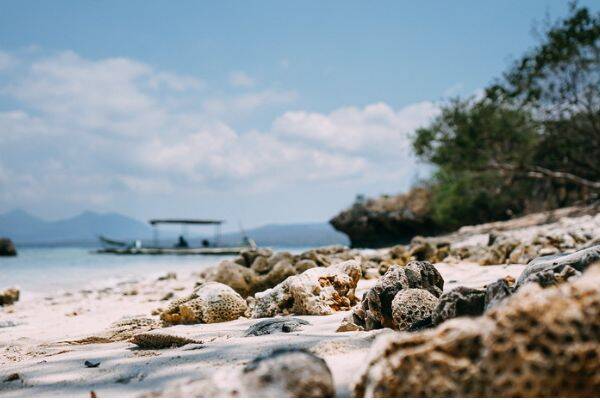 Photo by Jannes Glas on Unsplash
Menjangan Island is a tiny (about 3.8km2) island that is located northwest of Bali, and is part of the West Bali National Park (also known as the Bali Barat National Park). Menjangan Island itself is uninhabited (except for a few caretakers of the temples), and between the island and the national park on the mainland, there's plenty to see and do. Most people come to snorkel or dive at the coral reef, as Menjangan has some of the best sites to snorkel and dive in the world – including The Coral Garden and Underwater Cave.
To get to Menjangan Island from Bali, take a boat from Labuhan Lalang port in Northern Bali. It takes roughly 30 minutes to reach the island, and it's important to know you'll need a permit and a guide, too. Organise this with most tour operators and hotels in the Pemuteran Beach area, or even at the park office in Labuhan Lalang. Expect the permit to cost around IDR 20,000 (~AUD$2).

Popular activities on Menjangan Island include:
Visit the heritage Taman Pingit Klenting Sari Temple with its famous carved tigers
Explore the temple Pura Gili Kencana, with a statue of Ganesha that is believed to be protecting the neighbouring island
Head onto the mainland to the national park on a guided tour of the island to see its unique flora and fauna, including the famous (and rare) Rusa Deer
Beach hopping – you might even see some deer!
10. Flores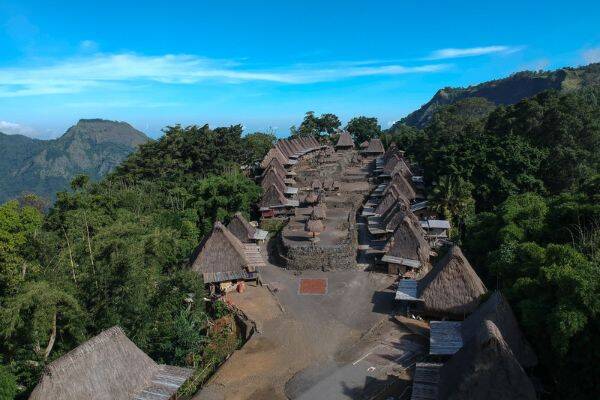 Photo by Reza Irawan on Unsplash
Flores Island is located east of Bali, in the East Nusa Tenggara province of Indonesia, and is the perfect destination for those looking for undiscovered beauty. While it is one of the main gateways to the Komodo Islands and the famous Komodo Dragons, set aside a few days to explore the area itself. The easiest and quickest way to get to Flores from Bali is by taking a flight. However, for those seeking an adventure, a ferry is available from Padangbai Harbour to Lubuan Bajo, which can take more than a day of travel time. Alternatively, liveaboard boats are also an option, taking several days to journey to Flores and stopping at various islands and attractions along the way, with accommodations on board.

Popular activities in Flores include:
Visit the volcanic Kelimutu National Park, home to three crater lakes with different colours (that change colour depending on the season!)
Head to the local traditional villages – Bena is particularly popular for its ancient megalithic structures
Visit the unique spider rice fields, where the paddies are shaped like a spider's web
Swim, dive, and snorkel at one of the many beaches.