Having a family adventure in the rugged outback, on a remote island or surrounded by pristine rainforest feels like a holiday of old - sandy feet, salt-licked skin, days spent exploring and late-night conversations beside crackling campfires. For the constantly connected digital generation, getting out for a long weekend in nature is the perfect antidote to our busy lives. So, if your family needs to unwind and reconnect, why not head for the great outdoors? Here are five of the best Aussie destinations that will recharge your family's batteries, naturally.
1. Arkaba, South Australia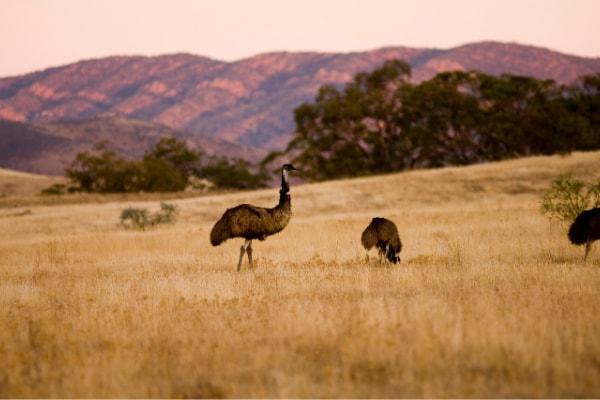 A standard sight on the four-day Arkaba walk, South Australia; courtesy Wild Bush Luxury
Instead of scrolling through Instagram to spot stars, kids can sleep under a night sky positively glowing with the real things. During a four-day walking holiday in the rugged Arkaba outback (surrounding Wilpena Pound and the Elder Range), parents and kids will hike the red-earthed ancient landscape along rocky creek beds, up craggy hills and through flat plains, dotted with native acacia and saltbush. Delicious meals, icy beers (for those old enough to imbibe), hot bush showers and luxe swags warmed with hot water bottles await at the end of each day of hiking.
Once a sheep station now a private nature conservancy, the 60,000 wild acres of Arkaba are the perfect playground for families wanting to explore one of Australia's most beautiful regions on foot while also tracking native wildlife and taking in the area's indigenous history with an Adnyamathanha elder.
Know before you go: The Arkaba "just for families" walk is graded moderate to challenging and covers up to 15km per day. Your main luggage goes on a support vehicle while you carry a light pack with day provisions.
2. Pumpkin Island, Queensland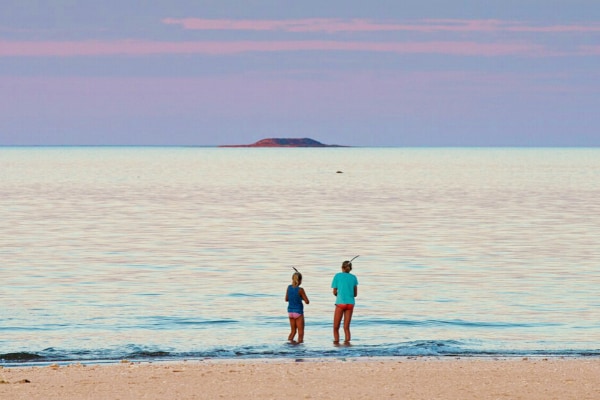 Snorkelling at sunset on Pumpkin Island, Queensland; credit Tourism Events Queensland
Prepare to be enchanted by a tiny island that looks and sounds like it belongs in the pages of a fairytale. Pumpkin Island (or "Pumpkin" as it's known) is an off-the-grid island 50km east of Rockhampton in a pristine patch of the Southern Great Barrier Reef. From your hammock strung between palm trees you can spot dolphins and whales, take a glass-bottomed kayak onto the water to see turtles glide beneath you, or wander the rocky outcrops to harvest your own oysters.
Big kids will quickly swap the "I'm bored" for a paddleboard and little ones will find hours of fun paddling and building sandcastles on the safe, sandy beaches. One of the best things about the island is that there are no day visitors. The seven units accommodate up to 34 guests in total, so there's no risk of feeling overcrowded.
Know before you go: Pumpkin Island is a self-catering island with no restaurants or shops, so BYO all your food and drinks.
3. Direction Island, Western Australia
Spot your beachfront accommodation on Direction Island, Western Australia; credit Tourism Western Australia
What would you take with you to a desert island? Your family? That's the right answer. But just in case you think you're going to be constructing your own shelter and rubbing sticks together to light a fire, put your mind at ease. Just 20 minutes from Onslow in the Pilbara region are the pristine Mackerel Islands. There are 10 islands surrounded by the sparkling waters of the Indian Ocean, but there's one island you can have all to yourself.
With a solitary solar-powered two-bedroom house surrounded by brush and golden sand, Direction Island is the ultimate family castaway experience. Soak up the sunshine from the upstairs deck (where you'll glimpse whales between July and September) or snorkel the coral reef that's home to sea turtles, stingrays and dolphins.
The waters surrounding the islands make for great fishing, and kids can cast their line from the beach, or you can take a charter boat where red emperor, coral trout, Spanish mackerel, trevally and snapper practically surrender themselves to you.
Know before you go: The accommodation sleeps up to eight people and a minimum three-night stay applies.
4. Corinna, Tasmania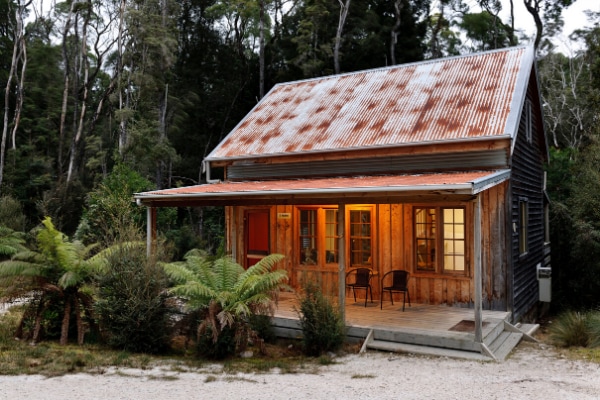 Cute-as-a-button miners' cottage accommodation at Corinna, Tasmania, credit Tourism Tasmania
Welcome to the wild west of Tasmania. Originally a gold rush town, Corinna sits on the banks of the Pieman River, surrounded by pristine Tarkine wilderness.
Active families can pull on their hiking boots and explore the nearby trails, which range in difficulty from easy to moderate. Or grab a kayak and paddle along the ethereally quiet tributaries of the river, keeping an eye out for the SS Croydon shipwreck, which sank in 1919. And don't miss the novelty of stopping at Lovers Falls, an enchanting waterfall that's accessed from the river by timber stairs leading into the rainforest.
In the twilight, head out for a family walk to spot quolls and Tasmanian devils. But keep your eyes peeled for another iconic Tasmania creature - rumour has it that the tangled rainforest surrounding Corinna is home to a Tasmanian tiger.
Know before you go: Stay in one of the refurbished original miners' cottages or pitch a tent with your crew for rainforest camping with waterfront views.
5. Murray-Sunset National Park, Victoria
Incredible hues at one of Murray-Sunset National Park's four pink lakes, credit Visit Victoria
If you want to increase your family's vocabulary, head to the Murray-Sunset National Park in north-west Victoria, where "pink" just doesn't cut it as an adequate adjective. On any given day, its four stunning lakes take on numerous hues – from dusky, bubble-gum, coral and fairy floss to salmon, watermelon and rose. The colour comes from a beta-carotene pigment caused by algae, and families with early risers will see amazing colours in the morning light.
The remote national park is truly wild, with towering sand dunes, semi-arid woodlands, desert wildflowers, abundant wildlife and bush camping. Almost as soon as you enter Murray-Sunset, you'll lose mobile reception, but there's plenty to connect you with nature. There are short walking tracks where kids can collect salt from the lakes' shores, trails to see salt-mining relics, plenty of trees to climb and secluded spots to go fishing. And, of course, there are the magical sunsets that light up the sky with every single shade of pink. Sorry, fuchsia.
Know before you go: There are 11 free camping grounds in the park. No bookings required, but families must be self-sufficient as no bins or drinking water are provided.