For visitors it has endless attractions. It's the sort of place you can journey to time and again and always find something new to explore. Here, we touch on some of the most famous landmarks in Tasmania and offer up some new ideas for exploration. Just don't forget your camera.
Plan Your Tasmania Itinerary
credit: Tourism Tasmania and Jason Charles Hill
Once you've landed, it's time to start your Tasmania road trip. Where to go depends on a couple of factors: what you're interested in and how long you have.
If you've only got two days or a long weekend, head to Hobart, explore everything it has to offer and, if you can fit it in, take a day tour to either Port Arthur or the Huon Valley.
If you have a week, start in Hobart, drive south to the Tasman Peninsula then head back up the east coast to see Tasmania landmarks like Freycinet National Park. Alternatively, begin in Launceston, spend a day there then head to Cradle Mountain-Lake St Clair National Park for hiking and adventure. When you're done, make for the coast and the wonders of Bay of Fires or Freycinet National Park.
Any longer and you can do it all, as well as take in the northern coastline. If possible, include a trip to takayna/Tarkine, one of the largest and most pristine examples of cool temperate rainforest anywhere in the world. Exploring it is the closest you'll come to knowing what it was like to walk the Earth at the time of the dinosaurs.
Tasmania's Natural Landmarks to Discover
Head to the treetops at the Tahune AirWalk in the Huon Valley. As high as 50 metres in places, the 1.6-kilometre steel walkway hangs above ancient eucalypts and crosses the Huon River. Take your time to spot native birdlife in the trees below.
The best way to see the incredible landscapes of Cradle Mountain and the surrounding glacial lakes and ancient rainforest is to lace up some comfy shoes and take to the trail. Luckily, there are several superb short walks from the Cradle Mountain-Lake St Clair National Park visitor centre and nearby Dove Lake car park. Get epic views and great photographs of Cradle Mountain mirrored in still water on the six-kilometre Dove Lake Circuit.
Best known for the unforgettable Wineglass Bay, Freycinet National Park is Tassie's favourite coastal playground. Go for the deserted bays and white sandy beaches, stay for the monumental pink granite peaks of the Hazards. Head to the lighthouse at Cape Tourville to watch for whales from May to November or bring a mask and go snorkelling in the cool, clear ocean.
A Taste of Tasmanian History
credit: Jess Bonde
The views of the dolerite cliffs and surrounding farmlands of Bruny Island are reason enough to head to Cape Bruny Lighthouse. Built in 1836 and standing sentinel over the unpredictable waters of Courts Bay, it's the only lighthouse in southern Tasmania open for tours. With tales of shipwrecks, the hardships of keeping the lights blazing and Bruny Island's rich history, the tour was designed by Craig Parsey, who lived here in the 1970s with his lighthouse keeper family, the last to watch over this site.
This former convict settlement, where the worst prisoners from the UK landed, can be a sombre day out, but immerse yourself in the stories of Port Arthur Historic Site, about an 80-minute drive from Hobart, and history becomes vivid. There are hundreds of stories – many of them harsh – on the 40-hectare site, so join the new Commandant's Tour of the most significant buildings and find out about the characters who served time at Port Arthur.
Step back in time to 1820s farm life at Brickendon Estate, half an hour from Launceston. This fully preserved property, where the Archer family lived with assigned convicts and free workers, includes a village with blacksmith shop and cookhouse, a glorious garden and farm animals for the kids to pet.
Explore Culture in Tasmania
credit: Moorilla Gallery
When it comes to Hobart landmarks, there is none so loved by visitors as Mona, David Walsh's fantastical art museum that he describes as a "subversive adult Disneyland". Take the ferry from Brooke Street Pier to get the full impression of the expansive building designed by architecture firm Fender Katsalidis. Want to know a secret? If you book a sunset dinner at onsite restaurant Faro, you'll not only get to check out Unseen Seen and The Weight of Darkness, the two James Turrell pieces in the eatery, but you'll also get to view his pergola-like Amarna, at its glowing best as the sun goes down.
It has 12 rooms of photography, art and design showcasing the vast talent of Tasmanian creatives. Spend some time at Cradle Mountain Wilderness Gallery to see its permanent and visiting exhibitions and to watch Tasmanian films in the movie room. Anyone interested in wilderness photography will love the work of Peter Dombrovskis and Olegas Truchannas, which is always on show.
South of Devonport on the island's northwest coast, you'll find the village of Sheffield, which has earned a reputation as Tasmania's outdoor art gallery. What started as a way to revitalise the town in the late 1980s has evolved to include more than 200 murals telling the history of the area. It's a favourite spot for photographers.
Thrill Island: Adventures with Tasmanian Landmarks
credit: Off the Path
Go deep into normally hidden parts of the landscape with Cradle Mountain Canyons. If you've never tried canyoning before, it's a thrill a minute. You'll climb into crevasses, slide down waterfalls and leap off cliffs into swimming holes. Want to ease yourself into this watery world? Book the Lost World Canyon, a gentle intro experience that requires fewer leaps of faith and a lot more floating down the river.
See the colours of Wineglass Bay and the pastel peaks of the Hazards from a different angle when you take a guided sea kayaking tour with Freycinet Adventures. You don't need any experience, families are welcome, and dry bags are provided so you can take your camera and phone.
With its mix of convict ruins, incredible wildlife and spectacular landscapes, like the Painted Cliffs, Maria Island is a destination to add to your list of Tasmania landmarks to visit. One of the best ways to experience it in a single day is with Tasmanian E-Bike Adventures, where you'll get to see the highlights normally only accessible on a multiday walk.
Devils, Dolphins and Beyond: Meet Tasmania's Wildlife
credit: Tasmania Devil Unzoo
Get close to Tasmanian devils at Unzoo on the Tasman Peninsula, where underground tunnels and clear domes above ground mean you're right on their level. You can also go on a Devil Tracker Tour and help with important wildlife research.
On the Tasman Peninsula, south of Hobart, you'll find the world's highest sea cliffs at Cape Pillar. The best way to see them? From a boat. Join Tasman Island Cruises to view this exceptional landscape from the water line and likely spot dolphins, seals, whales and many different varieties of birds, including soaring sea eagles.
Those driving up the coast should plan a night in the town of Bicheno, where you can join Bicheno Penguin Tours for a sunset tour to see little penguins return from the sea to their rookery. The summer season, when the penguins breed, is the busiest for both people and cute-as-a-button birds.
The First Tasmanians: Discover Indigenous Culture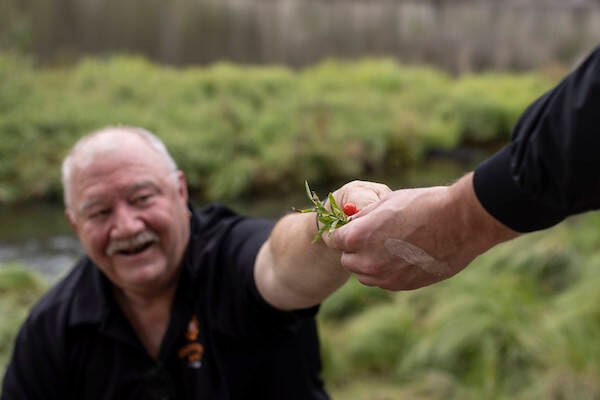 If you don't have time for the four-day wukalina Walk at Bay of Fires, join Trawlwoolway man Greg Murray on Kooparoona Niara Tours' half-day cultural tour near Deloraine in the state's central north. You'll see ancient Indigenous artwork, visit a healing circle, and explore the breathtaking tulampanga/Alum Cliffs region, significant because it's where three Aboriginal nations meet. There's also a tour option in Launceston.
There are two galleries, ningina tunapri To Give Knowledge and Understanding and parrawa parrawa! Go Away!, dedicated to telling pakana (Tasmanian Aboriginal) stories at Hobart's Tasmanian Museum & Art Gallery.
Tasmania's Best Gourmet Experiences
credit: Tourism Australia
Pull on some waders and accompany one of the oyster farmers at Freycinet Marine Farm to find out how these delicious molluscs are raised. Of course, joining Oyster Bay Tours means you get to shuck some fresh shellfish and devour them with a glass of riesling on the side.
Tasmania is famous for its pinot noir and sparkling wines, often produced at small family-owned vineyards. Josef Chromy arrived in Australia in 1950 having fled the Nazis from his Czech village and, in the years since, has dedicated his life to the Tasmanian food and wine industry. At Josef Chromy Wines, a 15-minute drive from Launceston, spend the day tasting wines at the cellar door, having lunch in the hatted restaurant, exploring the century-old gardens, and even learning how to fly fish on the lake.
After operating the cooking school arm of The Agrarian Kitchen from their home, Rodney Dunn and Séverine Demanet closed the operation in 2021. Now they've constructed a new kitchen in the same building as their fabulous restaurant at New Norfolk and built a walled kitchen garden, so that classes can commence once more. The signature Agrarian Experience is a celebration of the season, where you get to harvest and cook whatever is ripe and ready from the garden then enjoy it over lunch with premium Tasmanian wines.
Capture This: The Finest Photographic Spots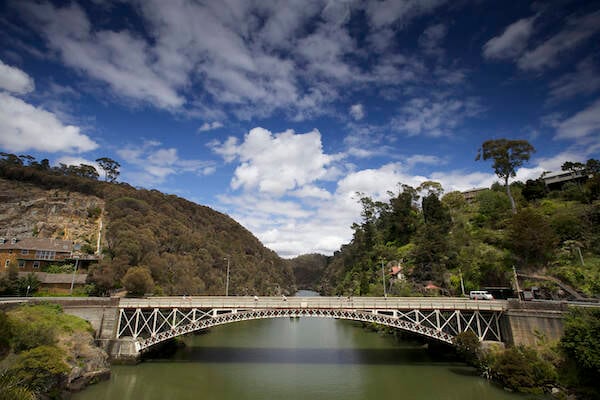 credit: Pete Harmsen
It's hard to believe that such a beautiful scene exists within walking distance of a city's CBD. Cataract Gorge is one of Launceston's big attractions, both for locals who swim in the pool and visitors who ride the scenic chairlift. There are so many places here to take drop-dead photographs. Go right back to capture elegant Kings Bridge over the river gorge, ride the chairlift for a different angle, or walk upstream to find the Australia's oldest hydroelectric power station.
Known for its sparkling blue water, blindingly white beaches and rocky shoreline covered in orange lichen, Bay of Fires on the northeast coast is a photographer's dream come true. Not only is it the perfect dramatic landscape to capture for posterity – it's especially captivating at sunrise – but the detail oriented will be richly rewarded with options for close-up images.

From December to February, the landscape is a sea of purple at Port Arthur Lavender. The seven acres of blooms are surrounded by lush farmland, rainforest and lakes, so there's almost unlimited options when it comes to snapping photos.
Tasmania's Unique Places to Stay
credit: Aaron Jones
Get away from it all at The Keep in Goulds Country, best chosen if you want a stopover between Bay of Fires and Launceston. Resembling a fortress atop a rocky peak, it's a luxurious retreat for couples. There's even an outdoor bath overlooking the surrounding bush.
Each of the rooms at MacQ01 on Hobart's waterfront is connected to a character, and their tales are revealed in what has been described as Australia's first storytelling hotel. Join a tour with one of its professional storytellers and delve into the history and folklore of Hobart.
Go off-grid at Tiny Escapes, a handful of self-contained cabins set on a hundred hectares of bushland. Each one has a jaw-dropping view, there are walking trails around the property, and it's only a 10-minute drive from Cradle Mountain.