Welcome to Samoa, a tropical paradise located in the heart of the South Pacific Ocean. Whether you're seeking relaxation or adventure, this beautiful island nation offers something for everyone, no matter your travel style or budget.
Known for its stunning beaches, lush rainforests, and rich cultural heritage, Samoa offers visitors the chance to immerse themselves in a truly unique experience. Nature lovers can explore the lush jungles, swim in crystal-clear waterfalls, or take a snorkelling excursion to experience the vibrant coral reefs.
Families will enjoy the many cultural sites and museums, as well as the warm hospitality of the Samoan people. Couples can indulge in luxury at one of the many world-class resorts or enjoy a romantic sunset dinner on the beach. And for those on a budget, there are plenty of affordable accommodations and dining options to choose from.
Whether you're on Upolu, Savai'i, or one of the many other stunning smaller islands, our guide to the best things to do in Samoa will help you plan an unforgettable vacation. So pack your bags and get ready to experience the beauty and culture of this stunning island nation.
Top 10 Things to Do in Samoa – Attractions 
1. To Sua Ocean Trench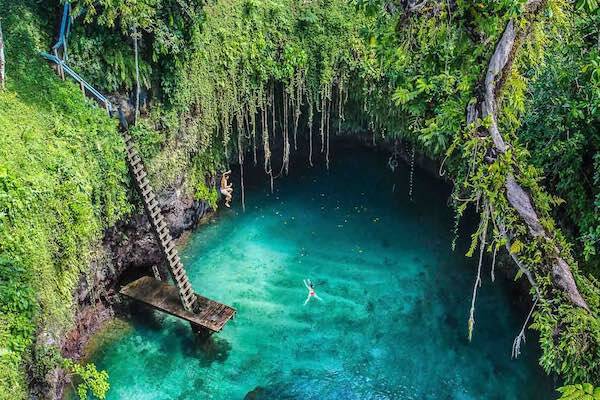 To Sua Ocean Trench, located in Lotofaga village on Upolu, is a natural wonder unique to Samoa. This massive thirty-metre symmetrical sinkhole pool is surrounded by lush rainforest and was formed during ancient lava eruptions. Accessible via a wooden ladder, it's worth every precarious rung to swim amongst colourful fish in the azure translucent sea waters - though some daredevils jump from the rim.
After enjoying To Sua, grab a snack at the small on-site shop or pack a picnic to enjoy in the idyllic garden areas. The views and surrounding area are soul-reviving and make for insta-worthy photos or even idyllic wedding backdrops – so start planning!
If you're looking to explore more of Samoa's stunning natural attractions, nearby Fagaoneone Beach is worth a visit. With ivory sands, pounding surf, blowholes, mini pools, and excellent fishing spots, it can be reached via narrow nooks on the western side during low tide or a connecting underground cave for experienced divers.
To reach these beautiful spots, it's about an hour's drive from Apia to Lotofaga village on Upolu or you can take a tour.
Opening hours: Mon-Sat 8am – 5pm, Sun 12.30pm – 5pm
Cost of entry: (Samoan Tala) ST$20 Adults, ST$5 Child (AUD$11/3)
For more information, consult our guide to the To Sua Ocean Trench
2. Samoa Cultural Village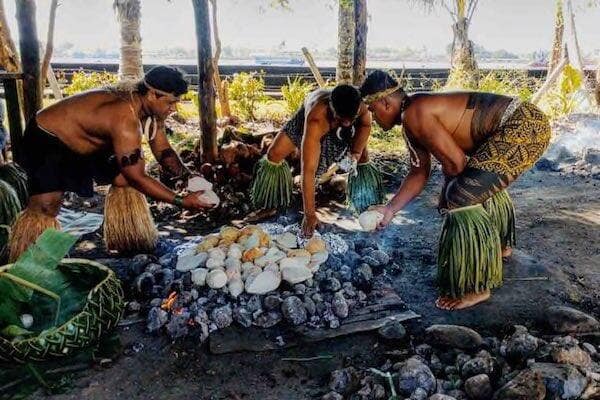 Immerse yourself in Samoa's rich culture and history with a visit to the Samoa Cultural Village in Apia. Dating back 3,000 years, Samoa's unique culture is showcased through traditional practices such as tattooing, artefact carving, cloth making, weaving, tapa making, and 'umu' earth-oven cooking, which you can experience firsthand at the village.
For a truly immersive experience, opt-in for the traditional umu-hot-stone oven lunch and Ava (kava) ceremony. This authentic Samoan feast will introduce you to the local cuisine and customs, and the Ava ceremony is a traditional welcome ritual that involves drinking a ceremonial beverage made from the roots of the kava plant.
Located on Beach Road in the centre of Apia on Upolu, the Samoa Cultural Village is an essential stop on any cultural or historical tour of Samoa. It's an excellent opportunity to gain insight into "Fa'a Samoa," the traditional way of life and learn more about the locals' extraordinary culture.
Opening hours: Mon-Fri 9am – 5pm, Closed Sat-Sun
Interactive experiences: Tues-Thur 10.30am – 12.30pm
Cost of entry: ST$10WST Adult, ST$5 Child 6-12yrs (AUD$6/3)
3. Lalomanu Beach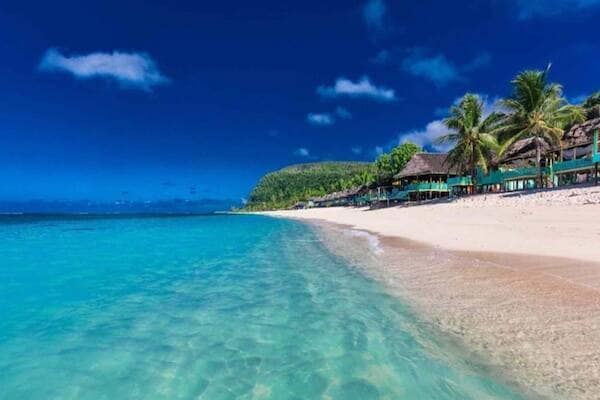 Lalomanu Beach is a slice of paradise in Samoa that offers a wide range of activities for those who love to spend time in and around the water. The beach is a protected marine reserve, which means it boasts an abundance of colourful sea life, making it an ideal spot for snorkelling and kayaking. However, it's not just the underwater world that's impressive - the view of Samoa's smaller islands from the beach is nothing short of spectacular. Take a break from the water and lounge on the pristine sands, shaded by outstretched palms. For an unforgettable experience, spend a night in a traditional thatched-roofed beach fale overlooking the deep turquoise sea.
Lalomanu Beach is the perfect spot to unwind and recharge your batteries with its peaceful atmosphere, sensational sunsets, and stunning sunrises. With its popularity during high season, on Saturdays (happy day), and with Instagrammers, it's no wonder that this beach is a must-visit destination. The beach is located an hour's drive south of Apia along Upolu's scenic south coast.
Cost of entry: Free. Parking is adjacent.
4. Immaculate Conception Cathedral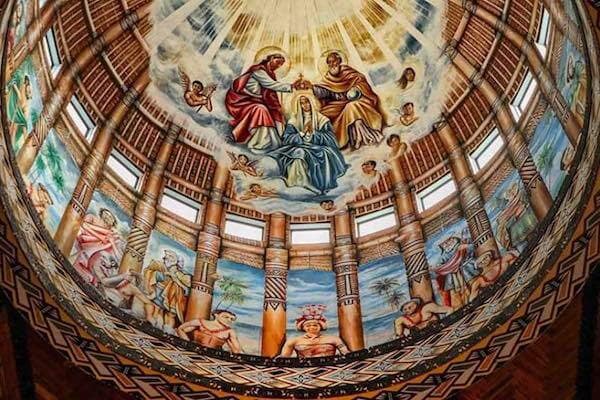 The Immaculate Conception Cathedral is a must-visit attraction in Apia, Samoa. This stunning church boasts magnificent stained-glass windows, an intricately painted dome, and beautifully crafted timber ceilings, with the capacity to seat 2000 people. It's no surprise that it's the most photographed church in Samoa.
Originally built in 1884, the cathedral was severely damaged in the 2009 earthquake and underwent a costly reconstruction of ST$13 million. Apart from its breathtaking architecture and stunning interior, the choir voices at the 9.30am Sunday service are also a mesmerising experience. You can easily spot the blue and white cathedral towering over Apia Harbour on Beach Road, opposite the Samoa Tourist Information Centre.
Opening hours: Daily
Cost of entry: Free
5. Alofaaga Blowholes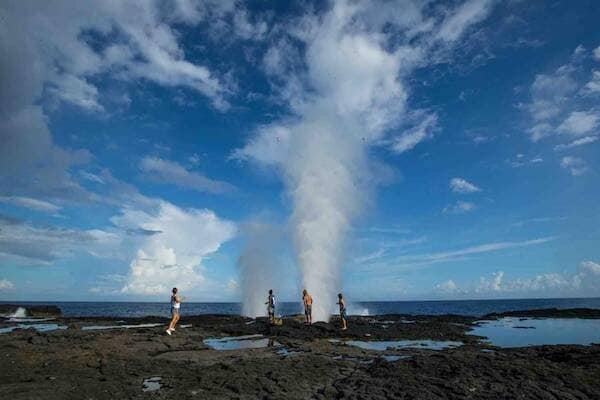 Experience the awe-inspiring power of nature at Alofaaga Blowholes, where ocean waters surge through a series of lava tubes, shooting metres into the air. To add to the excitement, local villagers throw coconuts into the blowholes, but be sure not to pay more than ST$10 to join in the fun or bring your own coconuts. Adjacent to Taga Village on the southern coastline of Savai'i Island, the blowholes are easily accessible by car or tour, and are another perfect spot for an Insta-worthy photo. Regular flights and vehicle ferries operate between Upolu and Savai'i, making it a must-visit destination during your Samoan adventure.
Opening hours: Mon-Sat 8am – 5pm, Sun 12pm – 5pm
Cost of entry: ST$5 per person (AUD$3)
6. Fia Fia Night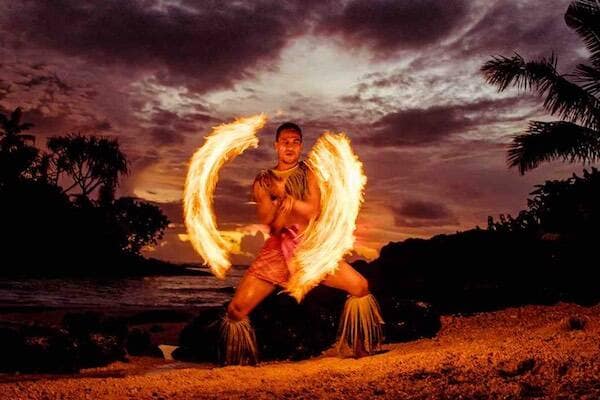 Immerse yourself in Samoa's rich cultural heritage with a vibrant Fia Fia night celebration. This is a must-do experience where you can witness and even participate in traditional dances, including the thrilling fa'ataupati fire knife dance. The evening is full of fun, music, and a feast of mouth-watering Samoan cuisine, cooked in an umu earth oven. Be sure to come hungry! Fia Fia nights are held at various locations around Samoa and are easily arranged through your accommodation or local tour operators. Get ready for an unforgettable night of entertainment and delicious food!
See Fia Fia Nights at most resorts weekly and at the Samoa Cultural Village in Apia. 
7. Palolo Deep Marine Reserve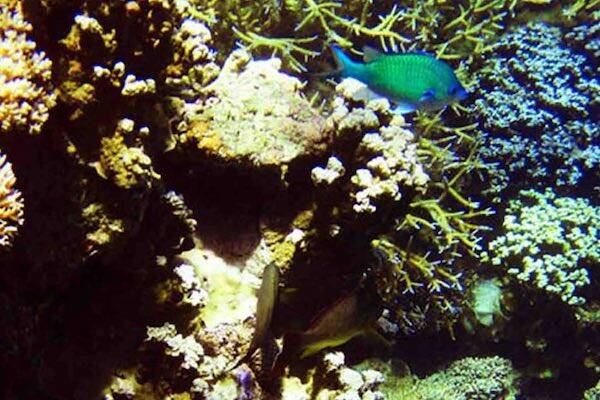 Palolo Deep Marine Reserve, located offshore of Vaiala Beach, offers a stunning blue-hole marine ecosystem with an array of colourful coral and tropical fish. Visitors can enjoy a refreshing swim and relax with a picnic under the shade of the palms. During high tide, snorkelling in the reserve is a must-do activity, and snorkelling gear is available for hire. Other amenities, such as showers, toilets, and changing rooms, are also available. The reserve is just a five-minute walk east of Apia city centre on Upolu, making it a convenient location to explore.
Opening hours: Daily 8am – 6pm
Cost of entry: ST$3 Adult, ST$2 Child 6-12yrs (AUD$2/1)
8. Piula Cave Pool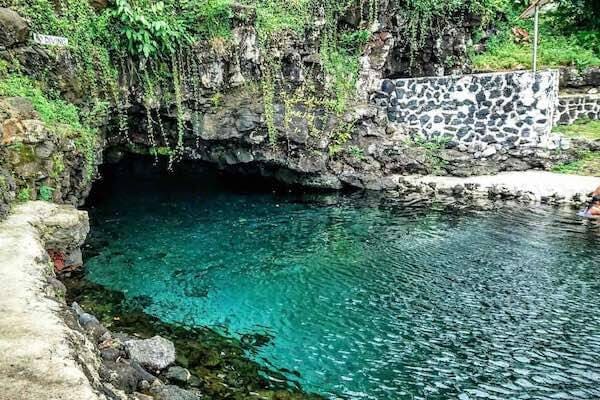 Take a refreshing dip in the stunning Piula Cave Pool, an aquamarine spring-fed freshwater swimming hole that consists of two enchanting caverns filled with tropical fish. The caves are connected by a three-metre underwater passage, which adrenaline-seekers can swim between if they're feeling brave. However, finding the passage without an underwater torch can be challenging. Enjoy a tranquil picnic in the area's serene surroundings, complete with picnic tables, toilets, change rooms, and a shop. Keep in mind that jumping, diving, fishing, fish feeding, alcohol, and drugs are all prohibited. Piula Cave Pool (Fatumea) is conveniently located next to the Piula Theological College and is a 45-minute drive from Apia along Main East Coast Road on Upolu.
Opening hours: Mon-Sat 8am – 4pm, Sun - closed
Cost of entry: ST$10 per person (AUD$6)
9. Afu Aau Waterfalls
Samoa has multiple spectacular waterfalls, but Afu Aau Falls is one of the best. There is a small and large waterfall plunging from rainforest-covered cliffs into a deep emerald freshwater swimming hole.  For the adventurous thrill-seekers, there are rocks beside the falls to jump from. Further downstream, there are three more minor falls and pools, making it easy to find the perfect picnic spot to relax and enjoy this slice of paradise. On-site, there are toilets and change rooms, and the falls are a leisurely ten-minute walk from the car park. To get there, take a flight or car ferry between Upolu and Savai'i, then head to the south-eastern coast of Savai'i Island.
Opening hours: Mon-Sat 8am – 5pm, Sun - closed
Cost of entry: ST$10 Adults ST$5 Child 6-12 years (AUD$6/3)
10. Saleaula Lava Fields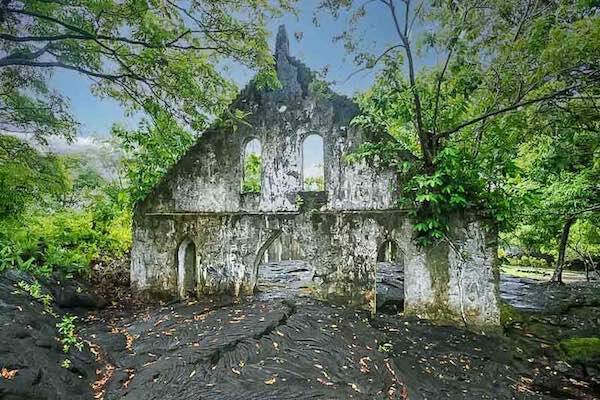 Take a walk through the Saleaula Lava Fields and explore the fascinating remnants of the 1905 eruption of Mount Matavanu. The fields feature lava mounds, tree imprints, and the remains of five destroyed villages, including the half-buried LMS church and an untouched virgin grave. Thankfully no one was killed, but what remains are eerie volcanic flow impressions amongst the building ruins mixed with native forest and open grassy areas making an excellent opportunity for unusual and striking photography. To get there, take a taxi, a local bus (keeping in mind that they run on island time), hire a car, or book a tour. The lava fields are located on the northern coast of Savai'i near Maunga village, and regular flights and ferries that carry vehicles operate between Upolu and Savai'i.
Opening hours: Daily 8.30am – 5pm
Cost of entry: ST$5 Adult, ST$3 Child (AUD$3/1)
Top 10 Things to Do in Samoa – Activities
1. Relax on the beach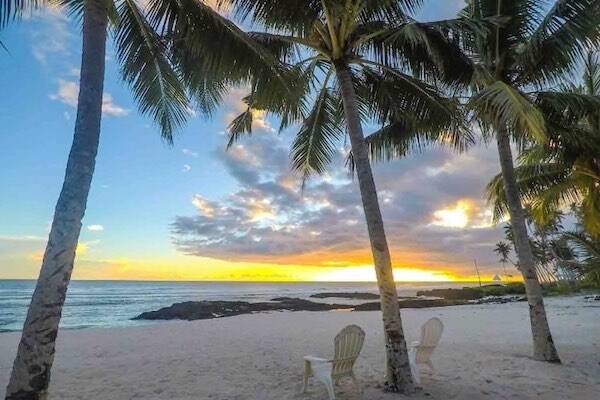 Samoa boasts some of the world's most stunning and unspoilt beaches, perfect for anyone seeking a tropical paradise to fulfil their castaway fantasies. From swimming, snorkelling, surfing, kayaking, or simply lounging beside the warm crystal-clear waters, Samoa's pristine white sandy, palm-fringed beaches offer endless possibilities all year round.
At the top of the list of Samoa's best beaches is the iconic Lalomanu Beach, renowned for its picturesque beauty and protected marine reserve status. Visitors can indulge in spectacular views of the lagoon's colourful sea life, and stay overnight in a beach fale to witness breathtaking sunsets and sunrises.
Restored to its former glory after total devastation during the 2009 tsunami, Lefaga Beach is another gem on Upolu's southwest coast. Its aquamarine waters swirl over giant clams and black stones on this pearly white sandy, lush palm-lined beach, with nearby Faimafili Village Resort offering a fantastic beachfront restaurant to enjoy views of the spectacular sunset and savour delicious Samoan fare.
On the secluded north coast of Savai'i Island, Manase Beach offers an oasis of tranquillity, 45 km from the ferry terminal. Visitors can relax on its lush palm-lined ivory sandy shores, swim in the azure waters, and stay in one of the six nearby Samoan beach resorts for a luxurious, extended getaway.
Other top beaches in Samoa include Manono and Tafatafa Beaches on Upolu and Legato and Aganoa Black Sand Beach on Savai'i.
2. Explore the rainforests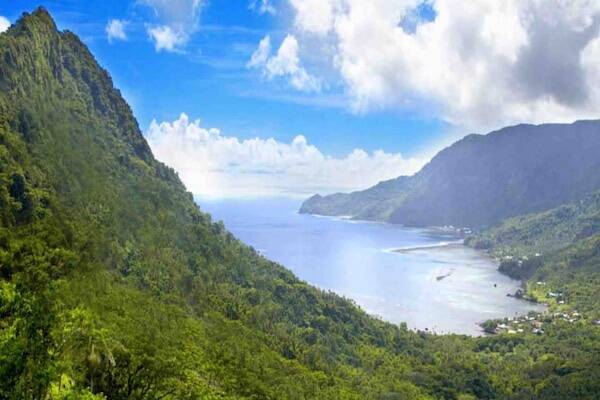 Photo by Mike Heydon
Samoa's diverse landscape covers 2,831 km2 and includes nine islands, with Upolu and Savai'i being the two main islands that occupy 99% of the land. These volcanic islands have a tropical climate and are covered with dense Jurassic rainforests that create a lush, vibrant haven for native birds and wildlife. For nature lovers, exploring the cooler surroundings and unrivalled experiences is a must-do. The Central Savai'i rainforest area covers 727 km and is Polynesia's largest continuous patch of rainforest, while the Uafato Tiavea Conservation Zone at Fagaloa Bay on eastern Upola is on UNESCO's World Heritage Tentative List, protecting its unique flora and fauna. Hiking and trekking opportunities are available for all levels, and the various mountainside accommodations offer incredible views to savour afterwards.
3. Swim at the waterfalls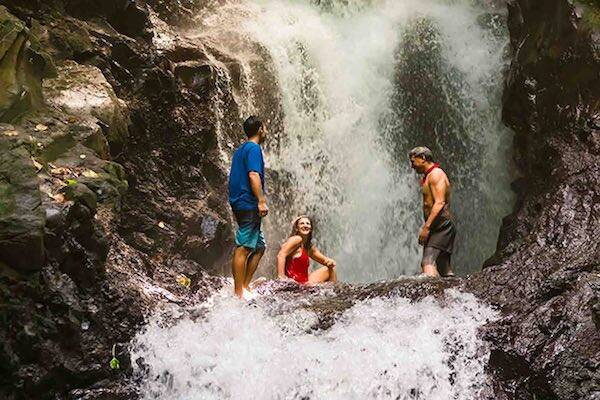 Samoa's mountainous terrain creates some of the most breathtaking waterfalls in the world, with many located in the southern coast of Savai'i and central to the southern region of Upolu. It's easy to explore them all and cool off in their refreshing pools.
At the top of Samoa's best waterfall list is Sopoaga Falls, standing at an impressive 54m high and surrounded by lush rainforest. The viewing platform is easily accessible and provides excellent photo opportunities, often with locals shelling coconuts. For a refreshing swim, take a short walk around the beautiful garden rim to the rocky pool at the top of the falls.
Togitogiga Falls and Papapapai-Tai Falls are also located along Upolu's southern coast and easily accessible, with swimming holes, toilets, and change rooms at Togitogiga Falls. Samoa's highest waterfall, Papapapai-Tai Falls, however, is strictly for viewing only.
Afu Aau Falls on the southern coast of Savai'i is Samoa's most popular waterfall, surrounded by lush rainforest and featuring deep pools perfect for swimming. Follow the coast a little further to the Mu Pagoa Falls, where the Lata River enters the sea. Here, you can relax in the shallow pools (20m wide) with other visitors and locals.
4. Learn Fa'a Sāmoa (the local way of life)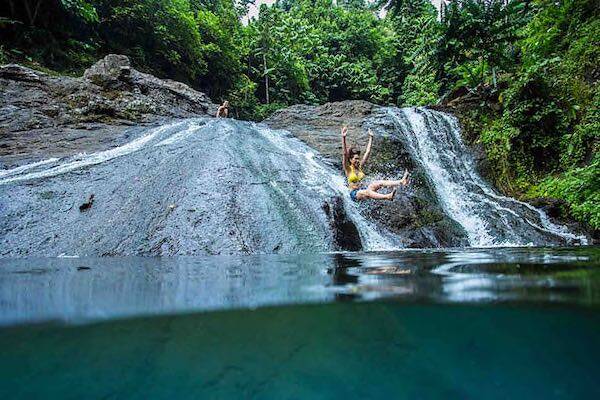 Samoans take pride in preserving their rich culture and traditions, making it one of the few South Pacific nations to do so. For over 3,000 years, their way of life has been guided by the Fa'a Matai or Fa'a Samoa, a set of complex guidelines that form the core of Samoan culture. These guidelines emphasise the importance of family, community, environmental stewardship, and religion, the only modern addition being western religion introduced in the 1800s. To show respect, it's recommended to learn some basic Samoan phrases such as Talofa, meaning hello, and Fa'afetai, meaning thank you, before visiting. By doing so, the locals will undoubtedly love you even more (if that's at all possible).
5. Stay in a beach fale (a Samoan hut)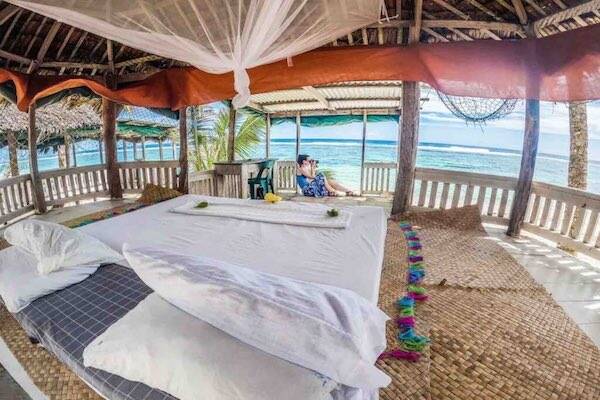 Photo by Laura Camera
Samoan accommodation is diverse, ranging from high-end resorts and beachfront villas to cosy bed and breakfasts. But for an authentic and affordable experience, nothing beats a stay in a Samoan beachside fale (pronounced "fah-lay"). These traditional houses on wooden poles are cosy and inviting, with a thatched roof and roll-down blinds instead of walls, allowing the sea breeze to flow in and the sound of waves to lull you to sleep. With many options available, from basic to enclosed and air-conditioned, rates typically start at around ST$80 per night and include both dinner and breakfast with a local family
6. Surf up a storm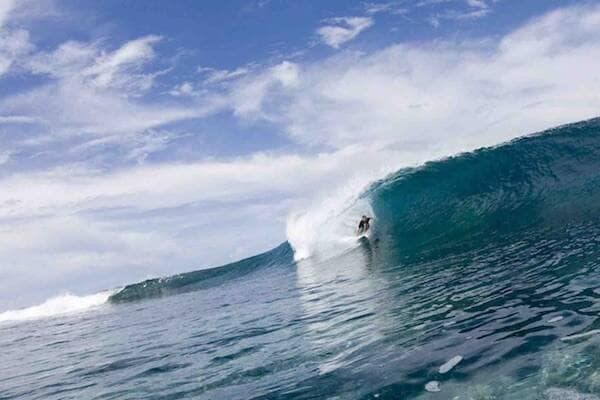 Between stunning tropical backdrops, crystal warm waters, and over 30 world-class breaks, surfing around Samoa offers something extra special. Year-round, every day delivers a new experience for beginners and experienced surfers. The best areas on Savai'i are Lano and Aganoa Beaches. On Upola, the best areas are between Apia and Cape Utumauu, and Matatufu to Matautu. Swells are best from April to October on Upolu and Savai'i's southern shores and their northern shores from November to January. February to April is idyllic, with rolling seas and glassy conditions throughout. Hire surfboards in Apia. Don't surf alone, as currents can be harsh, and check conditions with the locals before heading out or join a resort 'surfari' group.
7. Go snorkelling & diving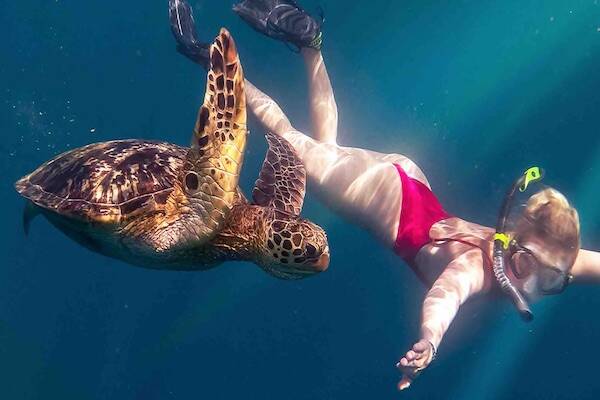 Samoa has a stunning array of snorkelling and diving areas with various colourful underwater inhabitants, including clownfish, green turtles, eagle rays and nudibranchs, and bright corals. Samoa's best diving and snorkelling spots include the London Missionary Society (LMS) ship 'John Williams V' that hit the reef in 1948, Matereva Beach and Falealupo on Savai'i, Upola's Lalomanu Beach and Aleipata coastline, the many lagoons and canyons just off the beaches, and the Palolo Deep Marine Reserve near Apia. The warm water temperatures are ideal for water activities year-round, but the best time to snorkel or dive is May to October, when seas are crystal clear and calmer. To ensure getting up close and personal with green turtles, visit Satoalepai Turtle Sanctuary on Savai'i, swimming with them in captivity before they're tagged and released.
8. Feast on fresh seafood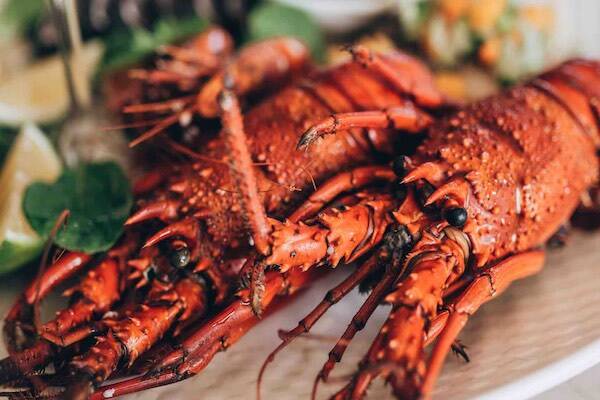 Samoa is a foodie's paradise, with fresh seafood being a highlight of the cuisine and an integral part of Samoan culture. Dining options are plentiful, particularly around Apia and resort restaurants, offering everything from quirky cafes to casual beachside dining. For the freshest fish and chips, join the locals at Apia's fish market or try a hidden fale.
Paddles Restaurant in Apia is a must-visit and the most popular of Samoa's best restaurants. Owned by an Italian and Samoan, they perfectly combine the best dishes of both nationalities. Indulge in creamy northern Italian pasta and risottos with seafood or pan-seared Samoan masimasi with garlic prawns for a lip-licking experience.
Located on the lagoon edge of Sinalei Reef Resort & Spa on Upola's south coast, Ava, I Toga Restaurant is a creative culinary delight. The restaurant's fresh South Pacific seafood-infused menu will tingle your tastebuds with dishes such as the Sinalei lobster plate, herb-crusted lamb rack, and vegetarian specials.
For a traditional Samoan dining experience, head to Amoa Restaurant at Amoa Resort on the east coast of Savai'i. Indulge in refreshing Samoan oka (raw fish in creamy coconut spices) or taro nachos with seagrapes while relaxing in the airy dining fale and sipping on local vai Antipolo.
9. Visit the churches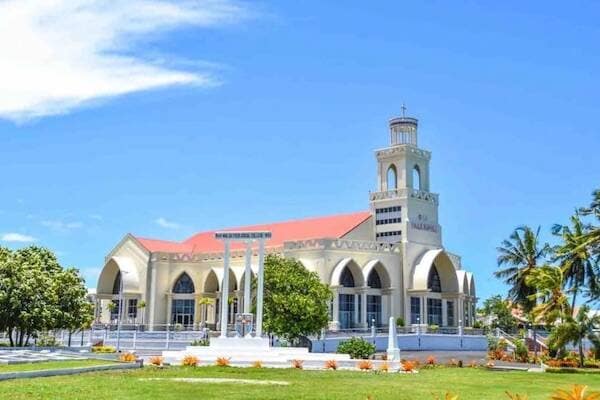 With 97% of the population identifying as Christian, attending a Samoan church service on Sunday is a deeply authentic and immersive experience, even for non-religious visitors. Locals come dressed in their Sunday best, and the harmonious voices of the choir resound through the timber or limestone halls of the churches. After the service, you may even be invited to join a traditional family to'onai. The best churches for attending a Sunday service and taking photos include Immaculate Conception Cathedral in Apia, EFKS Sapapali'i on Savai'i's east coast, and Malua Theological College where Samoa's ministers are trained. You can also visit the EFKS Museum on the grounds to view stunning Samoan artworks.
10. Hike the island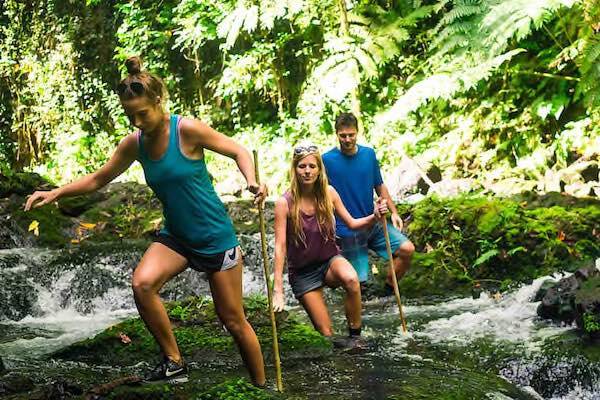 Samoa is a paradise for hikers, with the highlands offering some of the most beautiful, shaded rainforest tracks. There are trails for all abilities, from easy family-friendly walks to challenging multi-day hikes up Samoa's largest volcano.
For a birds-eye view of the treetops, head to the Falealupo Canopy Walkway, which stands 40m high. If you're not afraid of heights, you'll be rewarded with stunning views over Apia from the moderate 45-minute walk up Mount Vaea, where you can also see Robert Louis Stevenson's gravesite and his former home, now a museum. Take a leisurely one to two-hour walk through the pandanus trees along the dramatic cliff tops of O le Pupu Pu'e National Park on Upola's south coast to reach an open lava field with interesting lava rock sea arches and abundant wildlife. For more stunning views, hike the 1.5km trail up to Mount Fiamoe's volcanic peak, which stands at 938m tall, offering expansive views of Upola's north and south coasts.
If you're up for a half-day adventure, try the Falease'ela River Walk or Mount Matavanu. Experienced hikers can tackle the two to three-day hike up Mount Silisili, which offers breathtaking scenery.
Things to do in Samoa by area
Apia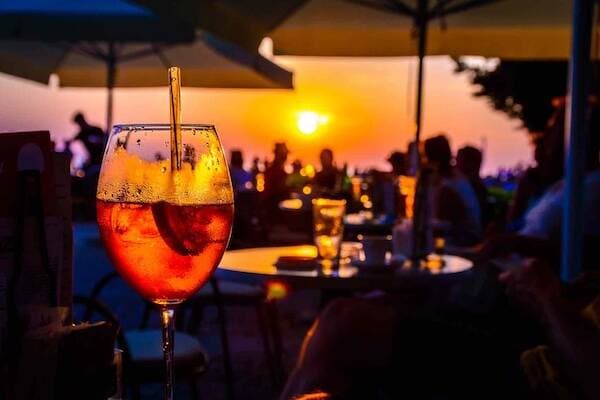 Apia, Samoa's harbourside capital on Upolu, is the perfect uncrowded base for exploring the surrounding islands via ferries or tours and immersing yourself in the Polynesian laidback lifestyle. With a population of 41,000, the city offers a mix of old and new with traditional Samoan houses, historic 19th Century buildings, modern multi-storey buildings, grand churches, museums, cultural centres, nightclubs, food markets, and a range of shops, cafes, bars, and restaurants - all within a few easily walked city centre blocks. Relax on Vaiala Beach or snorkel at the coral-lined Palolo Deep Marine Reserve. Apia has something for everyone.
Here are some of the best things to do in Apia:
Relax on Vaiala Beach, a beautiful white sand beach, perfect for swimming and sunbathing.
Snorkel at the Palolo Deep Marine Reserve, a coral-lined reserve with abundant marine life, including colorful fish and sea turtles.
Explore the fascinating cultural sites in the city, such as the Samoa Cultural Village and the Robert Louis Stevenson Museum.
Visit the Fugalei Market, a bustling local market where you can find fresh produce, handicrafts, and souvenirs.
Take a stroll through the scenic Papaseea Sliding Rocks and natural swimming pools.
Enjoy the lively nightlife in the city, with plenty of bars and nightclubs to choose from.
Whether you're interested in history, culture, nature, or simply relaxing on the beach, Apia has something for everyone.
Upolu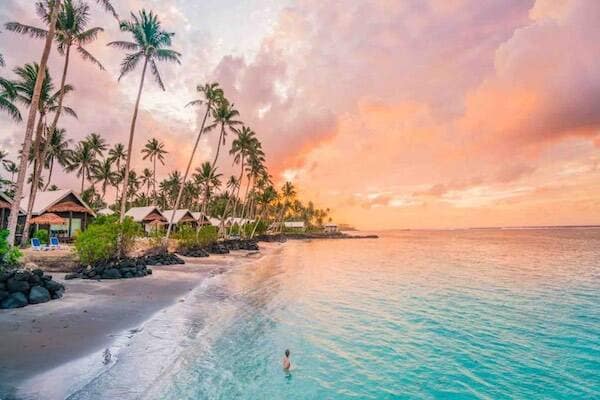 Upolu is Samoa's second-largest island and home to the capital city of Apia. The island has a population of around 143,000 people and offers a range of accommodations, resorts, cultural experiences, entertainment, and food options while still remaining true to the Fa'a Samoa way of life. Upolu's natural beauty is unparalleled with crystal clear waters, soft sandy beaches, vibrant coral reefs, lush tropical rainforests, serene waterfalls, and rugged mountain peaks. Activities include hiking in O le Pupu Pu'e National Park, snorkeling in Palolo Deep Marine Reserve, surfing at Coconuts Beach Club, and visiting the Robert Louis Stevenson Museum.
Here are some activities to do in Upolu:
Hike in O le Pupu Pu'e National Park
Snorkel at Palolo Deep Marine Reserve
Surf at Coconuts Beach Club
Visit the Robert Louis Stevenson Museum
Savai'i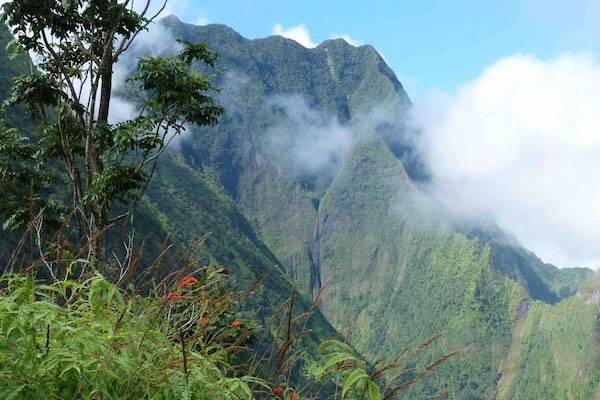 Savai'i is the largest and least developed of the main Samoan islands, with a population of around 43,000 people. The island is a nature and adventure lover's paradise, offering a wide range of activities from climbing Samoa's highest peak, the dormant volcano Mount Silisili, to diving into shipwrecks and lava caves. Other highlights include walking through lava fields, being thrilled by blowholes and gushing waterfalls, and surfing or snorkeling in some of the most pristine waters in the world. Savai'i is a tropical natural smorgasbord that promises to penetrate your soul with the Samoan way of life.
Here are some activities to do in Savai'i:
Climb Mount Silisili
Dive into shipwrecks and lava caves
Visit the Saleaula Lava Fields
Experience the Alofaaga Blowholes
Things to do in Samoa for couples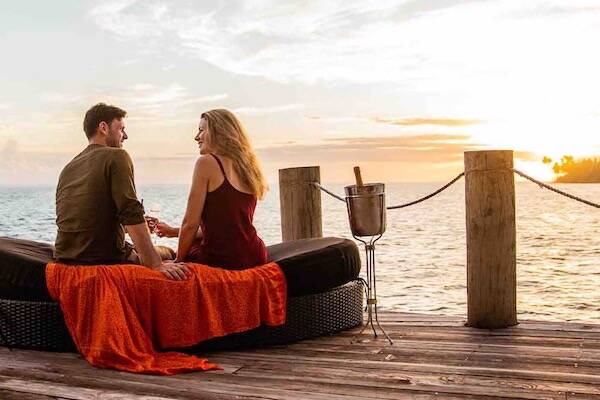 Samoa is a utopia for lovebirds, offering couples of all ages a romantic and serene escape. Whether celebrating a romantic getaway, a honeymoon, or a wedding, Samoa offers uncrowded serenity, panoramic picture-perfect settings where only nature's music or your partner's sweet whispers fill your ears. Unlike anywhere else in the South Pacific, there are no mega resorts in Samoa. Here are some things couples can enjoy:
Cosy up in a luxurious boutique resort, private villa, or peaceful overwater fale.
Picnic in emerald and sapphire inland rainforests, hike in mountains, visit waterfalls, and swim in waterholes.
While away the days under swaying palms on diamond-encrusted sands beside crystalline seas.
Enjoy swimming with turtles, colorful reef fish, and coral or indulging in a day of sensational spa and sauna soul pampering.
Finally, enjoy a toast to the golden sunset while dining at the end of a private jetty or beach.
Things to do in Samoa for friends and groups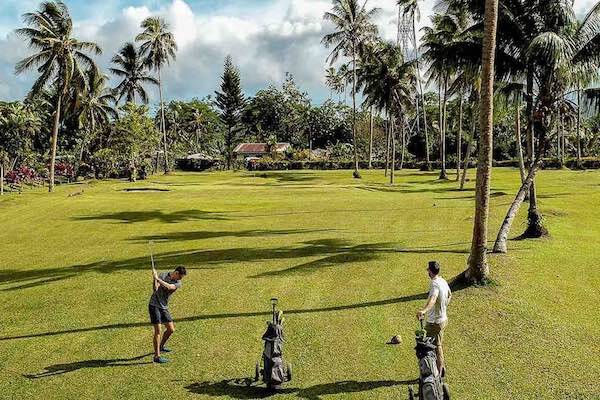 Samoa offers a diverse range of activities for any type of traveler, whether it be a group of friends or individual explorers. This tropical paradise is brimming with sun, sand, and sea adventures, as well as lush rainforest hikes and refreshing freshwater swimming. Here are some activities to consider:
Soak up the sun, sand, and sea on the many beaches and islands of Samoa.
Go on a refreshing freshwater swim in a river or waterfall.
Hike through the lush rainforests and discover hidden waterfalls and swimming holes.
Learn about the rich history and culture of Samoa by visiting a museum or historical site.
Indulge in mouth-watering local cuisine at one of the many food markets or restaurants.
Shop for unique handmade crafts to take home as souvenirs.
Play a round of golf at the stunning 18-hole Faleata Golf Course, suitable for golfers of all levels.
Start your day with a sunrise yoga class on the beach.
Rent a bike and explore picturesque beach coves and villages at your leisure.
Catch a colorful local "island time" bus or rent a car to easily navigate the island's roads and have a stress-free adventure.
Things to do in Samoa for families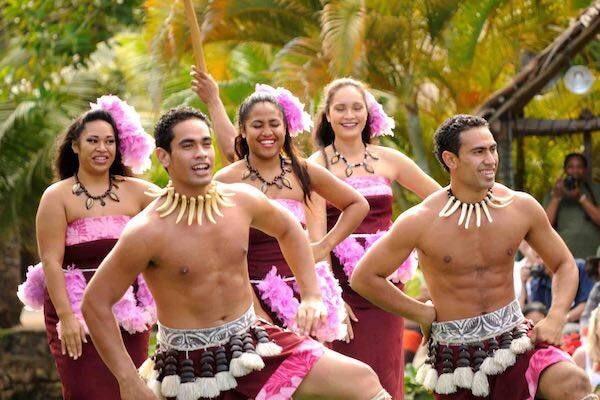 Samoa is an ideal family vacation destination, offering a variety of activities for all ages. With a culture that values family and community, locals are welcoming and accommodating to families. Some of the best activities for families include:
Swim in safe and clear waters
Snorkel with turtles and colorful fish
Kayak and cycle through picturesque landscapes
Birdwatch on the canopy walk
Explore lush rainforests and stunning waterfalls
Experience rock sliding and swimming holes
Observe the powerful blowholes
Engage in local culture by shopping at markets
Enjoy cultural experiences
Stay in family-friendly resorts offering a range of water-based activities
Attend Fia Fia dancing nights