From little things big things grow. Forty years ago, planting grapevines in Tasmania's Tamar Valley was a niche activity for radical outliers. These days, the lush green valley is not only Tasmania's principal wine-producing region, it's described in wine circles as producing the closest thing to champagne outside Champagne.
The history of sparkling wine stretches back to the 1500s, but Australia's premier location for bubbles has made an international name in just a few short decades. Vines – particularly the classic champagne grapes chardonnay, pinot noir and pinot meunier – are wresting the fertile Tamar soil from under the hooves of sheep and cattle.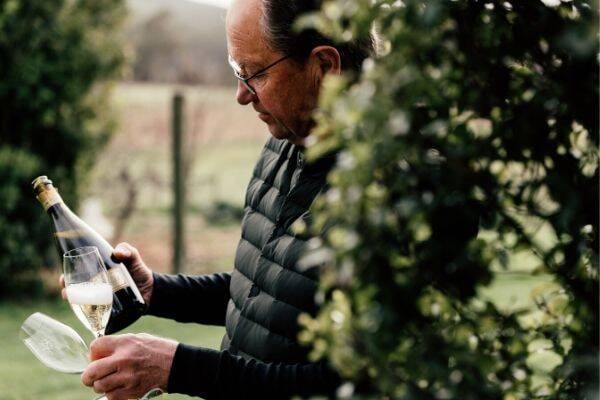 Andrew Pirie pops a celebratory cork in the Tamar Valley.
"Tasmania offers a great alternative to the French sparkling," says Andrew Pirie, whose search for similar terroir to the celebrated cool-climate areas of northern France led him to the Tamar Valley in 1973. Revered as the godfather of the local scene, Pirie founded some of the island's most influential vineyards, including Pipers Brook and Ninth Island. Now at Apogee, he produces celebrated single vineyard sparkling on just two hectares, deliberately mirroring the standard size of a landholding in Champagne. "The ripening curve here is slow because of the climate and the proximity to the coast, which makes it perfect for sparkling."
The Apple Isle's sparkling story is certainly something to celebrate, and the Effervescence Tasmania festival in November does just that. Now in its sixth year, it sees 13 sparkling wine houses host more than 50 events, from masterclasses and tastings to matched degustations and vineyard glamping.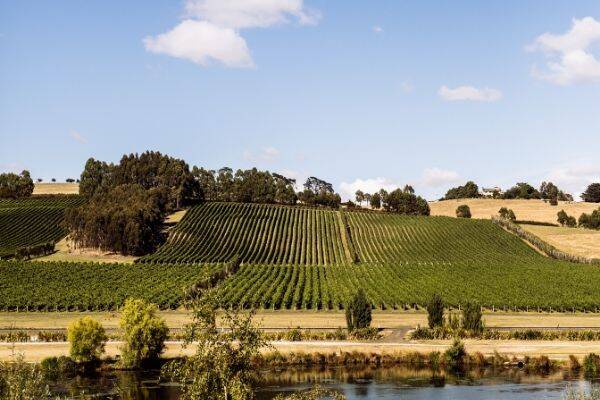 Josef Chromy's stunning vineyard, Tamar Valley
The Tamar Valley's storied producer Josef Chromy is the home of the Grand Degustation, a black-tie gala attracting a who's who of the winemaking industry ("It gets really loose by the end," a long-time attendee says on the condition of strictest confidence), but at any time of year novices can get up to speed on the alchemy of méthode traditionnelle with "The Art of Sparkling" tour.
"It's designed to demystify the process of making sparkling and make it accessible for everyone," says marketing manager and former sommelier David Milne as he demonstrates the disgorging process (the removal of the frozen yeast at the end of the second fermentation) before leading some radical experimentation in the laboratory so we can each identify our preferred dose of sweet liquid, known as liqueur d'expédition, to craft a perfectly bespoke take-home bottle.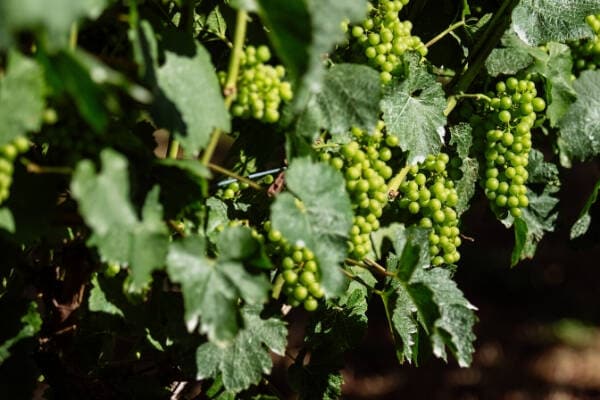 Vines on site at Josef Chromy.
"When Josef first went into vineyards in the Tamar in the early 1990s he said it could be the equivalent of the great wine regions of France," says Milne of the now 88-year-old owner, a Czech refugee turned meat and wine magnate who joins us for lunch in the slick modern dining room with views of rolling vines and a waterbird-covered lake.
Chef Nick Raitt's bright modern menu keeps in step with the season. Carpaccio of local beef is served with broccoli pickle and a hint of preserved lemon; roasted orange roughy, caught off St Helens, lolls in a fermented tomato beurre blanc with orzo pasta and the briny hit of bottarga, while roasted celeriac lavished with smoked crème fraîche and a blizzard of Parmigiano Reggiano speaks directly to the chilly temperatures outside.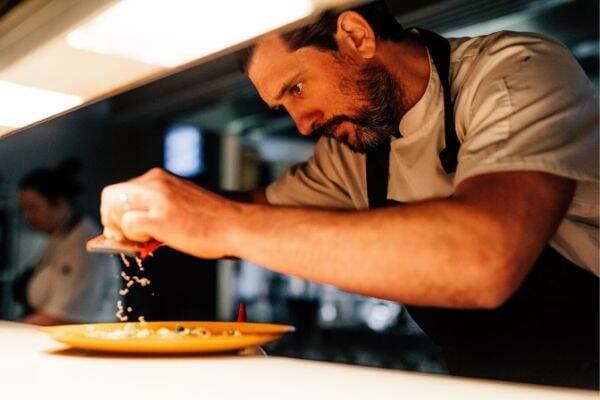 Josef Chromy's Head Chef Nick Raitte was formerly the private chef to the Royal Family of Oman.
A touring route encompassing more than 30 cellar doors is a dazzling demonstration of why this region is on the global viticultural map. Yet there is more to the Tamar Valley than world-leading fizz. On both sides of the river, the road winds through glorious countryside, past farmhouses from central casting, through scrubby bushland and green pasture.
Perched at the head of the Tamar River estuary, Launceston is not just the gateway to the valley. The undulating, low-rise city is going through its own renaissance driven by the arrival of hotels, restaurants, cafés and wine bars. The city's newfound optimism can be seen at Stillwater, the 19th-century waterfront flour mill gentrified into a restaurant in 2000. Seven boutique accommodation suites were added earlier this year, each embracing the building's atmospheric old bones and adding contemporary local artworks along with an in-room bar and pantry giving a taste of Tassie terroir.
The gorgeous interiors of Stillwater restaurant, Launceston.
Directly across the river sits another local landmark, an imposing nine-storey grain silo which has just been relaunched as Peppers Silo Hotel after a multi-year makeover, complete with a restaurant letting its proud Tasmanian flag fly. Nearby, the buzzing Mudbar Restaurant backs its pan-Asian excellence with a wine list doing the state's vignerons proud.
"A lot of winemakers come to Tassie to check out the cool climate wine making and get hooked on it," says Shane Holloway of Delamere Vineyards. "Chardonnay gets these great oyster shell, sea brine characteristics, while pinot noir has really interesting sub-regionality. But what was important to us was the opportunity to develop a sparkling house that expresses a single vineyard, like the champenoise houses. Sparkling is just a natural fit for this part of the world."
A trip around the Tamar reveals that the sparkling church is a broad one. Delamere's recently released 2008 Late Disgorged Blanc de Blancs is a complex, biscuity beast with chardonnay's characteristic oyster shell and citrus notes ("It's interesting to taste the decisions I made as a winemaker 10 years ago," says Holloway). Five minutes' drive away, there's Bay of Fires, home to dedicated sparkling label House of Arras. Created by Australia's most awarded sparkling winemaker, Ed Carr, it's a prestige label, but cellar door manager Will Doggett is determined to take the pressure down. "The 2007 Grand Vintage is the perfect breakfast sparkling for Christmas day," he says. "Beautiful with Vegemite on toast." At Pipers Brook we taste the Ninth Island non-vintage sparkling, like lemon cream pie in a bottle. Jansz's 2014 Blanc de Blancs is an elegant, lemon and brioche-led expression of a single block. And at the rammed-earth architectural magnificence of Clover Hill, the 2014 vintage rosé boasts a swoon-worthy strawberry and rose petal bouquet.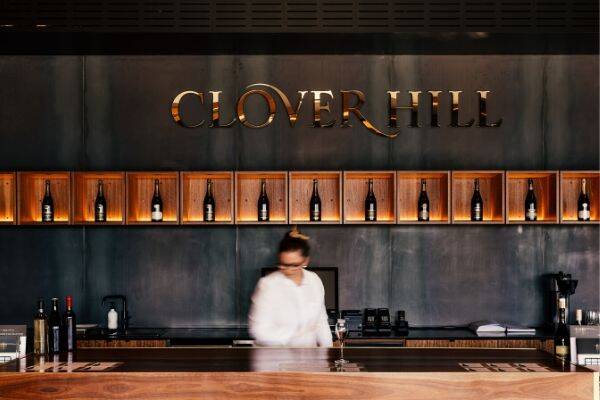 Clover Hill is one of few Australian wineries dedicated solely to sparkling.
The only problem is deciding who has to be designated driver, but all arguments are solved on our last day when a helicopter flight with Unique Charters whisks us in spectacular Hollywood style between wineries – but not before our pilot Nick takes us over the spectacular Cataract Gorge.
Setting down on the lawn of Vélo Wines is the perfect conclusion to a Tamar immersion. Just 15 minutes' drive from central Launceston, it's home to Timbre Kitchen, one of the state's leading restaurants, where chef Matt Adams can make memories with something as elemental as grilled cheese on soda bread toast from the wood oven, served with his grandmother's green pickles. And the perfect accompaniment to drink? No points for guessing.
Story Larissa Dubecki; images by Adam Gibson