Time to add your own social spin on the capital of Australia's Apple Isle with some serious insider knowledge on what's cool in Hobart (hint, it's more than just the glorious MONA).
Pack your camera, your smart phone, your athleisure wear and head south, we've got you covered with enough knowledge to fill your itinerary.
First up | coffee
Let's not beat around the bush, there's breakfast to be had but before you start styling bone coloured cutlery on hand ceramic plates, we must talk coffee.
Head downtown to the hole in the wall Ecru (18 Criteria St), not only will it fit perfectly in a social tile, it serves up equally perfect take aways. If you really want to impress your coffee tragic friends then head down the road to Villino Coffee (30 Criteria St) and grab a cascara tea from coffee cherry pulp.
The Stagg (138 Elizabeth St) will fuel any caffeine thirsty hipster in need of a jolt with some seriously good brew or try Parklane Espresso in Salmanca Square.
It would be rude not to hit up Born in Brunswick in North Hobart (410 Elizabeth St), with a name like Brunswick you know they're going to have Melbourne beans, right? And they do, Industry coffee served up in a Scandy style design. Did we mention the founder is ex Masterchef Contestant Con Vailas?
Breakfast | Brunch | Lunch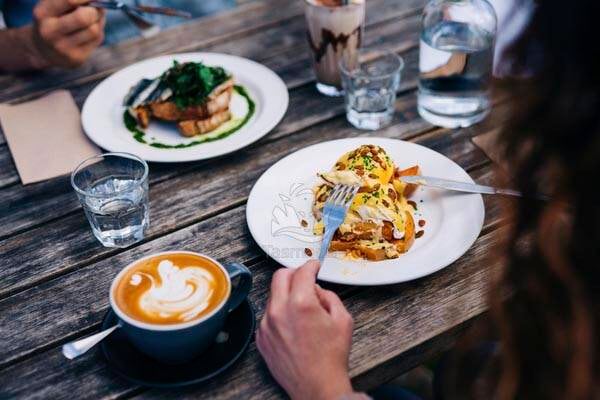 Room for a Pony
Everyone on the gram knows, the iPhone must eat first. Hobart has a plethora of visually stunning produce that has flavour to match. Truth is you could spend your entire time in this foodie town skipping from one hip dining den to another and still have enough left over for a gazillion more visits.
Head straight to Pigeon Whole Bakers (32 Argyle St) downtown once the sun rises and thank us later. This cute as a bright white button shrine to pastry design is an exercise in pared back dough. No hanging around, line up, grab an eccle cake or doughnut and a piccolo on the side and look all urban like in the side lane where you pick up your caffeine from the hole in the wall.
If you're one of those perky early morning types who jump straight from bed linen into active leggings then Mt Wellington has your name on it. You can't miss it, it's the peak that overlooks the city and is a hikers paradise. Lucky for you there's a Lost Freight Café perched in a shipping container halfway up the hill. It's all exposed wood clad shipping steel and lattè art with misty mountain views.
North Hobart also hosts the ever popular Room for a Pony (338 Elizabeth St), a breakfast den with lashings of exposed brick and pendant lights and open for breakfast, lunch and dinner. We suggest the sardines on toast or Chinese fried chilli omelette to start your day, Karaage Japanese chicken for mid-day boost and the Corpse Reviver Number 2 cocktail blend of absinthe rinse, Cointreau and gin for dinner to recover from your food coma.
The Machine Laundry Café in Salamanca was built for the gram. Well technically it launched in '97 when Insta was but a glint in Kevin Systrom's eye, but you get the drift. It's colourful and quirky and begging for an emoji. Yes, it's a working laundromat, but it's also a café so start snapping. The team are also behind the vibrant block colours of Madame Clarkes café in Kingston and the retro lino of Plain Jane in Moonah.
Are you even an influencer if you eat gluten? Enter Straight Up Coffee + Food at 202 Liverpool Street. An entirely gluten free and vegetarian menu committed to low waste, composting, recycling and a root to tip philosophy. Your camera will love the smashed banana on toasted super seedy with poached berries and soy ricotta with toasted almonds, hemp seeds and sweet tahini dressing. Hashtag scrumptious.
Still hungry? Then head to the not-to-be-confused-by Pigeon Hole Café (no relation) in West Hobart (93 Goulburn St). Owned by the folks from Weston Farm Produce so expect full farm fare with organic principles and biodynamic practices. Come for breakfast, stay for lunch.
We're yet to mention Berta (119 Elizabeth St) and we've already filled six days of breakfasts. It's pretty in ocean greens, downtown and filled with enough stoneware to serve up all the rustic organic food in all the land. Expect goodness style bowls of hearty breakfast fare and seasonal food staring with a smile from the plate.
Locals would nudge us if we neglected to mention Jackman and McRoss. So, here goes. This abundant bakery oozes sugar and frosting and sourdough and yeast, it's filled with old fashioned scrolls and tarts with a contemporary twist. You won't know where to look, it's that good and it's at the top of the Kelly Steeps stairs from Salamanca Place.
Mt Wellington adventures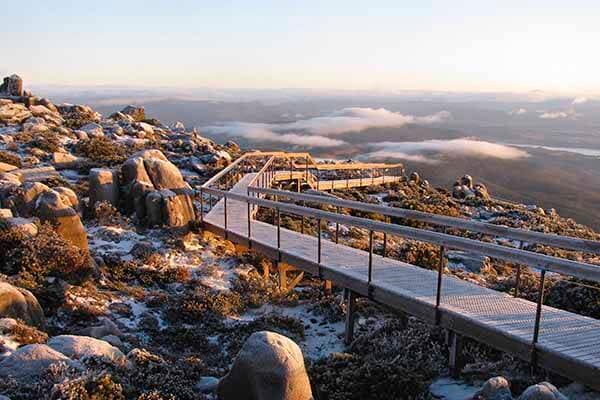 Mt Wellington
Tasmania is an adventure lovers' dream so pack your hikers and your helmet as Hobart is the gateway to a whole world of forest bathing on foot and wheels.
Head straight to Mt Wellington, otherwise known by the indigenous name "kunanyi". Take a map and head out on one of five misty bush trails to the peak.
Alternatively join the team at Wild Wellness for a "fire + ice" Mt Wellington walk on June 26 or August 21. You'll hike with a small group along the crystal waters of the North West Bay River on the Cathedral Rock Track then take a break for a cool river plunge and Wim Hof style breath work. Follow it up with a local flavours menu including East Coast cheeses and Pigeon Hole Baker treats.
Love biking? Then the crew at Tasmanian Mountain Biking Adventures have your back with a series of half and full day guided bike experiences from beginner to advanced. They even have a shuttle to take you to the top of Mt Wellington so you can descend on two wheels or hit up the Pipeline Trail through fern forests, past waterfalls and historic aqueducts.
Day tripper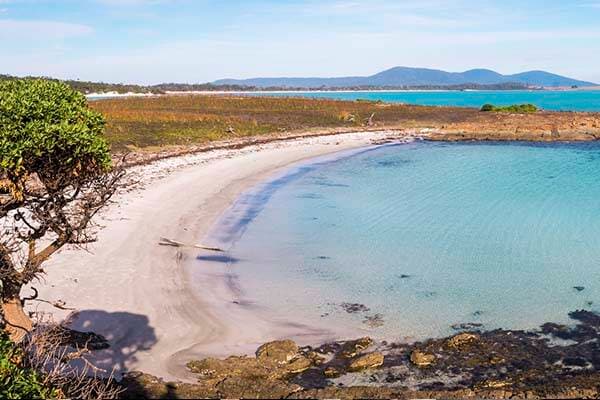 Maria Island
Have seaplane, will travel, for a stunning day trip to one of Tasmania's jewel destinations. Above and Beyond flights offer some half day tasters of some of the state's most iconic wilderness places.
Take the seaplane to Maria Island on the east coast and hike, bike or wander the island's famed trails and heritage buildings. Touchdown at Meadowbank for a half day wine tasting tour or take a private charter to the white sands of Bathurst Harbour and Port Davey for a seaside picnic after a scenic flight of the wild west coast.
If you want uber influencer status, ask if the pilot can drop you at Saffire Freycinet on the way back for an accommodation experience you won't forget.
Drinks | Dinner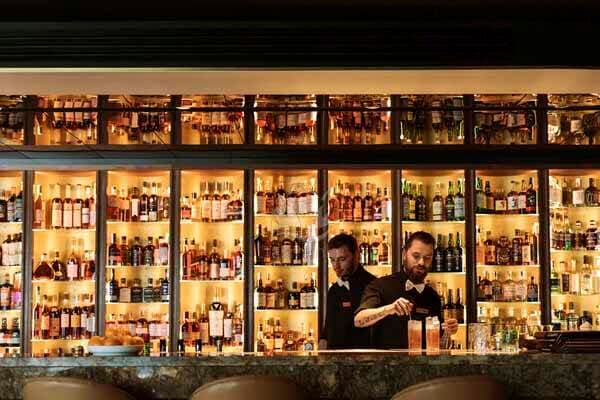 Evolve
By now you've worked up a thirst. Just as well Hobart is known for locally produced Tasmanian gin, whisky and wine. But where to start?
Like your whisky served with a side of ancient fossils? Evolve Spirits Bar at MACq 01 Hotel is the coolest wharfside bar in town and filled with historical artefacts to keep you company. Great for an insta snap or twenty amongst the tawny hues.
The IXL Long Bar in The Henry Jones Art Hotel is known for the quirkiest cocktail list going. The Rose of Mary is all about theatrics with toasted rosemary, elderflower liquer, gin, Lillet Blanc and a whole lot of flare. Or try the blazing Island of Fire cocktail for serious pizazz, it's all whiskey and cinnamon.
Still on the heritage side, you'll find Preachers in an historical cottage in Battery Point (5 Knopwood St), with a bus out the back that doubles as a bar in the beer garden. No, you can't drive it.
If you like an intimate wine experience then you can't go past Sonny (120a Elizabeth St). This 20 seater in downtown Hobart is all uber cool with schmick tunes and beats and a quirky Italian style food menu with global and local wines from the region's smaller producers.
When it comes to food some of the best bars also double as some of the best restaurants. Match your outfit to the décor and wear snow white to Institut Polaire (1/7 Murray St), a minimalist setting to celebrate all things cold climate. Pristine crisp seafood from the Southern Ocean sits alongside pickled and fermented garnishes, Sud Polaire Antarctic dry martinis and Domaine Simha wine.
You'll find Lucinda Wine Bar behind the city's coveted Dier Makr (123 Collins St) finer dining restaurant. While Dier Makr offers tasting menus only as chosen by the chef, Lucinda serves up natural minimal invention wines with a few dishes on the side. Both are a must visit when in Hobart.
Brooke St Pier is a floating four story pontoon on the shores of the Derwent and Aloft is the penthouse dining room in a Scandinavian style attic with sweeping views. Local produce takes centre stage with locally caught seafood, small-farm free range meat and poultry and a pan-Asian twist.
Sleep over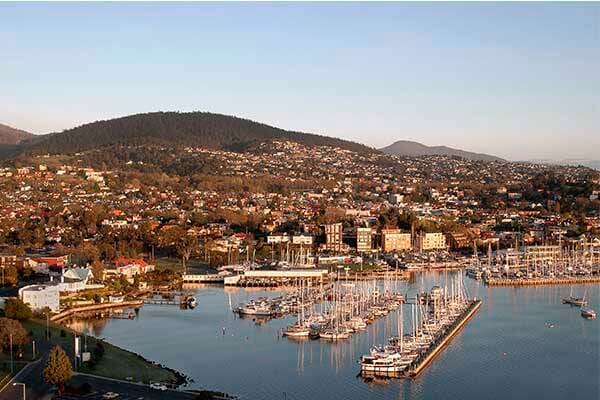 Hobart waterfront
Try MACq 01 Hotel for waterfront cool close to the CBD. Each of the schmick 114 rooms is named after different Tasmanian characters, both historic and current. Choose from waterfront rooftop rooms with terrace to cosy rooms with private balconies and mini bars filled with local artisan fare.
New kid on the old block, The Tasman, sits in an 1840s heritage listed building on Murray St close to Salamanca and next to St David's Park on the edge of the CBD. It's all old world luxe with local artwork and lush trimmings.
Feeling hip? Moss Hotel is in the heart of Salamanca Place and is a celebration of Tasmanian wilderness. Expect a three story vertical garden in the lobby. Set in heritage warehouses built by 19th century convicts, the building is a blend of timber beams and sandstone walls with Italian tiling and a thousand shades of green.
Sister hotel to MACq 01 Hotel, The Henry Jones Art Hotel sits inside the old IXL factory deep in the industrial past. With a stellar location on Hunter St, exposed brick chic and a 500 plus artwork collection, the hotel is a long-time loved destination in the city's hospitality scene. Guests can join the daily Art and History tour at 4pm with art curator Kate Jackson and historian Greg Ball. Explore the hotels artwork and the history of the IXL building.
Bless The Rox, these swanky digs are new to the Hobart scene. A mere four self-contained apartments with sleek style and design and room service courtesy of the ultra-hip Sonny bar. Nice one.