Choosing which islands to stay on can be a daunting task when each island and island group has unique advantages and disadvantages. We have put together a list of the best islands of Fiji to stay on for the type of holiday you'd like to have.
Viti Levu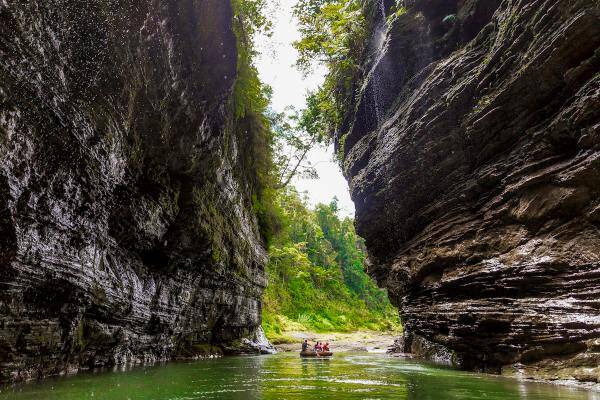 There's so much to see on Viti Levu including the stunning Upper Navua River. Photo by: Fiji Tourism
This is the largest island of Fiji, the most populated and it's also where you'll fly into (Nadi International Airport). Many travellers consider it a thoroughfare on the way to other islands of Fiji but don't ignore its charms – for Viti Levu is where you'll find the best activities Fiji offers, along with some of the most spectacular scenery available anywhere.
There are three main areas on Viti Levu where travellers stay. The first, Denarau Island, is only 20 minutes from your point of entry at Nadi International Airport. It's connected to the mainland by bridge and is home to internationally recognised resort brands - from the Hilton to The Sheraton and The Sofitel – it's a great area for families, with every resort offering kids' clubs. It's also full of bars, boutique shops and restaurants.
Travellers also stay at the Coral Coast – on Viti Levu's southern coastline, 45 minutes south of the airport. There's a range of couples' and family resorts along here, such as the Shangri La and The Outrigger, as well as smaller boutique hotels and homestays. This is also where you'll find one of Fiji's most incredible stretches of white sand beaches, Natadola.
The third area is east of the Coral Coast, two hours from the airport. Pacific Harbour is the adventure capital of Fiji – you can try everything from zip-lining to diving and surfing. There's a range of resorts and hotels for every budget here.
And don't forget Fiji's colourful capital, Suva, east of Pacific Harbour. It's the South Pacific's largest city and has a rich cultural heritage, some of Fiji's best restaurants, and you can stay at historic hotels like the Grand Pacific Hotel, built in 1914 (it's where The Royals and visiting Heads of State stay).
Viti Levu is full of hidden treats. Resorts on Viti Levu often organise village visits or Sunday morning church services to see locals congregate. There are tours, such as Off Road Fiji, which take you into Viti Levu's hinterland to observe Fijian's traditional way of life. Or go deeper into the mountains and white-water raft one of the Pacific's most pristine rivers, the Upper Navua River, passing over 50 waterfalls along the way. You can also visit towns like Sigatoka and shop at its farmers' markets or watch frenzied games of rugby (some of the players here represent the national team).
On Viti Levu's rarely visited north coast, you can swim with dolphins or try kite-boarding in one of the South Pacific's best regions for the sport.
The Mamanuca Islands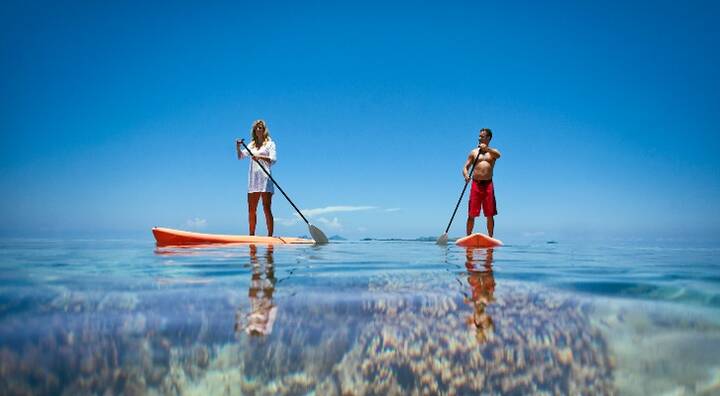 The Mamanucas are ideal for travellers who like water sports. Photo by: Tourism Fiji
These are the islands you imagine when you think of Fiji. Known to Hollywood as the South Seas paradise, this is where Castaway was filmed - on the island of Monuriki. Survivor has also frequented these islands more times than any other destination in its history.
They look far-flung and remote, but these 20 islands are actually the easiest islands in Fiji to access. You'll just need to take a short ferry ride (or even shorter fast boat service) from Port Denarau (which is only 20 minutes from Nadi International Airport).
Protected by a huge barrier reef, the Mamanucas are ideal for those who love spending time in the water. The lagoons are stunning and there's plenty of reef for snorkelers and divers (there are coral walls, caves and wrecks to dive). There's also fantastic surfing locations. Some of the world's most iconic waves break onto the barrier reef at the south of the island chain and surf breaks like Cloudbreak attract the planet's best riders. There are plenty of easier waves too, for intermediates. Islands such as Namotu and Tavarua cater for the surf market and are an easy boat ride from the beach to the breaks beyond.
However, the best thing about the Mamanucas is that they cater for everyone. There are island resorts here for travellers on a budget, such as Plantation and Beachcomber Islands, and there are also some of the South Pacific's most luxurious five-star private island retreats, such as Vomo Island Fiji or Tokoriki Island Resort. Not to mention plenty of options for families at stunning island resorts such as Castaway Island Resort.
Likewise, there are activities here to suit every kind of traveller. You might opt to charter a yacht around the islands or book deep sea fishing charters. There's also a two-tier floating bar (Cloud 9) moored beside the barrier reef, complete with wood-fired pizzas and signature cocktails, for the foodies. There's also the world's first island beach club, Malamala Beach Club – barely 25 minutes from Port Denarau. It's a beach club with a swimming pool, bar, restaurant and spa located on its very own island. There are also shopping and resort facilities at one of the South Pacific's best marinas for sailors, Musket Cove Island Resort and Marina.
The Yasawas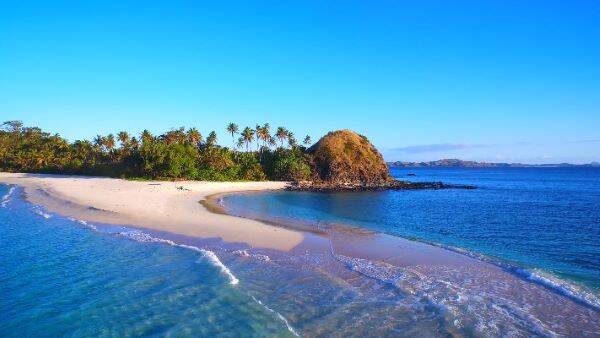 There are 333 islands that make up Fiji, including the pristine Yasawa Islands. Photo by: Yasawa Island Resort and Spa
The Yasawas might be the South Pacific's most under-rated islands – they were protected from land-based tourism until just 35 years ago. Still today, they're a great place to visit to incorporate a beach-based holiday with access to the customs and culture of traditional Fijian villages. There are no roads, cars, banks, or shops and most locals still live in tiny, remote villages, relying on subsistence farming or tourism. They're further away than the Mamauncas, but you can still take a ferry here in under five hours. You can also take a seaplane or helicopter, and some islands have runways for small propeller planes. 
But don't think you're missing out on accommodation choice because of this – for the Yasawa Islands are perfectly equipped for every type of tourist. In recent times, no-frills flash-packer and backpacker resorts have been built for more intrepid travellers. There are also middle-of-the-road three and four-star options for couples and families. Then there are the five-star offerings for those seeking a little luxury. Despite their relative isolation, the Yasawas have for decades been home to some of Fiji's finest luxury resorts. The most famous of them all is Turtle Island, the first of Fiji's luxury private island resorts; the vision of American businessman Richard Evanson over 40 years ago. While a luxury retreat like Yasawa Island Resort and Spa has 11 stunning beaches right on its doorstep, with not a soul on them. 
There are numerous excursions and adventures for travellers throughout these islands, but the Yasawas are best for travellers who prefer to leave the normal attractions behind. You won't find the bustling bars of Fiji's Coral Coast or the restaurant scene of Denarau Island here.  
There's plenty to do across the 20 islands of the group, though most activities are based around swimming, diving and snorkelling. Blue Lagoon, the 1980 film starring a teenage Brooke Shields, was filmed at the Sawa-I-Lau caves in the northern Yasawas, where you can swim inside a deep chamber at the top of a massive limestone formation. Inside, the water's an unearthly shade of blue.    
Due to its hilly landscape – there are dramatic mountains, some as high as 600 metres – meaning there are plenty of hikes all over the Yasawas. There's also a lot of kayaking spots - from quick paddles to multiple-day tours. The water is teeming with sea creatures – swimming with manta rays is a big attraction. With the rise of backpacker resorts, there are lots of evening activities at resort bars – from crab racing to fire dancing and even sunset tube cruises. 
Taveuni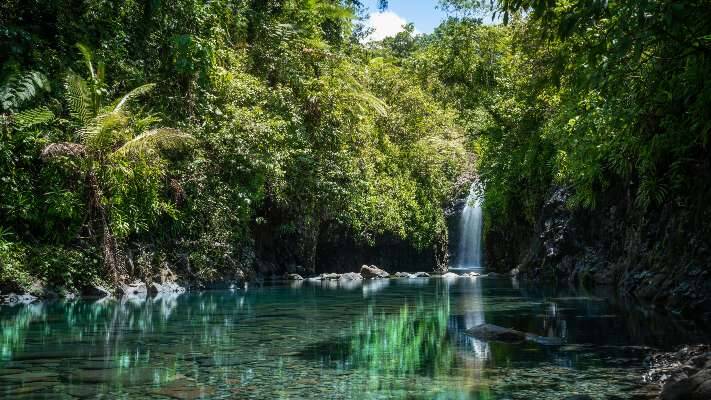 Full of national parks, Taveuni is an adventurer's paradise. Photo by: Fiji Tourism
Though it's Fiji's third largest island and is less than 90 minutes flying time from Nadi Airport, Taveuni still flies almost completely under the radar of most Australian travellers. Yet, this island is the kind of paradise you conjure in your mind when you think of the South Seas. 
For starters, it's called the Garden Isle. Over a third of the island is covered in a national park, home to over 100 species of birds and untouched jungle, home to some plants and flowers found nowhere else on Earth. It's also where you'll find one of Fiji's tallest mountains, Mt Uluigalau, which at 1241 metres, rises up out of misty jungle like something from The Lost World. 
While it attracts hikers, this is not Taveuni's only attraction. Couples will love the luxurious accommodation options it offers. You'll find some of Fiji's most stunning adults-only retreats here, such as Taveuni Island Resort and Spa, with room for just 14 couples, and stunning Qamea Resort and Spa, set on its own island off the coastline. 
Families mightn't have as many options however Taveuni is paradise for many adventure travellers. Snorkellers and divers flock here for Fiji's best reef dives, where over 1000 fish species live, while surfer's dream of the perfect reef breaks just beyond its rugged coastline. Resorts like Qamea Resort and Spa have surfing operators based within the resort, with short boat rides to some of Fiji's best waves. 
For nature lovers, this is the epitome of your Fiji experience. Take hikes through majestic Bouma National Heritage Park and walk between waterfalls framed by thick, green jungle. Or take the world-renowned Lavena Coastal Walk around the island's south coast. You'll also have the chance to see Fiji as it's always been, with most locals still residing in small, traditional villages, relying mostly on agriculture.  
There are few places open in the evenings, with the main bars and restaurants being those within resorts. But most guests who venture to Taveuni are the kind who prefer an early night in preparation for a big day of hiking or diving. 
Vanua Levu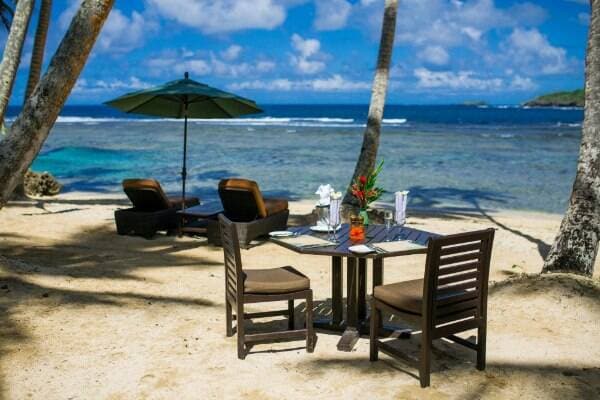 Vanuau Levu is home to some of Fiji's most luxurious resorts, like Namale Resort. Photo by: Namale Resort
Though it's actually Fiji's second biggest island, Vanua Levu is often a mystery to travellers, however there's a lot here to see. Coming here is like coming to Viti Levu 40 years ago: it's still mostly undeveloped, with only one section of sealed road and its main tourist centre, Savusavu (where you'll fly into from Nadi Airport), is rustic and frontier-like. There's only one long main street built between the hills and the ocean, however there are surprisingly some great bars and restaurants to enjoy. It's a hot-spot for divers with fringing reefs just offshore that rate as some of the South Pacific's best diving locations. It's also the most popular anchorage for sailors in all of Fiji – so there are always plenty of characters on hand.  

The rest of the island is mostly made up of tiny villages, stunning coastline (with drives like the cutely named Hibiscus Highway), copra and sugar plantations and rainforest. Yet this is where you'll find some of Fiji's most luxurious resorts and hotels, like Namale Resort, an adults-only resort set on 200 hectares of pristine coastline and a huge day spa that has hosted the likes of Russell Crowe and Edward Norton.  

You'll also find the award-winning five-star eco-resort, Jean Michel Cousteau Resort (run by renowned ocean explorer Jacques Cousteau's eldest son) in Vanua Levu, which is one of the South Pacific's best dive resorts.   

Wakaya Island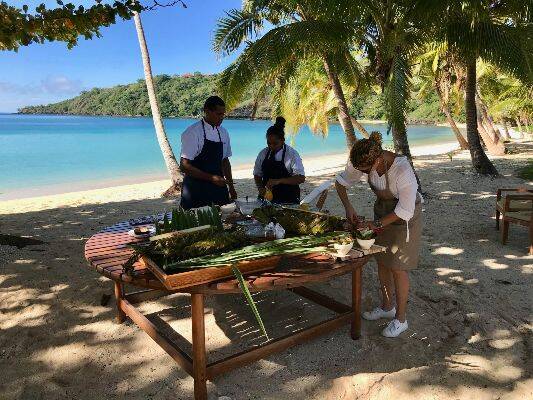 Wakaya Island is home to one private island retreat. Photo by: Wakaya Island Resort
All but a few travellers have even heard of Wakaya Island at all – and two of those travellers include Tom Cruise and Russell Crowe. You'll have to fly by small propeller plane from Nadi Airport (for an hour) to get here, and it's well worth the journey. Located on a tiny 900 hectare private island, there's nothing else here but six bures on the beach and two enormous private houses for no more than 12 couples at any time. 

The island was uninhabited for 100 years after war was declared on its inhabitants by a neighbouring island, until eccentric US billionaire David Gilmour bought the island in 1972 and turned it into one of the South Pacific's most luxurious – and private – retreats.  

Guests can choose between various beach-side dining options and partake in various day-time activities, though many won't go beyond the hammocks outside their bures. There are 11 sites for diving, all within a marine reserve, and there's hiking through nature preserves, home to Fiji's only resident deer.  
Kadavu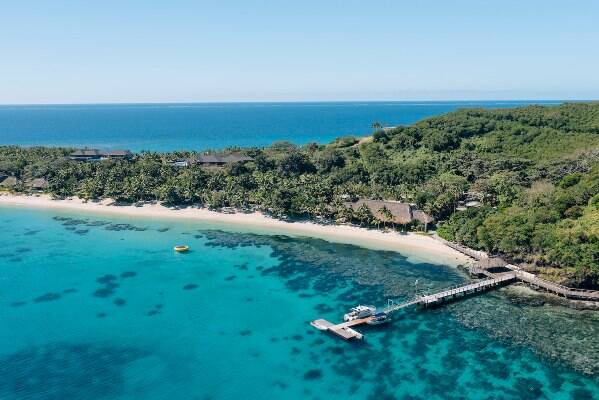 Kokomo Private Island Resort sits on its own private island 45 minutes flying time south of Nadi. Photo by: Kokomo Private Island Resort
Kadavu is the fourth largest island in Fiji and it's relatively easy to get to – with regular flights from Nadi Airport and ferries from Suva, and yet, it's as wild as it gets in Fiji. This is another of Fiji's genuine hidden treasures – the Great Astrolabe Reef shelters the island, providing some of the planet's most incredible diving options, and giving surfers looking for their own waves multiple options, far from the surf resort crowd. This is a destination for those seeking a Robinson Cruise sustainable vacation.  
There's a series of islands across the archipelago – some of which are totally uninhabited. Locals are mostly subsistence farmers and fishermen who live in tiny traditional villages removed from the 21st Century. But staying here is easy to do. There are simple eco-resorts close to the airport, such as Matana Beach Resort, accessible to the airport by a short boat ride. It has 10 bures set on a stunning beach. Resorts here are family-run and are close to some of the best dive sites on the Great Astrolabe Reef. Bird-watchers and hikers will also find their own Nirvana. Surfers will discover some of the Pacific's best undiscovered waves along the island's south coast, where there are no resorts. For those seeking more creature comforts, take a helicopter or seaplane to one of Fiji's most luxurious resorts, Kokomo Private Island Resort. 
The Lau Group of Islands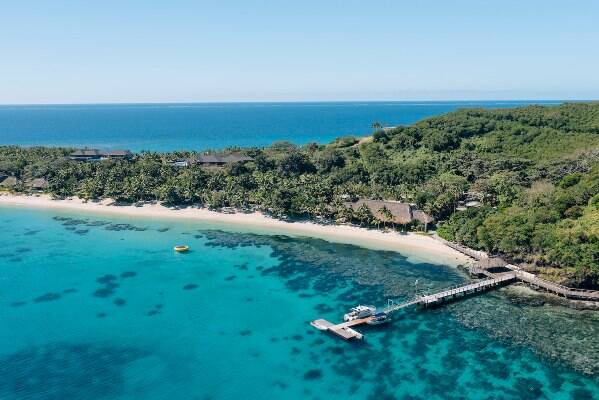 Vatuvara Private Islands Retreat is set amongst the Lau Group, Fiji's most remote islands. Photo by: Vatuvara Private Islands
Here's the hidden gem to end all hidden gems – imagine a group of 60-or-so islands almost completely removed from the modern world, which offers some of the best beaches in all of Melanesia. That's the Lau Group of Islands, the final frontier of Fiji. Some of these least visited islands in Fiji are actually closer to Tonga than they are to Fiji's main island, Viti Levu. Locals live truly traditional subsistence lifestyles, allowing those who make it here a window into how Fiji was.  

You'll have to travel from Suva to take one of the flights here or to board a cargo boat that takes passengers around numerous islands of the group – allowing visitors one of the most adventurous and exciting holiday options available in the Pacific. Or, Captain Cook Cruises offer far more comfortable cruises a few times a year, leaving from Port Denarau (20 minutes from the airport at Nadi). The cruise visits many islands of the group across 11 days (it also takes in the remote Kadavu Island group). 

For those preferring to make their own way there, there are just three official accommodation options, mostly homestays, where you can stay with local families for a proper insight into local living. Though a luxurious option awaits, Vatuvara Private Islands are five-star, with three villas available across 325 hectares. You'll have private beaches to yourself at what Forbes magazine rates "one of the world's most beautiful places". A private air charter flight will get you there.