Planning your holiday wardrobe but not quite sure what to wear in Bali?  Thankfully the year-round warm weather and relaxed atmosphere makes it an easy destination to dress for. Often a mix of casual clothes, beachwear and activewear works best for dressing in Bali, with an outfit or two in reserve for evenings out at restaurants or bars.  Understanding what clothes work best for your trip is a vital part of choosing what to pack for Bali. 
In this article, we'll cover general guidelines for how to dress in Bali, lists of what to wear specifically for men and women, as well as outfit ideas (including specific garments and materials). We also consider important factors like how to dress to respect local customs, considerations for different activities like water activities or hitting the clubs, and what to wear at specific times of the year.  
How to Dress in Bali - General Guidelines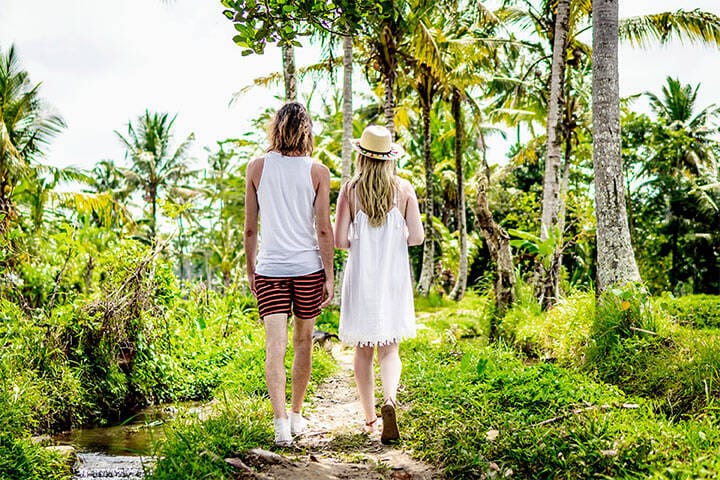 Photo: Arten Beliakin on Pexels
The main thing to consider when deciding what to wear in Bali is weather. Given that it tends to be warm and humid regardless of the time of year, we recommend wearing casual and relaxed summer clothes made from light materials like cotton, linen or rayon. 
Another important factor to consider when dressing for Bali is what activities you have planned. Remember to consider your itinerary when planning out what to wear in Bali, as context is everything when deciding on an outfit. For example, many visitors to Bali choose to wear material that verges on swimwear, making it easy to go for a swim at a moment's notice. On the other hand, a more dressed-up look like a casual collared shirt for men, or a summer dress for women, is ideal for a night out in Seminyak. 
What should I wear during the day in Bali? 
The standard of dress during the day in Bali is generally casual and informal, reflecting the relaxed tropical atmosphere of the island. In some situations however, like visiting temples or sacred sites, a higher standard of dress is sometimes required, such as a sarong to cover bare shoulders.

The best clothing for daywear in Bali is casual summer clothing, such as swimwear, shorts, T-shirts, singlets, and dresses. Clothing cut from lightweight, breathable fabrics is ideal for Bali's heat and humidity, as are comfortable footwear like sandals or flip-flops. 

The weather in Bali is often very sunny, so accessories like hats, sunglasses and long-sleeves make useful additions for daytime sightseeing. For more strenuous activities like hiking, moisture-wicking fabric and running shoes (joggers) are recommend. 
What should I wear during the night in Bali?
Bali's dress code at night is casual to smart casual. It tends to be warm and humid even in the evenings, so Bali's clothing standards are relaxed even at restaurants and bars. Dressing up is not usually required if heading out on the town, though it is appropriate to dress nicely for trendy restaurants or exclusive clubs. In those instances, wearing a smart-casual outfit, with nice sandals or casual closed shoes, is usually enough in terms of evening attire for Bali. High heels, dress shoes or formalwear is not usually required in Bali.
What to wear when visiting Bali's temples?
Visitors to Bali are expected to dress modestly when visiting Bali's temples and other sacred sites, including covering of shoulders and below the knee. This is often best achieved with a sarong to wrap around your waist or below the knee. Sarongs are included in the ticket price at most of Bali's temples.

Bali is a conservative destination, owing in part to its majority Hindu population. Nevertheless, in most settings a Western style of dress is perfectly acceptable in Bali.

What should I wear for tours in Bali?
When exploring Bali on a tour or day trip, it's important to dress appropriately for both comfort and activity levels. For casual day tours, a comfortable summer outfit paired with flip-flops or sandals is a great choice. For more active tours like visiting waterfalls or hiking Mt Batur, we recommend wearing a lightweight outfit with sturdy footwear, like running or hiking shoes. These types of activities are common in Bali, in fact things like roaming rice terraces, discovering temples or exploring markets are considered Bali's best activities. For most activities, having an outfit with quick-dry material makes it easy to be ready for whatever the itinerary for your tour is. 
What to wear in Bali – Males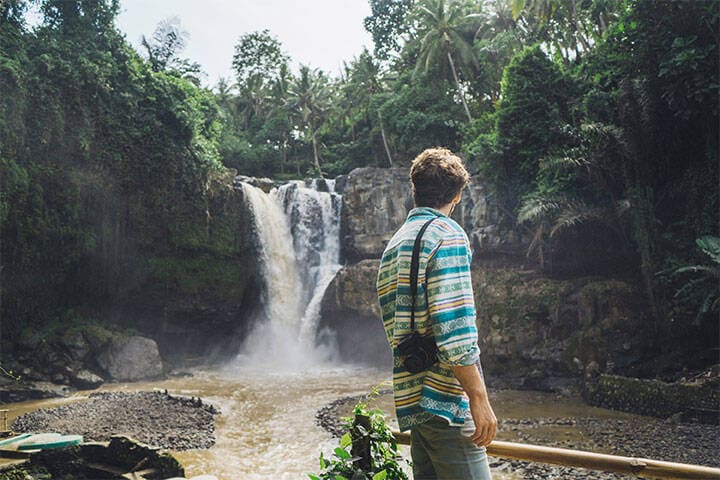 Photo: Oleh Slobodeniuk on Getty Images Signature
In Bali, men typically wear loose and comfortable casual clothing, given the warm climate and relaxed dress codes. For everyday attire, consider lightweight shorts or pants paired with a short-sleeve shirt or singlet. The ideal footwear for men in Bali depends largely on your itinerary. Choose comfortable flip-flops or sandals for casual outings and beach trips, and running shoes for hikes and strenuous activities. 
For more dressy occasions, like going to a beach club, bar or restaurant, a slightly dressier look is ideal. Try lightweight cotton, floral or linen shirts along with chinos or shorts. Closed shoes are a great choice at night if you're heading out to dance. 
Below are 3 outfit ideas for males in Bali: 
 
Male Outfit Idea for Bali #1: 


Short-Sleeve Floral Shirt + Denim Shorts + Gladiator Sandals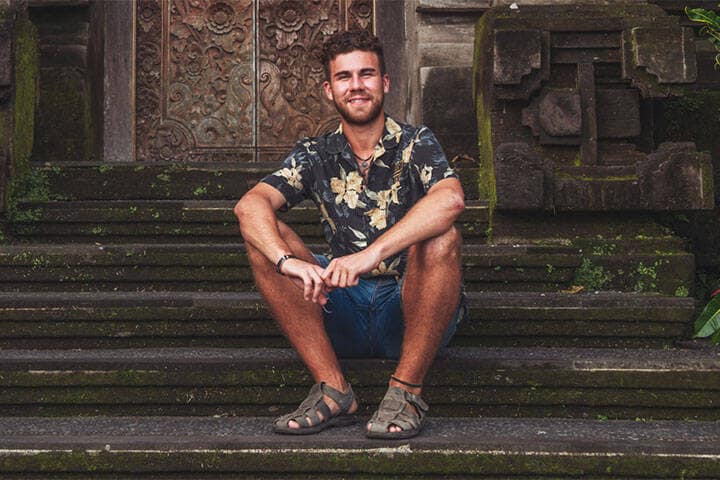 Photo: Maxi on Adobe Stock
Hit the streets of Bali with this ideal casual menswear outfit for Bali. The floral shirt is loose and comfortable, with a bit of colour and flair to reflect a tropical holiday feel. The denim shorts are suitable for most casual activities like shopping, a trip to the beach, and the gladiator sandals are breathable - a quality that most guys are likely to appreciate in Bali's heat! This type of outfit is suitable for evening wear as well, as slightly elevated casual wear is perfect for many of Bali's restaurants and beach clubs.  

Tip: Prior to your Bali adventure, make sure to "break in" any new sandals by wearing them beforehand, to avoid potential blisters during your stay.
Male Outfit Idea for Bali #2: 


Tank Top + Gym Shorts + Running Shoes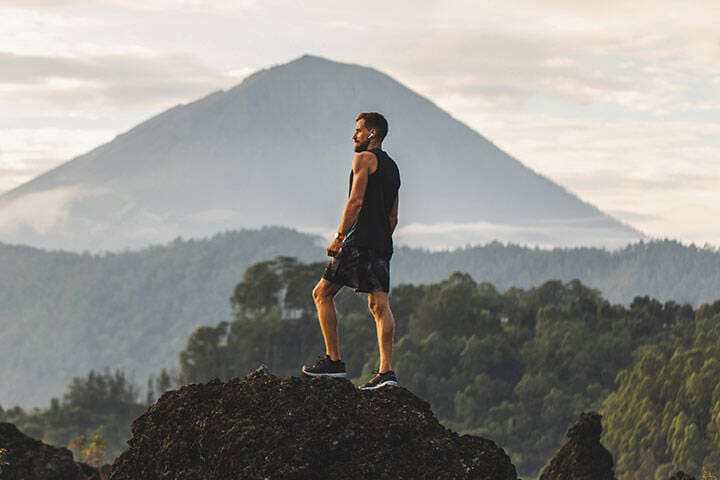 Photo: Oleg Breslavtsev on Adobe Stock
Embrace the spirit of adventure with this outfit choice for guys involved with more active pursuits on holiday in Bali, like hiking Mt Batur or roaming the rice fields of Ubud.  The combination of tank tops and gym shorts shown here are an excellent choice for men in Bali, as the material is lightweight and the lack of sleeves allows freedom of movement. Complete the look with a pair of comfortable running shoes, to provide support and protect your feet in a variety of Bali's terrains. 
Tip: Guys, remember to apply sunscreen to the tops of your shoulders if wearing this kind of outfit to avoid sunburn when exploring Bali.  

Male Outfit Idea for Bali #3: 


Casual shirt + Board Shorts + Flip Flops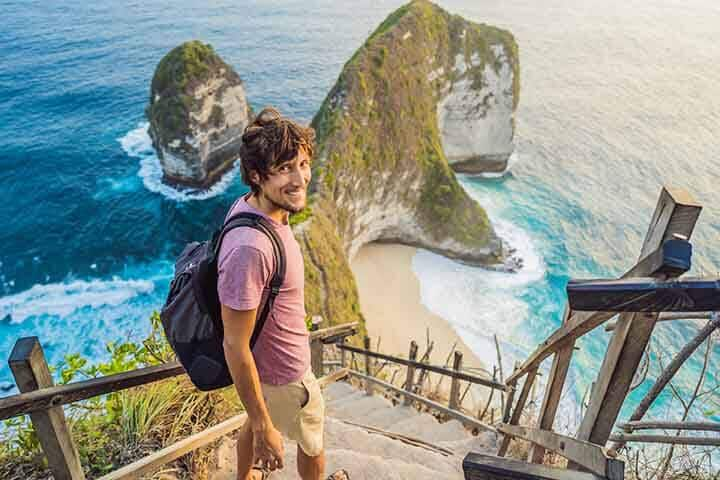 Photo: Elizaveta Galitckaia
When travelling in Bali, we recommended guys have an outfit ready which is suitable as much for the streets of Bali as it is for the beach or pool! This outfit choice of a casual shirt and board shorts is ideal for men travelling in Bali, allowing guys to take a dip at a moment's notice. Thongs (aka flip flops) are ideal mens footwear for Bali, as they provide a balance of comfort and convenience - just slip them off when the time comes to get in the surf.    
Tip: Thongs or Flip Flops are readily available for purchase in Bali from shops like Fipper or the Havaianas outlets. Save space in your luggage by purchasing them when you get here! 

What to wear in Bali – Females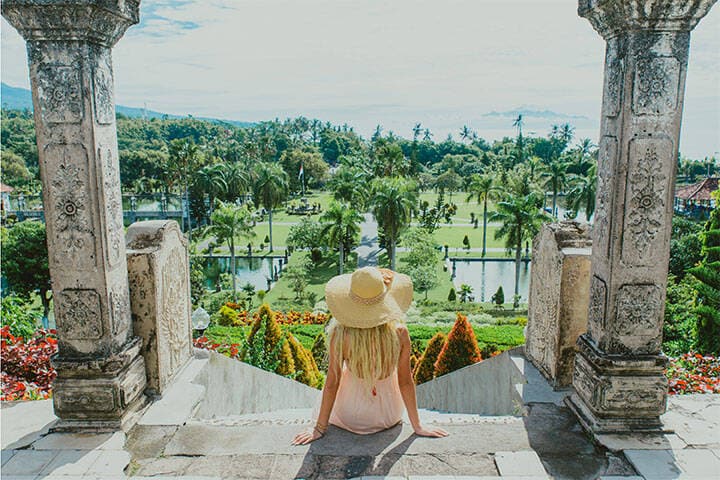 For Bali's hot and humid weather, it's recommended women dress in loose-fitting shorts, skirts, T-shirts, singlets and dresses made from lightweight materials like linen, cotton, bamboo or rayon. Comfortable footwear like sandals, flats or flip flops are great for casual streetwear, whereas running shoes are best when hiking in Bali. When heading to one of Bali's incredible beaches, a swimsuit and cover up is an excellent choice. For those heading out on a girl's night, we'd recommend either a comfortable dress or loose pants, shorts or a skirt with a singlet or tank top, paired with flats.

Below are three outfit ideas for women in Bali: 
Female Outfit Idea for Bali #1: 


Short-Sleeve Loose Dress + Wide-Brim Hat + Sandals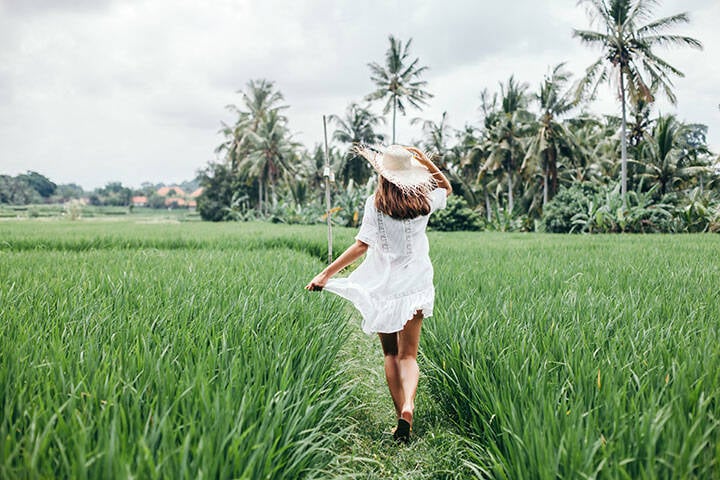 Photo: Alena Ozerova on Adobe Stock
Get ready to roam in comfort and style with this female outfit idea tailored for your Bali adventure. The centerpiece of this outfit is a flowy, lightweight summer dress that not only keeps you cool in Bali's tropical climate, but adds a touch of elegance to your look. To complete your Bali-ready attire, opt for a pair of comfortable sandals. Ladies, will not only keep your feet happy as you wander through Bali's diverse landscapes, but you have the option to slip them off with ease when the moment takes you. Finally, a wide-brim hat completes the look with a touch of bohemian charm.

Tip: White is an excellent choice for Bali's heat as white clothing reflects sunlight and reflects heat compared to darker clothing. 

Female Outfit Idea for Bali #2: 


Cotton T-shirt + Denim Shorts + Running Shoes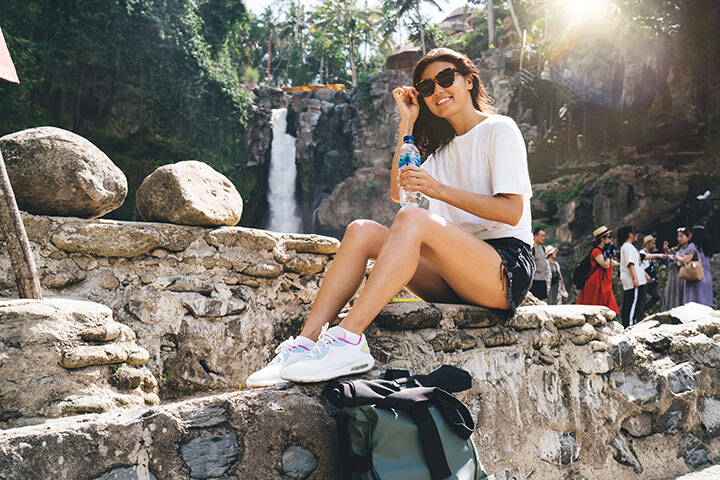 Photo: Bullrun on Adobe Stock
Perfect for ladies out aventuring in Bali, this outfit combines a breathable cotton T-shirt, comfortable high-cut denim shorts, and supportive running shoes, ideal for exploring the island with with style and ease. 

Tip: To enhance your sporty Bali outfit, opt for moisture-wicking fabric in your cotton T-shirt to keep you dry and comfortable even during intense activities under the sun.

Female Outfit Idea for Bali #3:
Swimwear + Overthrow Shirt
Photo: Mediteraneo on Adobe Stock
Perfect for the beach or a visit to a beach club, this chic female outfit idea offers a minimalist and effortless Bali look, combining stylish swimwear with an airy overthrow shirt. Opt for a vibrant, tropical print bikini or one-piece as the centerpiece, then layer it with a lightweight, oversize shirt or shawl. Complete this ensemble with strappy sandals or comfortable espadrilles for a relaxed and beach-friendly feel. Alternatively, go barefoot to feel a true sense of freedom on holiday in Bali. 
Tip: Elevate your Bali beach style with eco-friendly bikinis, reflecting the island's commitment to sustainability and preserving its natural beauty.
What to Wear in Bali by Month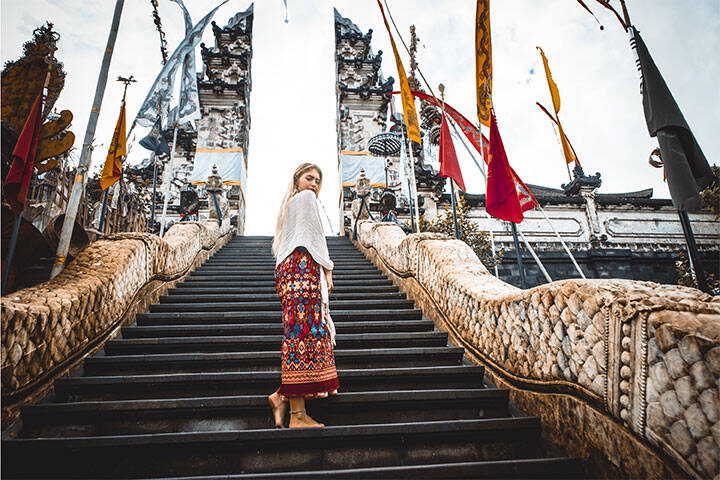 For those travelling to Bali in a given month, you might be wondering which clothing is most appropriate for the weather. Whilst it tends to be quite hot all-year round, the weather in Bali still changes somewhat throughout the year, based on variables like sunshine hours, humidity and rain. These factors in turn affect what clothing is most suitable, which is why we have put together a brief monthly guide on what to wear in Bali: 
What to Wear in Bali in January 
Given January's weather is amongst the hottest and wettest, aim to dress in loose-fitting clothes that maximise airflow. Outfits in quick-dry materials will save you if you're caught in a surprise downpour, too. It's advisable to keep a poncho handy when in Bali in January – but if you find yourself without, head to the nearest convenience store, supermarket or street vendor to purchase one.  
What to Wear in Bali in February 
Bali's heat, humidity and high rainfall continues in February, so lightweight clothing and closed shoes with a good grip will serve you well. Wear clothes in quick-dry material and carry a rain jacket or poncho as rain is frequent in February. 
What to Wear in Bali in March 
With periods of sunshine increasing in March, it's a good idea to wear swimwear under your clothing in case you decide to go for a quick dip in the ocean or at your resort pool.  A pair of waterproof flip-flops will also be handy if you're spending some time sightseeing as spontaneous rain showers are common. 
What to Wear in Bali in April 
With April commencing Bali's dry season, the sunshine and lack of rain makes it an ideal time for lightweight summer clothes and swimwear. Optimal clothing items include loose shorts, singlets and linen dresses, with swimwear underneath. Carry a quick-dry towel for any impromptu pool or ocean swims.  
What to Wear in Bali in May 
May is a warm and typically dry month, meaning you'll be most comfortable in loose coloured and if possible, light colours (white or beige will help reflect the heat better). It's also prime time for water activities like snorkelling so wear quick-dry swimwear to avoid walking around with wet clothes.  
What to Wear in Bali in June 
For day-to-day outfits in June, wear casual clothes with short sleeves in loose-fitting materials – this will help you stay comfortable in the heat. June is also one of the best times to experience the trek up Mount Batur (or Mount Agung for the more advanced hikers). For those hiking in Bali in June, wear comfortable walking shoes and non-absorbent activewear, and bring a light jacket as it can get quite cold as you reach the summit.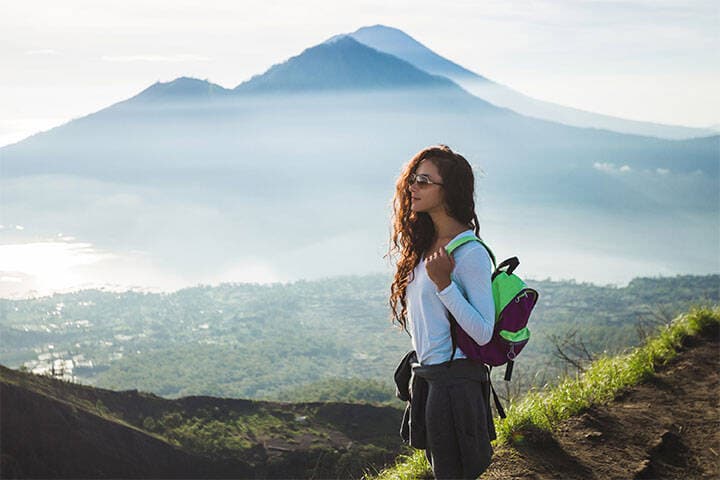 Photo: Oleg Breslavtsev on Getty Images Pro
What to Wear in Bali in July 
July is peak beach season in Bali, so your wardrobe will typically consist of casual beach clothing, including swimwear and beach cover-ups. Bali's nightlife picks up in the peak tourist season, so pack some smart-casual clothes to wear to bars, clubs and beach clubs. You can leave fancy dress shoes and heels at home – sandals and sneakers are the way to go! 
What to Wear in Bali in August 
Because August is one of the hotter months in Bali, most people tend to live in their swimwear. Layer these under summer clothes and pair with shoes that will be comfortable for hours of sightseeing or a day trip (it's the perfect time for a day tour to Nusa Penida!) 
What to Wear in Bali in September 
September in Bali is warm and sunny, so wear light, airy summer clothes. Although there's less of a chance of rain in September, showers are common, so make sure you have a rain jacket or poncho on hand to layer over your outfit. 
What to Wear in Bali in October 
October is a great time to explore all Bali has to offer, so your best bet is to wear clothing that will see you through big days of activities whilst staying comfortable. Stick to loose, casual clothes that can dry quickly if need be. Other useful clothing items include walking shoes with a good grip, swimwear to wear under clothes, a poncho in case of rain and a sarong for temples.  
What to Wear in Bali in November 
Bali's wet season returns in November, so wear loose summer clothes in quick-dry material. A rain jacket or poncho will be handy, too. Wear long sleeves and long pants at dusk - this is prime time for mosquitos during the wet season.  
What to Wear in Bali in December 
December is one of Bali's peak tourist periods, which means the social scene is buzzing and you may be more likely to wear smart-casual clothes when not sightseeing or venturing to rice fields or waterfalls. Stick to cotton and linen material to stay comfortable in the heat and humidity. Being the wet season, the ground becomes slippery at times, so make sure to wear sandals with a good grip on the bottom. 
What to wear for a Bali wedding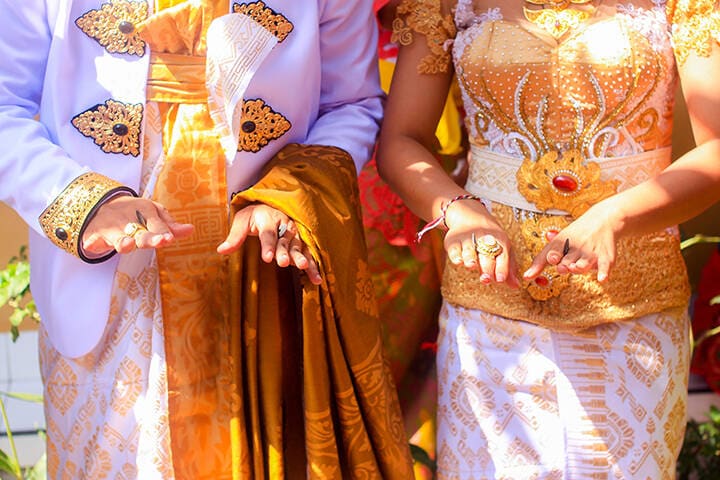 Photo: Victoria Boroda on Adobe Stock
Bali is an incredibly popular destination for weddings, so you probably want to know what to wear as a guest if you're making your way to the island for someone's special day. Keep in mind that the dress code usually varies slightly depending on whether you're going to a western-style wedding or a traditional Balinese wedding. We have provided recommendations for both men and women, and both Western and Balinese weddings, below. 
What to Wear to a Bali Wedding for Men: 
The best male outfit choice for a wedding in Bali depends on whether it's a Western-style or traditional Balinese wedding. Our outfit recommendations for each are below: 
Western Wedding (Male): We recommend male guests to a western-style wedding in Bali wear chinos or linen pants with a button-up shirt in linen or cotton, worn with casual loafers or boat shoes.
Traditional Balinese Wedding (Male): Male guests to a traditional Balinese wedding are recommended to wear an Indonesian batik shirt worn with trousers or a light-coloured sarong, paired with casual loafers or boat shoes.


What to Wear to a Bali Wedding for Women: 
When deciding what to wear as a female at a Bali wedding, we recommend taking into account whether its a western or traditional Balinese wedding. Our outfit recommendations for women at a Bali wedding in both cases are below: 

Western Wedding (Female): For female wedding guests in Bali, we recommend wearing a resort-style dress in a loose fit made from light, breathable material. Paired your outfit with stylish flats, sandals, or wedges if a heel is preferred.

Balinese Wedding (Female): We recommend female guests at a traditional Balinese wedding wear a lace 'Kebaya' (upper garment) to cover shoulders and arms with a matching sarong, paired with stylish flats, sandals, or wedges if a heel is preferred.

What Should I Pack for Bali?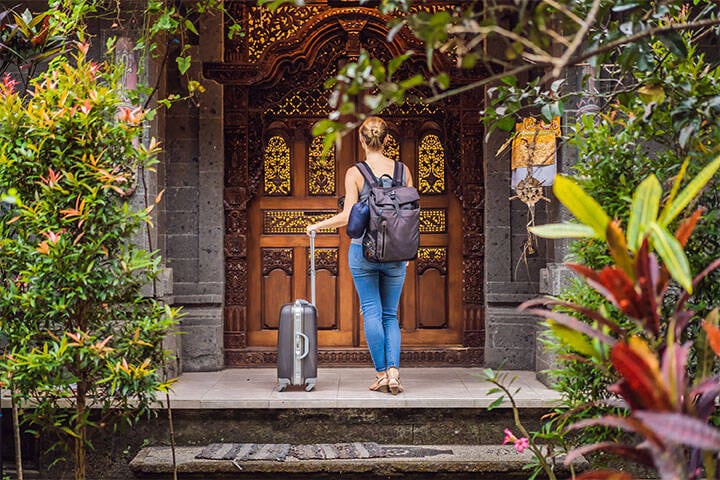 When packing for a Bali trip, the most important consideration is the weather and clothing. Lightweight, summer clothing with extra swimwear is best, as well as beach-style accessories like sunglasses and flip-flops. Your itinerary plays an important role in what to pack to Bali, whether you choose to visit temples, go hiking, participate in a retreat or go on an excursion. There are also some essential items to pack for Bali, including travel documents, toiletries, and electronics. The good news is that Bali is a relatively easy destination to pack for!