'Silence is golden,' crooned The Four Seasons, and it seems the Balinese agree. Once a year, the island is bathed in total silence with the arrival of Nyepi, the March festival in which Bali's Hindu population indulge in a full 24-hours of quiet, fasting, and meditation.
A day reserved for self-reflection pre-Hindu New Year, Nyepi affects the entirety of Bali, tourists included. With working, talking and travel all banned, the bustling streets of the Island of the Gods are largely deserted, as are the skies – even the airport closes for the day.
Views at Bali Silent Retreat; credit Tommaso Riva.
But is a period of silence really as powerful and purifying as Nyepi is believed to be? Yes, says Patricia Miklautsch, co-founder of Bali Silent Retreat. "Our egos seem to diminish when we stop talking. We begin to listen, to hear things, especially in nature, that seem to speak to our inner voice," she explains.
"When there is no social talking, we stop constantly defining who we are. We begin to discover inner truths, perspectives, about ourselves and others."
A different kind of wellness retreat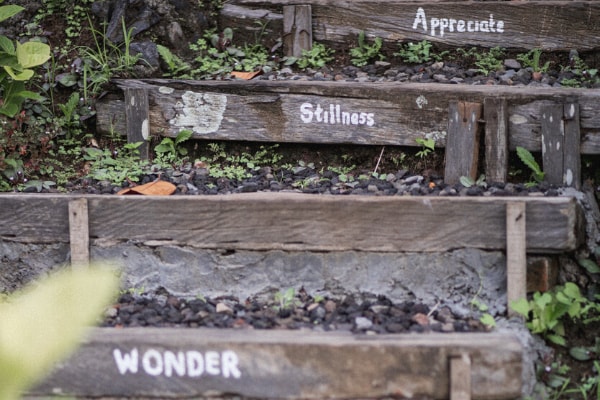 A place to contemplate quietly: welcome sights at Bali Silent Retreat's accommodation; credit Tommaso Riva

Which is exactly why I am headed straight for Bali Silent Retreat, attempting my own bout of self-reflection. Do I expect this to be a walk in the park? Absolutely not. I'm a typical millennial, juggling multiple jobs and social media channels like a circus professional.
But all that multi-tasking doesn't come without sacrifice. I can't remember the last time I spent a day away from a screen, work bleeds into my weekends, and I can't seem to quite grasp the concept of functioning without a phone in hand. Which is why the thought of me attending a device-free, speech-free retreat at first filled me with laughter, and then dread.
Yet here I am. Surrounded by a gaggle of thatched huts and buildings that sits snug into the base of Mount Batukaru in Tabanan, fringed by the village of Mongan, rice fields and jungle. Bali Silent Retreat is exactly how I picture the Garden of Eden to look.
Walking through the tropical foliage to my wooden bungalow, I pray these ironically Instagram-friendly views are enough to distract me from boredom in the days ahead. Or, at the very least, take the edge off.
Meditating on Bali's beauty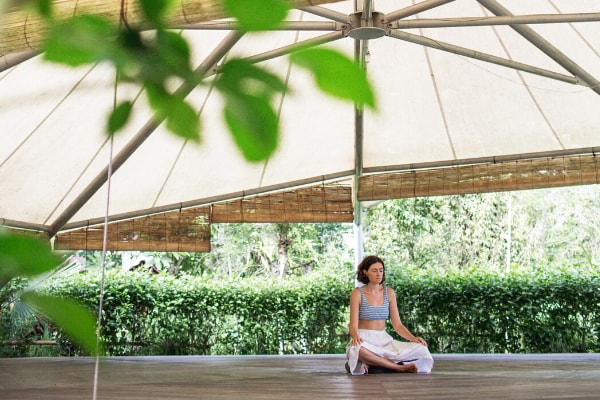 The writer settling in at Bali Silent Retreat; credit Tommaso Riva
While the location is nothing short of breathtaking, it wasn't just chosen for its aesthetics: nestling the local temple, the plot of land on which Bali Silent Retreat resides was home to an ashram hundreds of years ago, and holy men have deemed that it sits right on top of a stream of spiritual energy.
But it's not just the location that's been specifically chosen to enhance a potential spiritual awakening. Explains Miklautsch: "All aspects of Bali Silent Retreat (food, programs, rooms, walking paths) are designed to create space so as to facilitate 'experience', whatever that might be for the individual."

The program she refers to (over a recommended five-day stay) is a loosely structured series of daily activities, each completed in silence but useful as a form of distraction. Guests rise with the sun, greeted by a symphony of lively local roosters, and retire early when night falls.
Days are punctuated by gongs, welcoming meal times and the next activity; there's twice daily meditation and yoga, cultural talks, jungle and nearby hot springs to explore, and guided walks through the organic vegetable garden out back, where much of the food is sourced.
Retreating into wellness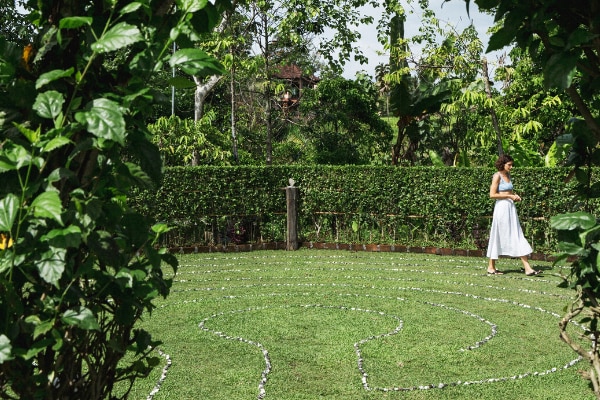 Our writer meanders the labyrinth at Bali Silent Retreat; credit Tommasi Riva
While there are rules, this is hardly a prison. Unlike other silent retreats, reading and writing are encouraged; Bali Silent Retreat boasts an impressive library of fiction and self-help alike, and guests are handed a journal and pen upon entry.
Conveniently and reassuringly, while Wi-Fi isn't available and reception scarce, there is a hotspot zone at reception to reach out to loved ones (or check in with work) should you need to.
Drawing conclusions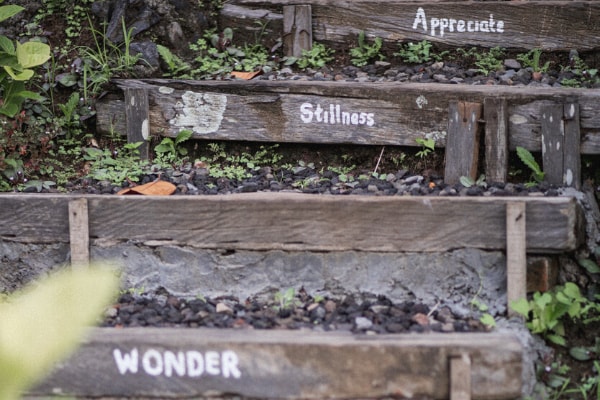 Sweet details at Bali Silent Retreat; credit Tommaso Riva
Despite the many amenities, perhaps predictably, I struggled from day dot. Surprisingly, it wasn't the silence I found difficult, but rewiring my brain to believe that every waking moment doesn't need to be utilised.
It was made very clear that the art of doing nothing doesn't come naturally to me. Did I plot my escape? Regularly.
However, it is indeed for people like me that the retreat is intended – I'm the ideal candidate as a member of the 'burnout generation'. Fellow guests looked like they also fell into this category; less hippy, more corporate.
"There are no gurus, doctrines, workshops or rules, except to stop devices and stop social talking. The result is slowing down our contemporary frenetic lifestyles. The guest experience is often life-changing, individual, profound and personal," says Miklautsch.
Taking time out at Bali Silent Retreat; credit Tommaso Riva
After days spent meditating, pulling downward dog and meandering the natural beauty of Bali, I expected to emerge like a butterfly from a rather drab and tired cocoon of my own making.
Reality was unfortunately rather less impressive. Did I find spiritual enlightenment? No. But I did catch a break. I'm not sure my life is in the slow lane just yet, but it may have helped me take my foot off the accelerator.
Three more of Bali's Best Wellness Retreats
Bali's many wellness retreats make it the perfect spot to find yourself, here are three more to try.
1. Escape Haven: This luxurious, womens-only retreat in Echo Beach embraces Nyepi each year by keeping actitivies in-house and noise to a minimun. Far from detracting from the experience of their wellness and surf programs, it's become a guest highlight.
2. Como Shambala Estate: Sitting above the Ayung River near Ubud, this refined retreat maintains a specialist in-house team includingan Ayurvedic yoga expert, dietitian and chakra healer.
3. Five Elements: This eco-conscious stay in a verdant setting in central Bali embraces Balinese healing traditions, and often offers special Nyepi packages for complete immersion.
Published Thursday 12 March, 2020. Words by Sarah Bristow; photography Tommaso Riva.