Privacy and pampering rank at the top of almost every most-wanted list when it comes to Bali, and a beautiful luxury villa can be yours for less than you think. Each offering a retreat from the hustle and bustle of daily life, amenities range from private pools to personal chefs to exclusive use of entire beachfront. What are the best private villas in Bali? We're glad you asked because we have some answers. So relax and sleep in, stroll on the velvety sands. However you choose to spend your Bali holiday, five-star accommodation is within your reach.
The Estate – Villa Massilia Bali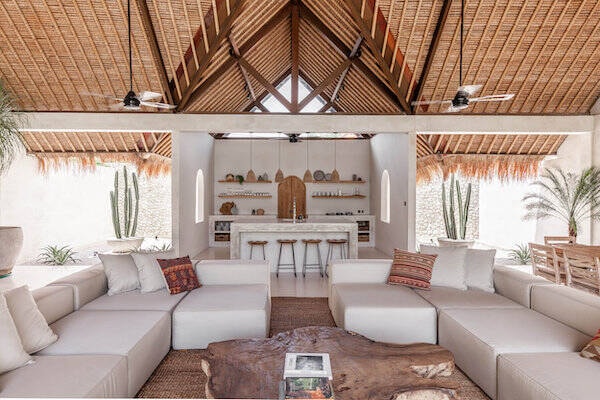 Photo by: Villa Massilia
Address: Villa Massilia Bali; Jalan Sari Dewi Temuku Gang 4 no. 8, Seminyak 80361
Price: $$
Villa Massilia Bali is a collection of three super soothing luxury bures, each with its own sparkling pool and expansive open spaces both indoors and out – perfect for relaxing or spending quality time with family and friends. Tucked behind an imposing gated entry, the lush tropical gardens teem with native flowers and ensure the utmost privacy. Villas One and Three each boast three king bedrooms, while villa two is a touch larger with four. All guestrooms have Bali-style open ensuite baths with rainfall shower heads, and many include deep soaking tubs big enough for two. Villas can be combined for larger parties, or if guests really want to make it memorable and travel with an entourage, they can book the entire property for 10 bedrooms which will sleep 20 guests in opulent contentment. A professional staff of 14, including overnight security will ensure you never want for anything. The location is fantastic – just a short jaunt to Seminyak Beach, in the heart of Oberoi.
The Villa Community – The Layar Designer Villas and Spa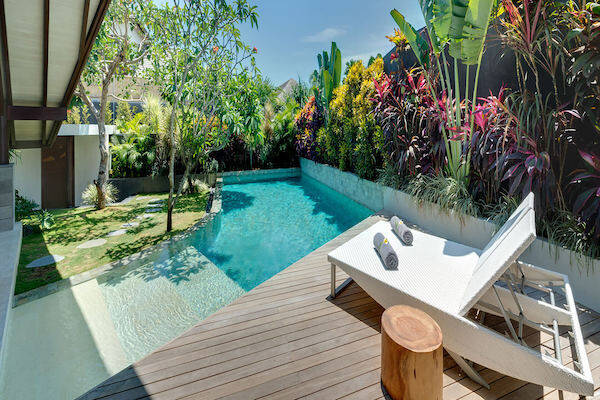 Address: The Layar Designer Villas and Spa; Seminyak, Jl. Pangkung Sari No.10 X, Kerobokan Kelod, Kec. Kuta Utara, Kabupaten Badung, Bali 80361
Price: $
Part resort and part individual bure, The Layar Designer Villas and Spa offers the best of both worlds with its 23 private villa accommodations. House-like proportions are decked out in modern and comfortable finishes that will leave no doubt as to the luxury that awaits. One, two, three and four-bedroom options are at hand to suit guests no matter the size of their party. With indoor spaces that flow out into nature and a soothing swimming pool surrounded by jungle-loving greenery, you'll feel like you're in a spa even when it's just a day of relaxing at the breezy villa with a freshly squeezed juice and the latest bestseller. An extensive menu of pampering treatments awaits when it does come time to visit the spa's oasis of calm, including the Chocolate Sensation and Red Wine Massage – and for diehard fitness fans, a state-of-the-art gym has everything one could need to stay buff and beach ready in Bali.
The Beachfront Bombshell – Villa Vedas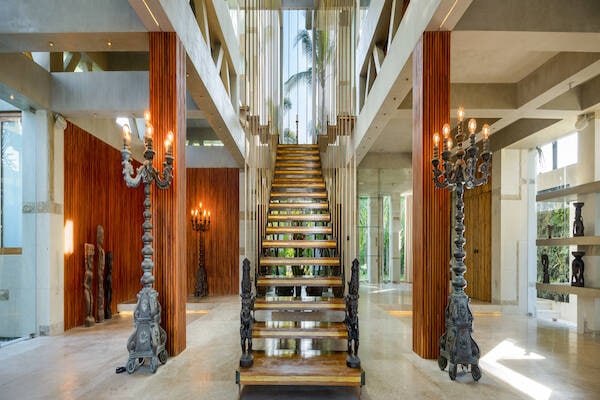 Photo by: Villa Vedas
Address: Villa Vedas; Jalan Kebo Iwa Jalan Batu Tampih Kangin No.Banjar, Pangkung Tibah, Kec. Kediri, Kabupaten Tabanan, Bali 82115
Price: $$$
With ornate interiors that somehow manage to be both cavernous and at the same time cosy, walking into Villa Vedas will have you wondering just when you became royalty. Fit for a queen, this place is, with absolute Bali beachfront views and direct access, as well as two immaculate pools and a small 'sky pool' that serves as liquid skylight to the main living level. Warm wood and cool stone floors set the stage for eight glorious bedrooms in this very special ocean-facing abode, with sunlight flooding through floor-to-ceiling windows. When not gazing out at the sea or lounging on the daybed, guests can wander through all 1800 square metres of this luxury private villa and visit the bar and cards room, the snooker room, the media room and the manicured Balinese grounds for serenity. A full-time cadre of staff and private chef are de rigueur, and this is one home you may have to book well in advance. Lauded the world over for its location and amenities, it's in high demand for weddings and events as well as holidays.
The Netflix Celebrity – Noku Beach House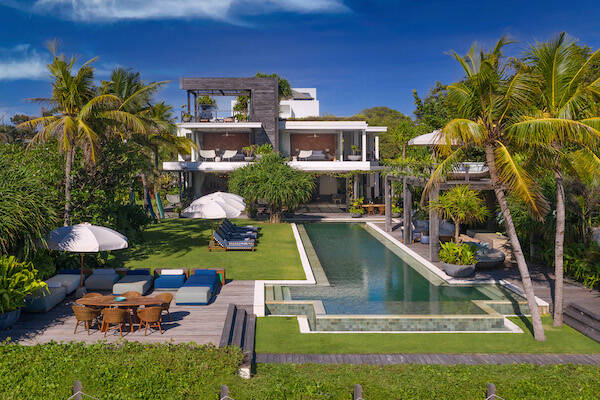 Photo by: Noku Beach House
Address: Noku Beach House; Jalan Sarinande No. 22 Seminyak, Kuta, Kabupaten Badung, Bali 80361
Price: $$$
One of the largest private villas in Bali with a staff of 25, absolute beachfront and a shimmering swimming pool, guests at Noku Beach House want for absolutely nothing during their stay here. A destination in itself, the experience begins upon landing when visitors are whisked off via their dedicated car and driver to the swank Alex Zabotto-Bentley-designed residence for six-star service. You'll delight in a chef and culinary team for Balinese hospitality and gourmet dining using only the freshest organic produce. It's the ultimate in indulgence. Six sumptuously appointed suite-like bedrooms are whisper quiet for sleeping or watching the sun make its way across the water. Netflix even featured Noku on its 'World's Most Amazing Vacation Rentals' programme in 2021. Talk about a stamp of approval.
The Private Villa Resort – The Kunja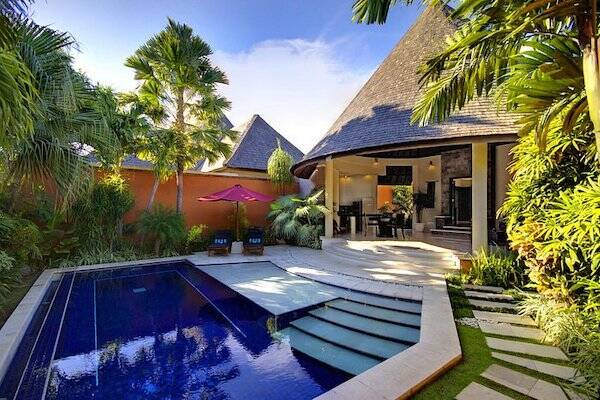 Photo by: Villa Kunja
Address: The Kunja; Jalan Lebak Sari 8 Petitenget, Kerobokan Kelod, Bali 80361
Price: $
Grouped into a single resort, these 18 villas offer affordable luxury and traditional Bali-style decor with every contemporary convenience. Choose from one or three-bedroom accommodation, each with its own immaculate pool and with walls covered with native flora and cascading greenery for privacy. Mere moments from shopping, cafes and glistening golden beaches, you can enjoy the best of both worlds with the convenience of location and the quiet positioning away from the crowds in nearby Kuta. Children are welcome though the Kunja specialises in honeymooners and couples, so expect a resort primarily for adults. While there is no eat-in restaurant on site, you can order food to be delivered to the villa, as well as enjoy full-service spa treatments from the comfort of your own private pavilion.
The Modern Oasis – Villa La Dacha
Photo by: Villa LaDacha
Address: Villa La Dacha; Jalan Pantai Berawa, Gang Damai 2 NO 99, Canggu, 80361
Price: $$
Luxuriously handcrafted minimalist interiors greet guests upon their arrival (via car and driver) at this off-the-beaten-path luxury villa in Canggu. Only 15 minutes from bustling Seminyak, the vibe at Villa La Dacha is peaceful elegance with views over verdant green rice paddies, towering palm trees and a magnificent pool that runs central to the property. Each of the five expansive bedrooms features an ensuite with a sublime soaking tub, and vast natural light reigns supreme throughout. Make the most of the abundance of seating areas inside and out for gathering with friends and family in style or simply taking time for yourself amongst the grandeur of nature. Complete with a cinema room, fully stocked modern kitchen and dining room, this is one refuge you might not want to leave, but if you do, your car and driver will take you wherever you need to go. Check out trendy Berawa Beach for shopping and surfing and the family-friendly Canggu Club for its waterpark, gym and tennis facilities.
The Art Gallery – Villa Conti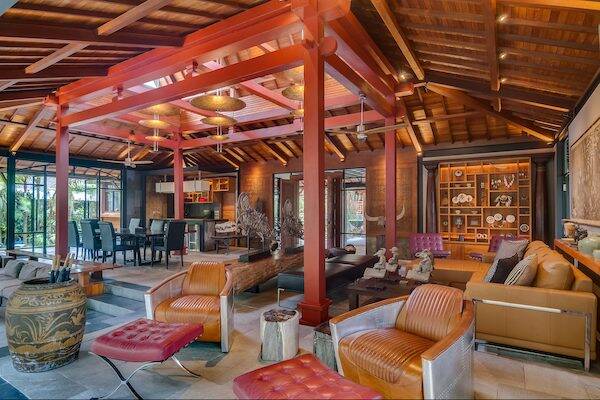 Photo by: Villa Conti
Address: Villa Conte; Gg. Pandan Asri 14, Tumbak Bayuh, Kec. Mengwi, Kabupaten Badung, Bali 80351
Price: $$
Sprawled over 35 acres of lush emerald green garden, Villa Conti combines Asian and Western influences for a special haven of calm. Three pools are sure to please beneath a canopy of jungle with alfresco seating and dining areas that are waiting to be discovered. Wander the property for a bit of meditation amongst the birdsong, and peruse the relics contained within the gallery-like setting at your leisure. Don't worry too much about a to-do list here, this private luxury villa has a staff of 13 to look after guests, including a chef and a chauffeur. Guests will want to browse the wine cellar and treat themselves to bliss in the spa room, and for those who MUST, an office is fully equipped for business. Nearby, beach cafes and soft sand beaches await, as well as the spectacular Tanah Lot Temple and charming local shops.
The Villa Estate - Abaca Villas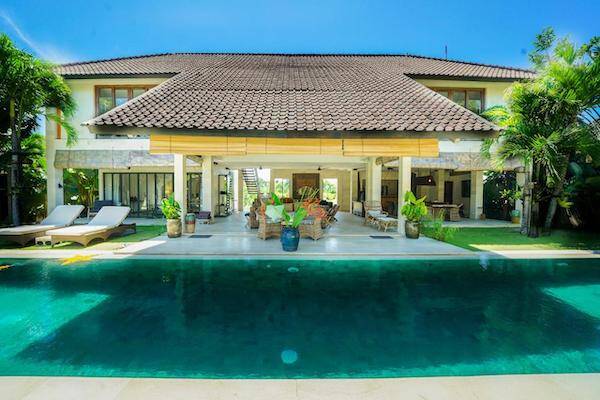 Photo by: Abaca Villas
Address: Abaca Villas; Gg. Penatih No.1, Kerobokan Kelod, Kec. Kuta Utara, Kabupaten Badung, Bali 80361
Price: $$
Depending on the size of your party, Abaca Villas may be just what strikes your fancy as you seek the best private villa in Bali. Bring your favourite people with you for the getaway of a lifetime, and make it the holiday you've always been meaning to have. The 16-bedroom luxury complex is comprised of three separate villas and, when rented as one large space, offers four swimming pools on grounds that are half the size of a football field. In addition to the pools, guests can enjoy subscription TV and projection sound, ping pong chess and board games. It's the ultimate location for multigenerational family gatherings with something to keep everyone happy, no matter their age and the villas are wheelchair friendly. If hired separately, they are configured in one six-bedroom and two five-bedroom units. It's fully staffed, too.
The One with Proximity to the Palace – Villa San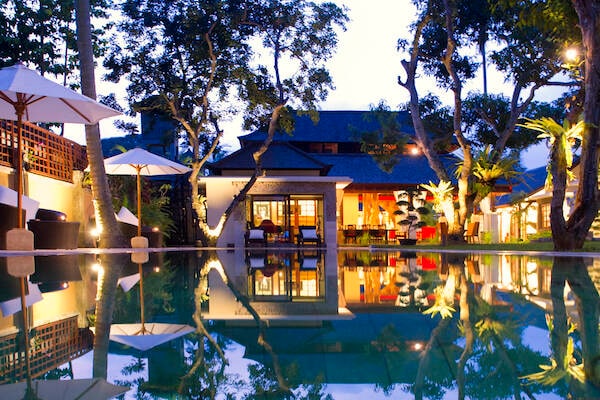 Photo by: Villa San
Address: Villa San; Jalan Suweta No. 24, Ubud, Kabupaten Gianyar, Bali, 80571
Price: $$
Say hello to Ubud, a town of artists and dreamers moments from the Sacred Monkey Forest amongst the cooler shelter of the trees. A relief from the humidity of the coastal areas, Ubud offers a quieter experience of culture and tradition. It's here that the fully staffed Villa San, with its large glistening pool and six ensuite bedrooms, will become your home away from home. Families will love the dedicated playroom with a TV entertainment system, games and toys where children can amuse themselves in their own space. Villa San is only 300 short metres from the Royal Palace and the bustling local market and is the perfect spot to relax when visitors aren't immersed in all there is to do. Join life drawing classes, learn ikat weaving and discover batik painting for a souvenir skill you can take with you. Additional guests may be accommodated upon request and availability.
The Adults Only Luxury Villas – Kayumanis Nusa Dua Private Villa and Spa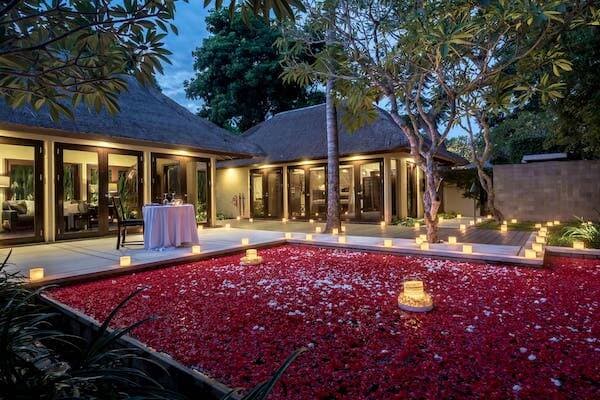 Photo by: Villa Kayumanis
Address: Kayumanis Nusa Dua Private Villa and Spa; BTDC Area Nusa Dua, P.O. Box 777 Nusa Dua Bali 80363
Price: $
Serene and oh-so-sumptuous, the beautiful villa accommodations at Kayumanis Nusa Dua come with a private butler and driver, so guests are able to relax in the truest sense of the word. Each with a pool, the 20 villas are elegant pavilion style, and the entire grounds are delightfully decadent with lush vegetation and water features as one would expect. The resort itself is tucked away on a private stretch of beach. Two on-site restaurants, Italian and traditional Indonesian, create delightful meals with menus that change according to what is fresh. Activities like temple tours, market visits and cooking classes can be arranged as can relaxing cycling outings and sunrise breakfasts on the beach. At the day spa, it's a well-earned pleasure to give in to the signature treatments and wellness rituals based on Bali's history of healing traditions.
The Cliffhugging Oceanfront Stunner – Villa Bidadari Cliffside Estate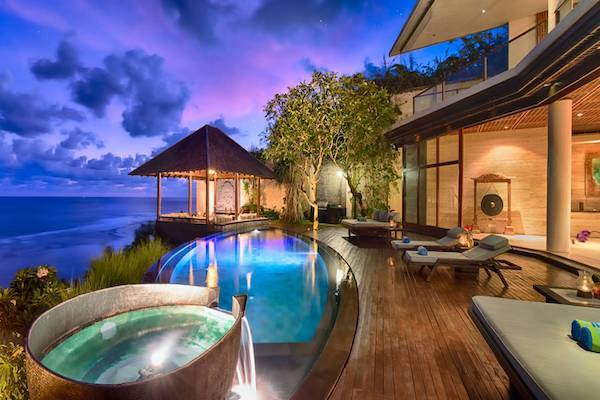 Address: Villa Bidadari Cliffside Estate; 5674+GF5, Jl. Asmara Villa, Benoa, Kec. Kuta Sel., Kabupaten Badung, Bali 80363
Price: From $$
Perched cliffside on the Southern Uluwatu peninsula and with a commanding view of the Indian Ocean's azure depths, this is one luxury Bali beachfront villa you'll want to contemplate. Four all-suite bedrooms suit families or friends, and a car and driver, chef, butler, villa and pool attendants are available to make your holiday a smooth and relaxing one. The formal indoor dining area or a more casual clifftop dining pavilion, or bale, are just two of the places where guests can come together for meals, sundowners and afternoon tea. A library and media room also offer a quiet respite for winding down in peace and quiet evenings staying in. This birdseye view in its elevated position might make walking to the beach a bit of a slog, so for those not quite up to that, a private inclinator is your chariot to the plush sandy beaches below. Staff can arrange picnics and the like, and ocean kayaks are at your disposal. Astonishing views are to be had at every angle, and the large deck with its palatial daybeds is a prime spot for napping under the Balinese breeze.
The Ultimate Party Escape – Mandala. The Rocks Uluwatu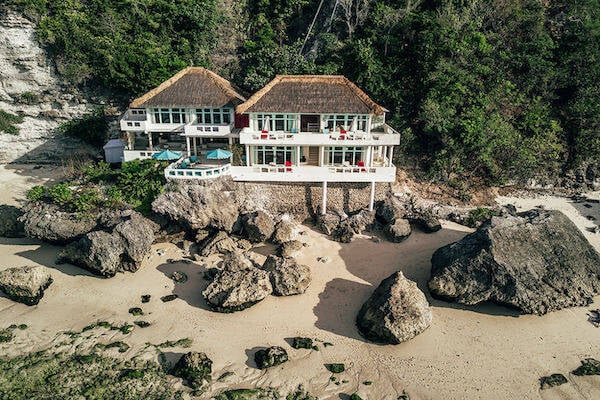 Photo by: Mandala. The Rocks.
Address: Mandala. The Rocks Villa; Jl. Labuan Sait, Pecatu, Kec. Kuta Sel. Kabupaten Badung, Bali 80361
Price: $$
A Mecca for active travellers and lovers of sand and sea, this beachfront knockout is steps away from three of Bali's most sought-after surf breaks. The fully outfitted outdoor gym has space for working out hard or taking it easier with yoga and meditation – depending on what guests are up for. Fully 465 square metres of living space at Mandala. The Rocks ensures ample room for everyone to spread out amongst its six bedrooms, each with an ensuite and private terrace. Interiors are soothing tones of white and pops of colour like turquoise and orange that beg for photo sessions with the golden sunlight streaming in. A full team of staff, including a chef and a concierge, are on hand to provide assistance and pampering after a day of paddling the waves, perfecting planks or simply reading on the supple white sands. This villa is without a pool, but you won't need one with the ocean lapping steps away.