The iconic beach clubs are an ever-moving feast of good times in Bali, especially as the island recovers from the pandemic-induced tourism shut-down. Many favourites may have shut down over the past few years, but Bali is recovering fast, with many beach clubs now re-opened, and a batch of new beach clubs opening up to welcome tourists back for more good times.
It's hard to pick favourites when it comes to beach clubs, because every one has something a little bit different to offer, and it's almost impossible to have a bad time while you're surrounded by such beauty and Balinese hospitality. But if we have to choose, here are our picks of where to swim, sip and soak your holiday away next time you're in Bali.
Note: Cost is indicated from $ to $$$, but every beach club in Bali presents great value compared to what you'd spend in Australia, so this measure is compared to other beach clubs only.
Finns Beach Club and Finns VIP, Canggu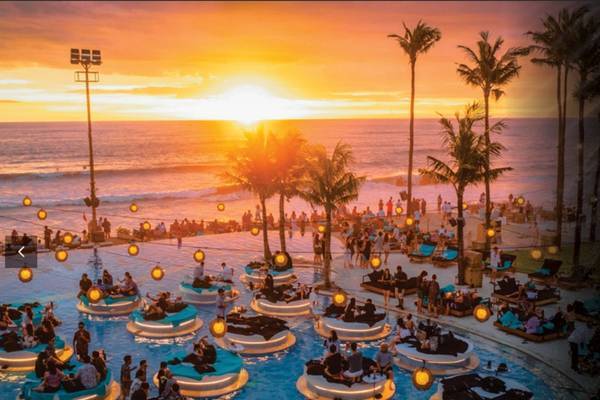 Location: Jl. Pantai Berawa No.99, Canggu, Kec. Kuta Utara, Kabupaten Badung
Cost: Finns $$ - Finns VIP $$$
Whether you're after everyday fun or a VIP experience, Finns has got you – and you won't want it to ever let you go. While some beach clubs run out of ideas beyond cocktails by the pool, Finns can keep you busy from day into night, with four pools, nine bars (including two swim-ups), a bakehouse, a sushi bar, five restaurants, and a day spa. And of course, great tunes with international DJs on regular rotation, and delicious cocktails. All of this sits right beside a surf beach, so there are always waves to catch for those that can't sit still for too long. And you can up the ante with a VIP experience next door at Finns VIP, and enjoy luxe day beds, an exclusive VIP menu, sunscreen mist, a sunglass cleaning service, a surf valet service, and complimentary coffee, juice and gelato.
Café del Mar, Canggu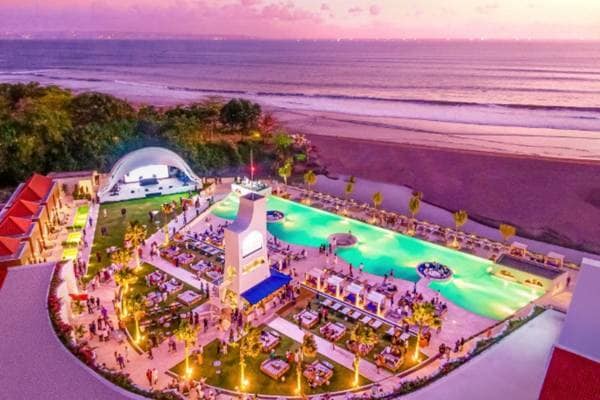 Location: Jl Subak Sari, Canggu, Tibubeneng, North Kuta, Badung
Cost: $$
If you've ever thought that what Bali really needs is a taste of Ibiza, Café del Mar is for you. Think sprawling lawns, international DJs, a huge blue-lit pool, and sunken lounges for sipping cocktails or enjoying a Mediterranean meal. And if you're after something a a whole lot more exclusive, you can rent the private Master Suite, with its own private pool and inside area. Come at sunset for a spectacular light show off the all-white walls, stay for the tunes and the outstanding cocktail list.
Potato Head Beach Club, Seminyak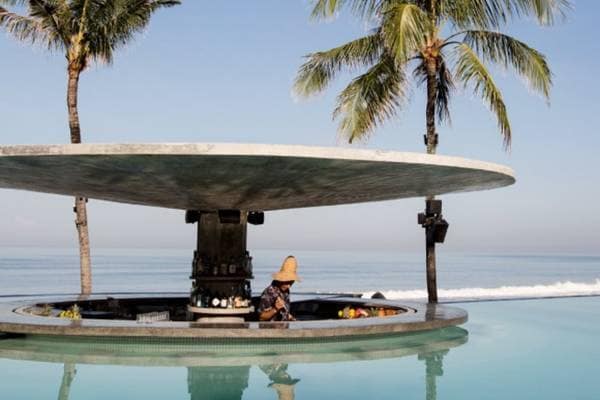 Location: Petitenget St No.51B, Seminyak, Kuta Utara, Badung Regency
Cost: $$$
Potato Head has been Seminyak icon since 2010, and if you want to experience the extra-ness of a luxe Bali beach club, it's hard to go past this one. Calling itself 'Bali's home of tropical modernism', Potato Head is a giant amphitheatre built from brushed concrete and reclaimed wood. Even walking to the entrance is an experience in modern art (don't miss the sculpture made from thongs that have been left behind by punters – but do your best not to contribute your own). But it's not just about the art, of course, Potato Head also boasts a huge beachside infinity pool with swim-up bar, three restaurants, a drool-worthy cocktail list, and regular film screenings and DJs that have the outdoor dance floors heaving. And there's a hotel too, so you can settle in and forget about how you're going to get home. Service right to your daybed is attentive, and if you want to sip the afternoon away and still feel great about yourself, know that you're supporting the first hospitality company in Indonesia to be declared climate neutral by the United Nations.
Azul Bali, Legian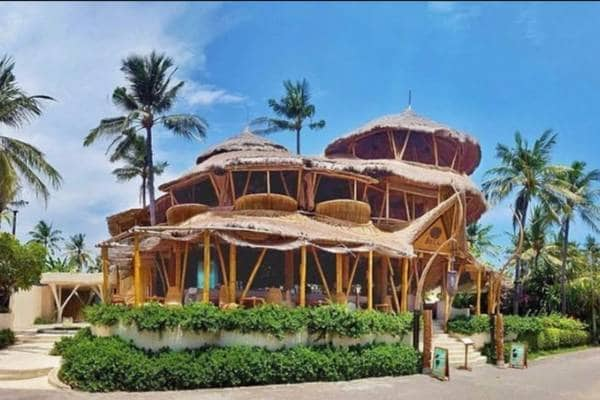 Location: Jl. Padma No.2, Legian, Kuta, Kabupaten Badung
Cost: $$
Perched right on the edge of Legian Beach, Azul is proudly Bali's first tiki bar, and a shining star in Legian. You know the tiki vibe: huge ornate bamboo tree house, signature tiki rum cocktails, and an adults-only pool and spa. Open from 7am, you can join in the morning yoga, and then hang out in the infinity pool until the afternoon happy hour (which actually goes for three hours, because you're on holidays and who's counting?) while you wait for the sensational sunset over the ocean. Stick around for DJs or live music into the night, or head along on Sunday afternoons for salsa classes – no partner required.
Locca Sea House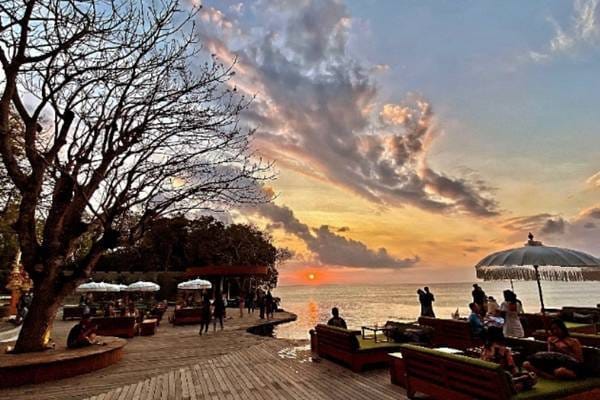 Location: Jl. Jimbaran Hijau Segara, Jl. Tegal Wangi, Jimbaran, Kabupaten Badung
Cost: $
If you're after a quieter beach club, head to Jimbaran and Locca Sea House. What it lacks in glitz and glamour, Locca more than makes up in meaningful experience. Created by local musicians and painters, Locca combines local art and culture, with the aim of being socially sustainable. The restaurant serves traditional Balinese food – made with centuries-old recipes with a modern twist – and a highlight is their signature Nusantara (the Indonesian name for the outer islands) spiced cocktails. But don't worry, you won't have to skip all the things that make a beach club great in Bali – the day beds by the swimming pool are the spot to be (book ahead to secure your hotly contested spot) when you're not waist-deep at the circular swim-up bar, and the world music beats will keep you vibing all day.
TT Beach Club, Melasti Beach
Location: Melasti Beach 88, Ungasan, Kec. Kuta Sel., Kabupaten Badung
Cost: $$
Melasti Beach has quickly become one of Bali's most popular beaches, and with limestone cliffs and stunning rockpools, it's easy to see why. TT (standing for tropical temptation) Beach Club offers beachside luxury, with daybeds and VIP cabanas, two infinity pools and a jacuzzi. Soak up the sun during the day, with laid back house music, and a range of food and drink options, or kick it up a notch at night, with DJ party music and flowing cocktails. And if you want photographic evidence of your good times, you can use TT's drone service to capture your best moments at the club.
Sundays Beach Club, Ungasan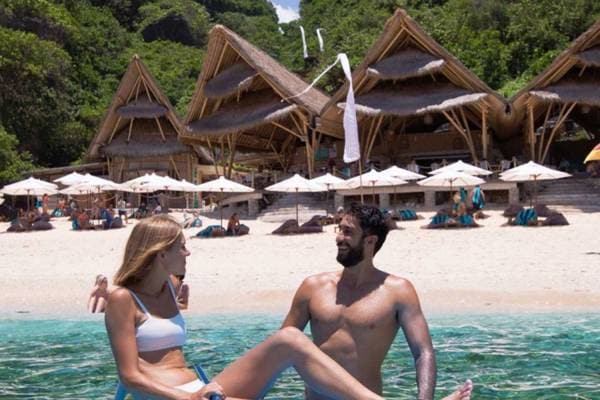 Location: Jl. Pantai Sel. Gau Banjar Wijaya Kusuma, Ungasan, Kec. Kuta Sel., Kabupaten Badung
Cost: $$$
The iconic Sundays closed for a while during COVID but it's back, bigger and better than ever. This superdeluxe family-friendly destination welcomes adults and kids to enjoy their beach-side day beds, as well as a range of water sports, such as stand-up paddleboarding, kayaking, beach volleyball, and snorkelling. You can also toast marshmallows by the bonfires at sunset, and enjoy cocktails and live music or DJs every day. If you've been here before Sundays closed its doors for a while, you'll notice they've expanded their deck and also added a brand new bar with views out across the beach. But the great service, and those iconic beach bungalows, remain as great as you remember.
Ritual Bali, Uluwatu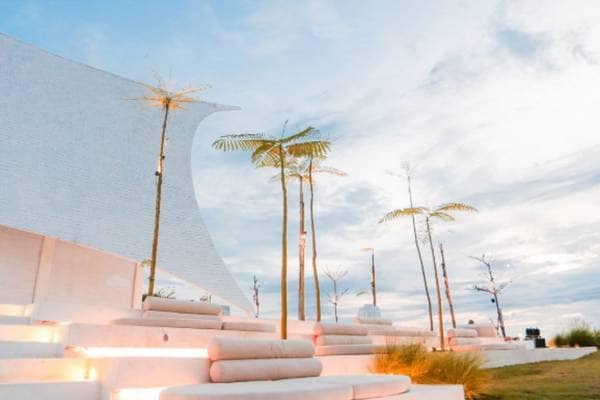 Location: Jalan Pantai Suluban, Uluwatu 80000, Pecatu, South Kuta, Badung Regency
Cost: $$
If you're looking for a next level experience, you can't go past the brand new Ritual, perched on Uluwatu's cliff edge. The only stress you might feel in this modern wonder of white angular architecture is deciding whether to look out at the stunning ocean views or back at your incredible location. But don't worry, you've got all evening from 4pm, so you can do both, as well as what Ritual invites you to do: celebrate all things food, music, art and friendship in the restaurant, pool garden, night club and art space. Well, okay then…
Oneeightyº, Uluwatu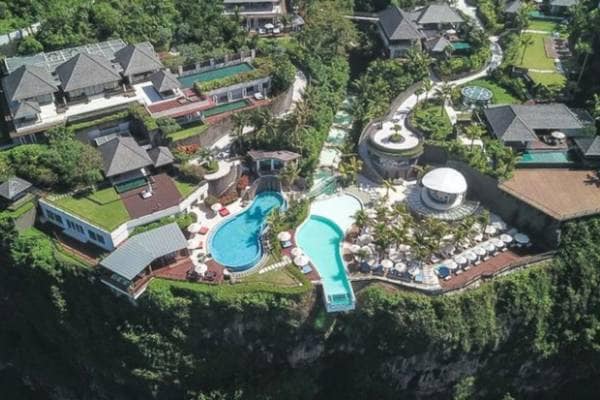 Location: Banjar Dinas Kangin Jl. Pura, Uluwatu, Jl. Goa Lempeh, Pecatu, Kabupaten Badung
Cost: $$$
If you're after a VIP experience that is about as Insta-worthy as it gets, Oneeightyº – perched atop the cliffs of Uluwatu – is where you want to be. But swimming at Oneeightyº is not for the faint-hearted – with a glass-bottomed pool that juts out over the cliff so you can take a paddle while looking at the beach 150 metres below. But the skypool is just one of the high-end amenities you'll find at Oneeightyº. General admission will get you into the sand lounge, terrace, bar or sky lounge – including that breath-taking pool. Or if you want to go full VIP (and who doesn't?), you can enjoy professional waiters right to your dedicated sunbed, free wi-fi, cold towels and granita on arrival – and no chance of being disturbed by children under 12. The photogenic rock lagoon will probably star in your holiday pics for years to come. Plus, Oneeightyº is part of The Edge Villa Resort, so there's no need to ever leave.
Ulu Cliffhouse, Padang-Padang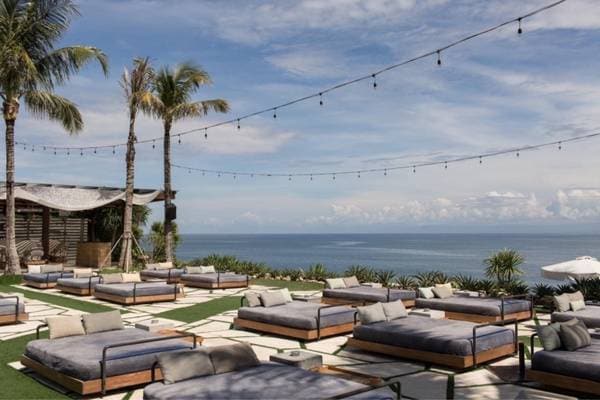 Location: Jl. Labuan Sait No. 315, Padang-Padang
Cost: $$$
If you're into exclusive hidden locations, head down the stairs at Ulu Cliffhouse to the sunbed terrace, where you can soak up the rays, watch the waves crashing on the beach below and partake in some seriously good local seafood. Hot tip: if you manage to get yourself one of the small number of sunbeds (complete with their own inbuilt shade), do not leave unless you don't want it back. These little pods of luxury are hot property, but well worth the visit.
Roosterfish Beach Club, Pandawa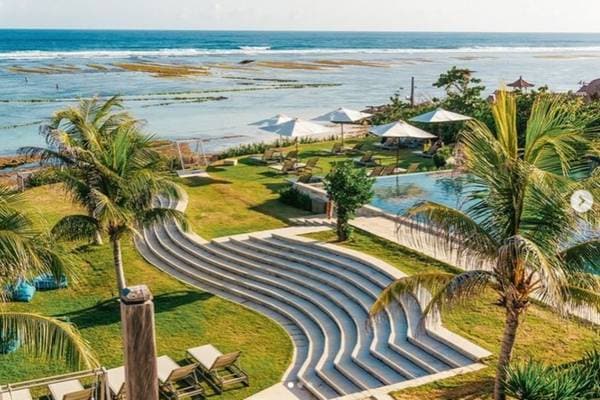 Location: JI. Pantai Pandawa, Kutuh, Kuta Selatan Badung
Cost: $$
If you're after a quiet spot and a slower pace, Roosterfish is the hidden gem you've been looking for. This family-friendly club is expansive and laid back, with a thatched-roofed restaurant, plenty of greenery, and it's in a perfect spot, sitting on the cliff above Pandawa Beach (a beautiful sheltered spot for swimming, if you get sick of the enormous pool). The menu is extensive, offering western and Balinese snacks and meals. Head along on a Saturday night for some DJ action, or Sunday for their (kid-friendly) foam party. Bonus: if you're staying at the nearby Renaissance Hotel, you get a free shuttle to and from Roosterfish included.
Reef Beach Club, Nusa Dua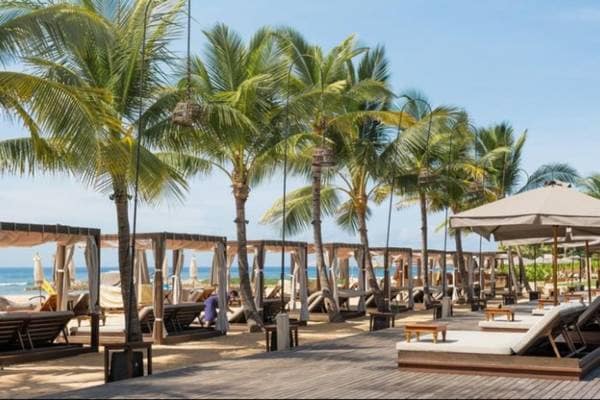 Location: Jl. Raya Nusa Dua Selatan, Sawangan, Nusa Dua, Kec. Kuta Sel., Kabupaten Badung, Bali 80361
Cost: $$$
If it's five-star luxury you're after, look no further than the white sands of Nusa Dua, and Reef Beach Club. Part of the world-class hotel Apurva Kempinski Bali, the family-friendly Reef Club boasts a 42-metre infinity pool, sun lounges, bean bags, cabanas, and plenty of indoor seating. Highlights are the beach grill and bonfire at sunset, the live music, and the range of Indonesian and western cuisines on offer to suit any palate.