Kings Canyon (located within Watarrka National Park) might be best known for its stunning natural canyon, but the park is home to several incredible activities – including the new gem in its crown, Kings Canyon Resort's glamping experience (new in 2019). Situated almost halfway between Alice Springs and Uluru, the resort makes for the perfect stopping off point for a night or two of blissful peace and quiet – or, for a couple of days of fun-filled adventures. The choice is yours!
1. Make a grand (canyon) entrance
Many visitors arrive to Kings Canyon via road trip, thanks to its location virtually halfway between Alice Springs and Uluru. But there is a very scenic alternative: fly conveniently into Uluru, then hop on a light plane and prepare your camera. The 35-minute flight from Uluru to the Kings Canyon airstrip is a memorable experience: as you soar over the landscape, admire the unusual scalloped ridges and sparse vegetation of the area, and be sure to keep an eye out for the striking salt flats of Lake Amadeus, too. In this region, the landscape is pocked with irregular ring marks and pencil thin desert trees which, from above, are quite a striking sight.
2. Take the famous Rim Walk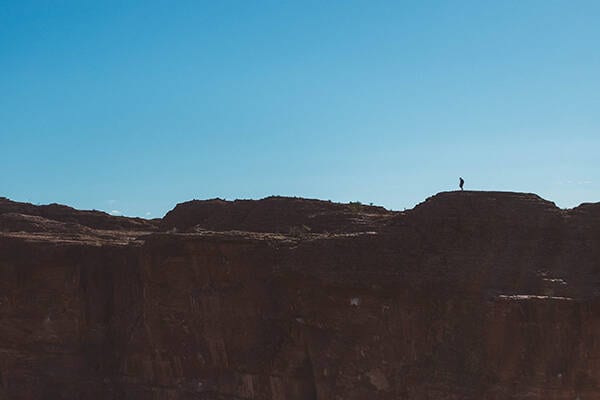 The Kings Canyon's most famous activity, the Kings Canyon Rim Walk, deserves its reputation: it truly is a memorable experience. Over roughly three hours, the walk edges along the outer rim of the canyon's dramatic drop off, for a hike around six kilometres in length (plenty of photos stops allowed). The sight of its gravity-defying dimensions is a worthy reward, but there's more: the Garden of Eden, found roughly halfway along the track, dips down into the canyon and rewards you with a rest stop a cool, mirrored pool.
3. Take a tour with a difference
Don't be fooled: Segways look innocent, but they can get up some surprising speed! Under the close supervision of your Kings Canyon Resort guide, hop on board and take a tour through the area: you'll head out past the campground and cruise past the dramatic cliff range, where you can admire the close-up beauty of the landscape's sun-dappled trees and smokey-green tufts of spinifex. Not a fan of a Segway tour? Perhaps a chopper tour over the region is more your speed: local operators, Professional Helicopter Services will have you soaring over temporary waterholes and the billion-year-old mountain range nearby. You'll also get a birds-eye view of Kings Canyon's deep 'V' shape – it really is a spectacular sight.
4. See the park through traditional eyes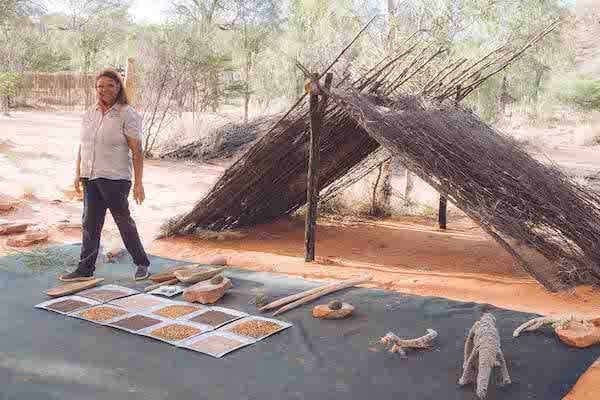 Experience Watarrka National Park through the eyes of its traditional owners, with indigenous tour operator, Karrke. Over the course of an hour, you'll walk with married couple Christine Breaden, and Peter Abbott, as well as Peter's sister Natasha Abbott, as they show you around their ancestors' land. Watch as Christine performs a traditional welcome ceremony, then be taken on a walk through country, where various things of note are pointed out: the weeping emu bush, which is an important tree species used for bush medicine, ceremony, food and more; hard stones gathered from a creek, used for seed grinding; ochre rock used to paint bodies… You'll also be given a tutorial in bush food, grinding seeds and the ingenious ways in which weapons were created and used. Their language, Pertame, is a southern Arrente language, which follows the Finke river system – the oldest living river system in the world. Despite being a dying language, Christine and Peter are determined to keep it alive; taking part in this experience helps ensure its continued legacy.
5. Watch nature's daily show
Our here, the sunsets really are quite spectacular – and the resort's sunset viewing platform, nestled into the gentle slope of a hill, provides the perfect theatrette for nature's dramatic end-of-day display. Grab a beer from the pop-up bar and watch as the changing light unveils an Earthly artwork: from neon pinks and hot peach to the gently bruised blues and purples of blue hour, the sky's ever-changing display is an arresting sight. As of 2019, the resort also unveils a new outdoor cinema here, which will pop up once the sun goes down so you can watch family-friendly flicks under the stars. Yes please!

6. Glamp out in a palatial canvas suite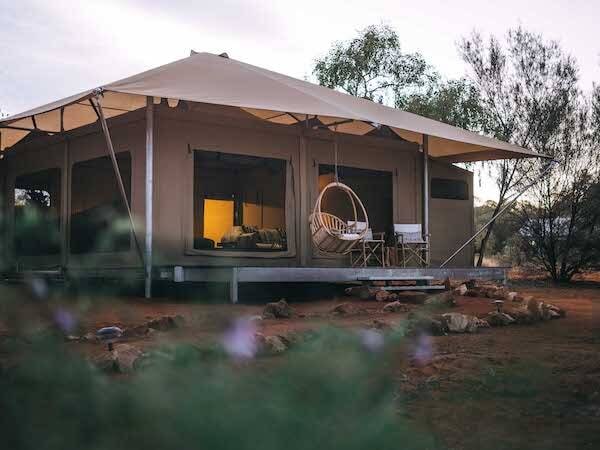 At the end of a long day, there really is nothing like a lovely, warm bed – and the resort's new glamping tents offer the perfect excuse to retreat to yours. Glamorously decked out with designer rugs, thick blankets, a lounge suite and your own personal dining area, they come either with a cane swinging chair and patterned cushions (perfect for an afternoon cup of tea), or with a double hammock and firepit, so you can laze away the last rays of sunlight (and maybe even stick around to watch the stars peep through the gathering dark). Listen to the twittering birdsong as the sun sets, keeping an eye out for miniature grey thrush and magnificently sized crows and glossy black cockatoos; at night, as you curl up under the warmth of your doona, the mournful music of howling dingos can often be heard. Don't worry, you're quite safe – but do take some time to appreciate their striking song, which echoes through the dark with amazing clarity.
Want to explore Kings Canyon for yourself? Check out our great fares to Uluru and start planning!
By Georgia Rickard – Published Wednesday 31 July