The Best Food Experiences in Canberra
Alana Lowes, The Flying Foodie, visited Canberra to discover the joys of truffle season and check out the food scene. 
Canberra's food scene is blossoming.  Having attending university in Australia's capital in the 2000's, I am feeling somewhat ripped off that my culinary experience during this time was limited to the $5 steaks at the Civic Pub on a Wednesday evening.
Since then, Canberra has grown to become a must eat city with scores of trendy eateries and seriously fabulous wineries all within a short drive of the CBD.
Here are my must try's in Canberra: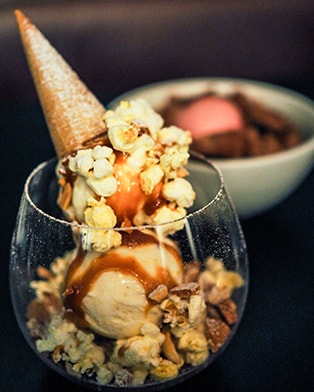 EightySix Restaurant
The cool share-plate restaurant has dinners salivating over the menu.  EightySix serves up one delicious dish after another, however, the one you must order is the black chicken with buttermilk coldslaw.  A super charred crispy skinned chicken Maryland with spicy and moreish mix of jammy chilies and paprika are blackened over the skin.  Delicious smoky flavours, sticky crispy skin and juicy meat.
While the savoury dishes are exquisite, EightySix is famous for it's nostalgic, child-like, adult dessert of caramel popcorn sundae.  Salty buttered popcorn encases a creamy buttered popcorn ice-cream with loads of crunch and texture from the peanut brittle then drizzled with a caramel sauce for some extra indulgence.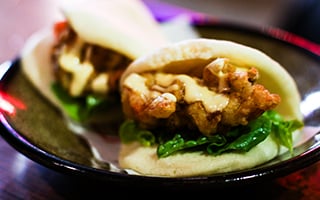 Akiba Restaurant
Akiba's Fukushima Zombie cocktail is served in a tiki jar, lit alight with some warmed rum and super fun to watch.  A secret blend of rums, triple citrus and ginger – who cares of the secrets, just go and enjoy!
The soft shell crab bun with pickled baby veg and a creamy ponzu is lipsmackingly awesome.  A soft and fluffy bun with crispy soft shelf crab is an absolute must order dish on the menu.  Order just one bun each as you need to keep room for all the other fabulous dishes on the menu.
Shaw Vineyard and Flint in the Vines Restaurant
Drive only 45 minutes from Canberra's CBD and you will find yourself in the wine country of Murrumbateman.  Cool climate wineries are dotting around the granite landscape, specializing in Riesling and Shiraz varieties.  The family owned, Shaw Vineyard Estate wouldn't look out of place sitting in the Tuscan countryside.  Here they are known for their highly awarded wines, particularly their 2009 Cabernet Shiraz silver medalist at the biggest wine competition in the world, the Vienna International Wine Challenge.
Inside the estate, Flint in the Vines Restaurant has a beautiful menu of hearty meals including the 16-hour slow roasted lamb shoulder and a seafood bouillabaisse, but it is a starter which is the absolute standout and a must try.  The wood fired Camembert is warmed through until it's oozy and gooey in the middle and served with a house-made pear chutney and fresh ciabatta.  Perfect to share, trust me you will be fighting over the last slice.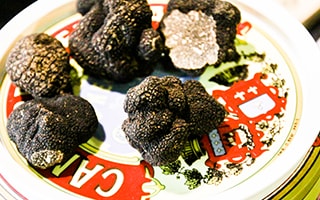 Capital Region Farmers Market
Chat directly with the best food producers from across the region and beyond.  Held every Saturday 7:30am to 11:30am, stallholders roll in with their finest gourmet products ready to sell.
Grab the rocky road and the lemon myrtle chocolate from Jasper and Myrtle Chocolate.  Importing the best beans from Peru and Papua New Guinea, the small batch producers use unique flavours to set them apart from the rest, and they do it exceptionally well.
During the winter months, Turalla Truffles will have their prized truffles on the display and you can purchase them to take home too.  Grab 30-40 grams and infuse the flavour into your scrambled eggs.
Alana Lowes visited Canberra as a guest of East Hotel and Visit Canberra