1. Soak in seven new pools
While many people head to Victoria's Mornington Peninsula for its food and wine, the prospect of a little pampering makes the 100-kilometre meander south from Melbourne even more appealing. Peninsula Hot Springs has soothed the weary limbs of visitors for years with geothermal hot springs, refreshing spa treatments and seasonal yoga classes. It's a formula that's proved so popular that in mid-2018, the tea-tree-laced property will not only add seven new pools to its Bath House — tucked into a hillside overlooking a freshly minted amphitheatre — it will also create a fire and ice experience for more adventurous guests, featuring two new saunas beside an ice cave and a chilly plunge pool.
You simply won't want to leave the springs, so it's a good thing the owners are also planning on-site rooms and lodges, not to mention a wellness centre where you can indulge in transformative overnight experiences, some of which will use medicinal plants and teas plucked from the surrounding gardens
.
2. Surf the Maldives
It may not be the first destination that springs to mind when thinking about surfing, but the Maldives offer bountiful breaks while on holiday. Arriving via seaplane at Niyama Private Islands, you'll catch your first glimpse not only of the property — spread across the twin islands of Chill and Play — but also the waves that await. And there are more beyond the resort; further flying meaning you can land on the water and jump in behind a chosen wave. Options cover both advanced and intermediate surfers, while the resort offers beginner lessons. Afterwards, check in to one of the customised Surf Beach Studios, which perch over the ocean and come fitted with surfboard storage, amenities and necessities, such as TV channels with up-to-the-minute surf conditions. As the sun sets, head to the Surf Shack at Vodi for a rum cocktail.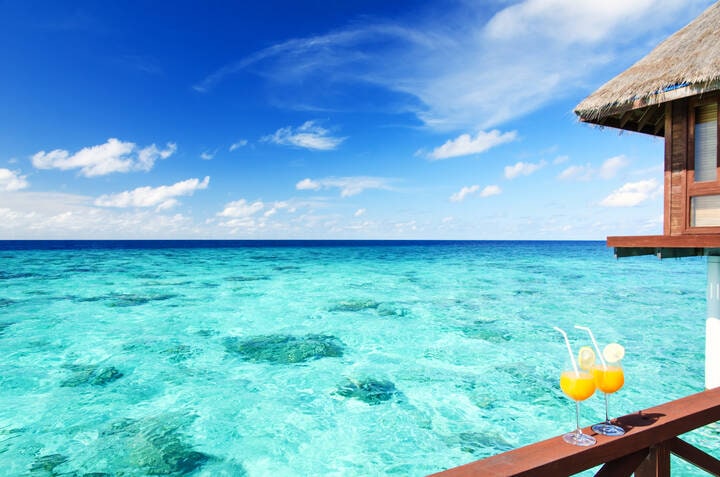 3. Ski sweep Aspen
Ever dreamed of getting Aspen all to yourself? In conjunction with the Aspen Mountain Ski Patrol, you can. Each day at 4.30pm, once the last skier has left, the patrol team 'sweeps' the slopes to make sure everyone is safely off the fields. And you can join in on a Tuesday, Thursday or Saturday. It's an exclusive offer just for guests of The Little Nell, Residences at the Little Nell and the Limelight Hotel.
4. Stroll through a nature theme park
With countless studies about the positive link between getting back to nature and physical and mental wellbeing, it makes sense a theme park in one of Europe's biggest cities is dedicated to just that.
At Villages Nature Paris, there are five immersive 'worlds' designed to help you unwind and decompress. Stroll around the working farm — think fruit orchards, vegetable gardens and cows you can feed — take to the water in all manner of pools and thermal Jacuzzis, learn about flora and fauna, or find a quiet spot for some contemplation on a lakeside promenade. There are also workshops offerings tips on healthy, sustainable lifestyles. Day tickets are available, but you can also check into a cottage or apartment with a calming name such as 'Cocoon VIP'.
5. Sail on the biggest yacht in the harbour
As the sun sets over Sydney Harbour Bridge, you have a front-row seat from a Japanese soaking tub. A champagne cork pops, and the aroma of Sri Lankan snapper curry wafts by. Welcome to Infinity Pacific, an Italian-built luxury superyacht with five cabins, a sunroom and multiple alfresco spaces to dine and entertain. A crew of eight is on call, and Peter Kuruvita (Flying Fish) curates the culinary offerings.
6. Sip inside a jaw-dropping cube
It's been compared to an oversized Rubik's Cube, although D'Arenberg owner and chief winemaker Chester Osborn says the latest inspiration for his eye-popping cellar door is Mary Poppins. The final touch in the design of the applauded McLaren Vale (South Australia) wine estate's new attraction is a series of 16 mechanical umbrellas — 15 black and one red — topping the five-storey, vine-shrouded structure.
Costing more than $13 million, and 14 years in the making, the off-kilter building fashioned from white and green glass will house a number of art-filled spaces, in addition to public and private tasting rooms, a restaurant where ex-Lake House and Leonards Mill chefs will prepare degustation-only menus, and several bars overlooking the vineyard, planted in 1912, and historic buildings. Determined to keep the inside of the D'Arenberg Cube just as fun as the outside promises, Osborn will also offer a variety of interactive experiences to tantalise the senses of visitors — an installation where you can smell the different stages of the wine fermenting process, anyone?