ALAIN DUCASSE AU PLAZA ATHÉNEÉ
Hôtel Plaza Athéneé, Paris
Celebrated French chef Alain Ducasse shocked the culinary world in 2014 by declaring he was revamping his three-Michelin-starred restaurant at the storied Plaza Athénée — not only in design, but also in menu. He enlisted designers Jouin Manku to refit the space with a winter-forest palette of cream, beige and pale grey, adding dramatic high-gloss steel domes. Then, with the help of chef Romain Meder, Ducasse decided he would cook without meat, focusing on vegetables, sustainably sourced seafood and grains. He developed his relationships with suppliers such as Alain Baraton — who grows produce exclusively for the restaurant — and created a philosophy of 'naturalness'.
Meat-free dishes include wild gamberoni with almond tree buds, flowers and morels, and a plate of hemp seeds, spinach leaves and butternut squash. The Athénée itself features luxuries such as silk-covered armchairs and bathrooms marbled from floor to ceiling. Book a room overlooking Avenue Montaigne for Eiffel Tower views.
THE NOMAD
The Nomad Hotel, New York
When chef Daniel Humm announced he was opening a casual sister to his chart-topping Eleven Madison Park, gourmands got excited. Those running The NoMad Hotel New York, a stylish bolthole between Midtown and Flatiron, were even more elated that he'd chosen their turn-of-the-century Beaux-Arts building to branch in to. While rooted in the same traditions found at its Michelin three-star sibling, The NoMad restaurant is more laid-back. Which isn't to say the quality is sub-par — some say the roast chicken here is better than at Eleven Madison.
What sets The NoMad apart is that it's open around the clock, which means you can stop for a brunch of short-rib hash with eggs and shallot marmalade, a late-night snack of prawn fritters with scallop mousse, or a cocktail — before rolling back to your Jacques Garcia-designed room. The 168 accommodations are lushly fitted with reclaimed hardwood floors, original artworks, handmade vintage rugs and leather armchairs, creating individual spaces that you won't want to leave — except, perhaps, for the food.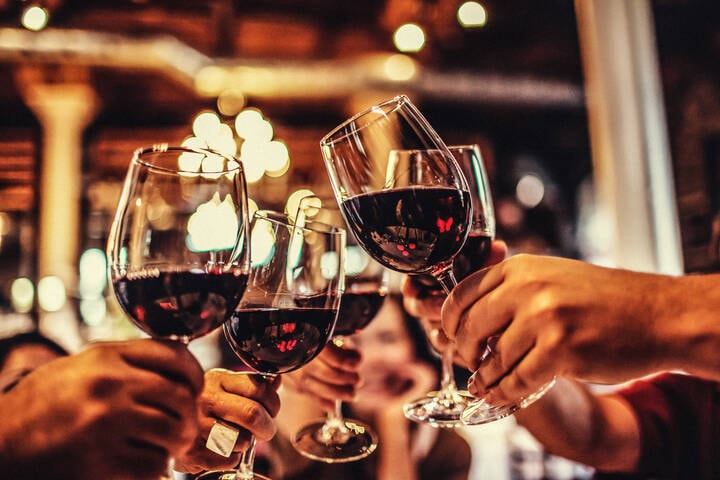 LUNG KING HEEN
Four Seasons Hotel, Hong Kong
Chef Chan Yan Tak came out of retirement to oversee Lung King Heen at the Four Seasons Hotel Hong Kong, the first Chinese restaurant to receive three Michelin stars. While the dining room — including an undulating silver ceiling reflecting Hong Kong's harbour — is all about understated luxury, a large portion of the menu is not. Every Cantonese delicacy is represented on the lengthy roll call, from the dozen or so dishes dedicated to bird's nest to the endless mentions of abalone and foie gras. But it's also a top spot to sample two local staples: dim sum and barbecue. At lunch, order steamed lobster and scallop dumplings or baked goose puffs with pine nuts, then slide into a side of crispy suckling pig with pancakes.
Overlooking the harbour, the restaurant is the perfect union of class and tradition, much like the Four Seasons Hotel it calls home. Check in to sleek, Western-style rooms with silk-panelled walls and marbled foyers, or opt for a taste of Hong Kong in accommodations featuring sculpted furnishings, gold leaf and authentic ink paintings.
THREE BLUE DUCKS
W Hotel, Brisbane
It's fair to suggest that Brisbane's W hotel is the most hotly anticipated Australian opening of the year, marking the brand's re-entry into the country and also becoming the first new five-star to welcome guests to Queensland's capital in 20 years. It comes with a signature side of design whimsy through the 312 rooms and suites, with nods to their Sunshine State setting by way of pineapple sculptures, views of the Brisbane River, golden accents and colonial Queenslander VJ wall panels. The same panels feature in Three Blue Ducks, one of three eateries in the property.
Following in the footsteps of its three sisters in Sydney and Byron Bay, the venue celebrates a paddock-to-plate philosophy from breakfast through dinner, with a number of menu favourites making an appearance — yes, the spanner crab scramble with green mango, housemade sriracha and cashews will be served. Expect the chefs to use ingredients sourced from Queensland and northern NSW, prepared using their rotisserie, wood-fired oven and charcoal pit.
DINNER BY HESTON
Mandarin Oriental Hyde Park, London
Going into its seventh year of operation, Dinner by Heston is based on a philosophy chef Heston Blumenthal has long been obsessed with: historic gastronomy. With chef Ashley Palmer-Watts, Blumenthal researched everything from 14th-century cookbooks kept by King Richard II to foodie flights of fancy by Lewis Carroll.
The menu evolves culinary traditions of the past into a thoroughly modern dining experience. The decor features floor-to-ceiling glass panels allowing you to gaze into the kitchen, where a pulley system rotates a spit on an open fire. The hotel it calls home, the Mandarin Oriental, is looking fresh following a recent renovation.