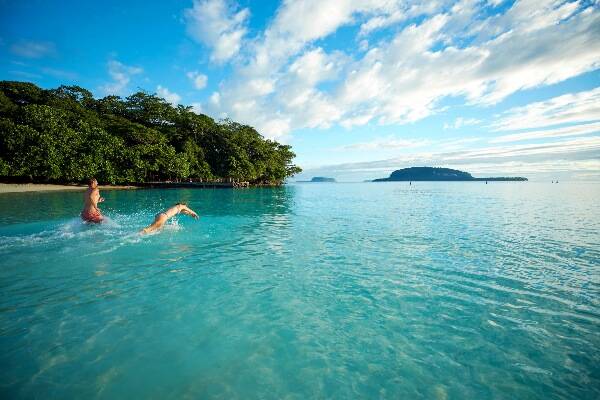 There's no better beach in the South Pacific – nay… the world! Surrounded by green mountains and coconut trees, the water off this beach on the northern island of Espiritu Santo actually looks like it's made up of champagne. At low tide, gas bubbles through the shallower water and fizzes the water up so it looks like champagne. Though it's quite a hit with cruise passengers these days, you can always find your own piece of paradise here – it's secluded and safe so it's perfect for the whole family. Snorkel straight off the beach or just lie in its warm, clear water – and buy a fresh coconut off a local to drink in the water.
ERAKOR ISLAND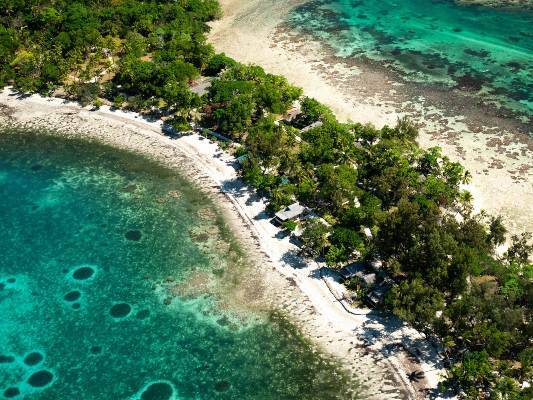 Here's another island with some of Vanuatu's best beaches that feels a million miles away… but is barely a five minute boat ride from the mainland at Efate (right next to Vanuatu's capital, Port Vila). There's three stunning beaches – Sunset Beach, Coconut Beach and Calypso Beach – to spend your time on. Stay in motel-style economical rooms on the island that are built less than 15 metres from the water. Hire paddleboards and kayaks to see all the beaches from the water, or walk between beaches on sandy paths built right beside the water.
PORT OLRY BEACH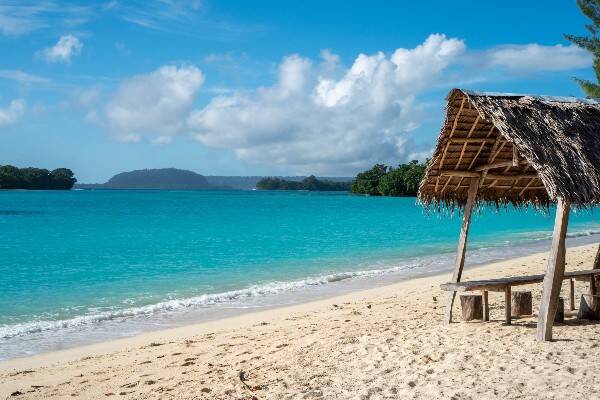 Located on Espiritu Santo, Port Olry offers a beach with a whole lot more: two islands! Drive 10 minutes out of the island's capital, Luganville, to the village of Port Olry and you'll find one of the South Pacific's best white sand beaches. But come low tide, you can walk across an underwater sandbar to two local nature reserve islands (with more beaches to explore). A lot of children live in the village and they'd love to meet you. You'll also get to see local fishermen return with dug out canoes full of fish. After your beach time, nab a seat and order lunch and a cold beer at one of the the best beach bars in Vanuatu, and watch turtles swim across the water.
NANDA BLUE HOLE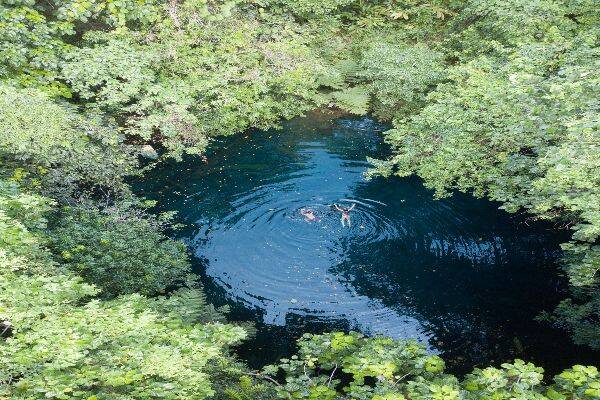 Vanuatu is home to some of the world's greatest natural wonders – blue holes. And the best ones are all on the island of Espiritu Santo, with the biggest, and the best, being the Nanda Blue Hole. Blue holes are a freak of nature – they're large iridescent blue-coloured freshwater holes in the middle of the forest created when water from the mountains flows into underground limestone caves, creating limestone-filtered freshwater swimming holes. Sure, there's no sand but there's a bar and picnic area connected by boardwalks you can jump from. There's a small fee to swim, but you'll get a free coconut with it.
LONNOC BEACH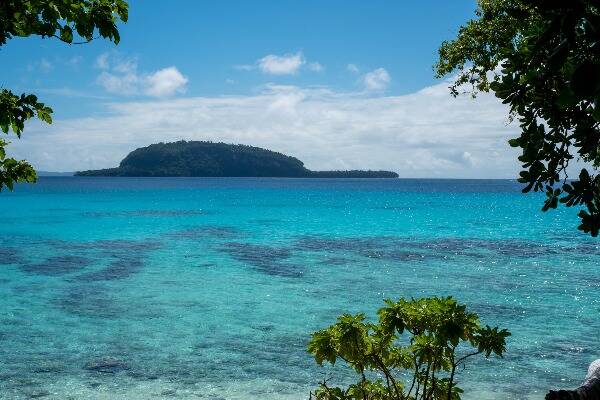 Ahh, another of Espiritu Santo's special beaches – this island really is home to some of the world's best beaches. The sand doesn't get any whiter or more powdery than Lonnoc Beach and there's plenty of swaying coconut trees beside the sand. Lonnoc Beach isn't far from Champagne Beach so we recommend a beach crawl. This beach – just like Champagne Beach – has an oddity about it. A freshwater spring emanates from the sand below producing layers of freshwater in the sea – you can feel the temperature change as you swim. You'll get sore legs walking this beach – it's long and dreamy and it's sheltered by hills and cliffs so you'll barely ever feel a breath of wind. The snorkelling is amazing and there's an island just off-shore.
AORE ISLAND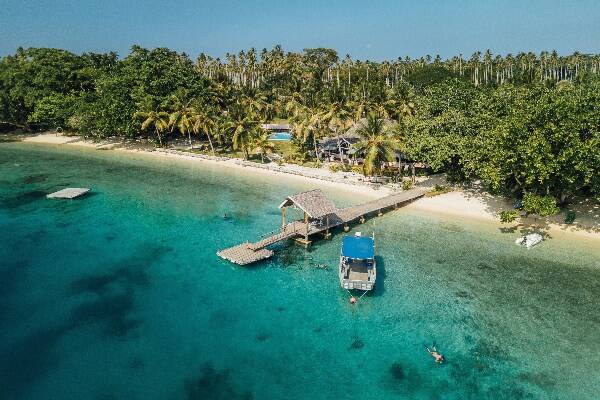 You'll feel completely isolated on the beaches of Aore Island, even though you're only 10 minutes away from the mainland (Espiritu Santo) by boat. It's a paradise out here – there's no other towns or development at all apart from Aore Island Resort, so you'll have 60 square kilometres to yourself. There's stunning beaches between coconut plantations and farms – and some of the best are just outside your bungalow by the water's edge. Snorkel straight off the beach amongst coral gardens and watch fish swim by from the resort's pier. You won't want to leave the beach, but a kayak at sunset is worth the trip offshore.
BOKISSA ISLAND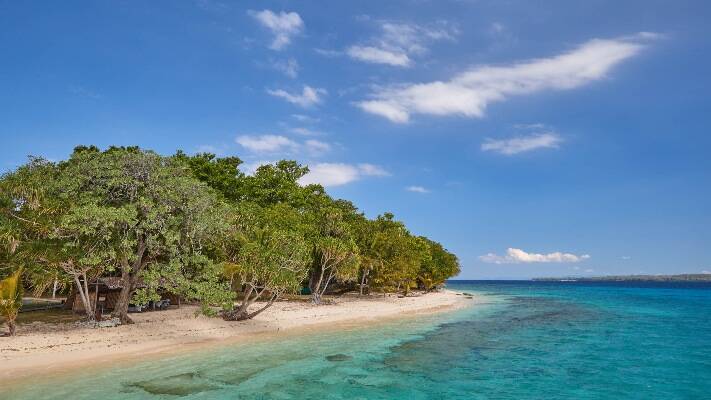 You won't believe the clarity of the water or the number of species of fish in the water just off the beach at this tiny island resort off Espiritu Santo. Take a short speedboat ride out to this private island resort and stay in one of 16 bungalows right by the water. The resort is built amongst 100 hectares of ancient rainforest on the water – and the diving out here is amongst the best in Vanuatu. Reef sharks, dugong and turtles swim metres by the beach, and there's diving trips available every day. You'll never have to share an inch of the beach out here.
VELIT BAY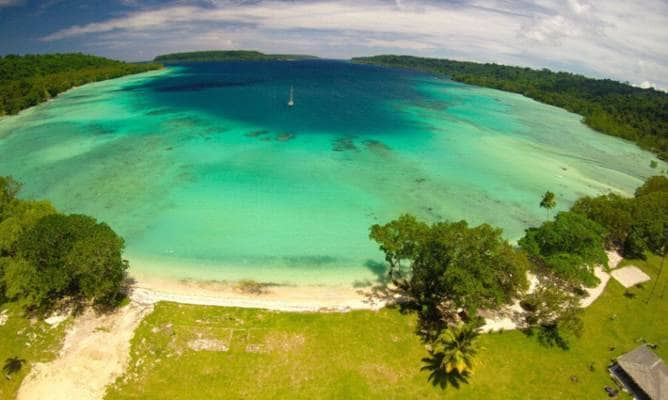 Espiritu Santo is indeed home to the South Pacific's best concentration of beaches – and some of them are still a secret to most, like Velit Bay. Located on the island's remote east coast, this secret beach is surrounded by 1600 acres of forest, hidden behind thick, lush vegetation, amongst a coconut tree plantation. While Champagne Beach has become an icon, you'll still need to know where to look to find Velit Bay. It's located within a horseshoe-shaped bay 30 minutes drive from Luganville, at the end of an old dirt road. Be sure to stick around – you can eat fresh seafood caught by local fishermen at a traditional thatch-roofed, sand-floor restaurant beside the beach.
LOUNIEL BEACH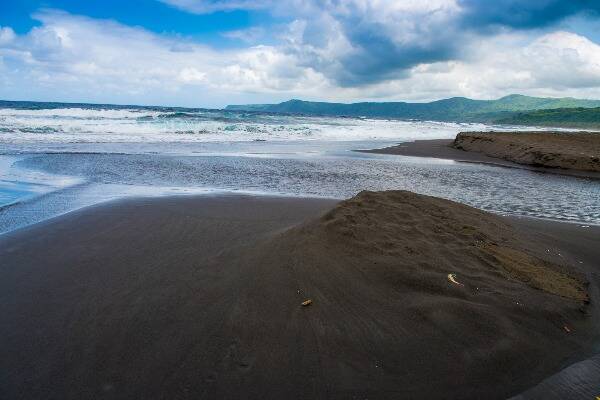 Not all beaches in Vanuatu have white sand – here's one wild beach with black sand. Located on the island of Tanna – 50 minutes flight south from Port Vila – the sand's black because Louniel Beach is located right beside one of the world's most accessible live volcanoes. The black lava from the volcano is why the beach is black – you can walk the entire length of the beach in an hour, staring up as Mt Yasur erupts beside you. Wait till sunset for a moody stroll and you'll see the eruptions light up against the night sky.
PELE ISLAND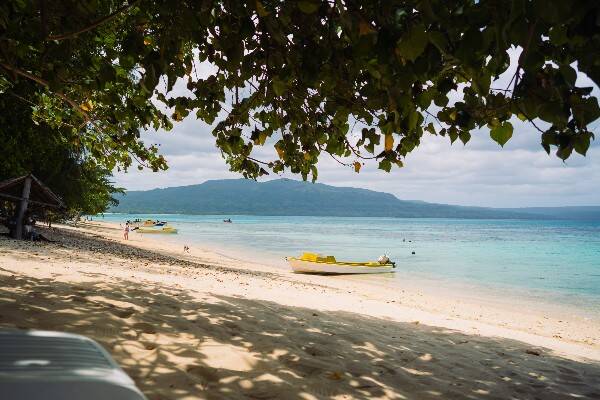 Escape to Efate's far north-west coast and take a boat ride seven kilometres off the coast and you'll find one of the dreamiest islands for beaches in the entire Pacific Ocean. Pele Island isn't known to most travellers – but here you'll find the beaches you came to the South Pacific for. Stay overnight in homestays within four tiny villages on the island and you'll learn so much about the local lifestyle. Wake at dawn and swim off white sand beaches in intertidal lagoons protected by a unique marine protection conservation agreement. Swimming here is like swimming in an aquarium, this is a true island getaway for those looking to leave the mainstream far behind.