When you think of Townsville North Queensland, you'd be forgiven for pigeon-holing this bustling regional city with other metro areas, because it certainly does offer outstanding dining, street art trails and inner-city vibes, but we think this North Queensland hub, the gateway to the central section of the Great Barrier Reef, should be on your hit list for this AND many more reasons.
With its beautiful and bustling foreshore, The Strand, 20-minute ferry access to Magnetic Island, accessible historic outback towns – ancient rainforests – and waterfalls all within easy driving distance, world-class hikes, a luxe resort — Townsville is home to all of Australia's most iconic landscapes—and more things to see and do!
Highlights: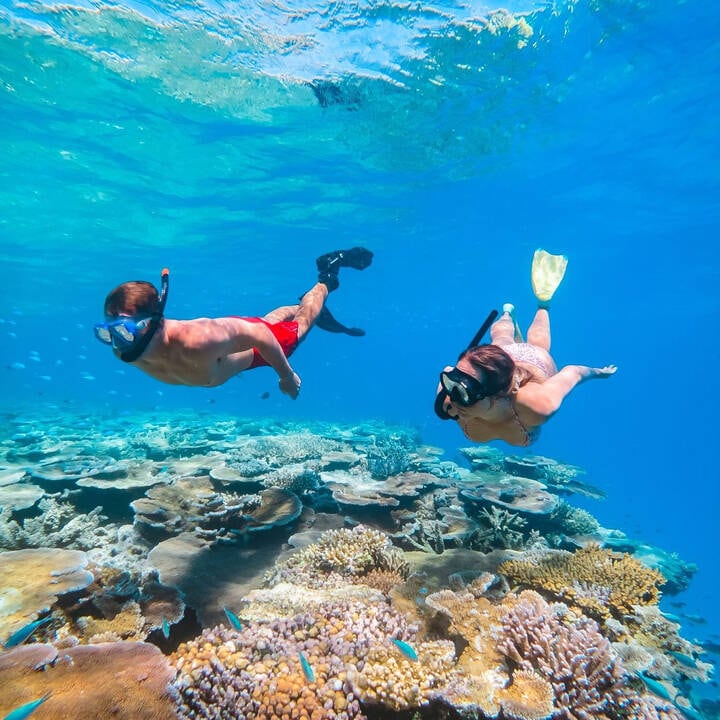 John Brewer Reef - Great Barrier Reef
Go Totally Wild with Epic Encounters
Just a 20-minute ferry ride from Townsville, Magnetic land is a nature lover's haven. With its palm-fringed shores, unique rock formations and secluded bays, it's no wonder this National Park hosts an abundance of wildlife who call this island home. Spot one of Northern Australia's largest colony of koalas in the eucalypt trees as you make your way to historic WWII forts and enjoy panoramic views over the Coral Sea.
Those looking for one of the ocean's 'Great 8' will also be treated to underwater encounter with giant clams nestled amid the magic of Magnetics' fish and coral species, all accessible directly off the shore. Adventure along one of two self-guided snorkel trails—Nelly Bay and Geoffrey Bay with a waterproof map available from several outlets on the island, or let a local show you the way with Aquascene Charters.
Pro tip: After your aquatic discovery, spend sunset at Geoffrey Bay to meet the resident rock wallabies who are always ready and waiting for a selfie. (NB. A short walk to Alma Bay is also a top place to see black cockatoos when seasonal fruiting trees nuts are in abundance.)
Meander the paperbark forests on the island around May-August to feel your heart aflutter with the annual migration of blue tiger butterflies – one for the seasonal bucket list!
Back on the mainland – a trip to the iconic attraction – Billabong Sanctuary, will have you up close and personal with every other kind of Aussie animal you could imagine – including mainland Queensland's biggest estuarine crocodile – Krakatoa, measuring a whopping 5.5m!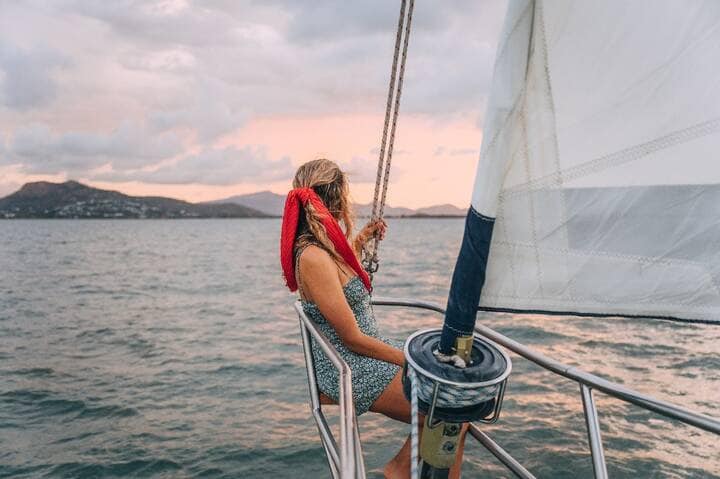 Sailing between Magnetic Island and Townsville
Soak Up Barefoot Luxury
Channel your inner rock star and upgrade your island transfer to a scenic helicopter flight. You'll get there on time and in style, which leaves more time for cocktails and living your best island life. For Miami-inspired glam, check into The Ville Resort and Casino (Townsville) on the edge of the Coral Sea - book one of the resort's chic poolside cabanas and soak in the North Queensland sunshine or sip on a signature cocktail at the Splash Bar.
Pro tip: Amp up the romance factor and enjoy an exclusive Beach Club picnic for two on one of Magnetic Island's 23 secluded beaches and bays.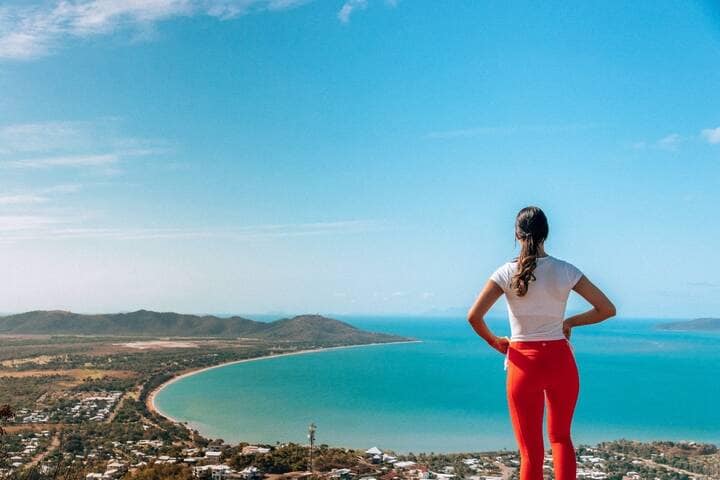 Castle Hill, Townsville
Hike from the Reef to the Rainforest
Delve into ancient rainforests, explore golden beaches and spot native wildlife on foot. Townsville North Queensland has some excellent hiking trails and short walks to suit every fitness level, including the Magnetic Island Forts Walk (4km).
A perfect day trip - chase waterfalls at Wallaman Falls in Girringun National Park (Hinchinbrook), part of the traditional lands of the Warrgamaygan Aboriginal people. And, when we say waterfall – we mean Australia's highest single-drop waterfall, topping 286m! Take sightseeing to a new level on the world-famous multi-day hike on the Thorsborne Trail in the ruggedly beautiful (uninhabited) Hinchinbrook Island National Park – but be sure to book ahead! For shorter, more leisurely walks to some special outlooks, head to Castle Hill for stunning cityscape views of Townsville – also the best evening view featuring sparkling city lights.
Pro tip: Looking for another way to visit the rainforest to learn about the wonders of the region and local Indigenous culture? The Museum of Tropical Queensland is worth visiting! With permanent exhibitions – including the Enchanted Rainforest, Pandora Gallery and the Secret Language of the Reef, and travelling showcases from across the country – this attraction will have you occupied for hours.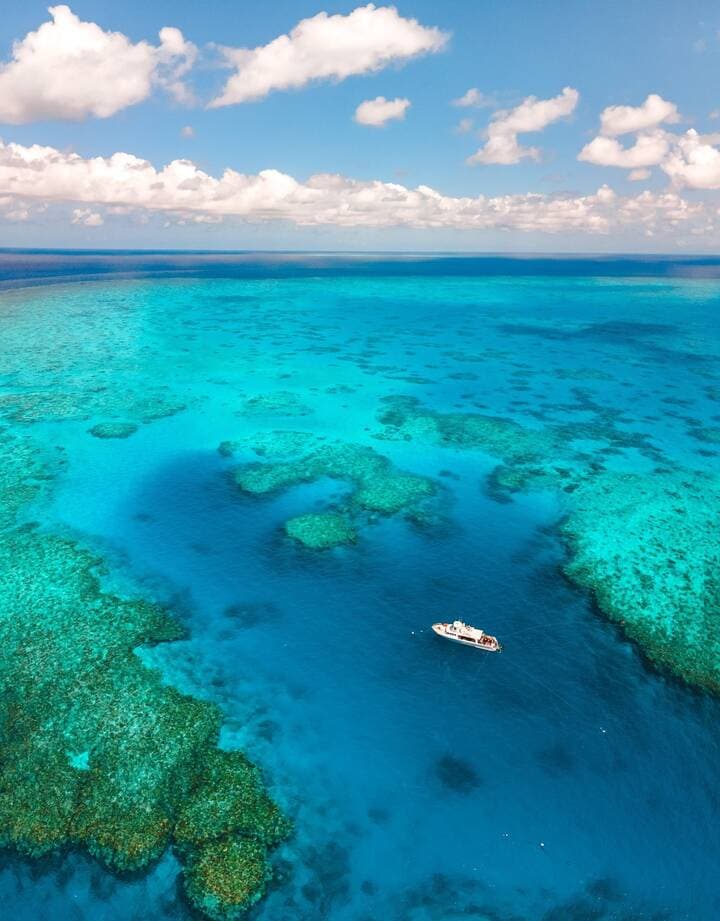 Coral Greenhouse (MOUA), John Brewer Reef
Explore The Wonder Of The Great Barrier Reef
One of the seven wonders of the natural world, the Great Barrier Reef Marine Park is one of the world's most diverse ecosystems. In other words, you can't leave North Queensland without witnessing its staggering natural beauty first-hand. Those who want to explore the magic of the outer reefs, tours depart regularly from Townsville and Magnetic Island with Adrenalin Snorkel & Dive, Pro Dive and Yongala Dive – offering complete reef dive and snorkelling experiences. Magnetic Island is also home to some incredible dive sites, with its shallow, warm waters, it is also easy for snorkellers to explore the island's accessible fringing reefs.
And last but certainly not least, for a unique experience, dive into The Museum of Underwater Art [MOUA], the first of its kind in the Southern Hemisphere. An innovative fusion of art, science, culture and conversation, MOUA is designed to share stories of the reef, the culture of its First Nations people and spark meaningful conversation about reef conservation. This is a truly unforgettable underwater tour you don't want to miss!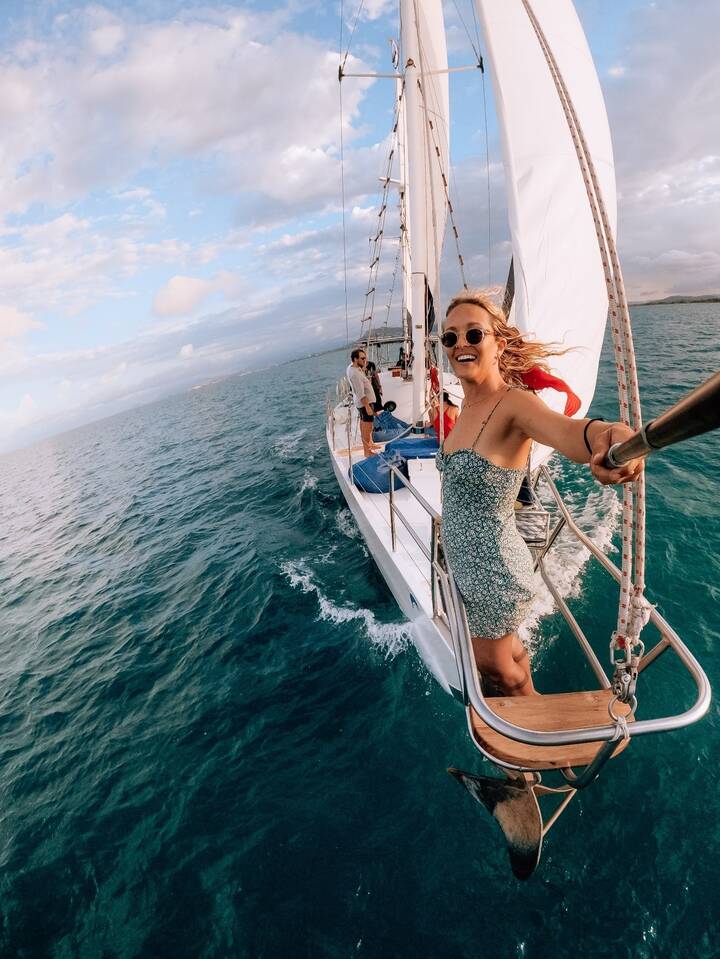 Sailing to Magnetic Island
Go Sailing To A Tropical Island
It's not a tropical holiday without sunset sails to secluded beaches and soaking in watercolour skies with a cool drink in hand. Fortunately, Townsville and Magnetic Island provides the perfect backdrop for this holiday dream. A leisurely cruise with Pilgrim Sailing or Big Mama Sailing around the island or amp up the fun with a day willed with water sports including, sea kayaking, swimming, tubing and SUPing, there are adventures for every taste.
Pro tip: Take a tour past the insta-famous SS Adelaide shipwreck – a historic mangrove-filled hull just 300 metres offshore ranked Australia.com's most liked photo on Instagram (2018).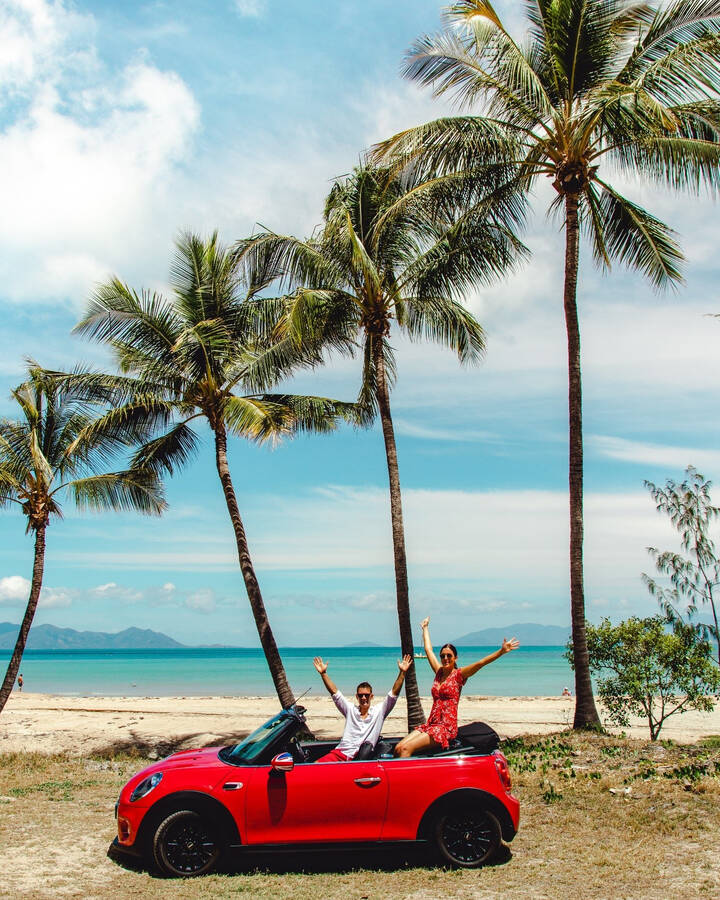 Go topless with a convertible - Geoffrey Bay, Magnetic Island
Taste of the Tropics
With unique North Queensland flavours on the menu, be sure to enliven the senses with a tasting tour around Townsville and Magnetic Island. Featuring popup food sweet spots, dining alleyways and coffee nooks – there's something to suit every taste! Tropical tempters include mango sorbet and pineapple creations, exotic achacha fruits, freshly caught reef fish varieties, and a bounty of other gourmet offerings.
If fine dining is more your thing, then Townsville is home to four award-winning restaurants each offering the freshest local produce, and unique flavour pairings.
A stroll through street markets are also a great way to immerse in the local scene, taking you through the main throughfares, and foreshores of Townville and Magnetic Island, showcasing fresh produce and local artisans.
Pro tip: Marvel at historic buildings and street art embellishments around every turn with a self-guided, or guided tour of the city's tales from yesteryear. For more art options, the exhibitions at Perc Tucker Regional Gallery are world-class!
Need more tips on how to experience the best Townsville North Queensland, has to offer – visit townsvillenorthqueensland.com.au to learn more!