Or get to know the locals over izakaya and biru..stroll some of the resplendent gardens in Tokyo? Tokyo has a rich history forged by shogun, tradition, foreign influence, war, and peace. The echoes of the past resonate in Tokyo; not only in museums, but on the ground. The future is also a character of Tokyo – you may see things that we in the West find odd but can't live without a few years hence. Just walking around the streets of Tokyo (though some may find the sheer number of people daunting) can fill you with a buzz you have definitely never felt before. Though seeing it from the outside is one thing; experiencing the local flavour and culture takes your trip to a whole new level.

In this article, we give you a glimpse into the must-see destinations and attractions in Tokyo so you can leave with lasting memories of Japan and its incredible and unique culture.

Tokyo Tower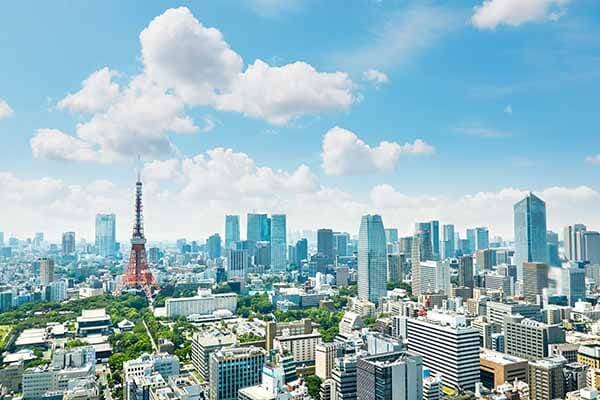 $
4-2-8 Shiba-koen, Minato, Tokyo
You'd be forgiven if you thought Tokyo Tower was the Eiffel of the East – because that's pretty much what the designers were going for. (The orange colour was to help pilots see it at night.) A communications tower built in service of getting clear TV reception, the Tokyo Tower is a cheap and cheerful way to experience the urban jungle of Tokyo from its Main (150m) and Top (250m) decks – of which the latter costs a little extra. If heights aren't your thing, you can experience the decidedly ground level "FootTown" featuring an aquarium, tower restaurant, food court, Guinness World Records museum, and the coveted Tokyo Tower Wax Museum. If you want to get even more vertical, you can go up the Skytree in Kinishicho which is a shade taller than the Tower.

Shibuya Crossing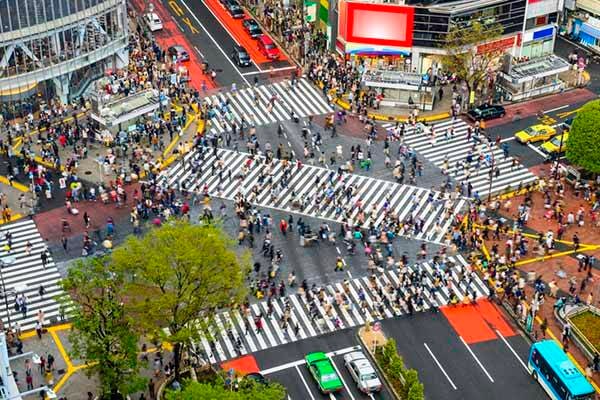 Free
Shibuya JR Station: Hachiko exit, Tokyo
You've likely seen it countless times in films and music videos – hundreds, if not thousands of people crossing over and converging during a "Shibuya Scramble" across the vast seven-road intersection outside of Shibuya station; often dubbed the Times Square of the East. This is the ultimate "people watching" experience – especially if you're fortunate to take up a spot at the Starbucks in the QFRONT building. Shibuya Crossing is adjacent to a glittering shopping district known as Center Gai, where the trendy and fashionable teens and young people hang out (and young at heart, if you're game.) Sports lovers have recently regarded Shibuya as their spiritual home, featuring fashionable sportswear spots along "Basketball Street." It's free to look, of course… Remember to pet the bronze dog statue Hachiko, too! Shibuya is also home to some great bars and izakaya spots – so get some yakitori and spin a yarn or two (if you can speak Japanese, of course.)

Yoyogi Park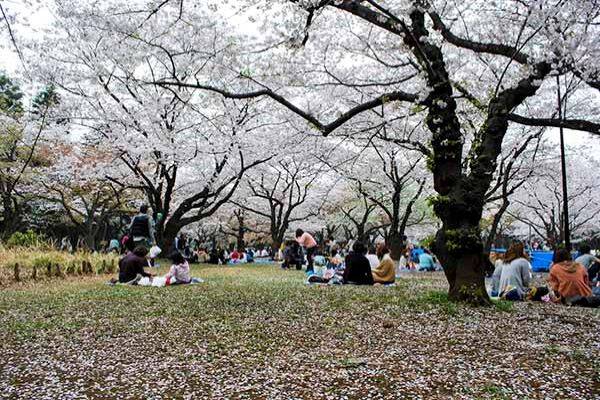 Free
2 Yoyogi-Kamizonocho and Jinnan, Shibuya-ku, Tokyo
Built in 1964 as the site of the Olympic Village, Yoyogi Park comes alive during spring as the 700 Sakura or cherry blossom trees come into bloom. You can take a relaxing walk while watching the fountain, stumble into street performers or events, bask in the beauty of the rose garden, or take it all in by walking up to the observation platform. You can also pay respect to the great Emperor Meiji at the Meiji Shrine (Meiji Jingu) which also offers restaurants, food courts, and museums. If you go on a Sunday, you may see the slick and super copacetic Tokyo Rockabilly Club meet at the park entrance!

Isetan Shinjuku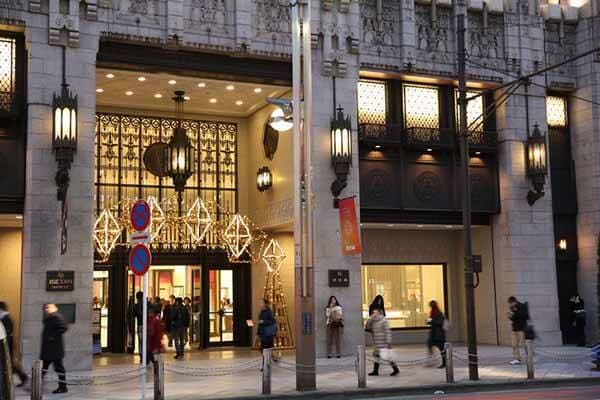 Free
3-14-1 Shinjuku, Shinjuku-ku, Tokyo
The imposing but no less resplendent Isetan Shinjuku is a shopaholics' delight – one of the oldest (since 1888 to be exact) department stores in Tokyo, the Isetan houses Japan's biggest fragrance and cosmetics departments, taking up the entire first floor. The watch and timepiece floor is a sight to behold, considering the legacy and stature of Japanese fine watchmaking by brands such as Seiko, Orient, and Citizen. Of course, Swiss brands are also represented well, including highly sought-after pieces by Breguet, Audemars Piguet, and Jaeger Le-Coulture. There's also a confectionary shop and food floor, including a special Chef's Selection of cheese, miso, rice, olive oil, coffee, sake, bento, and more. You could spend a whole day browsing the three buildings that comprise the Isetan, and we wouldn't blame you if you did!
Remember to declare your tax exempt status and register for a guest card on the 6th floor and 2nd basement floors!

Meguro Sky Garden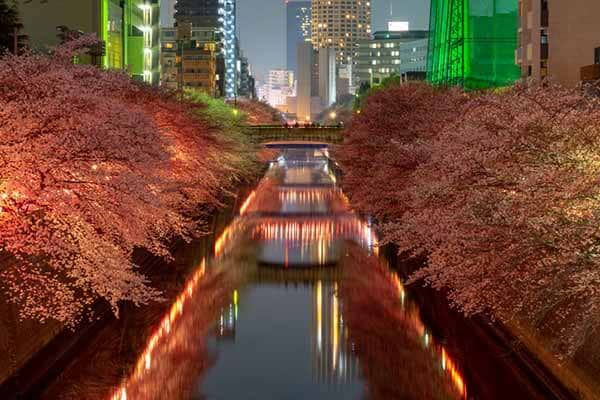 Free
1-9-2 Ohashi, Meguro City, Tokyo
Situated above the super-cool and trendy Nakameguro with its Sakura-lined streets, underground bars, and bookstores, you'll be dazzled by the 400m round Sky Garden that is located on the top of the Metropolitan Expressway. Home to 1,000 trees and offering a distant view of Mt. Fuji on a clear day, you'll be hard pressed to believe you're still in an urban jungle that's thriving and bustling metres below you. Note that the garden may be closed if weather gets particularly hairy.
Tokyo National Museum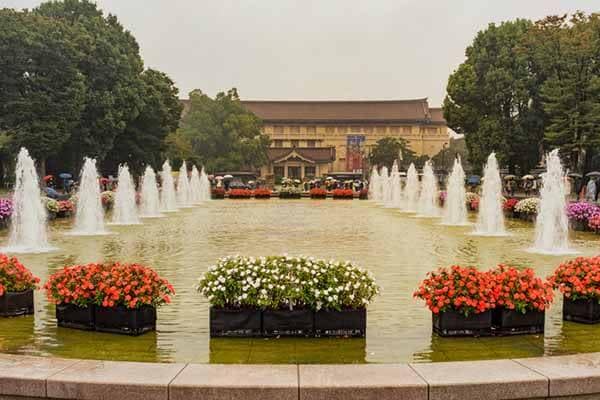 $
Ueno, Taitō, Tokyo
A must see for any first-timer in Japan – even if you aren't a big museum fan – is the Tokyo National Museum in Ueno. The top of the top-tier museums in Japan and possibly the world, the Tokyo National Museum features one of the most extensive collections of archaeological curiosities and artworks – over 100,000 and one hundred pieces considered "national treasures" (No, don't get any Nic Cage ideas…) Over six buildings you'll be immersed in the Honkan building housing Japanese art; the Hyokeikan, a celebration of Meiji period (1868-1912) Western-inspired architecture; the Toyokan building showing Asian art and world artifacts; the Heiseikan building devoted to Japanese cultures; Horyuji Homotsukan or the Gallery of Horyuji Treasures, commemorates a collection of religious objects; and the Kuroda Memorial Hall on the museum grounds is dedicated to innovation Japanese painting.

Kanmidokoro Hatsune
$
2-6-6 Monzennakacho, Koto-ku, Tokyo
Got a sweet tooth? If you do, the Kanmidokoro Hatsune is a must. It's a haven for traditional Japanese sweets such as anmitsu, a sweet agar made from ingredients imported from Kozushima and Oshima in a strict ratio of 7:3 it (according to the chefs) "goes down well in your throat and has the faint scent of the ocean." This is accompanied by a sweet red bean paste made from Furano in Hokkaido, considered the best in Japan. There are slightly different menus in Winter and Summer; so be prepared to visit again if you decide to come back in another season!

LAOX Akihabara Main Store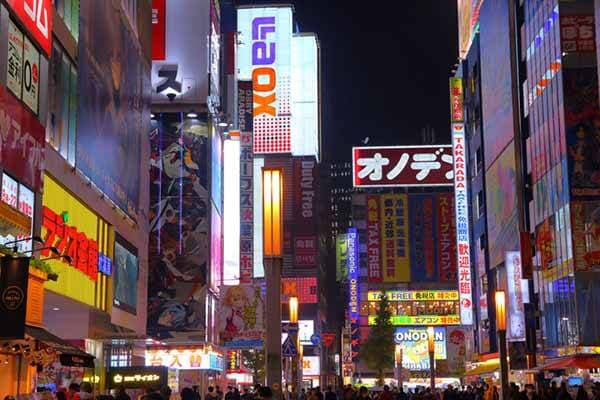 Free Entry, $$$ (if you're not just browsing!)
1-2-9, Sotokanda, Chiyoda-ku, Tokyo
Gadgets? Where you're going, you're going to see a whole boat load of sensational gadgets. LAOX Akihibara is the gadget geek's heaven, located in the heart of the Tokyo "Electric Town." Many districts in Japan are built around certain consumer goods: Akihabara was a place to sell stolen electrical goods from the US occupation before becoming the place for all things electronic; thus "electric town." The consumer electronics selection in LAOX Akihibara borders on the futuristic: things that will become commonplace in a few years are seen here first. It's also the largest comprehensive duty-free store in Tokyo, with 70,000 different products on offer. Also nearby: Super Potato, the retrogaming superstore and the Gundam Café, the anime café.

Senso-ji Temple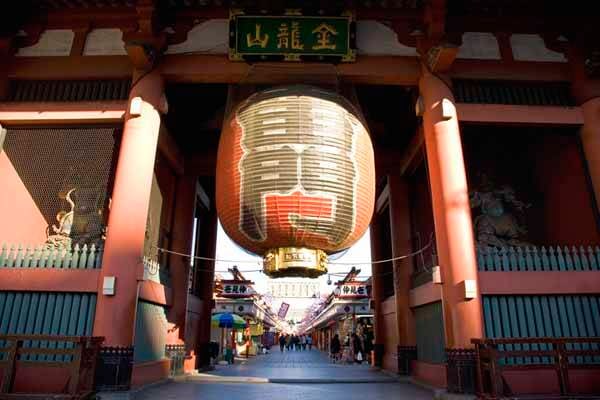 Free
2-3-1 Asakusa, Taito-ku, Tokyo-to
Senso-ji is the oldest and most revered Buddhist temple in Tokyo, bookended by imposing shrine gates with mammoth crimson lanterns adorning the Kaminari-mon entrance. An oasis of tradition in an endless sea of modernity, the Senso-ji is devoted to the goddess of mercy Kannon and features the temple's main hall and a five-story pagoda. Nearby is the Asakusa Shinto Shrine - though it was destroyed in World War II, the buildings' original construction dates as far back as 1649. The Senso-ji Temple area hosts a number of activities all year long. The largest of these is the Sanja Matsuri, an Asakusa Shrine yearly celebration that takes place in May. The Asakusa Samba Carnival in August and the Hagoita-ichi (Hagoita Market), where you can buy decorated wooden paddles and play the age-old game of hanetsuki.

Shinjuku Gyoen – National Imperial Garden
Free
11 Naitomachi, Shinjuku City, Tokyo
The former residence of a feudal lord in the Edo era (1603-1867), the Shinjuky Gyoen is the premier botanical garden in Tokyo – and Japan itself. It features three distinct areas, dedicated to three styles of gardening: a Traditional Japanese garden with abundant chrysanthemums, a French style garden featuring roses, modelled on the Palace of Versailles; and the English style landscape garden, reminiscent of lordly National Trust manors. Architect buffs will revel in the Taiwan Pavilion, Kyû-Goryôtei, which was built in 1927 to commemorate the Showa Emperor's wedding; and one of the few examples of Chinese style architecture in Japan. It's free to enter, though guided walking tours are on offer for a small fee.

Kappabashi-dogu-gai (Kappabashi Street)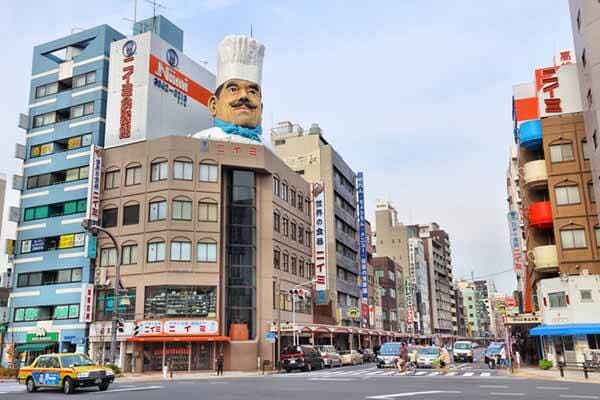 Free
3 Chome-18-2 Matsugaya, Taito City, Tokyo 110-0036

Kappabashi Street is another mini-district in Tokyo, this time focused on kitchenware. Wait, where are you going? Chotto mate, kudasai. (Wait a moment, please.) We promise, it's definitely worth your time. First, you can marvel at all the cookware on offer on the street, including plastic models of food that restauranteurs place in their windows to attract customers. Across from Taito City Hall, you'll see the huge bust of Chef Nimii on the roof – and you can also pay homage to the "Golden Kappa" statue which the locals adopted as a mascot. If kitchenware isn't your thing, take a bit of a walk to bask in the glory of the Higashi Honganji Temple.

teamLab Planets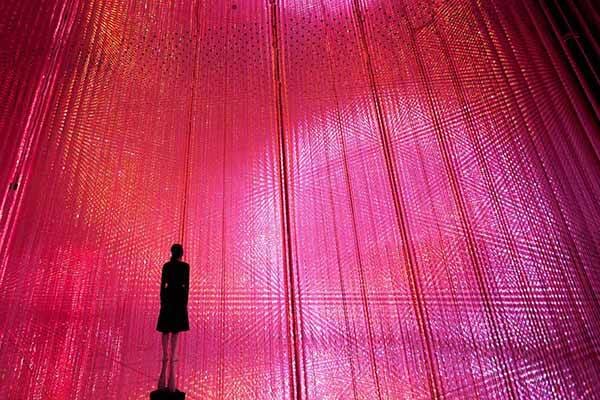 $$
6-1-16 Toyosu, Koto Ward, Tokyo
What if the art could reach out and touch you? Over seven incredible floors, the teamLab Planets digital art gallery is a sensory experience you will definitely never find anywhere else. teamLab Planets is a "interdisciplinary group of ultratechnologists whose collaborative practice seeks to navigate the confluence of art, science, technology, design and the natural world." They seek to dissolve the boundaries between art, senses, and self – and you'll come out the other end a changed person. Lights, textures, and mirrors…it must be seen to be explained. Set aside a good part of day, because you'll definitely want to re-visit some of your favourite exhibits. Oh, and you might get your bare feet wet. Just a heads up!

Asahi Beer Hall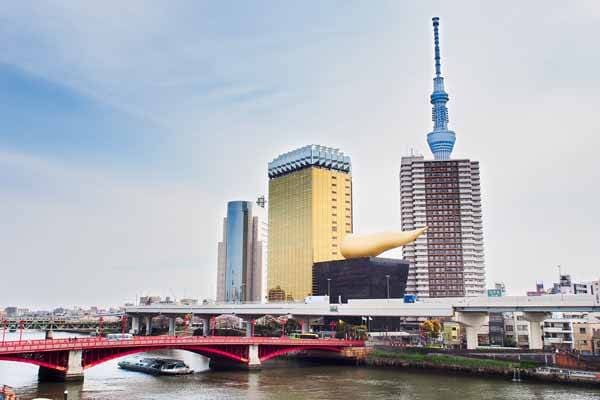 Free to look, $$ to eat/drink
1-23-1 Azumabashi, Sumida 130-8602, Tokyo
Crossing the Sumida river after you've explored the Senso-ji, you need to bask in the glory and infamy of the Asahi Beer Hall and the "Flamme d'Or" that sits atop it. It was designed by French designer and architect Philippe Starck, completed in 1989 and opened in 1990. The corporate offices adjacent are modelled after a full mug of beer; amber windows reaching all the way up to a white "head" of foam. The funny thing is that the locals don't see what Phillipe did – they all the sculpture the 'kin no unko' or the 'golden turd.' Don't let that deter you, it's definitely Insta worthy.
Tokyo Skytree Observation Deck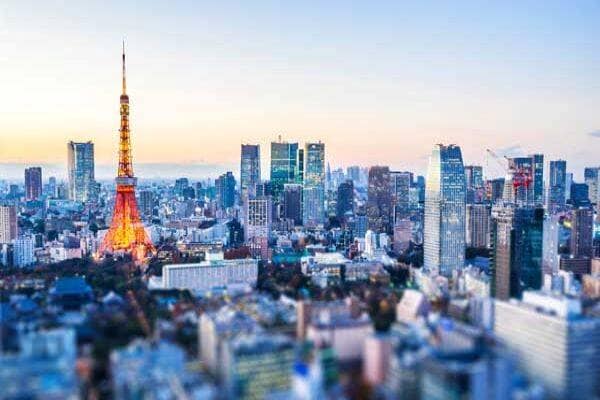 $$
Sumida, Tokyo, Japan
Mere metres away is the Tokyo Skytree (also considered its own Town) and is an auspicious 634 metres tall (which is deliberate – 634 is "musashi", an old name for Tokyo.) You can take in sights from the Tembo Deck at Floor 350 or the eye-watering Skytreetembo Galleria at Floor 450, both with high resolution digital telescopes for extreme people watching. In the base there's a gigantic shopping centre and aquarium. You can even eat on the Tembo Deck at the Skytree Restaurant. That's what I call high class dining. (Groan)
Swallowtail Butler Café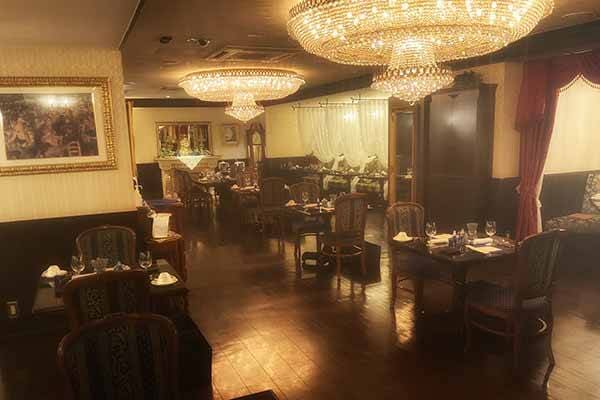 $$$$
3-12-12 Higashi Ikebukuro Seiwa Bldg B1F, Toshima 170-0013 Tokyo

You may have heard about the "host" or "hostess" cafes in Tokyo, where men dressed in tuxedos and women dressed in French maid outfits come and cater to your every (platonic) whim. Swallowtail Butler Café takes this concept and dials it up to 11. The Butler café is a lavish, Rococo style butler café (the first of its kind (according to the café) where exquisitely tailored butlers dote upon you as soon as you walk through their impressive crystal doors. You're served one of many variations of high tea – pouring it for you and making you believe you are actual royalty – your butler may give you your "schedule"; meeting with the Princess this evening? Why, of course you are! For about an hour and a half, you'll be treated as such. Just remember to reserve your slot well in advance (about a fortnight out) as this experience is extremely popular with locals and foreigners alike.

Ryogoku Kokugikan (Ryogoku Sumo Hall)

$$
1-3-28 Yokoami, Sumida-ku, Tokyo

The Ryogoku Kokugikan is a relatively new building in a highly historic area. This, the second hall to bear the name was built in 1985. The new Ryogoku Sumo Hall bears witness to the top sumo (Japanese style wrestling) competitions in all of Japan. The national Grand Sumo tournaments take place in January, May, and September, and it's well worth your while to get tickets. Even if you don't get tickets, the colourful banners and lively atmosphere is well worth getting among. If you're more of a professional wrestling fan, you can often catch New Japan Pro Wrestling events at the centre, as well as professional boxing.
Though there's plenty to choose from in this list, exploring Tokyo – even from the outside - is always an adventure in and of itself. Streets just mere steps away can take on their own unique culture and character; and there's no shortage of places to explore. Pick a handful of attractions on this list and you'll have an experience you'll never forget.