Here are nine quirky experiences not to be missed when visiting Tokyo.
1. Stay in a capsule hotel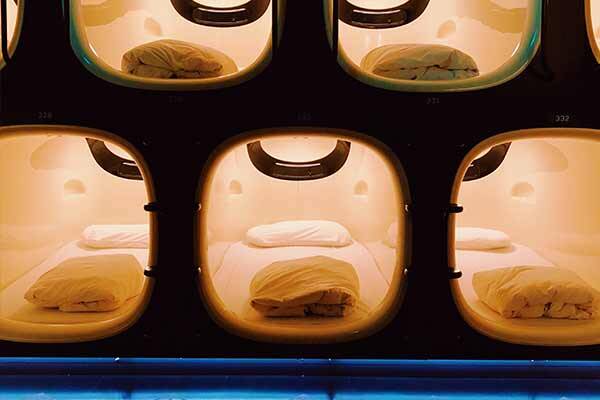 Traditionally a low budget accommodation style aimed at businessman looking for last minute lodgings, Tokyo's capsule hotels have become a popular tourist activity in recent years and offer a truly unique hotel experience. As a result, new pod accommodation options are popping up throughout, featuring excellent quality amenities like wireless internet and communal bars and lounges. For a roomier experience, try the First Cabin Hotel at Haneda Airport.
2. Get your robot on at the Robot Restaurant
Located in the Shinjuku nightlife district of Kabukicho, the Robot Restaurant is one of Tokyo's most popular tourist attractions and certainly one of its quirkiest spectacles. With a riotous combination of robots, dragons, ninjas, brightly costumed performers with dazzling neon lights and explosively loud 'j-pop', the show must be experienced firsthand to be believed.
3. Take a photo at Shibuya Crossing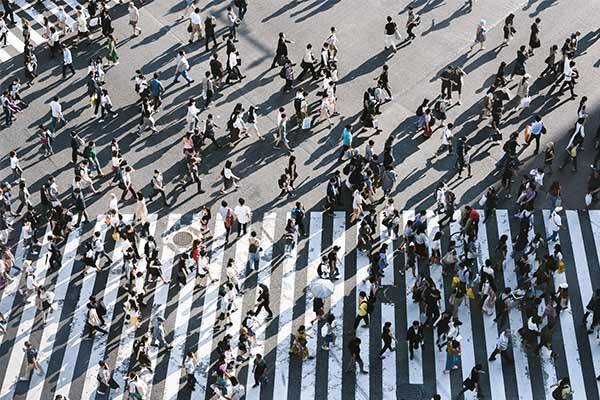 Often touted as the busiest pedestrian crossing in the world, navigating your way across Shibuya Crossing is an iconic Tokyo experience. With up to 2,500 people crossing the intersection at once during peak times, you might be content to skip bustle and take advantage of one of the city's best photo opportunities. You'll find the best view of Shibuya Crossing come after dark on a Friday or Saturday night from atop of one of the buildings boarding the crossing. Head up to the Shibuya Tsutaya Starbucks, the Shibuya Sky observatory on Shibuya Scramble Square or Mag's Park, the rooftop of the Shibuya 109-2 department store for an Insta-worth snap.
4. Get a photo with Godzilla
A visit to Tokyo wouldn't be complete with without a photo of Shinjuku's iconic, life-size Godzilla head. A popular feature of Japanese (and world) cinema for decades, the classic character has been immortalised with a giant statute looking to take a bite out of the Shinjuku Toho Building in the popular entertainment district. Hang around and watch the statute come to life with glowing red eyes and a roar on the hour.
5. Go Mario-Karting around the city
If you loved the iconic Nintendo game as a kid (or still do!), then this experience is definitely for you. Dress up as your favourite Mario Bros. character (costumes are usually included in the price) and jump in a life-size go-kart for a guided tour of the city like no other.
6. Shop 'till you drop in the Mega Don Quijote store in Shibuya
The Don Quijote discounted stores have reached something of an iconic status in Japan and the Mega Don Quiote in the popular district of Shibuya is truly a site to be hold. Spread out over seven levels and opened 24 hours a day, the store stocks a wild array of products, including fresh and cooked food and Japanese snacks, alcohol, Japanese souvenirs, clothing, household items, beauty and health products, electrical appliances, costumes and stationery.
7. Visit the MORI Building Digital Art Museum: teamLAB Borderless
The world's first dedicated digital art museum opened in Tokyo in 2018 and promises visitors the opportunity to become fully immersed in a range of digital exhibits. The museum is divided into five zones, with 'augmented reality' art works coming to life via 470 Epson projectors powered by 520 computers, making for some truly Instagrammable snaps.
8. Sample from as many vending machines as you can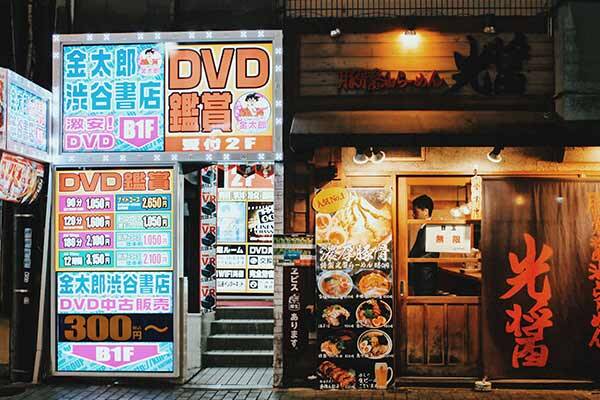 There are over 5.5 million vending machines in Japan and some of the quirkiest ones are in Tokyo. With a ratio of one vending machine per 23 people, the highest in the world, you'll find vending machine on just about every corner in Tokyo, selling everything from ramen, noodles, Japanese sweets, drinks and other specialty food to canned vegetables, sauces, milk, umbrellas, action figures, Pokemon and more.
9. Spend the Night in the Hello Kitty Room
The Keio Plaza Hotel in Tokyo offers visitors the opportunity to live and breathe one of Japan's most iconic cartoon characters, Hello Kitty. Located in the heart of Tokyo in the popular Shinjuku neighbourhood, the rooms have Hello Kitty toiletries and amenities for use and includes a themed room-service offering. Guests can also take home a range of Hello Kitty souvenirs from the rooms, including writing sets and skincare products.