Vivid Sydney's return in 2023 signals the biggest and most culturally relevant program in the event's history - and we are ready for it.
The technicolour light projections, installations and performances Vivid Sydney is renowned for are back to dazzle and inspire, and, this year the 2023 line-up is guaranteed to impress. Expect innovative artists, talented musicians, and thought leaders, as well as a celebration of the significant contribution of First Nations peoples and cultures to the creative industries.
More than 300 activations and events showcasing creativity, innovation and technology will supersize the city's joy and optimism as Vivid lights the soul of the city and celebrates its history, its people and its diversity.
Celebrating its 13th year with a theme that celebrates Mother Nature, this all-ages crowd-pleasing festival of light promises to be brighter and more joyful than ever, and we have everything you need to know about Vivid Sydney 2023 to make the most of its exciting return.
"There are world-firsts and festival-firsts, and both free and ticketed events to make the festival accessible to everyone. Audiences should be prepared to be blown away by the calibre of talent and a program that has been inspired by thebeauty and diversity of nature. Vivid Sydney's 2023 program is a celebration of authenticity, an invitation to connect, and a chance to create. You do not want to miss Vivid Sydney 2023."
- Gill Minervini, Vivid Sydney Festival Director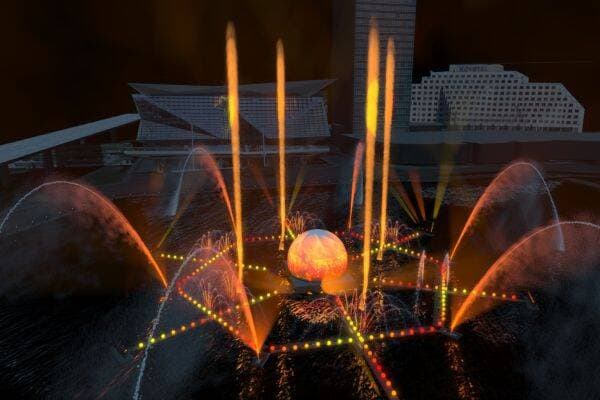 Photo by: Destination NSW
What is Vivid?
Vivid Sydney is Australia's favourite festival of light, ideas and music, and it takes over the city at 14 key locations throughout the Sydney CBD. This annual event showcases ground-breaking and diverse music, ideas, installations and – new to 2023 - food, literally lighting up the city each night and reigniting the love that locals and visitors alike have for it.
It's the largest festival of its kind in the Southern Hemisphere and one of Australia's most beloved. For 23 glorious nights, light displays installations, plus concerts, performances and lectures, inspire with creativity and out-of-the-box thinking, sparking debate, discussion and thought leadership alongside a smorgasbord of music and performance in some of Sydney's favourite and newly established venues. And this year, Vivid Sydney will premiere its first-ever food program, from wholesome street food to luxurious high-end dining experiences that celebrates all that makes Sydney's food scene so special and one of the best in the world.
Each year the festival breathes new life into the Sydney and harbour precincts, lighting up iconic buildings with 3D projections, light shows and installations, showcasing music and performance from around the world and sparking thought provoking conversations through thought-leadership sessions from boundary breakers.
When is it?
Vivid lights up Sydney's nights every evening from 26 May to 17 June 2023, giving Sydney's iconic buildings a glow up and drawing us all back to the harbour and Sydney's acclaimed dining and entertainment precincts for a calendar stuffed with events.
Where is it?
Light installations and projections bring Sydney to life with colourful displays at 14 key locations all across the city – and more across Sydney. The city is bathed in light every evening with projections and installations at Circular Quay, the Sydney Opera House, The Rocks, Walsh Bay, Barangaroo, King Street Wharf, Darling Harbour, Darling Quarter, Darling Square, The Goods Line, Central Station, the Royal Botanic Garden Sydney, Carriageworks, Taronga Zoo and more.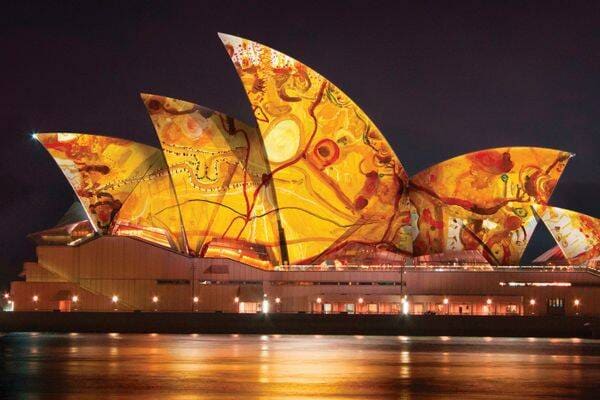 Photo by: Destination NSW
What time does it start?
Vivid's light installations and 3D projections will be visible from 6.00pm as night hits the city, and the place to be for Light's On is anywhere with a view of the Sydney Opera House. The Lighting of the Sails at the Sydney Opera House signals the opening of Vivid each night, as colourful projections burst onto the curved canvas, beginning the evening with a celebration and setting the tone for fun and creativity.
When is the best time to go to Vivid?
Weeknights are quieter than weekends, so they're a good time to get into the city and explore. Try to visit before the last week, when Vivid is at its busiest with the last minute rush.
Is Vivid free?
Vivid is inclusive and much of it is free to enjoy and explore. There's no charge to experience the incredible 3D light projections, shows and installations, and many music events like the Tumbalong Park evening concert series are free too.
While most Vivid events are free, many concerts and lectures are ticketed. Check out the program at the Vivid website to find dates and prices and to book. www.vividsydney.com.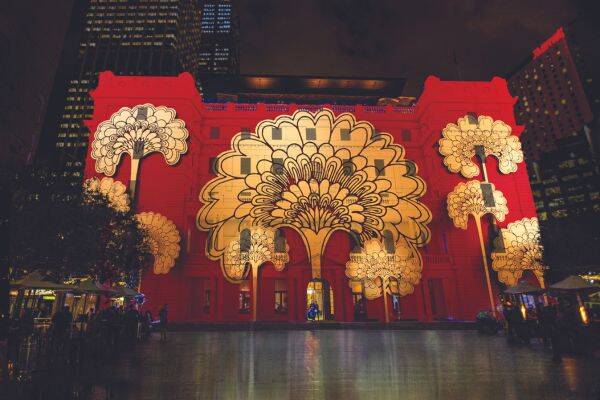 Photo by: Destination NSW
What is Vivid Light?
Vivid is synonymous with the light art that covers Sydney's iconic buildings in technicolour, dressing her up for the thousands of visitors she receives each night. From secret tunnels adorned with sparkling lights to the sails of the Opera House and the Museum of Contemporary Art, Sydney's harbourside treasures become a canvas for creativity.
This year, Sydney will transform with more than 50 light installations, 3D projection artworks coming to life as the sun sets.
First Light will open the festival on May 26 – this year curated by Vivid Sydney's First Nations Advisor, Rhoda Roberts AO – with a Welcome to Country and a performance from Yothu Yindi.
At the Sydney Opera House, Lighting of the Sails will illuminate the sky with works of one of Australia's most famed artists, John Olsen. Above in the sky, Written in the Stars will feature more than 1,000 drones over six shows for that will be the biggest drone show in the Southern Hemisphere.
You can see the full program of what's on at Vivid House, the immersive 360° experience here.
Where is the Vivid Light Walk?
The Vivid Light Walk is a special Vivid festival route through the city guided by live music and entertainment and more than 57 attractions, including light installations, 3D-mapped projections, venue takeovers and jaw-dropping spectacles. This year the lights, installations and performances of the Vivid Light Walk extend all the way from Circular Quay to Central Station in a supersized eight-and-a-half kilometre pathway. Start at the beacons at Circular Quay and wander past the Museum of Contemporary Art to see the projections on the Sydney Opera House from Dawes Point. Head to Wynyard Station to the abandoned railway tunnels (open to the public for the first time!), then onto Walsh Bay, Barangaroo and into Darling Harbour, Darling Square and Darling Quarter and up to Central Station to see the eternal bonfire Fluxit.
What is Vivid ideas?
Vivid Ideas brings provoking discussions, debates and subjects and deep dives into controversial and leading-edge topics to challenge and expand our way of thinking with appearances from some of the world's greatest minds, innovators and creatives. This year, Vivid Ideas gathers some of the world's brightest minds and fearless storytellers, with 60 intriguing talks and workshops, exploring community, authenticity, respect, love and lessons learnt from the natural world.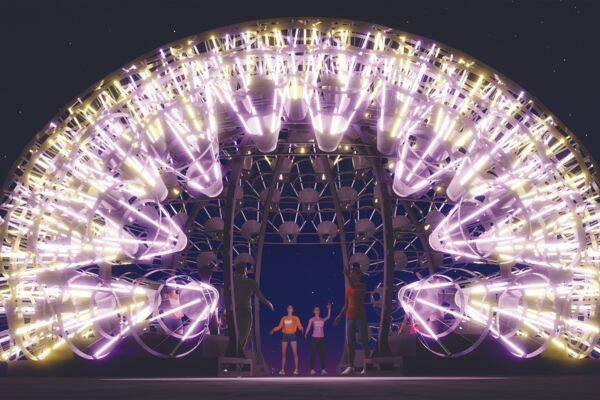 Photo by: Destination NSW
Standout events this Vivid include Life and Mars: The Future of Human, where British author and "master of her material" Jeanette Winterson will reflect on questions of identity, sexuality, religion and more to unpack the idea of nature versus nurture. And in Perv: The Kink in All of Us, experimental psychologist, human behaviour scholar and author Jesse Bering, joins journalist and author Jenny Valentish, to discuss and detangle why shame and sexuality are innately linked.
The Vivid Ideas Exchange will feature more than 20 cutting-edge discussions and thought-provoking workshops at the world-leading technology precinct, Telstra Customer Insights Centre. A leading panel of experts come together for Skin Deep to discuss designer bodies, perfect skin, surgery-as-hacking and the shifting foundations of what is normal or natural. Could the Ocean be the Solution? features academic leaders detailing the cutting-edge technology and innovative programs helping to clean up our oceans.
The Up Late program returns in 2023, with free, interactive and immersive sessions at the Powerhouse Museum and Australian Museum at night.
Find out more about the Vivid Idea line-up and book tickets here.
What is Vivid music?
Vivid Music is an eclectic program of music and performance in new and unexpected locations, pushing boundaries, sharing stories and keeping the Vivid energy at 11. Watch local and international performances across the city, and spend the evening at the Sydney Supper Club, which returns in 2023 with drag extraordinaire and star of stage and screen Trevor Ashley transforming Mary's Underground into an intimate cabaret lounge.
Stop at Tumbalong Park as you wander along the Vivid Light Walk for Vivid's free concert series Tumbalong Nights featuring some of Australia's up and coming acts and Sydney's emerging artists. With an eclectic lineup from disco and RnB to alt-country and brass bands, these free concerts are not to be missed.
One of 2023's Vivid Music highlights is A Bend in the River: A Tribute to Archie Roach AC, a celebration of Archie Roach AC's legacy. This will take place at Sydney Town Hall with tribute performances from long-time friends, collaborators and contemporaries, including Paul Kelly, Emma Donovan, and Dan Sultan.
Check out the full Vivid Music program for free and ticketed events.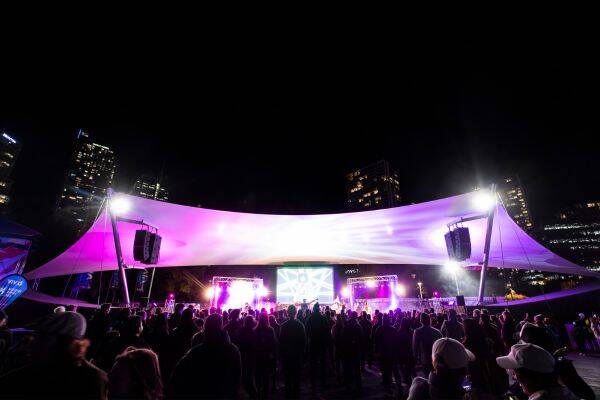 Photo by: Destination NSW
What is Vivid Food?
In 2023, Vivid Sydney will premiere its first-ever Food program – from whole street food to luxurious dining experiences.
Vivid Sydney Dinner is back for 2023, too, returning to Ivy Ballroom in partnership with Merivale for an immersive and unforgettable night that fuses light, music, ideas and (importantly) food for a feast for the senses. Barangaroo will see a variety of events, including Vivid Fire Kitchen and House of Naturalia, and those looking to sample as much as they can, head to the Carriageworks Night Market.
Check out the full Vivid Food program for free and ticketed events.
Are there events for kids?
Kids love exploring the art installations and watching the light shows, especially Lights On and the Lighting of the Sails at the Sydney Opera House at 6pm, so make sure you're in position! Head to Cadmans Cottage to Vivid Kids, a projection of artworks from 12 budding artists aged 7-14 years old.
Head to Tumbalong Park each Saturday evening at 5pm for Vivid Kids @ Tumbalong Park, featuring performances by Zindzi and the Zillionaires, Junkyard Beats, Peter Combe, and the Tiptoe Giants.
Illuminated animal figures light up the zoo at a brand-new night trail Wild Lights at Taronga Zoo in a ticketed family friendly event. See giant versions of native animals like Koalas, Dingos, Kangaroos, Emus and Platypuses, and explore the new Nura Diya Australia, an area celebrating the flora and fauna and First Nations connection to Country. The ticketed event has two sessions each night, one at 5.30pm and one at 7.30pm. Find out more about what's on for Kids and Vivid here.
TIP: Visit any of the Vivid Medical Tents and grab wristbands for kids and write your phone number on them.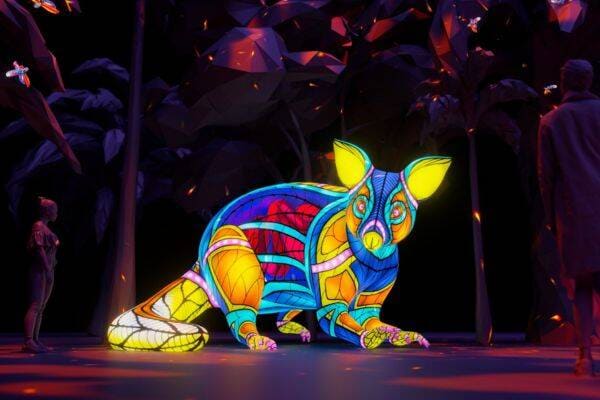 Photo by: Destination NSW
What happens when it rains?
Vivid 2023 continues rain, hail or shine. Keep your eye on the forecast, but you won't miss out if it's a bit wet.
What is the best time to go?
Vivid is at its busiest over the weekend when everyone comes out to play, and Friday and Saturday nights are especially busy. If you can, try and pop in during the week for a less crowded experience.
Is there a Vivid Sydney map?
Visit the Vivid Sydney 2023 Maps & Guides before you set off. It covers all locations and has instructions for how to plan your Vivid Sydney adventure using their interactive map. Visit the Light Walk Planner to map out your route along the for the eight-and-a-half kilometre walk.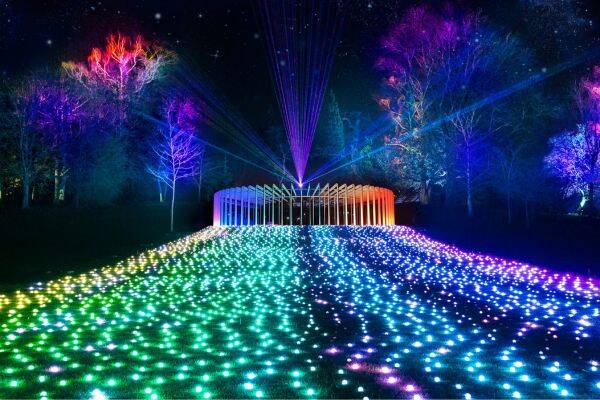 Photo by: Destination NSW
Who owns Vivid Sydney?
Vivid Sydney is owned, managed and produced by Destination NSW, the NSW Government's tourism and events agency.
How do I see all the lights and projections?
You're going to need a few visits to see everything, so make a plan and focus on one or two areas each visit. Visit Vivid Sydney for your guide to installations, transport and access.
Where are the best spots to see Vivid?
Following the Light Walk will give you a great view of the installations, projections and light shows. Cruising on the harbour – whether by taking a local ferry across the water or booking an organised Harbour Cruise - will give you a unique view of the lights and installations around Circular Quay, the Harbour and Darling Harbour.
You can also book dinners at Sydney restaurants and gaze at the lights while you dine, or cruise along the Harbour spotting installations and with the lights and projections creating a fabulous show for you on the canvas of Sydney's iconic buildings.
What are the best things to see?
Remember that wherever you go during Vivid, you will see incredible light displays and installations! Don't miss the Dandelion installation at Circular Quay and the bigger than ever eight-and-a-half kilometres long Vivid Light Walk through the city – the electronic labyrinths in the abandoned railway tunnels of Wynyard station are a must. It's always fun to see the Lighting of the Sails each evening at 6pm when the Vivid lights turn on.
Elemental at Darling Harbour combines spectacular 80 metre water shooters, flames, projection and pyro technics, Vivid House at the Darling Quarter is a sensory journey through 3D visual and sonic experiences and Bump and Sway sees 12 floating poles come to life at Walsh Bay. City Gazing Sydney at the Rocks shows an evolving Sydney from the last 100 years as a floating map with glowing arteries, right underneath the Harbour Bridge.
And this year, the Customs House façade is a celebration of Australian interior design featuring beautiful hand-drawn wallpaper. As always, the Opera House's Vivid Live is a celebration of projections, concerts, pop up entertainment, and vibrant communities.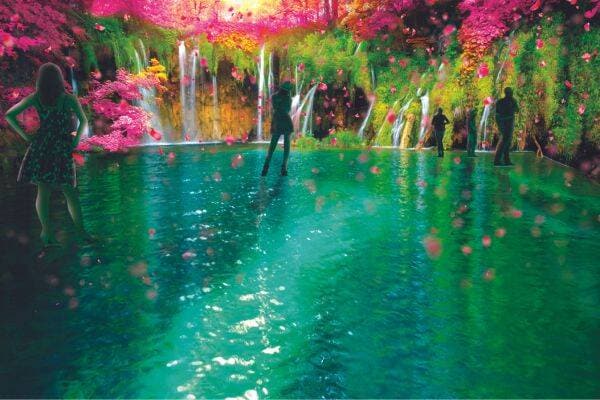 Photo by: Destination NSW
How do I get to Vivid Sydney?
The best way to travel to Vivid Sydney is by public transport. Use buses and trains to get in and home from the city. You can plan and check transport in real time at 131500.com.au
See you there!