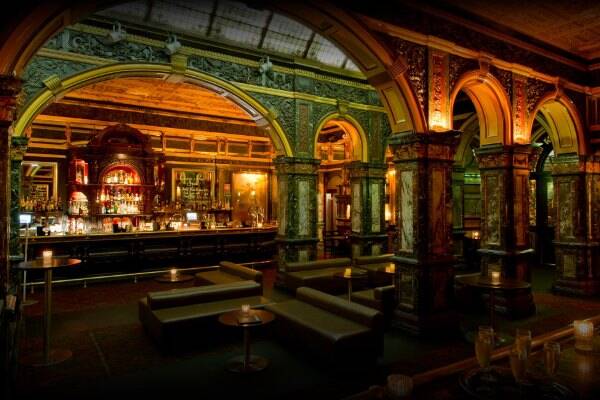 Built in the old Adams Hotel in 1893 before being dismantled and reassembled in the basement of the Sydney Hilton in 1973, this stunning Victorian-era bar features exquisitely restored marble archways and a mahogany bar. Ambient lighting, leather seating and French realist-style paintings by Julian Ashton ensure that the atmosphere gives you a taste of old-world charm in the middle of Sydney CBD.
Expertly crafted Prohibition-inspired cocktails and delicious bar snacks are available, and you'll find live music playing most nights of the week. Take advantage of their special Nightcap menu, available each night from 10pm until midnight, that features signature cocktails and premium whisky. Bring a date who appreciates stunning architecture here if you want to seriously impress them.
The Baxter Inn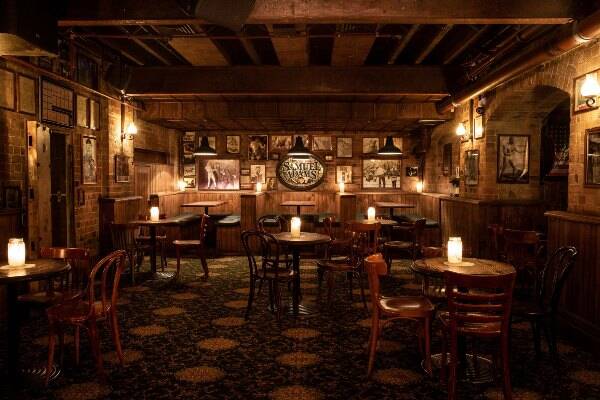 The Baxter Inn is underground in a very literal sense, located in the basement of a building found at the back of an unmarked alleyway off Clarence Street in the Sydney CBD. From the team behind other Sydney favourites Shady Pines Saloon, Frankie's Pizza and Restaurant Hubert, once you visit The Baxter Inn, you'll agree that their reputation for excellent hospitality is deserved.
Whisky aficionados in particular will enjoy The Baxter Inn thanks to its list of over 800 whiskies, but amateurs needn't feel overwhelmed – helpful staff are more than willing to help you decide what you're in the mood for. Baxter is even home to a Whisky Room in the cellar that stocks more exclusive whiskies and provides patrons with a more intimate environment to enjoy them in.
If you don't enjoy whisky, don't be deterred – wine, spirits, and beer are also available, as are carefully crafted cocktails. Like Shady Pines, you won't find food here beyond complimentary pretzels, but the extensive drinks menu and friendly atmosphere should more than make up for that.
Palmer and Co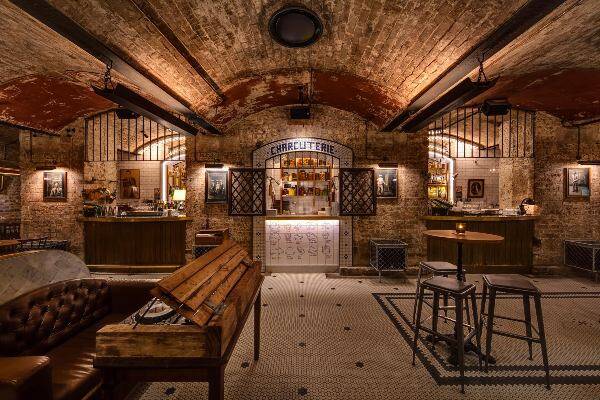 A Prohibition-style bar that takes its name from the taxidermy outfit that used to operate on site, this Merivale venue can be found tucked away on Abercrombie Lane in the CBD. Simply walk down the lane, enter through a nondescript door, and head underground.
Palmer and Co. is designed to transport you back to a time when alcohol was banned yet freely flowing at underground bars just like the one you've found yourself in, and the exposed brick, distressed wood, leather couches and vintage decorations combine to do that to spectacular effect.
Palmer and Co focusses on cocktails and spirits, offering over 30 gins, 80 whiskies and 40 tequilas and absinthes. For true connoisseurs, the 'lost and forgotten cocktails' section of the menu is worth a look, offering cocktails from yesteryear that aren't as popular as they once were. Food-wise, there's a brief, but by no means unimpressive, meat-heavy menu available, featuring steak tartare, black truffle mac and cheese, and charcuterie and cheese boards.
Stitch Bar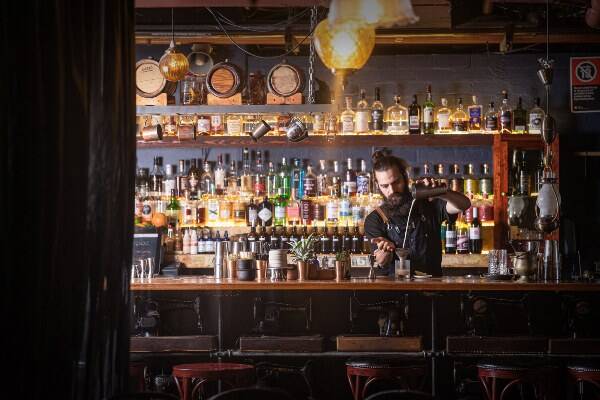 The unassuming entrance to Stitch Bar is a blink-and-you'll-miss-it type: an entryway decorated with vintage sewing machines tucked behind the surrounding buildings is the only sign of what lies beneath. The bar itself is cosy and often full of city workers enjoying a drink after clocking off, so get there early or book a table if you're eager.
The drinks menu is substantial, particularly the whisky selection, but the signature cocktails are also impressive – try the Red Diamond, made with Bombay Sapphire, Cointreau, Aperol, rhubarb syrup, grapefruit juice, strawberry and cream foam and inspired by Baz Luhrmann's 2001 hit Moulin Rouge!
Food is another huge selling point for Stitch, with an impressive array of burgers, hot dogs and tacos on offer. Give the Mac Ducky Dog a go – it's duck sausage with truffle and garlic mayo served with foie gras. Deviously decadent.
The Swinging Cat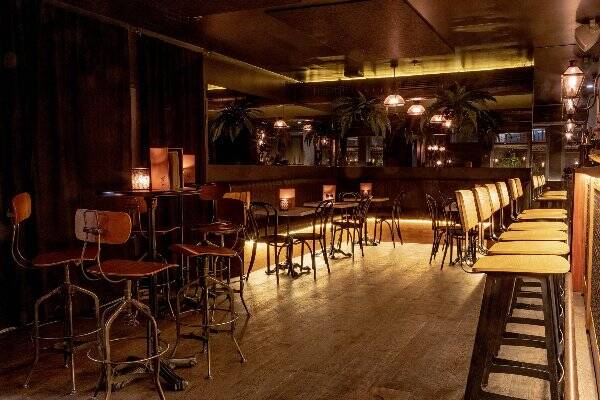 Not far from Stitch is The Swinging Cat, a bar that draws its inspiration from the vibrant culture of New Orleans. Head underground and you'll be greeted with gaslit street lamps, velvet curtains and plush seating, which, when combined with the ambient lighting, almost succeed in convincing you you're in the Big Easy.
The bar's signature cocktail is the Sazerac, a drink that is said to have been invented in the mid-1800s at New Orleans' own Sazerac Coffee House. The traditional version of the cocktail mixes five parts cognac with one part absinthe, sugar, and a dash of bitters, but the Swinging Cat offers Sazeracs made with bourbon, rye, cognac or a mix of cognac and rye. They offer a wide range of other NOLA-inspired cocktails, too, as well as a range of Old Fashioneds.
The Cajun influence is evident in the bar's cuisine, which includes popcorn chicken, empanadas, sliders with andouille sausage, and panko prawns. Live jazz can also regularly be enjoyed at the Swinging Cat three nights a week – would you expect anything less from a bar dedicated to all things New Orleans?
Double Deuce Lounge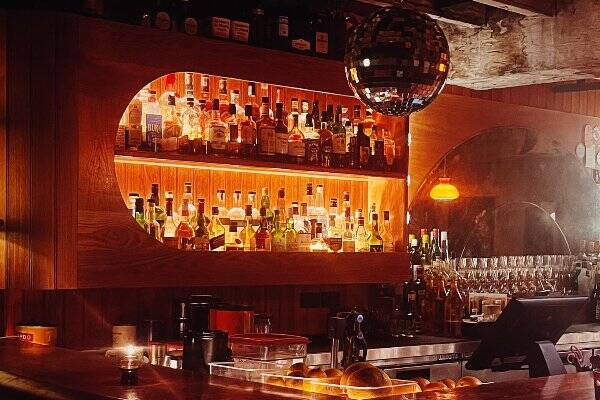 Sydney's Double Deuce Lounge snagged the 12th spot on Time Out's 2021 list of the coolest bars in the world, which is no small achievement, and once you check it out for yourself, you'll understand why. Taking its name from the Patrick Swayze-led film Road House and its aesthetic from the 1970s Golden Age of Porn, this bar is slightly unexpected but still über cool.
Head underground at 6 Bridge Street to enter a lounge exuding strong 70s porn chic energy, with leather booths, blond timber, and ambient lighting, not to mention a couple of vintage issues of Playboy magazine adorning the walls. The theme continues with the bar's ten signature cocktails, as well as the soundtrack – you'll undoubtedly hear the sounds of Aretha Franklin, Otis Redding and Gladys Knight during your visit. While this isn't the kind of underground bar you'd take your parents to, it's well worth checking out with your mates.
Employees Only
To find this particular watering hole, an antipodean outpost of a popular New York bar, all you need to do is follow the psychic sign on Barrack Street and head downstairs to a heritage-listed basement. The sign is a reference to the bar's very own resident psychic, who will read your cards; the bar also regularly hosts burlesque dancers, cementing its Prohibition-era speakeasy feel.
The original Employees Only bar in New York's West Village opened in 2004, and quickly became a local favourite. Its Sydney counterpart, the first Employees Only bar in Australia but sixth globally, opened in 2018, and has been impressing customers ever since. It's hard to decide which are more impressive, the drinks or the food – there's the Amelia, which blends vodka, elderflower liquor, pureed blackberries and fresh lemon, but there's also steak tartare handmade at your table and Kit Kat caramel spring rolls. Best play it safe and order copious amounts of both.
Ramblin' Rascal Tavern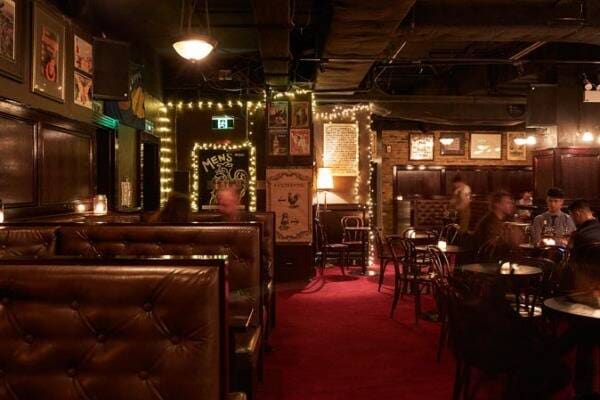 Found in a basement just off Hyde Park and marked only by a sign with three black skulls is one of Sydney's most beloved underground bars, Ramblin' Rascal Tavern. Housed in what was once a comedy club, this bar is decked out with vinyl booths, tiny wooden tables and a carpet that has undoubtedly seen better days. But you're not here for the décor, you're here for the brains behind the bar, all of whom are big names in Sydney hospitality, having made their names at venues like The Baxter Inn.
With a simple wine list and just six cocktails on offer, Ramblin' Rascal's house drinks are whisky and cognac, and there's a dedicated drinks menu designed to highlight the wonders of The Balvenie single malt whisky. House band The Masala and Cokes can be found performing every Thursday from 9pm, and Mary's burgers are on offer for those keen for a feed. If you're looking for a friendly dive bar to visit after work, look no further.
Apollonia Sydney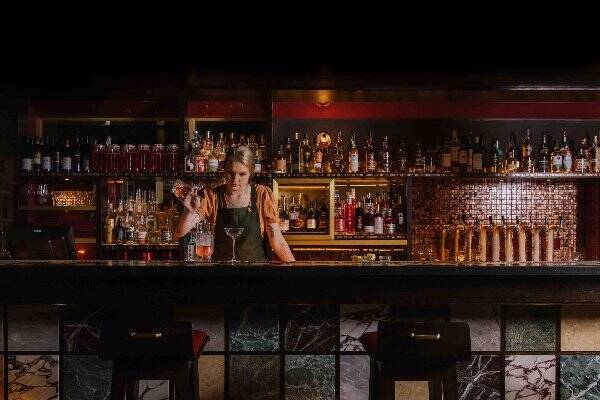 A relatively new bar, Apollonia can be found just up from Circular Quay in the basement of Hinchcliff House on Young Street. Taking its name from Apollonia Vitelli-Corleone, wife of The Godfather's Michael Corleone who was killed by a car bomb intended for him, this bar seeks to transport you to Sicily with its Italian-inspired cocktails, décor, midnight toasting ritual, and signature scent.
Yes, you read that right: Apollonia developed its own signature scent to use in their candles and hand wash inspired by Francis Ford Coppola's beloved films; fittingly, it has notes of cherry, orange, rosemary and gunpowder. And as for the midnight toasting ritual… Every night, when midnight strikes, guests are invited to take part in a "thunderbolt ritual" designed to pay tribute to the "thunderbolt" love-at-first-sight that struck Michael Corleone when he first saw his doomed bride.
Speaking to Broadsheet, Jason Williams, Godfather fan and the beverage director of House Made Hospitality explained the ritual, saying, "Whoever we can pull in, we're going to pour out a little house-made amaro or miniature Negronis, or whatever the bartender feels like making, and they'll put on a song and get the room to come together with a toast to friends, love, life and a strong Negroni," he says.
If you like a venue that's committed to telling you a story, Apollonia is an underground bar that you'll almost certainly fall in love with.
Door Knock Bar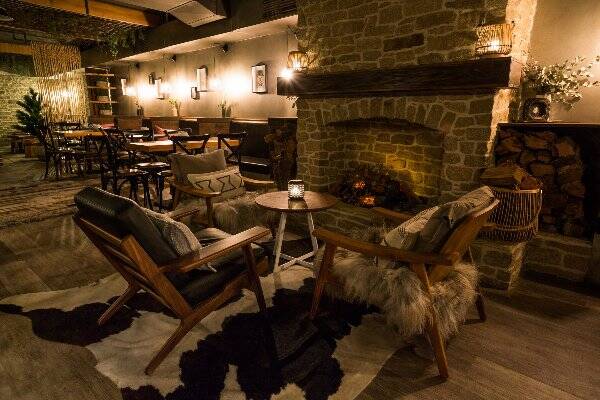 Once you visit, Door Knock Bar's name will make sense: to get inside, you need to find a fire door on Pitt Street and make your way down a lengthy corridor until you come face to face with a brass pineapple doorknocker. The door is unlocked, but it's still fun to knock three times anyway. It's a reference to speakeasies, which were sometimes referred to as "knock knock" bars – they had to be hidden in order to evade the authorities, but nowadays this level of secrecy just adds to a bar's unique mythos.
With a cocktail menu designed to surprise – black walnut bitters and Aztec chocolate bitters can both be found in drinks served here – a delicious food menu, and cozy décor, Door Knock is another example of Sydney's excellent underground bars that transport you far away from the bustling city centre they call home.