It's a visual spectacular that can't be missed, and we've found the Sydney restaurants with the best views of Vivid for a truly memorable dining experience or cocktail evening this Vivid season.
From the Opera House and Circular Quay to the Rocks, Barangaroo and Darling Harbour, we've listed the best dining spots where you can combine a meal and a drink while you watch Vivid's technicolour explosion of light, projection and animation. Here's where you can get the best views of all the action of Vivid Sydney while you enjoy some of Sydney's leading restaurants in dazzling locations all around the city.
Where is Vivid Sydney held?
Vivid Sydney 2022 lights up Sydney's iconic buildings and shares interactive installations, music and ideas all across Sydney. Much of the light projections and installations are on the Harbour foreshore from the Royal Botanic Gardens and Opera House, throughout the Quay, around to the Museum of Contemporary Art forecourt, the Rocks, Barangaroo and Darling Harbour. Follow the Vivid Sydney Light Walk (get your map here) all the way to Darling Harbour and Central Station for more lights, installations and projections, and find out everything you need to know about visiting Vivid Sydney here.
When is Vivid?
Vivid lights up Sydney every evening from 27 May to 18 June 2022, rain, hail or shine. It's the story of creativity, innovation and technology told through light, ideas and music and there's so much to see you may need a few nights to explore. Weeknights are generally a little quieter than weekends and going at the start of the festival is a good idea as it tends to get busier each week, with the last weekend the busiest of the festival.
What time should I book my table for?
Lights On is at 6pm each evening with the Lighting of the Sails of the Sydney Opera House. Make sure to book an early table overlooking the Sydney Opera House if you'd like to see it light up with music and large-scale technicolour projections, and especially if you have kids or guests from out of town - they'll love it! It's fun to countdown to turning the lights on and adds some extra excitement to the evening. All of Vivid Sydney's lights stay on until around 11pm each evening.
Where are the best dining spots to watch Vivid Sydney 2022?
Sydney's best restaurants for Vivid Sydney 2022 boast stunning views, diverse cuisines and amazing locations across the city within heritage buildings, on rooftops and on the Harbour foreshore. The key locations stretch from Bennelong Point and the Opera House, around past Circular Quay and the Rocks, through Barangaroo and into Darling Harbour. You'll be able to watch the city light up with lightshows, colourful artistic projections onto iconic buildings and mesmerising and interactive installations. Make sure to book your table in advance, and if you're planning to see the Lighting of the Sails, make sure to be seated by 6pm.
Where to get the best views of Vivid at the Sydney Opera House and Circular Quay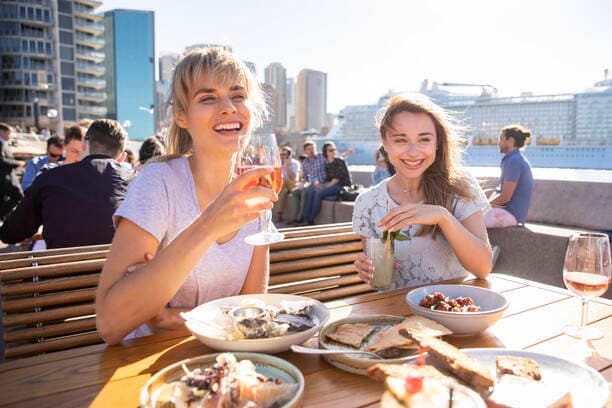 Opera Bar has one of the best views of Vivid Sydney, and while you're literally sitting under the Opera House sails watching them change colour and design above, you can gaze across to the Harbour Bridge pylons and watch Luna Park and the Museum of Contemporary Art light up. It's one of Sydney's most beloved restaurants for its position right on the harbour and puts you right in the heart of Vivid with views of Sydney's iconic buildings and watercraft as they light up with colour on the harbour. Keep an eye out for the Sydney ferries, decorated with brilliant lights that change colour as they enter different Vivid precincts.
Opera Bar has live music every night during Vivid, a special Vivid dining menu, and an activation with Bombay Sapphire that has the Opera Bar turning blue with themed cocktails. They've even set up a Vivid-themed photo booth so guests can capture their own Vivid moment on camera.
Dine at Bennelong Restaurant in the Sydney Opera House during Vivid Sydney and enjoy Australian food and wine in one of the most extraordinary locations in Sydney, if not the country. From its position within the Opera House sails, Bennelong offers a fine dining experience with views across the harbour as the city lights up. With the best of Australian produce on the menu, a dinner at Bennelong will complement your Vivid experience with tastes and scents to match the visual kaleidoscope unfolding before you.
Where to get the best Vivid views at The Rocks

With views over the Quay and arguably Australia's best tequila and Mexican cuisine, Bar Patron places you right in the midst of Vivid Sydney as you sip a cocktail and devour an authentic Mexican menu. Enjoy breathtaking views of Vivid from your table and then set off into the night and explore the lights.
Located at the upper level of the Overseas Passenger Terminal, Quay Restaurant is one of Sydney's favourite dining spots for Vivid Sydney. With expansive views over the Sydney Opera House and Circular Quay, this fine dining restaurant is the perfect destination for the Lighting of the Sails at the Opera House at 6pm each evening or a later dinner after exploring the lights and installations. With an extensive menu focused on intimately sourced flavours from local providores, every dish is carefully considered and created. Enjoy Quay's signature six course menu for $240 and add a wine pairing for $140.
Occupying three levels of the Overseas Passenger Terminal at the Rocks, including the rooftop, Cruise Bar is one of the best spots to enjoy the lights and projections of Vivid. Enjoy Mediterranean dishes with the lights of Vivid surrounding you and a drink from Cruise's extensive selection of beer, wine and cocktails. Grab a table at Junk Lounge on Wednesday for live music and cocktails as you watch Vivid light up the Quay.
Enter Sydney's Shangri La Hotel and take the elevator to the 36th floor for sky high dining and drinks at Altitude restaurant. Its expansive 270-degree views through floor to ceiling glass windows over our - from the Sydney Harbour Bridge, across Circular Quay to the Sydney Opera House - offer unparalleled Vivid viewing.
Blu Bar at Level 36 has arguably the best uninterrupted views of Vivid and has created electrifying cocktails to match the colours of the evening of lights in honour of the Indigenous artworks shown on the Opera House sails.
The Yarrkapla cocktail combines pisco, violette, grapefruit, house-made lemon juice, egg white and rose, and the Martu mixes Tanqueray blackcurrant royale gin with blue orange curacao lime juice.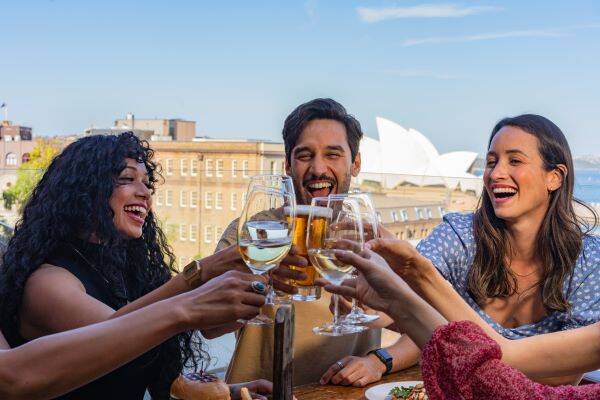 The Glenmore is a Sydney favourite, with rooftop views stretching from the Harbour Bridge across Circular Quay. If you haven't been to the Glenmore's rooftop, you are missing out, so head up for a beer and a meal and watch the show. There's live music on Sundays, $15 margaritas from 4pm – 6pm each weekday and a great pub menu from 11am onwards.
Where to dine and watch Vivid at Barangaroo
Now a glittering Sydney playground, Barangaroo was once the working heart of Sydney - an industrial port cut into the sandstone cliffs where huge cargo ships would load and offload everything from containers to luxury cars.
Now it's a popular dining and entertainment precinct. Installations here include the stunning ChronoHarp and Corpi Celesti, transforming the harbour foreshore into a shining reflection of sparkling light from the sky to the water. Barangaroo is an easy walk from Wynyard Station, or for a waterside view of the lights, catch a ferry around from Circular Quay.
With more than 40 restaurants, you are spoiled for choice at Barangaroo. Favourites spots to dine at Barangaroo and watch the Vivid lights and installations include: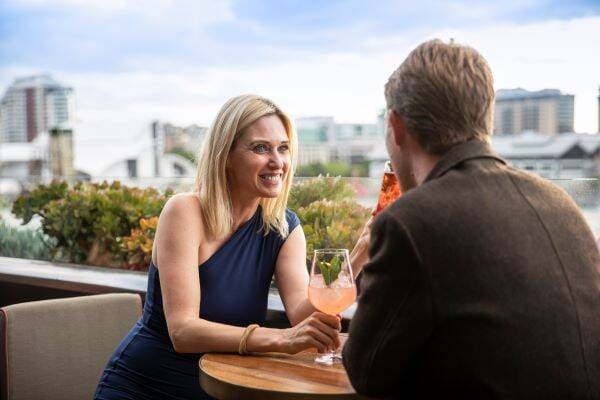 Matt Moran and Solotel's three story waterfront dining venue is the perfect spot to enjoy a Vivid dinner at one of the three dining options, and drinks at Smoke, the House's stunning rooftop cocktail bar.
For an authentic taste of Turkey while you watch the Vivid lights, book a table at Anason, where chef Somer Sivrioglu brings the scents and exotic tastes of Istanbul to Barangaroo. Take a waterside table and order up on meze platters, chargrilled octopus, lamb and eggplant and Turkish beer and wine.
O Bar & Dining at Australia Square is Sydney's only revolving cocktail bar and restaurant and will give you 360-degree views of Vivid Sydney from the Quay and Opera House around past the Botanical Gardens and across the city skyline. Book early for a window table and watch Vivid light up the sky around you.
Where to dine and get the best view of Vivid at Circular Quay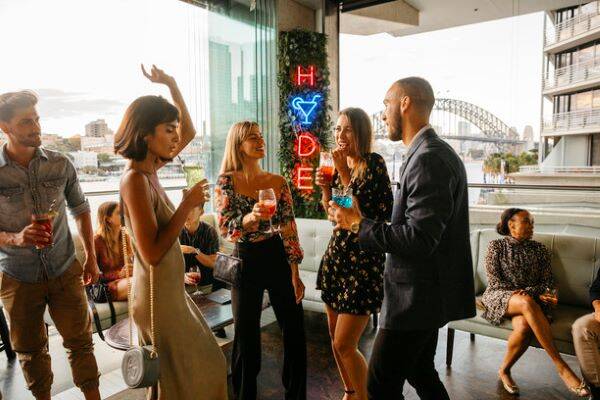 For a fabulous Vivid party atmosphere, delicious cocktails and pickies, book a table at Hyde Hacienda in the Pullman Quay Grand Sydney Harbour hotel. With its view of the Harbour Bridge, Circular Quay and the Museum of Contemporary Art, you'll have trouble leaving to explore more of Vivid on foot.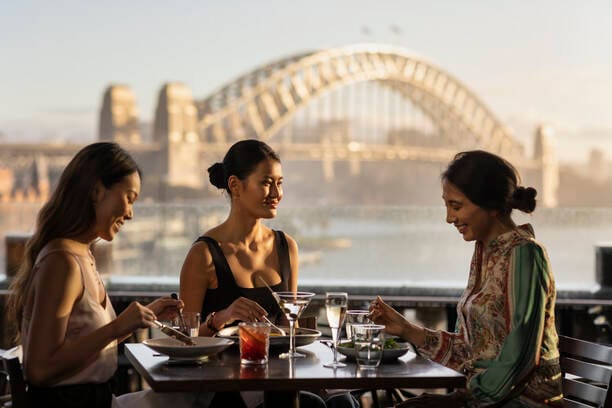 For front row seats to Vivid and getting as close as possible to Ken Done's projection on Customs House, book your table at Café Sydney. This stunning rooftop restaurant is one of Sydney's most highly regarded dining destinations, with locals and tourists vying for the front row seats and incredible views across Sydney Harbour and the Quay. It's a great spot for The Lighting of the Sails and for relaxed dining overlooking the action.
City Extra is a Sydney institution, open 24 hours a day and serving a diverse menu, so it's easy to pop in and enjoy a meal while in the thick of the Vivid action. You'll find the café between Wharf 3 & 4 at Circular Quay.
Enjoy DIY dining at Vivid
If you're more interested in sitting in the thick of the action, bring a picnic and set up on the grounds of the Royal Botanic Gardens, grab a seat along the Quay or at the front of the Museum of Contemporary Art or the parklands of Darling Harbour. Bring your own picnic or pick up takeaway at cafes scattered throughout the city. Remember to bring a picnic blanket with you if planning to enjoy the public grass and parks in each Vivid location.
The best views of Vivid from restaurants at Darling Harbour
The Vivid projections and installations are all throughout Darling Harbour, so anywhere you perch has a good chance of being front and central.
Cockle Bay Wharf is home to some of Sydney's favourite restaurants with views over the water and across Darling Harbour. Try L'Aqua for views across the Vivid installations from floor to ceiling windows, Café Del Mar for fabulous cocktails on their stunning outdoor terrace and Blackbird Café for exquisite waterfront dining.
Wherever you are in Sydney from 27 May to 18 June 2022, you'll experience the magic of Vivid Sydney 2022, so make sure to take time out and enjoy some of Sydney's best dining where you can watch the light, the projections and the installations and be part of this incredible Sydney festival.