Sydney's natural beauty spots and sublime weather make it the perfect place to embark on an urban adventure. With exhilarating experiences such as iconic climbs, zippy treetop concourses and spotting ocean giants, it summons you to enjoy the fresh air – and have fun doing so.
Time to soak up the sun and sights with our guide to outdoor activities in Sydney.
Climb the Sydney Harbour Bridge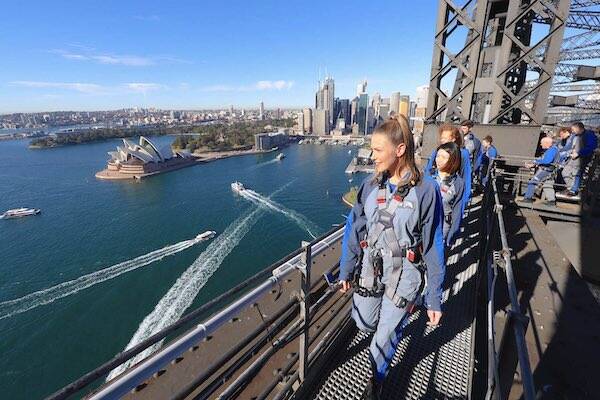 See Sydney from a new angle by upping the step count with a Sydney Harbour Bridge climb.
Summiting Sydney's prized 'coat hanger' is no small feat, with the epic walk taking 1332 steps. But working those leg muscles and conquering any fear of heights is worth the sweat. Atop, you'll be rewarded with 360 degree-views of the magnificent Sydney Harbour, including its iconic counterpart, the Sydney Opera House and vistas extending towards the Blue Mountains. Just wow.
Price: Adults from $328, children from $149
More info: BridgeClimb Sydney
Address: 3 Cumberland St, The Rocks NSW 2000
Take a day trip to the Blue Mountains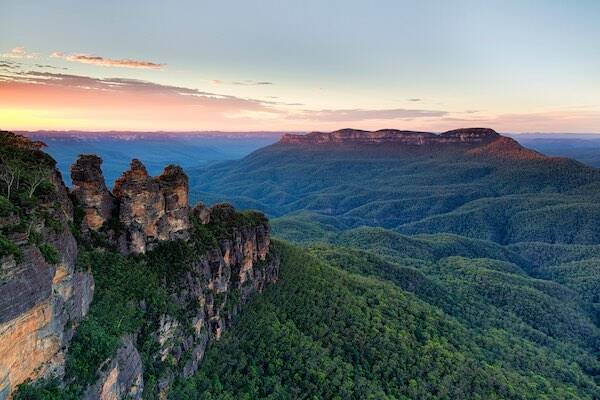 If seeking less city bustle, take the high road and head to the Blue Mountains. The UNESCO World Heritage-listed national park is within easy reach from Sydney; either drive, catch the train or join a guided tour to see its dramatic sceneries. 
Amid its rugged skyscrapers are quaint towns, waterfalls, sandstone cliffs, gorges and eucalyptus forest-filled valleys best observed trekking its many hiking trails. Less exertion is required to view the Blue Mountains' world-famous Three Sisters – three 'slender' jagged peaks – from Echo Point Lookout in Katoomba. 
More info: NSW National Parks and Wildlife Service
Address: Blue Mountains National Park
Go whale watching in Sydney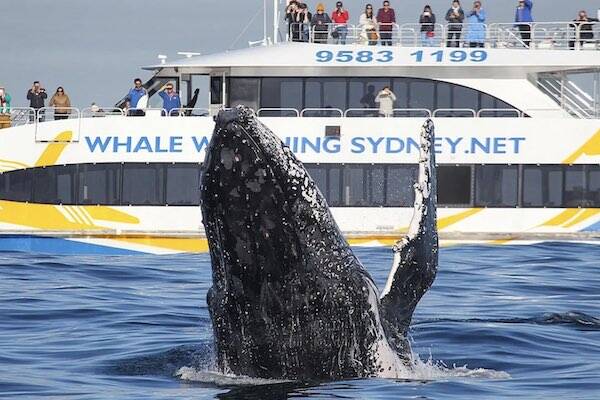 Get up and close with the majestic mammals that rule the oceans – whales – along a whale-watching tour. 
More than 40,000 humpback and southern right whales journey along Sydney's coast each year, seeking warmer waters from Antarctica. Witness their impressive aquatic aerobics by boat, with whale-watching cruises departing daily from Circular Quay, Darling Harbour, and Manly (Manly Ocean Adventures) from May to November. 
Price: Adults from $95, concession from $85, children (4-15) from $65, 
More info: Whale Watching Sydney
Address: Wharf 6, Circular Quay and Aquarium Wharf Darling Harbour
Sip at one of Sydney's rooftop bars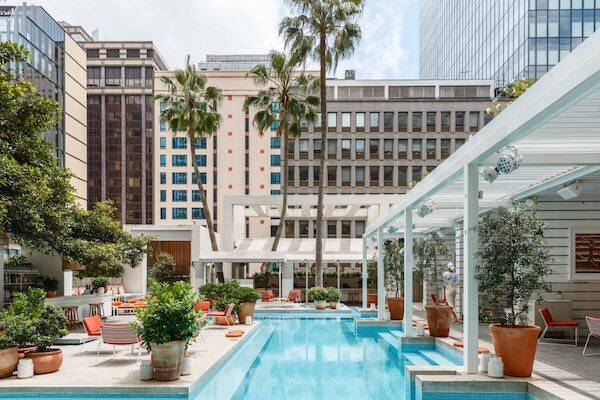 Find yourself dancing on a ceiling at one of Sydney's rooftop bars. The sun-kissed city has many thirst-quenching vantage points to toast the town sky-high, such as Pool Club at the Ivy, skyline darling East Village Hotel and kitsch Slims Rooftop overlooking Hyde Park. Cheers to that!
Visit Sydney's cutest residents at Taronga Zoo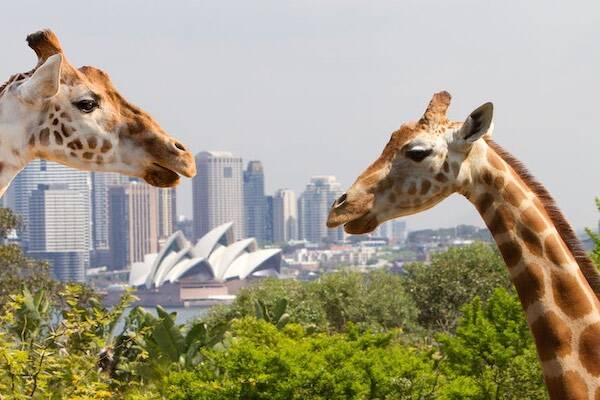 Expect to go snap-happy visiting Sydney's furry, scaly, and feathered residents at Taronga Zoo. The world-famous zoo cares for 5000 animals from South East Asia, the African Savannah and beyond, all residing along Sydney Harbour's shores.
Play a round of Aussie bingo, spotting koalas and tree kangaroos with Sydney Harbour's architectural marvels as a cinematic backdrop – you couldn't get views more iconic.
Price: Adults from $45.90, concession from $35.10, children (4-15) from $27.00
More info: Taronga Zoo
Address: Bradleys Head Rd, Mosman NSW 2088
Conquer the Bondi to Coogee Coastal Walk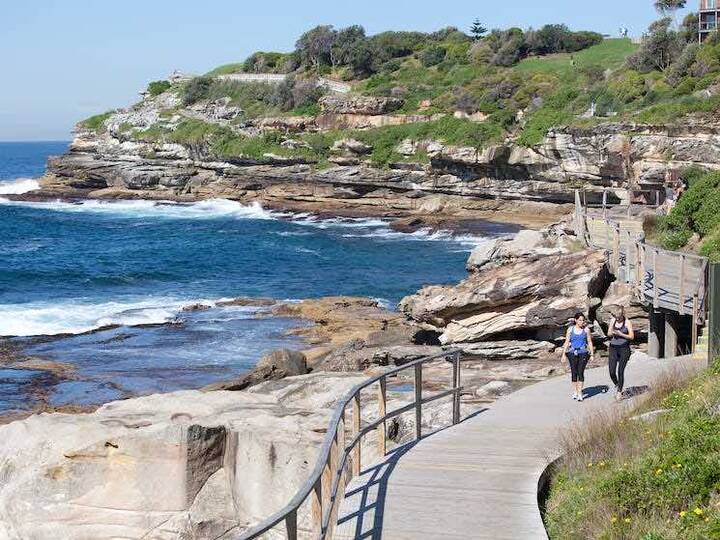 One of Sydney's most popular weekend outdoor activities is the Bondi to Coogee Coastal Walk. Or vice versa. It doesn't matter which beach you depart from; either way, you'll be afforded spectacular views across all directions. Suited for all fitness levels, it traverses beaches, including ocean pool Bronte Baths, parks, cliff tops and the Waverley cemetery.
Completing the 6km Bondi to Coogee walk takes under three hours. Just stroll, swim and repeat.
More info: Waverley Council 
Address: Coogee Beach or Bondi Beach 
Revel with locals at The Beresford Hotel
Combine glitter and glitz with an afternoon spritz at LGBTQI+-friendly, The Beresford Hotel. Affectionately known as the 'Bero', the Surry Hills institution is legendary for its lively Sunday sessions in its beer garden. Come sundown, head upstairs and let DJs and surprise guests rouse your inner Dancing Queen. 
More info: The Beresford Hotel
Address: 354 Bourke St, Surry Hills NSW 2010
Make a splash scuba diving in Sydney
You've seen all that's good about Sydney above ground, so why not explore it under the sea, too? Get wet and wild with scuba diving in Sydney, particularly around Manly. This sliver of the Northern Beaches is home to the city's only Marine Reserve, Cabbage Tree Bay.
Within a few flipper strides from shore, a colourful universe awaits. Wobbegong sharks, eastern blue groper, turtles, and cuttlefish are some marine species to look out for. Curious to know what else lurks in Sydney's big blue? Well, dive in!
Price: Adults from $55 (with own gear)
More info: Dive Centre Manly
Address: 10 Belgrave Street Manly NSW 2095
Stroll Sydney's Chinese Garden of Friendship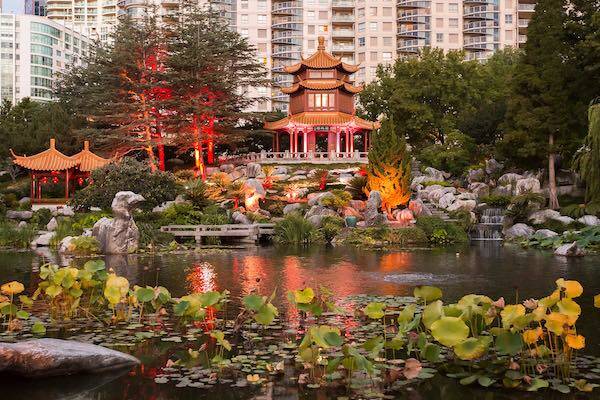 Get your fix for the Far East with a visit to the Chinese Garden of Friendship. Enclosed within Darling Harbour, this greenlit retreat weaves ancient Chinese culture, landscapes, and exotic flora. Go on a serene walkabout around its koi-filled ponds before treating yourself to a serving of traditional dumplings and Chinese tea at the onsite restaurant. The ultimate Zen in the city experience. 
Price: Adults from $12, concession from $8, children (5 to 12) from $8
More info: Chinese Garden of Friendship
Address: Pier Street, Cnr Harbour St, Darling Harbour NSW 2000
Go on an urban walkabout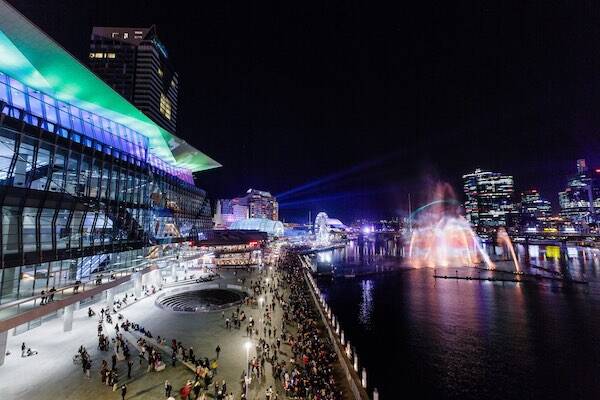 Savour the essence of Sydney by checking out trendy restaurants, bars, and cafes in the city's newest entertainment precinct, Barangaroo, or around pulsating Darling Harbour.
Then, walk off those added holiday calories along one of Sydney's hiking trails and enjoy nature at your own pace. We call it living a balanced life.
Take flight on a Sydney helicopter ride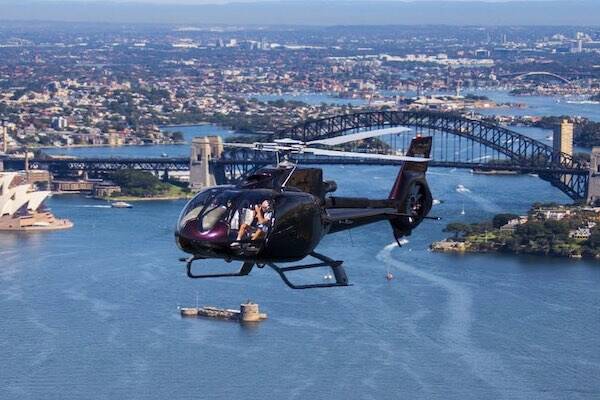 One of the more luxe outdoor activities in Sydney for adults is taking to the skies on a helicopter ride. 
Sydney HeliTours offers a variety of tours to see Sydney's best attractions from a bird's eye view, including its famous duo, the Sydney Harbour Bridge and Sydney Opera House. Choose your flight paths to venture further afield to land in Hunter Valley, Blue Mountains, or Wolgan Valley.
Price: Adults from $220
More info: Sydney HeliTours
Address: Sydney Airport, 472 Ross Smith Ave, Mascot NSW 2020
Have a feast at the Sydney Fish Market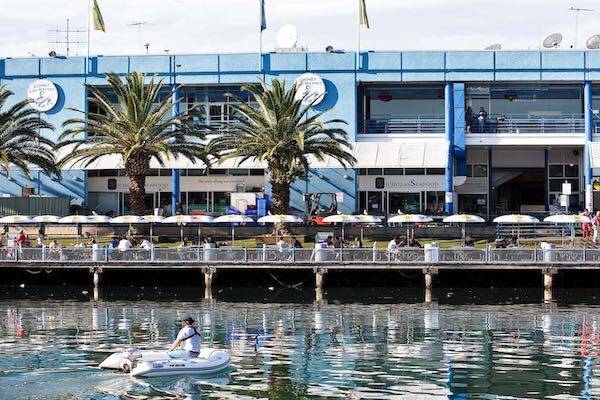 The Southern Hemisphere's largest fish market, Sydney Fish Market, is the place to take your tastebuds on the ultimate seafood safari. Better yet, its food outlets serve freshly caught seafood at affordable prices. 
No matter the visiting hour, it's always a hive of activity, with sellers broadcasting their specials and crowds pacing the main thoroughfare, sourcing the tastiest cuisines. Appreciate a sense of place sitting at Blackwattle Bay's wharf while relishing a healthy dose of omega 3. Yum!
More info: Sydney Fish Market
Address: Corner Pyrmont Bridge Rd &, Bank St, Pyrmont NSW 2009
Smell the flowers at Royal Botanic Garden Sydney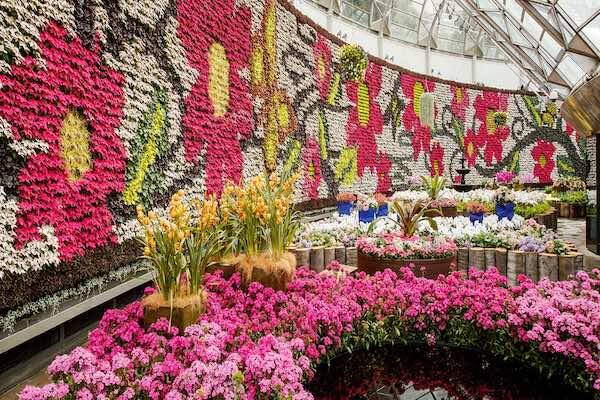 Get your senses into overdrive with a visit to the Royal Botanic Garden Sydney. Outdoor activities in Sydney don't get prettier than this, with over 8600 plant species from 75 countries creating a kaleidoscope of colour in the heart of the CBD. No filter required.
More info: Royal Botanic Garden Sydney
Address: Mrs Macquaries Rd, Sydney NSW 2000
Shop local at the Glebe Markets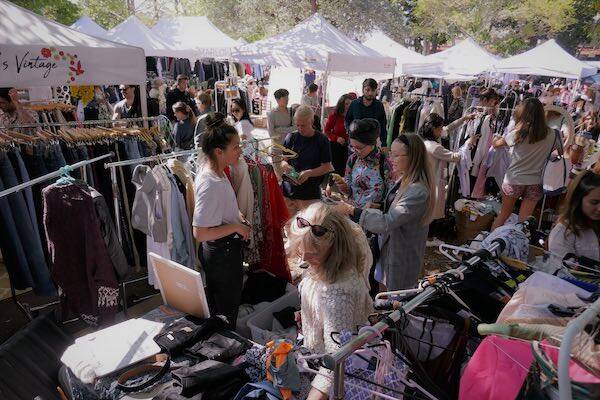 Experience Sydney like a local with a trip to the Glebe Markets. The long-running Saturday flea market is the perfect place to mingle with locals, scour for vintage trinkets and independent designs, and chill out in colourful quarters. 
More info: Glebe Markets
Address: Glebe Point Rd &, Derby Pl, Glebe NSW 2037
Go with the flow at Raging Waters Sydney
Donuts, is there anything they can't do? Keep chill and float on at Raging Waters Sydney. The city's premier water park features 42 waterslides alongside lazy pools and aquatic playgrounds.
Price: Adults from $64.99, concession from $54.99, children from $54.99
More info: Raging Waters Sydney
Address: 427 Reservoir Rd, Prospect NSW 2148
Kayaking in Sydney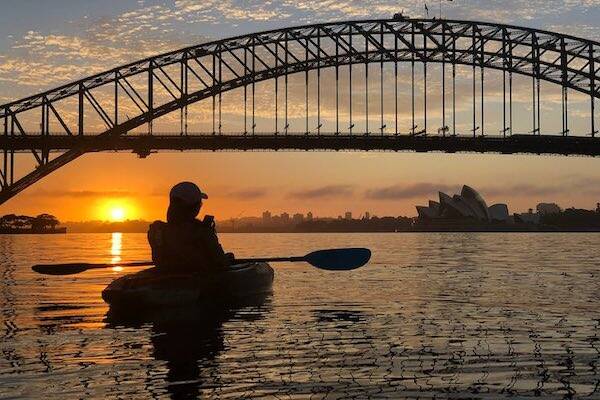 What better way to view Sydney's gorgeous waterways than with paddle power? 
Make a splash and flex muscle along a kayak tour. Departing from Lavender Bay, you'll be spoilt with views and vitamin D as you manoeuvre your way around Sydney Harbour. Fun!
Price: Adults from $55
More info: Sydney by Kayak
Address: 1 Railway Avenue Lavender Bay, Sydney NSW 2060
Day Trip to Royal National Park
Head south to discover Sydney's not-so-secret garden, Royal National Park, less than an hour's drive from the CBD. Sprawling across 15,091 hectares, one of the world's oldest parks is perfect for getting active on all fronts. Don hiking boots, chase waves on a surfboard and anchor yourself in one of its 'gram-worthy natural figure-eight-shaped pools. Enjoy the cheap thrills, we say.
Price: $12 per vehicle per day
More info: NSW National Parks and Wildlife Service
Have a Treetop Adventure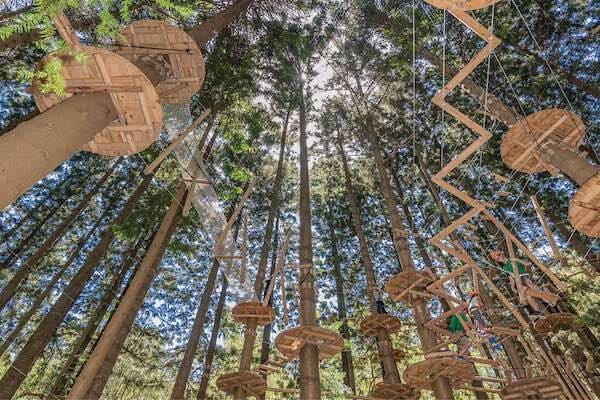 Both little ones and adults can exert energies on a Ninja-warrior-style adventure at Treetop Adventure Western Sydney. 
Work up to be an aerial enthusiast, with eight courses from junior to pro to get your adrenaline pumping high in nature. There are over 100 aerial challenges, 23 ziplines, and a zip coaster express between towering blue gums and laughing kookaburras, so get ready to twist and shout!
Price: Adults from $59, concession from $54, children (8-17) from $49, juniors (3-7) from $32
More info: Treetop Adventure
Address: Western Sydney Parklands, Plough & Harrow East, 749 Elizabeth Dr, Abbotsbury NSW 2176
Cycling in Sydney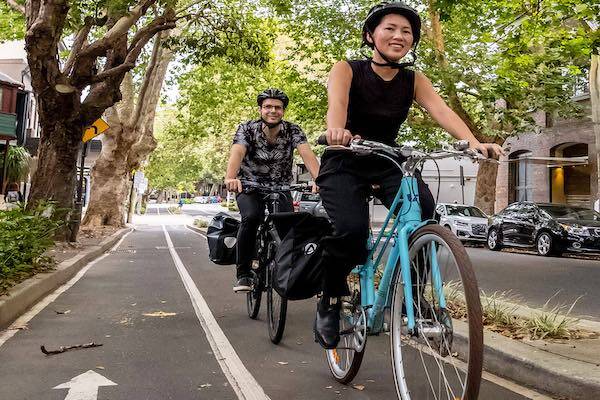 There's no better excuse to don the Lycra and see Sydney on two wheels. The city has many cycling routes that meander through parklands, along the coast and cruise by postcard landmarks. 
More info: Sydney.com
Bask in the merriment at Luna Park Sydney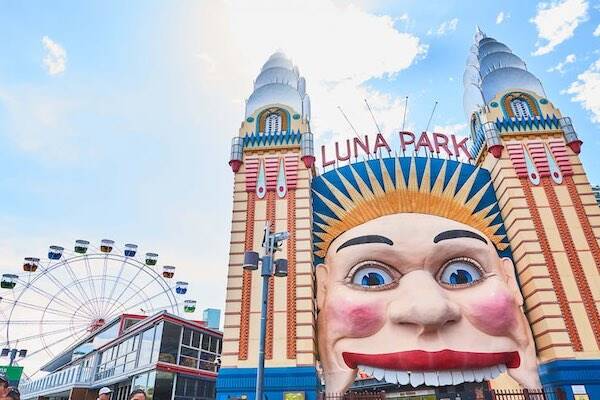 Let's round off this list with some fanfare at Luna Park Sydney.
The heritage-listed amusement park caters to all thrill-seekers, making it one of the top weekend outdoor activities for families in Sydney. Your smile may rival its gleeful entrance with over 20 rides, including four rollercoasters and sideshow attractions. Game on!
Price: Adults from $44, children from $34
More info: Luna Park Sydney
Address: 1 Olympic Dr, Milsons Point NSW 2061
What is the best outdoor activity?
The best outdoor activity in Sydney is exploring the city on two feet or exploring its waterways onboard a ferry ride departing from Circular Quay.
Where can I take my kids for fun in Sydney?
There are a variety of family-friendly outdoor activities in Sydney, including Treetop Adventure, Luna Park and Raging Waters.
What to do in Sydney when you are bored?
There is hardly a dull moment to be in Sydney; check out our Sydney insider guides for inspiration.
How do I spend a day in Sydney CBD?
Spend a day in Sydney walking around the CBD and the Royal Botanical Garden Sydney before joining the revelry at Opera House Bar, admiring Sydney Harbour Bridge at sundown.