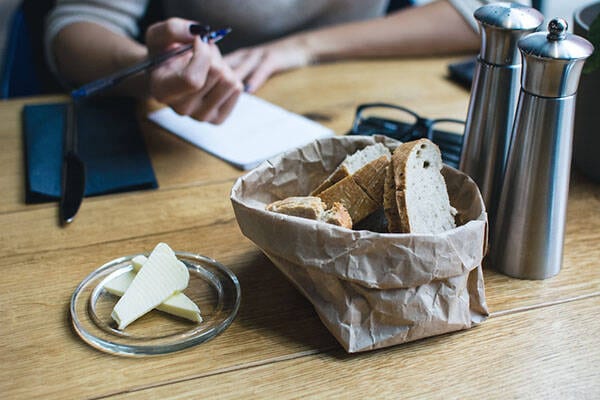 Business travellers needn't resign themselves to room service. Thanks to the rise of small plates, bar seating and wines by the glass, the stigma of dining alone has all but disappeared, which means you can trade takeaway for a night on the town. Leave the delivery meals and desk lunches behind with our guide to the best restaurants in Sydney for solo diners.
Continental Deli
Sydney has always lacked in the delicatessen department, so when Continental Deli opened its doors in 2015, lovers of everything cured and canned rejoiced. Its upstairs bistro is a shining example of classic European cuisine, but if you're flying solo, the first level bar is where you'll want to be. Start your evening with a famous Can-hatten or Mar-tinny cocktail, which are batched and canned on-site, then make your way through the menu's more substantial offerings. Build your own selection of cheese, tinned fish and charcuterie, or take advantage of your solo status and go for the meatball sandwich. It may be messy, but with no one to impress it makes for the perfect after-work companion.
10 William Street
Tucked away between terrace houses in leafy Paddington, this charming Italian eatery screams date night on first glance – but don't let its romantic facade fool you. Its limited table space and compact bar mean there's seldom big crowds to contend with, and chances are you won't be the only solo diner hoping to snag a seat. Enjoy the intimate yet animated atmosphere with a glass of vino, or strike up a conversation with your solo counterpart on either side. Whatever you do, don't miss your opportunity to try 10 William's legendary whipped bottarga pretzel without having to share.
Nomad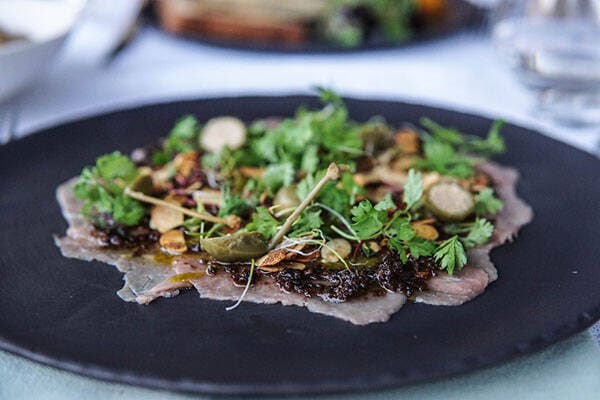 Solo diners are no stranger to being handed undesirable seats, but if you're worried about getting stuck with a less than welcoming table for one, all you have to do is plan ahead. At Nomad, you can choose between the Kitchen Counter, Bar Counter or Window Counter when you book, taking the guesswork out of eating alone. But even without its prime (and predictable) seating, this Middle Eastern-meets-Modern Australian restaurant is worth the trip. Small plates of kingfish ceviche, house-made buratta and smoky wagyu tongue are perfectly portioned for one, while the wood fired oven beckons with generous serves of spatchcock, rainbow trout and marron. Got a sweet tooth? Treat yourself to the ultimate ice cream sandwich for adults – a luscious olive oil parfait with halva, honey and pistachio.
The Butler
True to its namesake, this upmarket bistro in Potts Point is all about service – but the friendly staff aren't its only draw card. Pass through its dark green doors through to the open-air dining room and you'll be greeted with uninterrupted views of Sydney's skyline, not to mention charming French and Cuban decor. On the menu, dishes like ruby tuna tartare and pork empanadas follow suit, with handy small and large categories help you craft the perfect dinner for one. The best part? If you're lucky enough to get a seat with a view, you won't even need your smartphone to keep you busy between courses.
Billy Kwong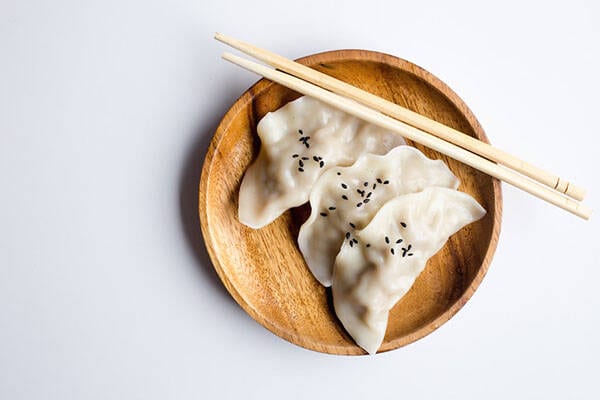 Chinese cuisine is a reliable staple for solo diners, but this comforting fast food isn't just for takeaway. Trade the fluorescent lights of the food court for an evening at Billy Kwong, where modern Cantonese fare meets native Australian produce. Call in advance to book the counter top seating, which wraps around an open kitchen and wine cellar, or arrive early to snag one of the dimly lit bench seats, which stare out onto the bustling dining room. Then, get ready for the ultimate feast for one. Order the pair of steamed mini pork buns, or opt for the crispy salt bush cakes and sung choi bao - both conveniently portioned into single-friendly serves. Hungry for more? The Cantonese fried rice may be generously sized, but the leftovers make for the perfect next-day desk lunch or midnight snack.
Flying solo? Dig in to the city's best restaurants when you Book flights to Sydney with Virgin Australia.