There's no better reason to book in a romantic couple's getaway than the mushy, gooey feeling of love itself. While Valentine's Day, anniversaries, and even proposing give you the perfect prompt to organise some time to reconnect and indulge, the fact that you don't have to venture far from Sunshine Coast gives you just the excuse you need to lock it on any old weekend.
Looking for the most romantic place for a couple's getaway? We've got you covered – from secluded rainforest retreats, to hinterland hideaways and beachside sanctuaries.
1. The Falls Montville
Photo by: The Falls Montville
Montville
Distance from Sunshine Coast Airport: 35 minutes
If your idea of a couple's weekend away involves luxury, romantic accommodation in the Sunshine Coast hinterland, then a secluded and serene cottage at The Falls Montville more-than-delivers. Voted the third-best romantic hotel in the world by Trip Advisor, the adults-only retreat offers everything for maximum romance and relaxation – quaint rooms with a double spa and log fire, a private deck to enjoy the sunset, ultimate privacy in the rainforest, and the calming symphony of nature surrounding you.
While you're there: Spend your time in seclusion in your room (thank you, room service!), but if you want to venture out, the Hinterland Great Walk is right on your doorstep, with the famous Kondalilla Falls route a must-visit. And for the active couples looking for more of a challenge, the hotel will drop at the beginning of the 11km Baroon to Kondalilla Falls track.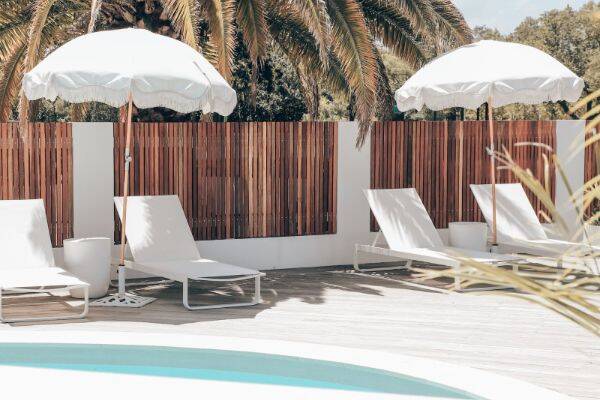 Photo by: Loea Hotel
Maroochydore
Distance from Sunshine Coast Airport: 9 minutes
Unwind, relax and dedicate your weekend to hand-holding with a staycation that feels like you're somewhere up the coast, with the convenience of being a few minutes from your home (or just nine minutes from the Sunshine Coast Airport). The rooms at the Loea Hotel are a minimalist linen and rattan dream, with luxury bedding begging you to melt into them for a casual afternoon nap or morning sleep-in. When you've decided to start your day, saunter on to sit poolside amongst the palm trees and lovingly gaze at each other while you soak in the magnesium pool.
While you're there: Take advantage of the free bike hire for a quick ride to Maroochy River's Chambers Island. Spend the day swimming, reading, lounging, and even wandering around the area. And if you can't be bothered to sort out your own food for the day (you are on holiday, after all), you can organise a platter box at the hotel to take along with you.
3. Spicers Tamarind Retreat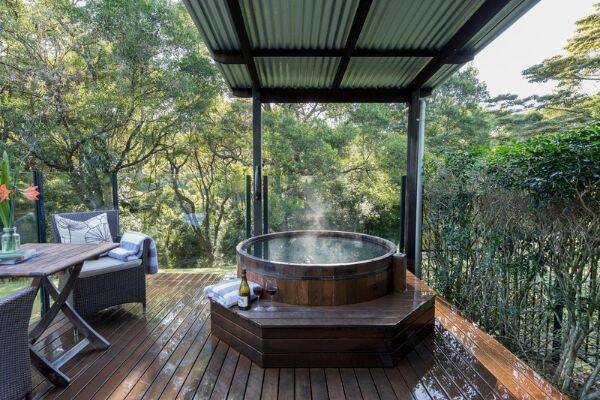 Photo by: Spicers Tamarind Retreat
Maleny
Distance from Sunshine Coast Airport: 50 minutes
It's SO easy to get caught up in the motions of our busy lives that we forget to make time for each other. Who among us hasn't absent-mindedly plated up dinner while on a work call? Well, it's time to reconnect and make romance your top priority in the peaceful tranquility of a private villa at Spicers Tamarind Retreat – a calming sanctuary boasting garden ponds, palms, and fountains to set the mood. Nestled in the lush rainforest of Maleny, within earshot of the nearby waterfalls, you'll savour this romantic getaway in the Sunshine Coast hinterland (and we guarantee you'll be bragging about the incredible meals you had at The Tamarind restaurant). Book into the Spa Studio for your own cedar hot tub on your verandah. Champagne and strawberries while you watch the sunset? Sounds pretty romantic to us.
While you're there: Find your zen with a couple's morning yoga session, improve your dinner-making skills with the Tamarind cooking class, or head over to the nearby Spicers Clovelly Estate in Montville for a couple's spa retreat.
4. Narrows Escape Rainforest Retreat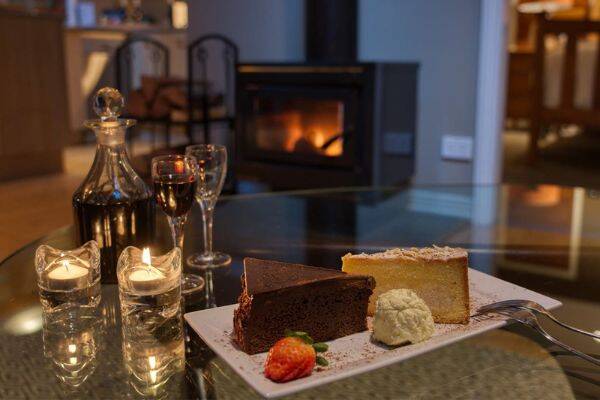 Photo by: Narrows Escape Rainforest Retreat
Montville
Distance from Sunshine Coast Airport: 43 minutes
A secluded romantic getaway to Narrows Escape Rainforest Retreat might be what the doctor ordered (and perhaps just the place to drop a knee?). A tranquil and lush paradise, this adults-only accommodation will get you back to nature and embracing the calm to enjoy each other's company, with every small detail considered for your weekend of romance – a crackling log fire in your room, a spa with rainforest views, and private verandahs to take in the sounds of your surroundings. Take things up a notch by booking one of the cabins with a private heated plunge pool on the balcony.
While you're there: Turn your room into a couple's spa retreat by booking an in-room massage. Lie side-by-side and enjoy a relaxing full-body massage with aromatherapy oils, and then head out onto the deck in your robes to enjoy hand-delivered dinner and dessert for the ultimate intimate dining experience.
5. Tingirana Noosa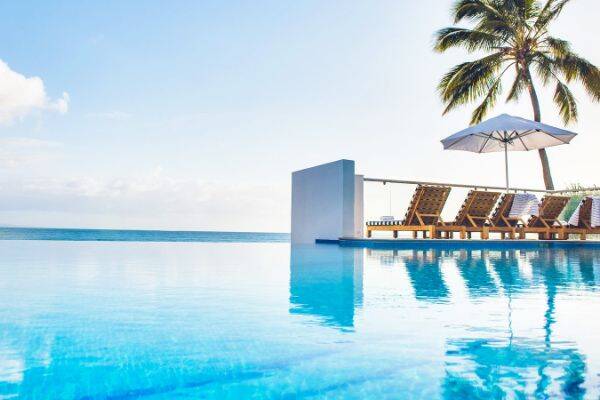 Photo by:Tingirana Noosa
Noosa Heads
Distance from Sunshine Coast Airport: 35 minutes
How does sitting on sun lounger on your balcony overlooking the ocean sound? For an easy coastal-chic getaway with your favourite person, book in a weekend (or a week!) at Tingirana Noosa. Centrally located between Noosa Heads Main Beach and the famous hub of Hastings Street, you'll have everything you need in arm's reach to enjoy your quality time together.
While you're there: We don't blame you if your couple's weekend involves little more than moving from the infinity pool to the beach, but in case you're up for a bit more coastal adventures, book in for Stand Up Paddling session on the Noosa River, hike through the Noosa National Park, or go on a Dolphin Safari. For a special night out, book in at Rococo and enjoy the superb food and excellent people-watching.
6. Starry Nights Luxury Camping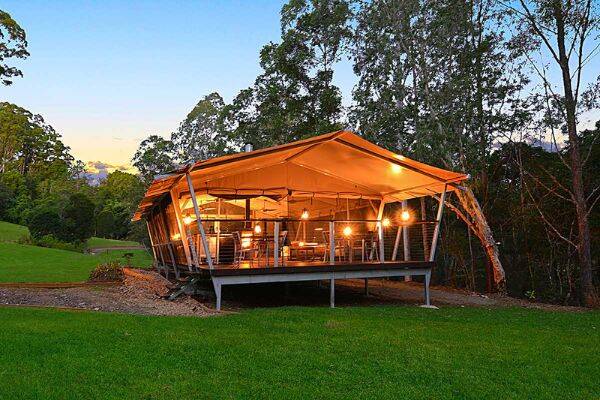 Photo by:Starry Nights Luxury Camping
West Woombye
Distance from Sunshine Coast Airport: 30 minutes
Get away from it all and cuddle up for a night under the stars in the Sunshine Coast hinterland – but to keep in line with the whole luxury romantic getaway vibe you're going for, forget lugging your camping supplies and opt for a glamping retreat instead. Starry Nights Luxury Camping offers complete privacy in the tranquil forest amongst the native eucalyptus, and your large, handmade tent comes with recycled floorboards, a cosy fireplace, a king-size bed, and – the ultimate for a romantic weekend away – a flushing toilet and steaming-hot rain-head shower.
While you're there: Take a dip in the rock pools at the Kondalilla Falls, sweat out your stresses in the on-site sauna, and book in for an invigorating salt glow back treatment and full body massage.
7. Top Of The Hill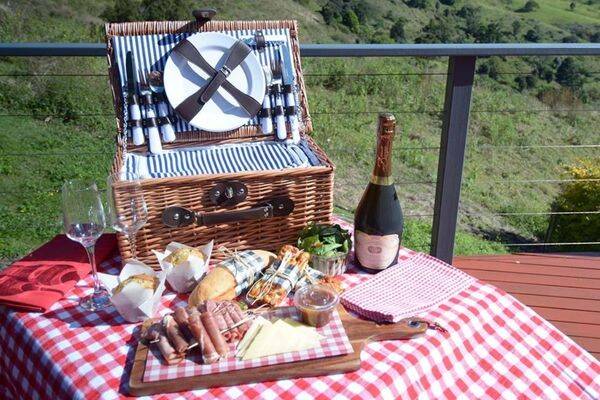 Photo by: Top of the Hill
Maleny
Distance from Sunshine Coast Airport: 43 minutes
Spoil yourself and each other by escaping to the luxury romantic accommodation that is Top of the Hill. Secluded cabins hidden in the scenic hinterlands of Queensland, you'll find yourselves rested, relaxed and totally loved up by the time you have to check out. An adults-only retreat with indulgence and romance on the menu, turn your room to a private couple's oasis with candles, chocolates, massages bubbles and scattered rose petals.
While you're there: Organise a Ploughman's Picnic Box with local produce and take it over to Gardeners Falls to enjoy the serenity.
8. Misty View Cottages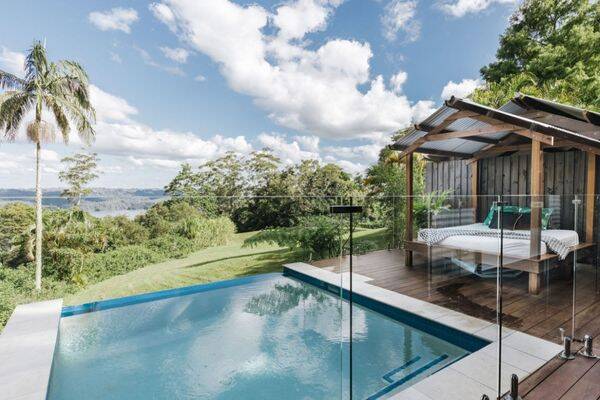 Photo by: Misty View Cottages
Montville
Distance from Sunshine Coast Airport: 40 minutes
Picture yourselves cosied up on a couch, a fire crackling in front of you, a bottle of wine aerating on the counter and the most stunning views of Lake Baroon you can imagine. Turn the fantasy into a reality by booking into one the self-contained, secluded cottages at Misty View. Soak in the quiet of a child-free estate and enjoy the tranquility of the lush hinterland landscape that surrounds you.
While you're there: Book the luxury degustation package and enjoy the area's finest local produce and restaurants.
9. Alaya Verde Bed and Breakfast Retreat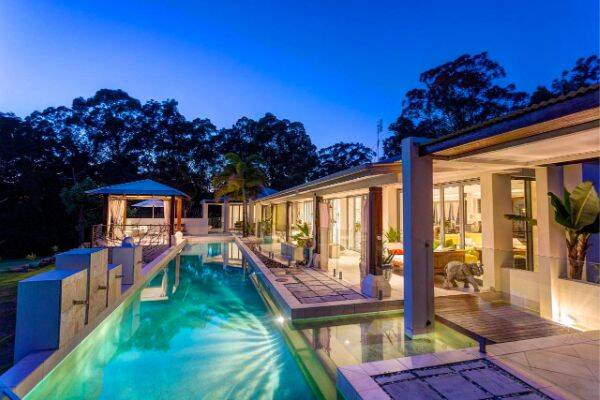 Photo by: Alaya Verde Bed and Breakfast Retreat
Ringtail Creek
Distance from Sunshine Coast Airport: 48 minutes
Take the incredible location and accommodation as your chance to disconnect from your busy lives and reconnect with one another. A luxury adult-only hideaway in the Noosa hinterland, you'll love the peace and tranquility (and modern finishes) of the suites at Alaya Verde and will be surprised how quickly you can turn off to focus on your quality time. Close enough to Noosa to enjoy all it has to offer, but a quick journey back to serenity.
While you're there: Book into the Gold Suite to take full advantage of the outdoor bath area – sip on some champagne, gaze up at the stars and find the ultimate relaxation.
10. Maleny Lodge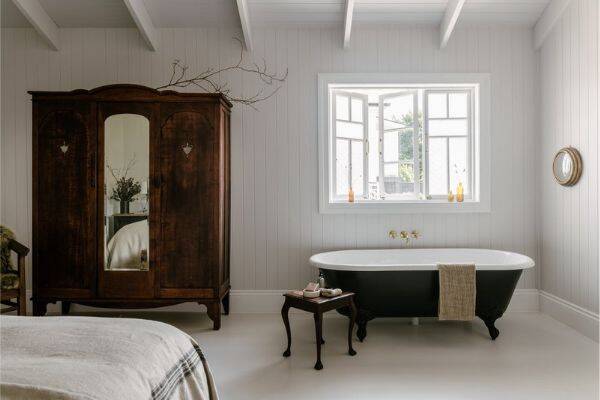 Photo by: Maleny Lodge
Maleny
Distance from Sunshine Coast Airport: 50 minutes
Maleny Lodge's motto is all about slow mornings and restful days, so if that's your idea of the perfect couple's retreat, you've found your next weekend destination. A gorgeously restored heritage house from 1905, it features seven meticulous rooms, specifically designed for romance and with your comfort and relaxation a priority. Nap, read, hold hands and stare into each other's eyes – whatever romantic, restful activities are on the cards, you'll be doing it in maximum comfort and style at Maleny Lodge.
While you're there: Find peace and quiet in the heated magnesium pool, and when you need to expend a bit mor energy, head into Maleny to explore the shops, cafés and artisan stores.
11. Road trip along the coast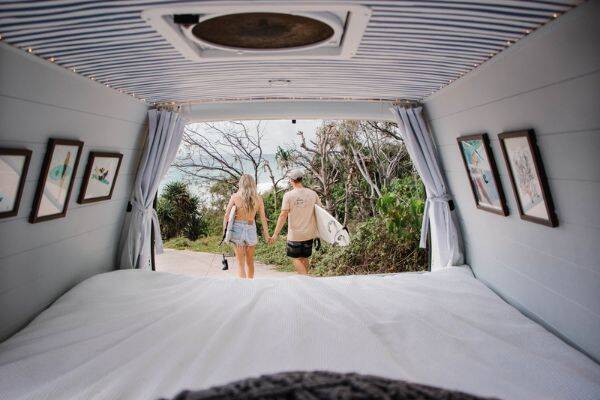 Photo by: Drifters Campervans
Wherever the wind takes you
Distance from Sunshine Coast Airport: The world is your oyster
How do you plan a romantic weekend on a budget? Hire a van from Drifters Campervans and hit as few or as many stops along the coast as you'd like. The unique custom-designed interiors make for an incredibly comfortable stay and the close quarters will make it even easier to get in that cuddling time. With so much to see and do on the coast and inland, it's the perfect opportunity to experience the sheer beauty of Queensland with your partner, while enjoying some very comfortable road accommodations.
While you're there: We could never condense all the cool things you can see or do on your road trip into just a few sentences, but make sure to enjoy the slow pace and the quality time.