Essentially a cluster of seaside and hinterland villages stretching over 200 kilometres, it's generally a lower-key experience with less crowds, cars and shopping centres making for a stay that openly welcomes kicking back and going with the flow. It's also a little more eco conscious in these parts too due to the holistic lifestyles and businesses many passionate locals live by in a community vision vying for a sustainable future. But, laid back as it may be, there are still countless premium restaurants, chic cafes, quaint boutiques and incredible activities to enjoy when exploring the eclectic diversity, the spectacular "Sunny Coast" has to offer.
One of the more popular things to do here when looking for a naturally green scene is exploring some of the mind-blowing Sunshine Coast waterfalls and waterholes that bubble away in the stunning Sunshine Coast Hinterland. There are a bunch of effervescent options to choose from all with their own natural nuances so visiting a couple is well worth the effort if you're in town for a while. The list put together heads from the coast, west making it easy to map out your waterfall visit depending on its proximity to your holiday HQ. Time to lace up the boots, strap on the pack and head out for an inspiring brush with nature where lush rainforests frolic with the refreshing respite of tropical waterfalls. Oh…and when you pass through some of the iconic Sunshine Coast towns like Buderim, Mapleton, Montville, Kenilworth and Conondale; be sure to drop into one of the cafés, restaurants or pubs for a post-hike bite and thirst quencher with the option of staying overnight in a quaint B&B to do it all again the next day! You'll see why so many like to sprinkle a little green with their gold when visiting the magical Sunshine Coast.
BUDERIM/SERENITY FALLS — Buderim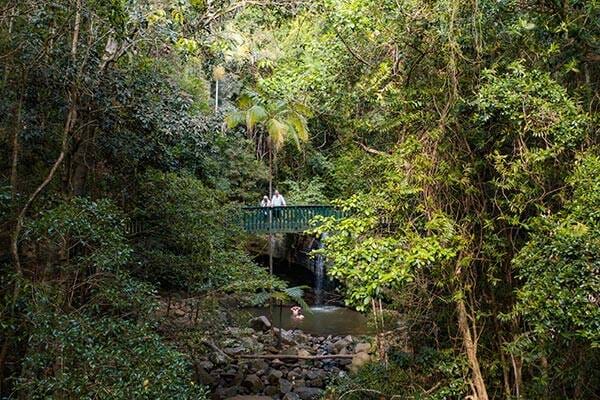 Photo by: Visit Sunshine Coast
The convenient beauty of Buderim Falls (also known as Serenity Falls) is that the Quorn Close upper entry point is less that 1 kilometre from bustling Buderim Village making them super-easy to get to by car are walking. The Lindsay Road lower entry point is also a handy setting off spot with wheelchair access available along the beautiful forest boardwalk. Both locations offer parking, BBQ's, picnic tables and toilets for a well-appointed day out of adventure. Fitness dependent, allow around 30 minutes to complete the walking track from entrance to entrance (a 1-hour round trip) — the Quorn Close way being a slightly easier direction to traverse than the Lindsay Road route. The shorter Circuit Track will take around 20 minutes to finish, either way. On this quick Sunshine Coast waterfall hike, expect to see flourishing rainforest, local wildlife, ferns a-plenty and the crystal headwaters of Martins Creek feeding three cascading waterfalls that pour their beauty into the idyllic rockpool below (not recommended for swimming). Serenity Bridge spanning the creek is a great lookout post and an ideal vista to snap a shot for your Insta feed!
Where: Quorn Close, Buderim QLD 4556 | Lindsay Road, Buderim QLD 4556
ROBINSON FALLS — Nambour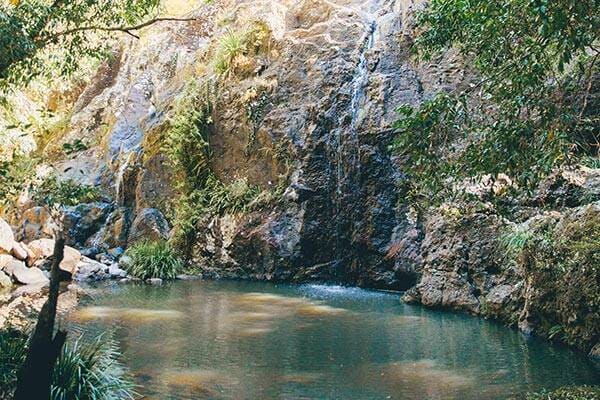 Often the hidden, unexpected gems offer the most awesome surprises we never dreamed of coming across. Such is the case when you drop into Cilento Park, not far from the Nambour General Hospital on the outskirts of town. Who would've thought in this humble, urban park you'd have access to a forest walking loop circumnavigating a waterfall and rockpool you can wade in when summer comes around? In fact, some of the locals may not even know about this nonchalant, natural wonder! It's an easy Sunshine Coast waterfall to get to: A) due to it being located on "Waterfall Road", and B) it's literally minutes from the Nambour CBD. Pull up to easy, onsite parking, lay down a picnic on the lawn with electric BBQ's at the ready and let the kids go wild in the fun playground. With belly's full and energy levels recharged, head off on a short (less than 1 kilometre) rainforest trek traversing rocks and roots that meander past the welcoming rockpool fit for any self-respecting bunyip. Babbling Tuckers Creek also adds a serene touch to this eco experience moonlighting under the unsuspecting eye of a bustling township just beyond.
Where: Waterfall Road, Nambour QLD 4560
WAPPA FALLS — Kiamba
Wappa Falls can be absolutely whopper! And this depends on nearby Wappa Dam spilling its overflow water downstream creating an epic split peak into the waterhole below. With the controlled dam spill happening quite frequently, the managing authority advises not to swim here as the currents can be quite strong at the top of the falls as well as in the gushing pool below with submerged boulders also creating hazards. The waterfall does get a good dose of sun though for those who like to warm it up on the rocks in winter like a lazy lizard so be sure to pack the sunscreen and hat. Getting to Wappa Falls is easy from the onsite carpark as it's just a quick walk through the bush to the upper pools and falls or you can take a right down the track and stairs to the stream below set amongst serene, Aussie bush. Parking is a little sparse here and there are no immediate amenities but within walking distance sits Jack Harrison Park offering a scenic picnic area on the edge of Wappa Dam with a playground, BBQ's and toilets for visitors. Travelling by car to Wappa Falls is simple — take the Yandina turn off from the M1 and head to Nambour Connection Road; turn onto Wappa Falls Road and keep a look out for Pump Station Road which takes you directly down to these fabulous falls.
Where: Pump Station Road, Kiamba QLD 4560
KONDALILLA FALLS — Flaxton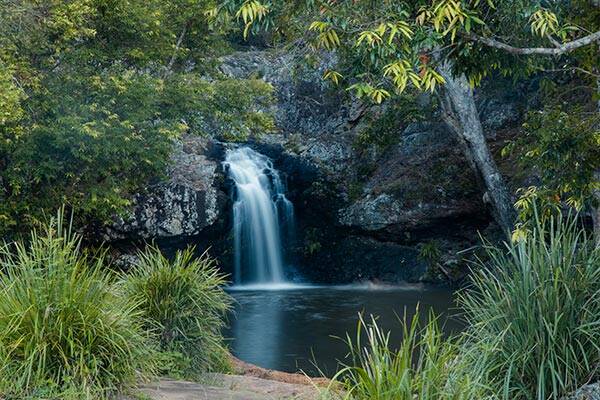 Welcome to arguably one of the best waterfalls in the Sunshine Coast Hinterland as proven by the number of locals and visitors who descend on its immersive, natural beauty all year-round. Located in the ancient Kondalilla National Park, this 90-metre cascade drops elegantly into a subtropical paradise below featuring cool rainforest, old eucalypts and lush, enveloping vegetation. The name "Kondalilla" actually means "rushing water" in the local aboriginal language and rushes at its glorious best in the wetter, summer months. As do the visitors at this time of year so best swing by early morning or late afternoon if you prefer a tad more tranquillity when taking a splash with nature. Head off on the shorter, 1.7-kilometre Picnic Creek Circuit to get down to the generously sized top rock pool with picturesque valley views beyond and accessible via a nearby set of steps. For the more adventurous, you can continue the Kondalilla Falls Circuit being a 4.7-kilometre return hike to the base of the waterfall with a bunch of quad-testing stairs making for a solid, 2-hour effort — pace, resting benches and lookout stops dependent. To get to Kondalilla Falls, head to the quaint town of Montville and along Mapleton Montville Road for approximately 2 kilometres where you'll then turn onto Kondalilla Falls Road with the car park located down the end. Spaces can be hard to come by, especially on school holidays and weekends, so you may want to scour the surrounding streets to find one.
Where: Kondalilla Falls Road, Flaxton QLD 4560
BAXTER FALLS — Obi Obi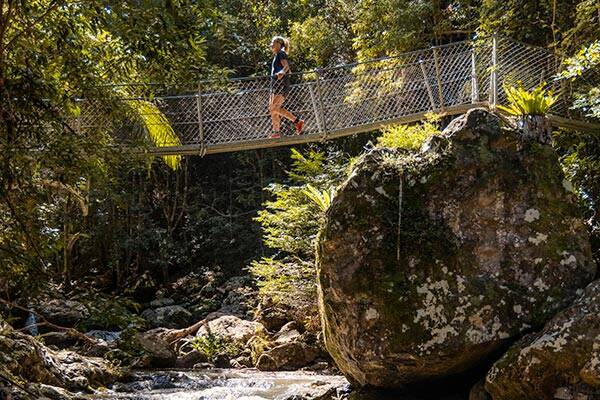 Forming part of the Sunshine Coast Great Walk, Baxter Falls is situated north from Kondalilla Falls and due south of Mapleton Falls; as the crow flies. There are two well-signed access points to hike down to these beautiful falls — the northern Great Walks Entrance on Flaxton Mill Road or the southern entrance on Suses Pocket Road. Convenient parking is available at Flaxton Mill Road, but at Suses Road, you'll need to park on nearby Obi Obi Road. Hiking from Suses Road is the shorter option taking around 45-minutes either way on the 4 kilometre out-and-back trail. The Flaxton Mill Road hike is longer at over 6 kilometres return and taking approximately 2.5-hours, total. Both tracks can be a little challenging and steep in parts, muddy too if it has been raining, so be prepared for an elevated heart rate on the way back up and wear good hiking shoes — not an ideal exercise for younger kids and older folk. Down at the falls you can rock hop to a little pool that's suitable for swimming but not the biggest in the "Sunny Coast" waterfall scene so the best time to visit for good water flow is during the wetter months (Dec-Feb); otherwise, it can run a bit dry at times. When it's on though, it's totally refreshing with local wildlife like frogs, dragons, geckos and skinks regularly spotted around this delightful eco pool. Also, check out the raised suspension bridge over Baxter Creek which is a superb viewing platform for bird watching and feeling at flight under the surrounding canopy.
Where: Baxter Creek Road, Obi Obi QLD 4574
MAPLETON FALLS — Mapleton
Mapleton Falls is situated in the awe-inspiring Mapleton National Park and dramatically drops away at a majestic 120 metres down the sheer rockface below. Simply pull up to the carpark and stroll 50 metres across the lawn area to the Mapleton Falls Lookout where you'll be met with a striking vista of the Obi Obi Valley and free-flowing falls when on tap. Unfortunately, you can't access the base of the waterfall to go swimming here, but if you'd like more of a sticky beak around, try the quick and easy 1.6-kilometre Wompoo Circuit that winds through the rainforest taking approximately 30 minutes to complete. Onsite amenities are fantastic including picnic tables, toilets and wheelchair access to the main lookout. And of course! Keep your eyes and ears open for the cute, little Wompoo fruit-doves with their bright plumage and distinct bird call.
Where: Mapleton Falls Road, Mapleton QLD 4560
GHEERULLA FALLS — Gheerulla
Mapleton National Park continues to deliver with another gushing beauty in Gheerulla Falls situated 9 kilometres north-west of Mapleton Falls via Obi Obi Road and Delicia Road. This route is walkable by trail too but quite some more distance to cover so the short, out-and-back option may be more your speed being a leisurely 2.7-kilometre round hike starting at the signposted Delicia Road entry — generous parking available onsite. After significant rainfall, charming Gheerulla Creek meanders its way to the falls with the waterhole below not being a huge one to swim in, but nonetheless, still a beautiful cascade to enjoy when the water's doing its dazzling best in wet season. It can get busy on weekends due to its easy access so if you can get there during the week you might get lucky and nab it all to yourself! To top it off, there are plenty of comfy spots to unpack the picnic and cool down under the shade of the flourishing blackbutt forest and old scribbly gums.
Where: Delicia Road, Gheerulla QLD 4574
And heading further west…
KENILWORTH REGION
Heading deeper west into the dense Sunshine Coast Hinterland lie even more enchanting waterfalls adding another crop of freshwater stunners to the region. The legendary town of Kenilworth is just 50-minutes' drive inland from the coast nestled alongside the Mary River and adjacent to Conondale National Park and Imbil State Forest. It's within these protected parks that the natural collection of hidden treasure troves flow with wild freedom offering self-reflecting solitude for keen nature lovers. We're talking spectacular Sunshine Coast waterfalls, cascades and creeks all within KOOEEE!!! of each other — here's a quick rundown of some popular one's below.
ARTISTS CASCADES | BOOLOUMBA FALLS | PETERS CREEK CASCADES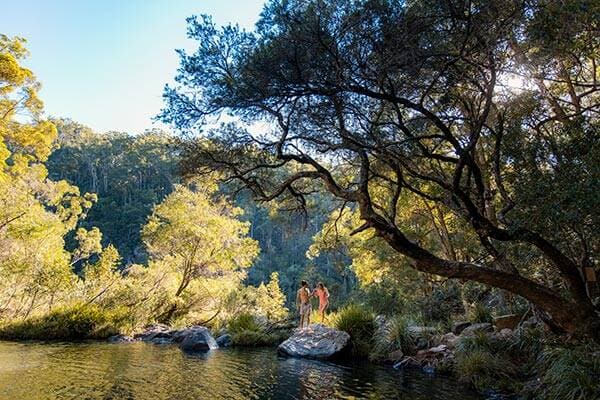 Big point to note, first off. A high clearance 4WD is required to navigate gravel roads and multiple creek crossings to get to the Booloumba Creek Campground and Day Use Area and Booloumba Falls Car Park; both being magnificent gateways to some of the areas' most famous waterfalls and beautiful spots in their own right.
Artists Cascades is a popular Sunshine Coast waterfall to experience for seasoned outdoors stalwarts being accessible from the Booloumba Creek Camping Areas and Day Use Area. Depending on which area you leave from, it averages out at a hefty 5 kilometre hike each way meaning this liquid gem isn't ordinarily crowded but well worth the effort if your fitness is up to the approximate 5-hour return leg burner (not too steep though). On the way, you'll pass the old gold mine and the intriguing Strangler Cairn stone sculpture created by well-renowned artist, Andy Goldsworthy. When you arrive at the Artists Cascades, get set for a picture-perfect waterhole featuring two small waterfalls and pristine, crystal water after rainwater has settled. Loads of local wildlife deep in the forest here too!
Booloumba Falls is just short of a 10-kilometre drive south from the Booloumba Creek Campground and Day Use Area along Booloumba Creek Road. The trail access point is conveniently located off the sizeable Booloumba Falls car park with the out-and-back Creek Falls hike a brisk 3 kilometres and around 2 hours to complete for someone of average fitness. Take the well signed steps down before the lookout to enjoy the large rockpool with scenic subtropical and sclerophyll forest landscapes — a brilliant one to swim in being deeper with multiple still water access points to enter safely. The Breadknife rock formation is another natural wonder to behold where the running waters of Peters Creek and Booloumba Creek meet in ancient gorge glory.
Peters Creek Cascades is a 7-minute, 4-kilometre drive due west from the Booloumba Falls car park along Booloumba Creek Road and then down Funnels Hut Road with a designated parking area as you pull in. This is a relatively short trail to the cascades at 500 metres where you're greeted by the running creek weaving its way through low boulder terrain and a series of pretty, little rock pools dotted throughout the landscape. Allow 15 minutes to complete the walk and best experienced after consistent rainfall for fresher waterfall and swimming fun!
NOTE: Please check the various access points into these areas as recent heavy rains have affected some entries; relevant as of August 2022.
HIKING TIPS FOR NATURE LOVERS
Check the park notes and alerts for changing trail, road and camping conditions.

Consider trail distances as hiking is harder work than an urban stroll.

Rocks and the forest floor can be slippery so watch your step.

Don't venture of marked trails as it can damage the natural habitat and be unsteady terrain.

Don't scale fences erected for public safety.

Take plenty of water/fluids and snacks to stay hydrated and rejuvenated.

Check waterhole signs and with managing authorities to see if swimming is permitted/recommended.

Don't jump into rockpools; best wade in cautiously from a still area.

Don't approach wildlife in its natural habitat; please leave it be, it's there to see.

Drive carefully on gravel/unsealed roads, particularly after rain as they can be slippery.

Please leave the environment as you found it and take any rubbish with you.

The Sunshine Coast wetter months are traditionally throughout December/January/February.