The stunning lakeside destination of Queenstown, New Zealand serves up cuisine as delectable as the mountain views that thrust skyward from the shore. From home grown produce with a kiwi twist to intricate fine dining, there's enough fare in this resort town to keep foodies satiated from dawn to dusk and beyond.
So, dig in.
Best for breakfast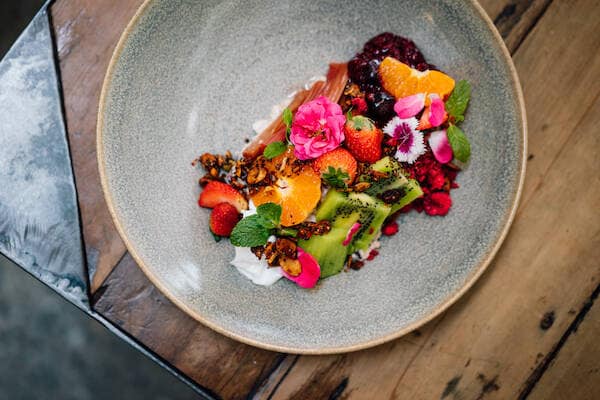 You'll need all the fuel you can get for a day of adventure on the lake or up a mountain. Lucky for you Queenstown and surrounds have some serious breakfast chefs that know how to put sunshine on a plate.
Head straight to Bespoke Kitchen (9 Isle Street / bespokekitchen.nz) for an all-day menu filled with seasonal produce and options for all dietary choices from whole hog to gluten free and vegan. Sit outside for alfresco dining by the open fire to ward off the early morning chill, on the deck in full sun or dine inside on communal tables with an old school vibe. Food is so pretty you won't want to eat it, but when you do, you'll be coming back for more. The breakfast board is a favourite for a mix of sweet and savoury or hit up the biscoff caramel pancakes with a coconut whip.
Eatery by Franks (24 Hawthorn Drive / eaterybyfranks.co.nz) is an ethical family run dining den out at Frankton near Remarkables Park. With an upbeat vibe and an open kitchen serving dishes to die for. Sweet tooth? Try the French Eatery Vol 2, a heavenly mix of brioche French toast with meringue cookie, poached pear, roasted pistachio crumble, Whittaker dark chocolate panna cotta, seasonal fruit, whipped mascarpone and raspberry gin coulis. You're welcome!
Food with a view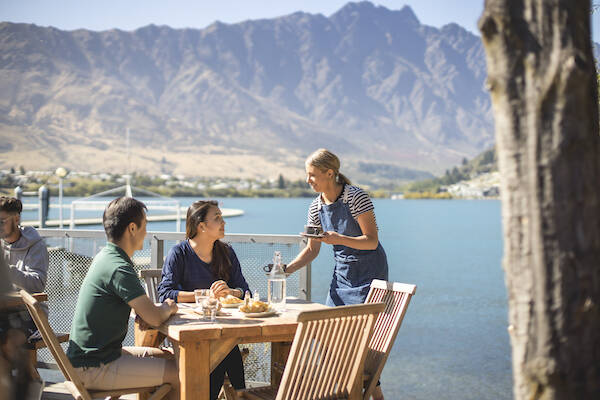 The Boat Shed Café and Bistro (847 Frankton Road / boatshedqueenstown.co.nz) is a cute as a button weatherboard cabin circa 1869 with a deck that perches on the water. Grab a bike or walk along the Frankton track from town or even take a boat to breakfast or lunch. They're fully licenced so you can down local Otago vino in the sun with a Boat Shed Benedict or seafood chowder.
Take your camera to Nest Kitchen and Bar at Kamana Lakehouse (139 Fernhill Road / kamana.co.nz) for the highest alfresco dining in town - modern cuisine served with a side of floor to ceiling lake views. Perfect for summer dinners when sunlight stays well into the night. Produce is sourced locally and filled with foraged herbs, seeds and wild ingredients. Try the Stewart Island cured salmon, Canterbury roasted pumpkin, Southland Lumina lamb or go the full tasting menu.
If you find yourself in the nearby heritage village of Arrowtown, and you should, then head to The Dishery (4 Buckingham Street / thedishery.co.nz) on the Arrow River Reserve for luscious green views and sounds of the river. Grab a table in the garden and prepare to savour slow cooked protein dishes from the Traegar Grill, an original wood pellet grill that enhances natural flavours. They're open for breakfast, brunch and lunch.
Brews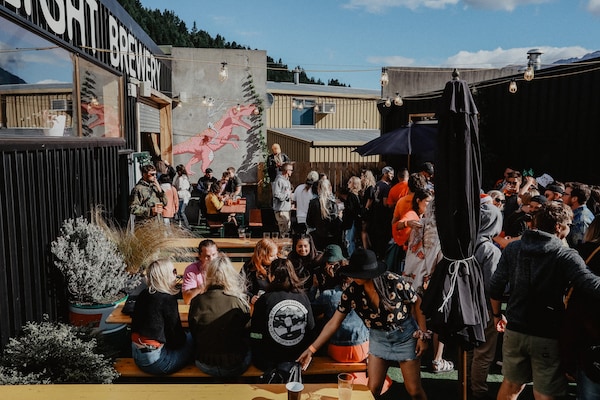 Epic Adventure, tall Stories, great beer, that's the Altitude Brewing (827 Frankton Arm Walk / altitudebrewing.co.nz) motto. You can join in at their Little Red Shed, a rustic tap room beside the lake with views to the Remarkables mountain range, a short Uber from downtown (or walk the Frankton track). With weekly food trucks and an ever changing menu of craft beers brewed from their own hop farm, you'll be well satiated.
You'll find Searchlight Brewery and Taproom (12 Industrial Place / searchlightbrewery.co.nz) tucked into Queenstown's industrial area, with the coolest beer garden going. Bring a reusable resealable vessel and you can take a brew home or simply pull up a table for some live music, trivia, comedy or more under a twilight sun. Try the Thieving Bastard IPA, Desert Sled pilsener, the Ladies of Dogtown pale ale or the fruity Iggy Hop.
Canyon Brewing (1 Arthurs Point Road / canyonfoodandbrew.co.nz) sits below the historic Edith Cavell Bridge overlooking the Shotover River. Translated? Sip on local brews of pale ale, IPA, sour, pilsener, rice lager and more with a magic canyon view. Tuck into woodfire pizzas, shared plates and bar bites.
Carnivore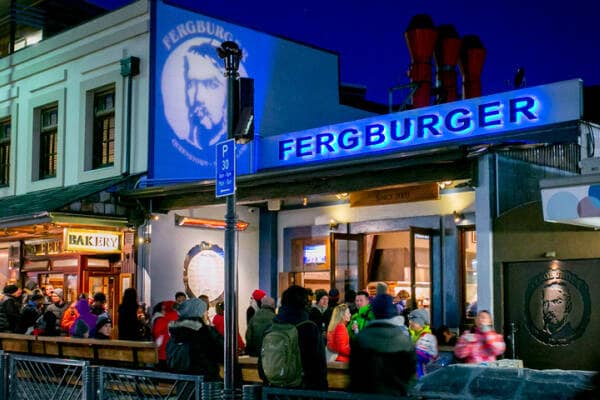 Queenstown institution, Botswana Butchery (17 Marine Parade / botswanabutchery.co.nz) oozes heritage style and Kiwi glam in an old cottage with an eclectic mix of private rooms, drinking dens and an alfresco dining room. As the name suggests, fare here is fresh from the butcher's block (and deep waters) with a menu boasting wild fiordland deer, high country lamb, Savannah Angus, Fijian yellowfish tuna and west coast whitebait.
You can't hit up Queenstown without hitting up the famed Fergburger (42 Shotover Street / fergburger.com) . What started as a hole in the wall in a back lane for early morning munchies when the bars closed is now a tourism institution. These are serious burgers filled with prime NZ beef with lashings of extras sandwiched in a humongous bread bun. For something different try the Sweet Bambi venison burger, the Codfather tempura burger or the Cockadoodle Oink chook burger.
Slow Cuts (46-50 Buckingham Street / slowcuts.co.nz) is exactly that, slow cooked meat cut comfort food in a vibey setting down a side lane in Arrowtown. Meats are fresh from grass fed Silver Fern Farms and served up in brisket sliders, grilled steak dishes and dry rubbed ribs.
Earth Lovers
The team at Sherwood (554 Frankton Road / sherwoodqueenstown.co.nz) care as much about the environment as they do the dining experience. Founded by Michelin trained chef Chris Scott, the restaurant is part of a sustainable accommodation destination. The bar operates with a zero-waste principle, there's an impressive kitchen garden and the hotel runs on solar and renewable sources. Produce is fresh from Central Otago and is foraged and plucked locally from wild pastures and served up with a plethora of both plant based and free range animal protein dishes.
Rātā (43 Ballarat Street / ratadining.co.nz) has long held a fine dining reputation of standing in Queenstown. This secret dining den is tucked away in a room surrounded by an urban forest of native trees. The team follow sustainable practice and preserve, dehydrate and ferment organic flavours year round. The menu changes with seasons. Try the Te Kouma bay oysters with yuzu and bonito vinegar or the plant based main of celeriac confit with smoked leek, burnt apple and hazelnut and thank us later.
If you want a vibe then Yonder (14 Church Street / yonderqt.co.nz) has your name on it. This funky downtown café focuses on dietary options for all kinds of food lovers. The Vegan Butty sits side by side with The Brisket Roll, vegan buckwheat blueberry and lemon pancakes and corn and jalapeno fritters.
Wine and dine
Put some time aside for Amisfield (10 Lake Hayes Road / amisfield.co.nz) near Lake Hayes, the food here deserves it. With a ton of accolades including three hats and the Cuisine Good Food Restaurant of the Year for 2022 you know it's going to be something to remember. You'll find the restaurant and cellar door in a stunning stone building with a pitched copper roof and recycled timber. Food here is created by Chef Vaughan Mabee who trained at Noma in Copenhagen. His degustation dining with matching wines will blow you away, trust us, this is a good thing. Book ahead, way ahead, and take a taxi.
Mora Wines & Artisan Kitchen (265 Arrowtown Lake Hayes Road / akaruaandartisan.co.nz) - formerly Akarura Wines and Kitchen by Artisan - is a true local's favourite with a flowering cottage garden on a terrace under the sun. Wine tastings are offered from a converted shipping container and the menu spans from breakfast to lunch. Food is big on flavour, filled with comfort and plated with perfection. Try the prettiest waffles in town, Mt Cook salmon, Central Otago lamb and Canterbury beef dishes.
LOCALS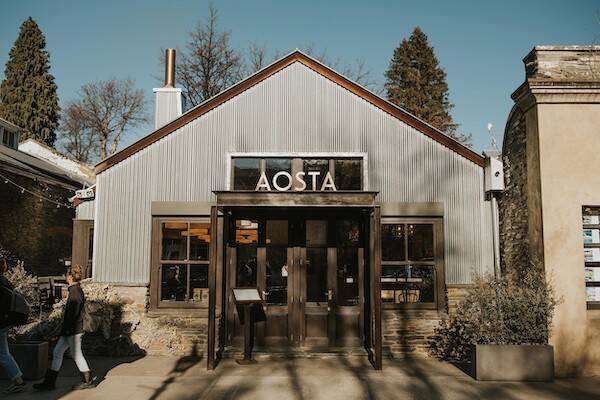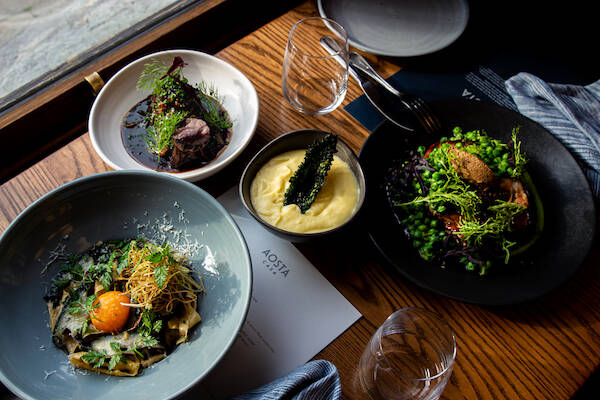 On any given night at La Rumbla (54 Buckingham Street / larumbla.co.nz) in the local laden Arrowtown, you may encounter gaggles of residents indulging in the famed cocktails and tapas restaurant inspired by Spain. With huge creative nature laden mural walls and textured booths, this is a serious fun dining destination.
Choose from Aosta or Little Aosta (18 Buckingham Street / aosta.nz + littleaosta.co.nz) both in Arrowtown, for Italian fare from Northern Italy. Central Otago and Aosta Italy share the same terroir so expect authentic flavours of the med. Hit up Aosta for finer dining (hello black truffle, blue cod mousse, fungi taglioni and friends) and Little Aosta for wood fired sourdough, pasta, spicy sausage and antipasta.
Foodie pilgrims descend upon the weatherboard cottage that is Provisions of Arrowtown (65 Buckingham Street / provisionsofarrowtown.co.nz) for the famed sticky buns. Get in early as these oozing cinnamon style scrolls of home baked goodness do not last long. Pull up a retro table and grab brunch within the cottage walls or outside under the blossoms.
Queenstown CBD dwellers and workers regularly line up for coffee, juice and pretty as a picture baked goods at Vudu Café and Larder (16 Rees Street / vudu.co.nz). From acai style bowls to lemon coconut pancakes to eggs benedict.
ECLECTIC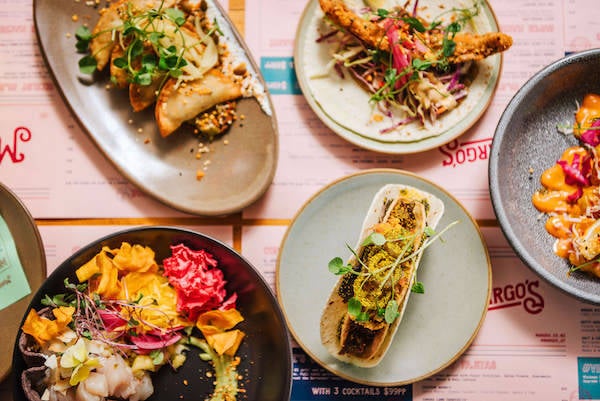 Looking for some sartorial fun with a side of dining? Head to Margo's (26 Ballarat Street / margos.co.nz) for margaritas and vibrant soul food from the streets of Mexico. Dishes are as colourful as the décor, so charge up your social cameras for nightly tacos with a twist.
If miso, tempura and umami float your boat then Kobe (1124 Malaghans Road / millbrook.co.nz) is your jam. This light and bright Japanese restaurant sits in a stand-alone cottage on the grounds of Millbrook Resort so you can play a round of golf before dinner. Do not go past the sushi tacos made from crispy nori and either pulled pork with sake nashi pear, salmon ceviche or seared tuna with avocado wasabi.
Madame Woo (5 The Mall Lower Ballarat Street / madamwoo.co.nz) is Malaysian hawker food with a kiwi twist with the coolest eclectic décor inspired by Asia. Flavours here are big and bold and served in hawker rolls, dumplings and tossed in woks. Spicy fried cauliflower, beef rendang, laksa, chickpea masala are just some of the standouts.