Experience Oz + NZ have released the list of New Zealand's Top 10 Destinations of 2017 as voted by thousands from across the world, to help you create that NZ bucket list!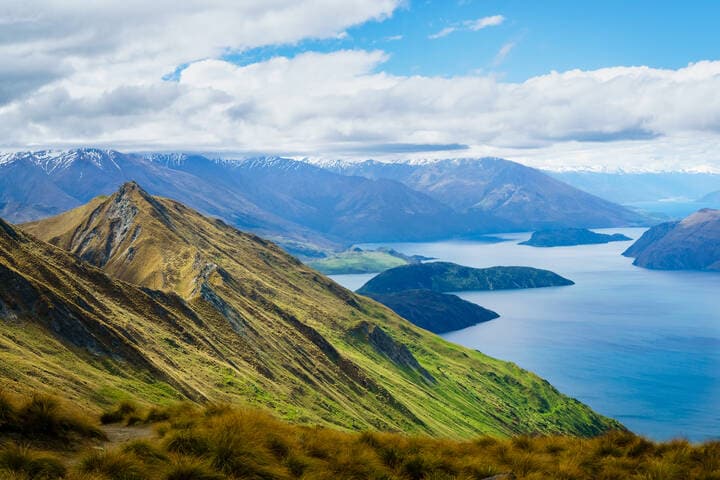 #1 – QUEENSTOWN
Perhaps unsurprisingly, Queenstown took out the number one spot on the list. It's all-round beauty and exciting outdoor adventure activities make it undeniably the country's most-popular tourist destination. From bungee jumping and mountain bike riding to skiing and jet boating on stunning Lake Wakatipu, Queenstown offers endless choice for all travellers. If enjoying incredible food and wine in more your pace, Queenstown offers a wide variety of exquisite restaurants, and is a short drive to nearby wine regions featuring some of New Zealand's finest Pinot Noir. When it comes to planning a visit to Queenstown, the hardest part is the abundance of options and trying to decide how to fit everything into one visit!
#2 – DUNEDIN
If being immersed in history and culture is your type of holiday, look no further. Located on the Otago Coast, Dunedin is home to some of the most well-preserved Victorian & Edwardian style architectural structures in the Southern Hemisphere – including the spectacular Dunedin Railway Station. Given the city's location, there's plenty of incredible coastal trails for hiking or cycling along the landscape of the Otago Peninsula, where you can find colonies of sea lions, albatross and rare yellow-eyed penguins!
#3 – FIORDLAND
A testament to the beauty of nature, Fiordland has been referred to as the Eighth Wonder of the World, with glacier-carved fiords to dramatically high mountain peaks. Voted #1 New Zealand destination to experience in 2016, it's no surprise this pristine National Park located on the southwest of the South Island has made it onto the list again this year. The picturesque scenery and visual extremes alone make it almost impossible to not get #travelenvy!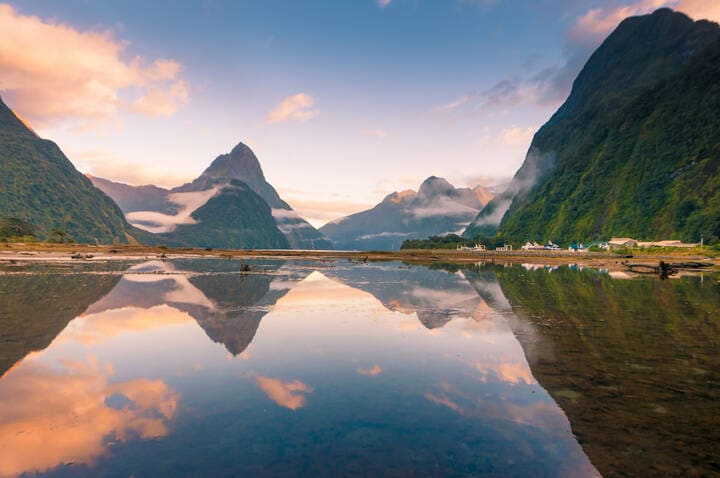 #4 – BAY OF PLENTY
Often labelled as the sunniest area in New Zealand, the Bay of Plenty is the perfect travel destination all year-round. If the majestic coastline with white sandy beaches isn't enough of a holiday drawcard, the area is famous for fresh food, delectable wines, kayaking with glow worms after dark and is also home to the country's only active marine volcano, Whakaari or White Island. Regularly emitting clouds of gas from the crater – this island situated 48km off the coast is one of the most unique natural highlights in New Zealand.
#5 – WELLINGTON
With a population of over 410,000 people, Wellington is the second largest city in New Zealand, and also its capital. Sitting at the south-western tip of the North Island with a signature harbour, the city is a foodie's dream. The abundance of museums and art galleries to the variety of restaurants and wine bars, Wellington has something for everyone. If locally-produced wine is your thing, make sure you visit the surrounding area of Martinborough – which is accessible by car, train or bicycle and is dotted with wineries in close proximity.
#6 – ROTORUA
Renowned worldwide for its geothermal activity, it's no surprise Rotorua made it into the top 10 places to experience in New Zealand. Located at the heart of the North Island, Rotorua is home to bubbling mud pools, a 30m tall geyser and natural hot springs. Brace yourself for the smell of sulphur in the air, which definitely takes some getting used to! Maori culture also plays a big part in the town with a living village, allowing tourists to absorb or take part in the Maori culture (via talks) and history. It also boasts the New Zealand Maori Arts and Crafts Institute, which offers traditional wood carving and weaving schools.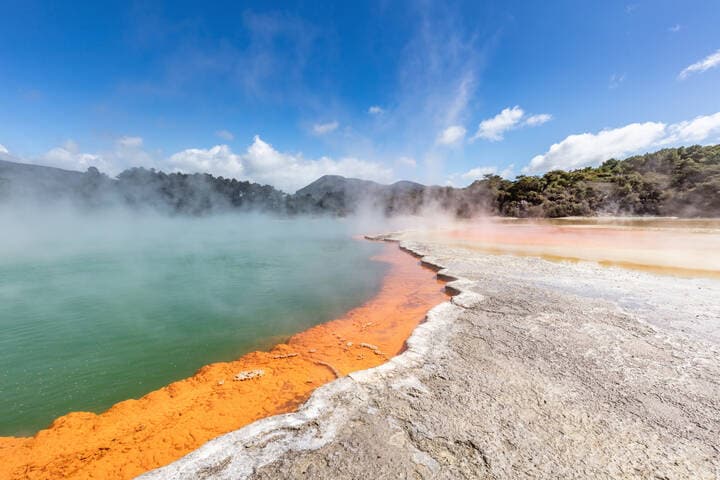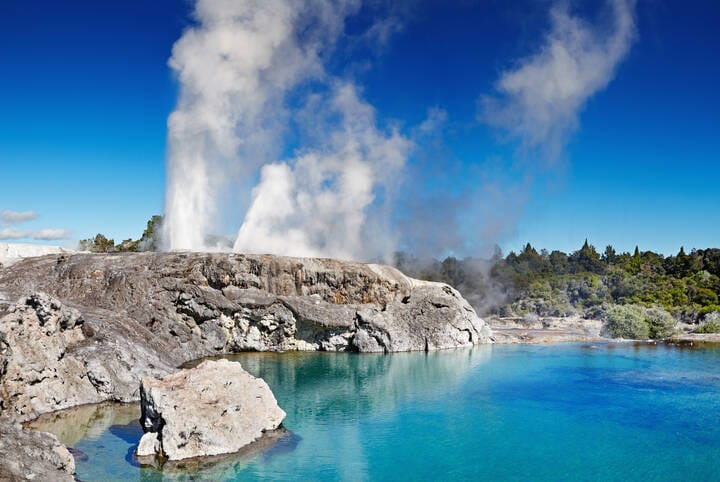 #7 – BAY OF ISLANDS (NORTHLAND REGION)
Home to 144 individual islands in total, the Bay of Islands in the Northlands region is often described by New Zealanders as the Far North or Winterless North – because of its mild climate. Located at the very top of the North Island, it's the perfect destination if you're keen on exploring both the water and land across a picturesque seascape dotted with islands.
#8 – HAMILTON & WAIKATO
Described as one of the most versatile holiday spots in New Zealand, Hamilton and the Waikato have something for everyone. Whether you're into adventuring, nature, culture, history or food and wine, the city of Hamilton and nearby hills of Waikato have got you covered. A small village within the Waikato region is also a very popular tourist spot, given its prominent feature throughout The Lord of the Rings films.
#9 – TAUPO
Situated on New Zealand's North Island, Taupo is home to the largest freshwater lake in Australasia, which is roughly the size of Singapore. The crater of a super-volcanic eruption approximately 26,500 years ago, the lake is home to a myriad of aquatic activities including Huka Falls – considered one of the most photographed and visited natural attractions in the country. Along with Queenstown, Taupo is something of an adrenaline-filled paradised, offering bungee jumping, jet boating, white water rafting, skydiving and more!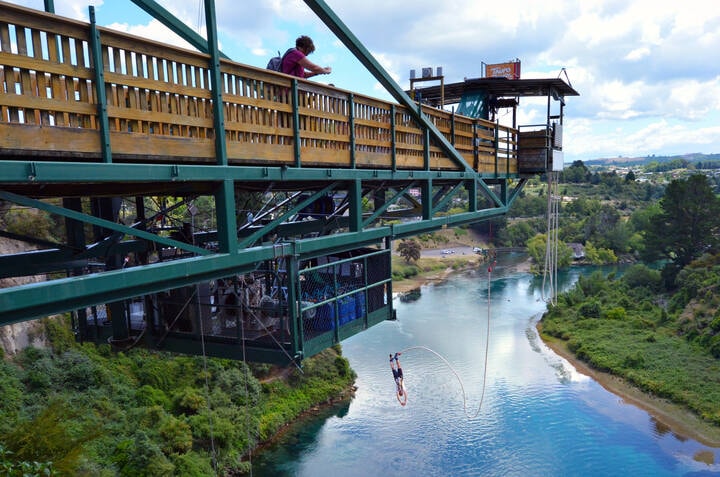 #10 – WANAKA
A region centred around a pristine, glass lake and surrounded by snow-capped mountains – it's not surprising Wanaka made it onto the list. A resort town on New Zealand's South Island with inherent physical beauty, Wanaka is filled with adventure opportunities, from parachuting and jet boating to mountain hiking and skiing.
If you're looking to visit one of the most desirable countries for travel on Earth, we've got you covered for flights. Discover fares to New Zealand via our website, for flights with Virgin Australia.