If you're keen to see a footy game in Melbourne but haven't yet sorted a ticket for the MCG or Marvel Stadium, you might like to settle into a top-rated pub to see the footy action on a big screen. There are plenty of pubs around the city to choose from, but you'll preferably want to be surrounded by a fun atmosphere, like-minded people, delicious food and well-priced drinks.
We've narrowed it down to the five pubs that offer the best game day atmospheres. Even if you're not much of a footy watcher, you may just find yourself swept up in all the excitement… or disappointment, depending on who's winning and which supporters are in the room.
Here are the best pubs to be found in Melbourne for catching every moment of the footy.
The Builders Arms Hotel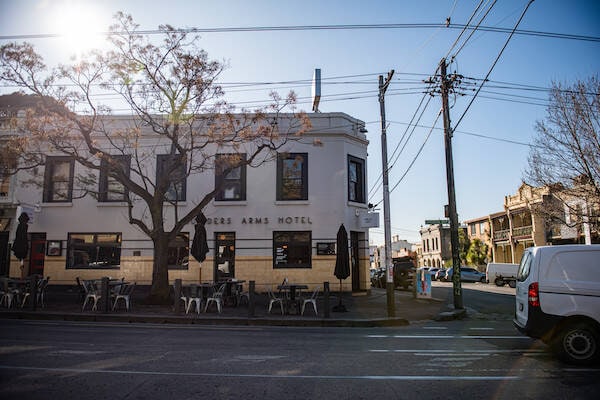 The Builders Arms Hotel in Fitzroy is a landmark pub with a long history dating all the way back to 1853. From the outside, it's understated; but once you're inside, you'll understand that the Builders Arms has had a significant makeover.
The renovation is perfectly executed, with a nod to its industrial heritage and a gastronomic spin. From the front bar to the bistro and courtyard, it's lively and comfortable, with plenty of screens scattered around for catching a footy game.
On the menu
Starters such as oysters, baker bleu bread with jersey butter, anchovy and stracciatella toast are all on offer. The whipped cod roe with flat bread also comes highly recommended - how's that for an elevated footy snack?
Mains include a rabbit and pistachio terrine, whole rainbow trout, fish pie and Gippsland rump cap. But it's not all fancy, with cheeseburgers and chips also on offer.
For dessert, choose from a mascarpone cream, rhubarb & Montenegro combination, a chocolate Marquise, a delicious Affogatto or a serve of cheese to round off your evening.
Special occasions
Grand Final Day is their biggest day of the year, with tables available to book, and a $75 menu with all their best menu items accompanied by Magnums and Jeroboams of Rosé and Riesling.
On the Friday public holiday before, they also hold a barbeque and street party on Gertrude Street, complete with takeaway tinnies.
Fun fact
The Builders Arms Hotel hosts a great monthly trivia night, claimed to be one of the best in Melbourne. Book fast, they tend to fill up quickly.
The Imperial Hotel
Is there anything better than a lively rooftop? There's a reason this pub is so popular with both visitors and locals; the Imperial offers the best rooftop in the CBD, with views directly opposite to Melbourne's Parliament House.
No matter the weather, you're protected. This winter, the rooftop has been transformed into a cosy ski chalet theme, complete with giant mock ice blocks, furry throws, plaid cushions, ski decor and a roof covering that makes the entire place feel a bit like an igloo.
Did we mention the jumbo screen to watch the game? Or the sports bar downstairs, just in case the screen upstairs isn't quite doing it for you?
On the menu
Traditional pub food is executed perfectly here. From sliders and nachos to parmas and steak sandwiches, portions are hearty and perfectly done to soak up all any drinks you might be having as you watch the game.
There are also plenty of meals on offer to suit all dietaries, including an eggplant parma, risotto, pizza and salads. For dessert, finish up with a sticky date pudding or an apple and rhubarb crumble.
Special occasions
There are live sports constantly on the calendar here, with everything from the NRL to the NFL, NBA, NFL, NHL, MLB, UFC and WLC playing. Their motto is "if they're playing, we play it'.
Fun fact
The Princess Theatre is right next door and currently home to Harry Potter and the Cursed Child, an incredible 3.5 hour play that is just as exciting as the best of footy games. The Imperial is perfect to duck into before you head into the play, especially if you want to catch a game before or after.
The Cricketer's Arms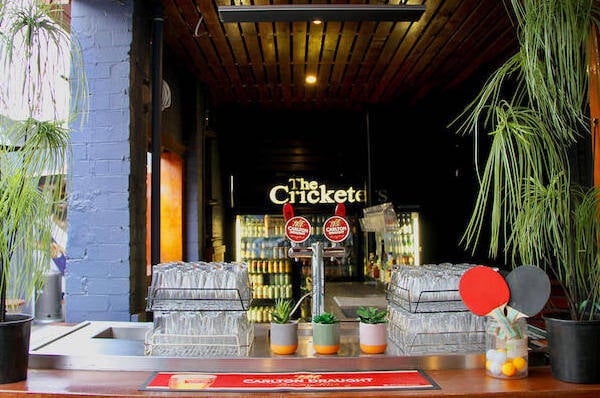 It's not just all about cricket at the Cricketer's Arms. Having been around since the 1860s, it's one of the oldest pubs in Richmond, and still one of the most popular.
Location is everything for this pub - it's just minutes from the MCG, across the road from Punt Road Oval. You'll see plenty of people here grabbing a quick meal or drink before they head off to a game, or sticking around to watch the action unfold on one of the many screens.
On the menu
From club sandwiches to fish & chips, chicken parmas, burgers and steaks, it's delicious and traditional pub fare all the way here.
Fun fact
There's a pool hall on the second level, complete with lounge area, full bar facilities and multiple TVs to keep an eye on the game while you play a round of pool.
The Garden State Hotel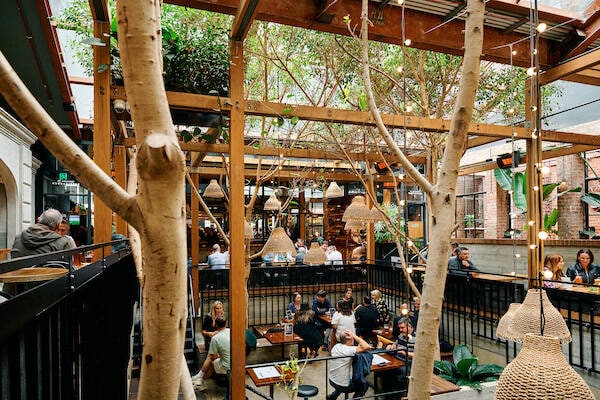 With space for more than 800 people, the Garden State Hotel on Flinders Lane knows how to have a good time, and show off a lot of action on the big screens both indoor and out.
From the beer garden to the Rose Garden Saloon, this is a sprawling venue full of lush greenery and beautiful decor. It's the perfect place to bring a group of friends, some who may be more interested in footy than others, as there's so much to enjoy and so many spaces to hang out in.
On the menu
There are many options here; including favourite pub classics, such as market fish and salad, a house burger and a quality parma; plus snacks such as arancini, burrata and pizzas.
Or there's Tippy-Tay, the most delicious Italian selections of pastas, antipasti and sides - a nod to refined trattoria with fun, messy shared plates.
Special occasions
Grand Final Day is bound to be big here, and the team at Garden State are offering up a package of delicious roaming food and four hours of drinks for $125 per person. The public bar will also be open from 10am, serving breakfast until 11.30am or lunch from 12pm.
Fun fact
This venue has been known to host everything from business lunches to urban weddings and cocktail parties.
The Duke of Wellington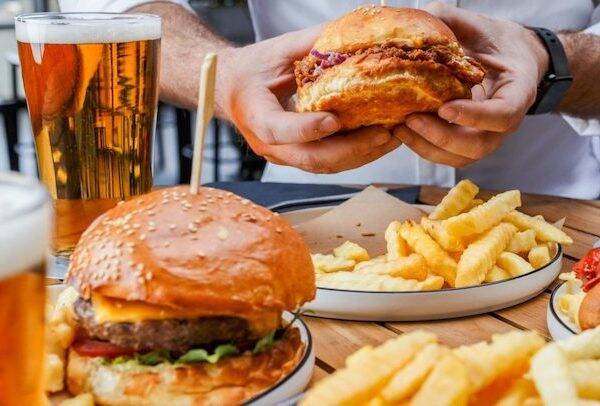 The Duke of Wellington in Flinders Street happens to be the oldest licenced pub in Melbourne, dating all the way back to 1853. But they've kept up with the times.
With a new rooftop bar, a deliciously modern dinner and drinks menu and a longtime reputation for one of the best places to watch the footy in the city, it's well worth booking a table here to ensure you can make the most of the atmosphere.
It's also very conveniently located in the CBD, minutes from the MCG and Federation Square.
On the menu
Beyond pub-style food, there's also plenty of international fare on offer - plus a breakfast menu, kids' menu and dessert menus on offer.
From the delicious parma with crinkle-cut chips through to the 1853 classic cheese burger, charcuterie boards, gnocchi, pork belly and so much more, the only problem will be working out where to begin with the menu.
Special occasions
Once again, the AFL Grand Final is happening - and everyone is so excited to get back to it after years of lockdowns. The Duke is offering two sittings for a pre-game lunch, 11am-1pm or 11:30am-1:30pm, which includes a pub meal, two drinks and a secured pregame booking on level 1 to ensure you have the best views of the action.
Fun fact
The Duke of Wellington is hosting a pop-up Hendrick's Bar among the stars on their rooftop bar this winter, featuring a range of cocktails inspired by the floral and starry surrounds.
Inspired to take a trip to Melbourne and take in a footy game at one of the pubs? Virgin Australia flies frequently to Melbourne from all over Australia. Book your next adventure.