With just the right mix of friendly folks and charming surroundings, you'll fall in love with all there is to do here as you discover the area. Narrow cobblestone lanes lead to picture-perfect pubs and bustling bars that cater to everyone, so finding the right one for your mood that day is easy. The hard part? Choosing from the vast array of options that await you. No matter if you're looking for a quick in-and-out for a scrumptious lunch or a deep dive into the rich historical milieu of the city, Hobart's best pubs have you sorted. We've gathered some outstanding options to get you started, and we know you'll want to visit more than just one; so let's get to it, shall we?
The one that's Australia's oldest continually licensed pub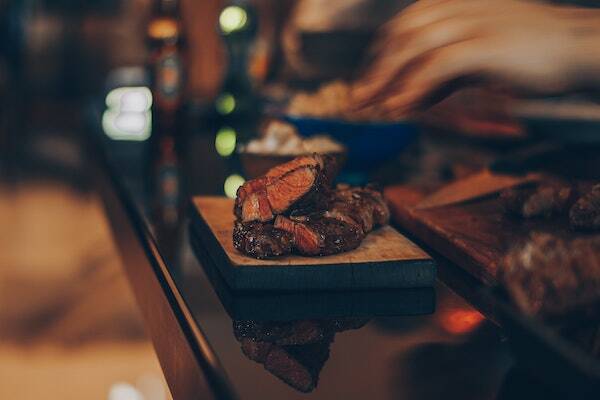 Photo by: Emerson Vieira
The storied Hope and Anchor is legendary, and no trip to Hobart is complete without a visit to its commanding corner location. From the moment you walk in, there's no doubt this is the place of a bygone era. Impressive interiors include ornate wooden mouldings, taxidermied beasts, antique art and vintage weaponry. Since 1807, beers have been poured for its patrons, and crackling wood fires have burned off the brrr of chilly days. Peckish? Though you'd be forgiven for thinking you've stepped into another century, the food and drink selection is modern with strapping mains like venison loin and black Angus porterhouse. The beef cheek is the stuff of legend here; it's always a good pick for the carnivore crowd.
The one the locals love best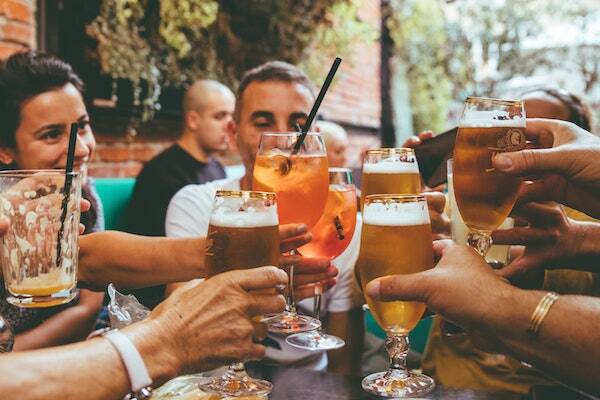 Photo by: Fred Moon
Preachers is a Hobart institution in the burgeoning Battery Point area, and locals flock to it. Serving burgers as big as your head and cold brews to go with them, sunny days are packed outside on the green of the outdoor dining area and when it rains, the inside pumps with energy. Sixteen rotating taps serve the best of boutique local beers, and we reckon a flight to try a few is the way to go. Consistently rated among the best pubs in Hobart, they even cater for vegans, and if beer isn't your thing, the ciders are marvellous. Many an afternoon has been leisurely passed under the white umbrellas of the beer garden, and the location right close to Salamanca and Battery Point is a convenient, but slightly uphill, secret spot. Don't miss snapping some pics on the bus outside. You're going to love it.
The one that specialises in sake, with a twist of cocktails and beer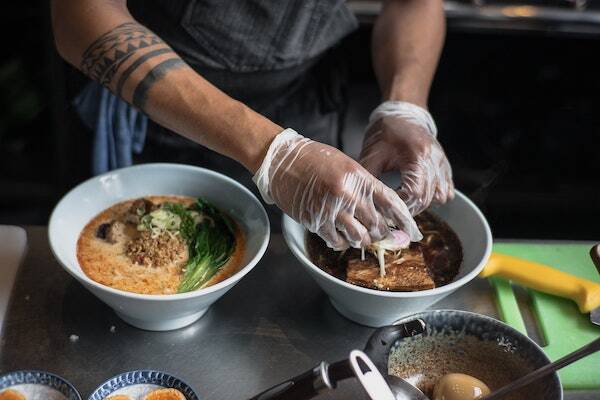 Photo by: Kristian Angelo
Pop in between 12 and 3 if you want to treat your palate to the buzz-worthy Ramen from which Bar Wa Izakaya has made a name for itself, and if not – the other izakaya-inspired offerings will tickle your tastebuds a plenty. The okonomiyaki is quickly gaining a reputation as some of the best outside of Japan. With cocktails that bestow a clever Japanese twist and a jazzy-snazzy neon moody interior design, this is a place you'll want to take allll the photos for your Insta. The artfully designed whisky sour is one to order as is the Hanami (cherry-blossom cocktail). If you haven't yet jumped onto the Japanese whisky bandwagon, this is the time to spoil yourself and see what you've been missing. Just don't blame us when you discover you really can't live without it!
The one suspended over Sullivan's Cove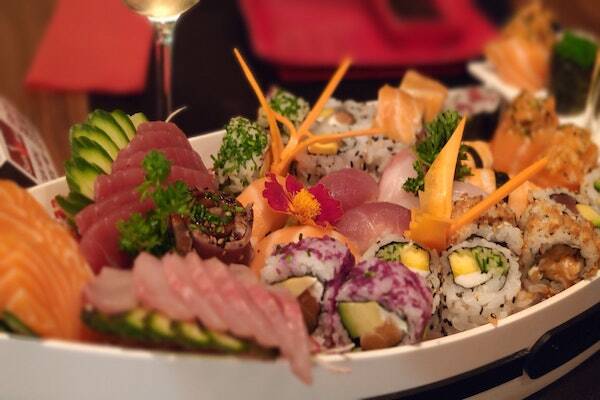 Photo by: Ignacio Correia
Love a view? I mean, who doesn't, right? Gaze across the sparkling Sullivans Cove while you enjoy drinks and nibbles. If you find yourself not wanting to leave, why not stay for lunch or dinner? Elegantly presented and proferring a sophisticated cocktail menu, The Glass House is enthusiastically Tasmanian in its food and beverage selection. Local wines pair well with share plates, and a nice Tassie vino goes down smoothly. At the Raw Bar, revel in freshly shucked local oysters, or sliced sashimi delivered daily by local fishermen and oyster growers. Delight in the lively atmosphere and the glistening waters that lie before you while deciding what to order next. If you're unsure, just ask the staff, and if you have specific food requirements, there are gluten-free, vegan and vegetarian options. That view, though…just magical.
The new one tucked away in Salamanca Place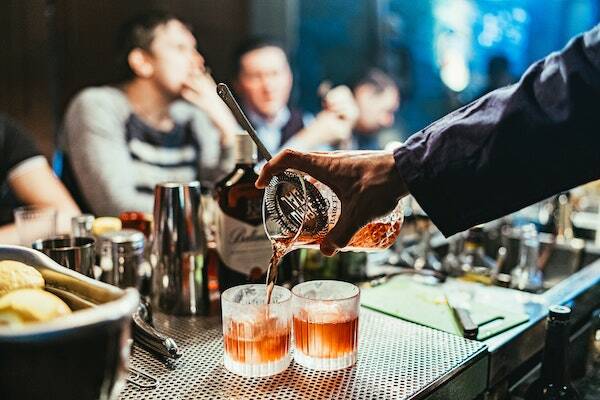 Photo by: Stanislav Ivanitskiy
Nestled behind the heritage sandstone of what was once the St Mary's Hospital and lit by muted bulbs and candleflame, Mary Mary is a stylish bar and restaurant that honours local indigenous ingredients as well as rarely experienced tastes into its curated menu. Just the spot for couples or small groups, it's an ideal spot for kicking off the night before going to dinner. With its 'ambitious reimagining of the world's great cocktails,' Mary Mary is onto something good here. The Bramble is a lush combination of Derwent Valley and native cherries with gin, lemon and anise. Another intriguing little tempter we can't go past is the Toreador, which is the forerunner to the Margarita. Containing roasted peaches, Tequila, lime, amber vermouth and egg white, it's a fluffy yet stringent glass of pure deliciousness. While you're there, take a peek at the coal chute and the wine room.
The one with a splendid selection of spirits and an Arthouse vibe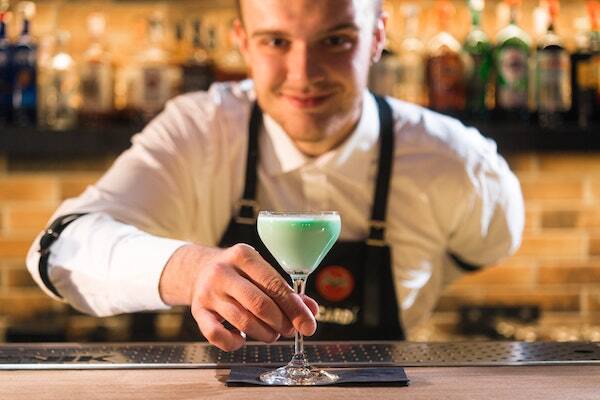 Photo by: Dmitriy Frantsev
It makes sense that the IXL Long Bar enjoys such a stellar reputation amongst locals and visitors alike; you'd be hard-pressed to find someone who doesn't hold it in high regard. Tucked into the Henry Jones Art Hotel, the staff here know their stuff. Food options are above average for a pub and include pork pistachio terrine, wagyu Bolognese and a creative rotation of specials. Petite in its footprint, the cosy setting is super-friendly, and if you're lucky, the fantastic three-piece band will be playing – ask, and they may even take your request. Our recommendation? Try the decadent Island of Fire which is blazed and served hot or the boozy Tequila Mochabird with Mr Black coffee liqueur. If you've got a yearning for something different and don't see it on the menu, the bar staff are first-rate, so just ask them to sort you out. You might never want to leave. It's no wonder it's one of Hobart's best pubs.
The iconic one with the Heritage gardens- a destination in itself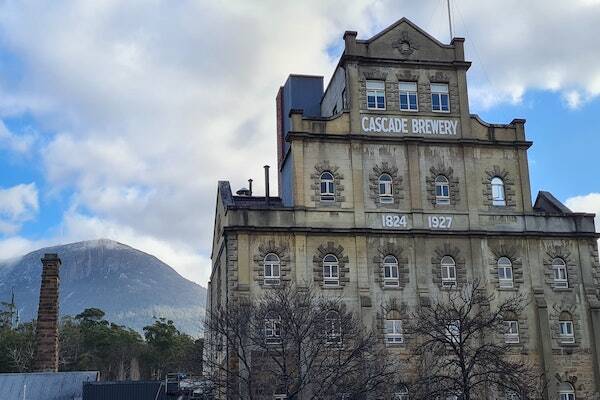 Photo by: Nico Smit
Set proudly in the gorgeous hills that run beneath Mount Wellington, Cascade Brewery is both an Australian institution and Australia's oldest operating brewery. They have, in fact, been crafting beer since 1832 from this very location. While a trip to the Brewery requires a taxi, bus or car, it's less than 10-minutes by car from Salamanca Place, yet a world away from the daily grind of the city. Plan ahead and arrive a bit earlier in the day for a sticky beak behind the scenes. While away the afternoon delighting in the lore and stories of the brewing craft and those who have made it what it is today. After the tour, hang around a bit longer and decide for yourself which of Cascade's offerings is your favourite with a paddle at the Brewery Bar. In the spirit of Tassie fellowship, the brewery also showcases guest craft breweries on tap, and a wide variety of Australian wines and spirits, too. The food here is delicious and straightforward, and options abound for all dietary preferences. Kids are welcome.
The one with tasty street food that's child and pet friendly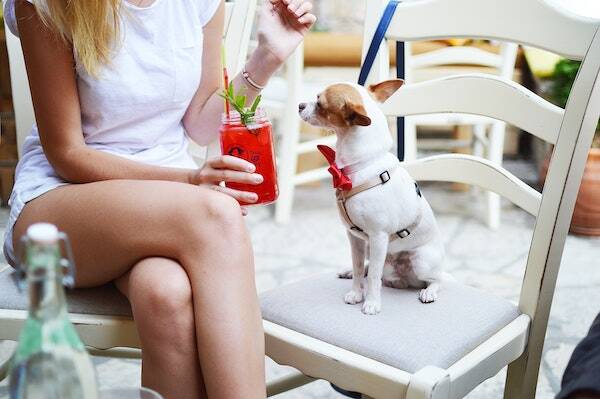 Photo by: Tamara Bellis
Situated innocently behind the double doors of a cheerful old storefront, Boodle Beasley is a fun and friendly spot. Outside, in the sunny back courtyard, you can get your doggo fix if you happen to be missing yours and make the most of a gorgeous Hobart day. There's not much more to wish for here; the beer is cold, the cocktails are clever and the staff are friendly. Upstairs, projectors show the latest sport for hardcore fanatics, and the interesting take on the tucker will have you lingering over the menu for a little something to go with the booze. Puffy Bao Buns, Wagyu Pho and Bahn mi keep bellies happy, and Asian burger fusion is always a good idea. Having a hard time choosing? Order what your heart desires and share around the table.
The one where they really know their whisky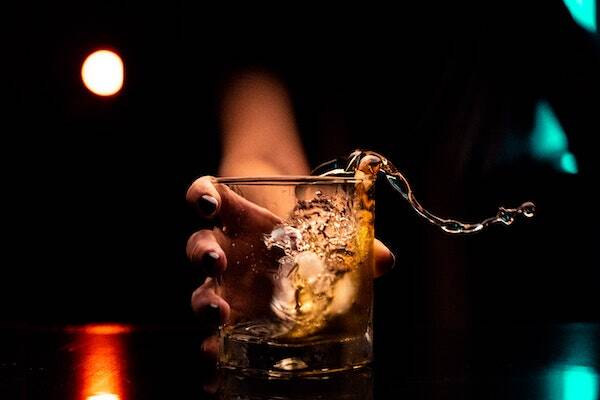 Photo by: Vinicius Amano
Sip and savour as you give in to the indulgence of all that is Evolve Spirits Bar. Winner of many an award including Tasmania's Cocktail Bar of the Year, Australia's Hotel Bar of the Year and Tasmania's Best Bar, from the moment you enter, you know you're in for a treat. I mean, it's not every day that you drink and dine among a full-sized bear skeleton now is it? Whisky is a love language here, and the staff are fluent in all of its complexities. Sitting amongst the cosy interior with a hush of soft light that soothes the upmarket surroundings, Evolve isn't a cheap-and-cheerful option, but it's not stuffy either. Even for those with no previous whisky experience, this is the place to start experimenting and find out what you like. Personalised off-menu items are cracking and spot on to your taste, and you can even get your hands on a tipple from before you were born.