What better way to start a sunny Sunday than grabbing your go-to coffee from a born-to-brew barista in a converted vintage caravan, selecting some farm-fresh produce for the Gold Coast stay ahead and splashing out on handmade homewares or bespoke fashion because they spoke to you from a charming stall. From the quiet parks in the north down to the buzzing beachfronts in the south, there are quality markets to lose inquisitive hours in starting early and usually wrapping up around early afternoon. So, grab your trusty tote, a broad-brimmed hat and a decent little budget to tap away on some holiday essentials or quirky items connected to fond memories of your Gold Coast getaway. To markets we go!
The Village markets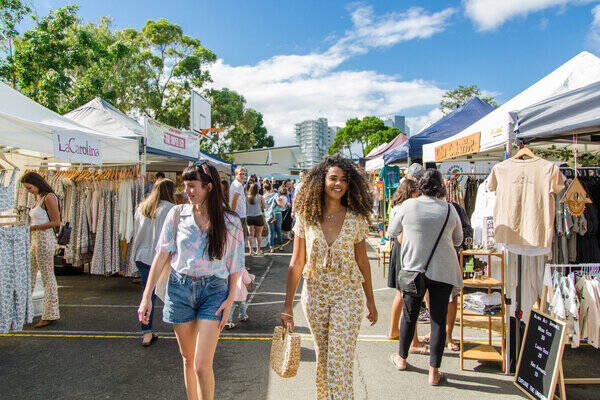 Running for more than 13 years now, The Village Markets (TVM) off the Gold Coast Highway at Burleigh Heads have become a boutique fashion and lifestyle destination for the style-savvy who appreciate artisan-made goods crafted with a sense of individual flair. This is where the boho-chic of Venice Beach meets the grassroots vibes of Gold Coast makers who love to bring their passionate creations to people out of the somewhat more predictable world of big retail. A self-professed "platform for small, creative businesses", here, the product aspirations of the entrepreneurially daring can be breathed into life and showcased alongside likeminded craftspeople who share a passion to create it differently — made from the heart and inspired by intention. In fact, many renowned brands started their journeys to success here including Kivari, Nine Lives Bazaar, Peony Swimwear and Frankly My Dear.
Wandering into the award-winning Village Markets, you're instantly greeted by good vibes adrift in the airy, Pacific breeze. It's a super-chilled set up with rows of stallholders carefully curated at Burleigh Heads State School; each bringing their own unique design sensibilities to their proud product patch. Live music of the local acoustic variety flows over the pop-up tents with a large grass area in front of the stage perfect for pulling up a Mexican blanket and tucking into a healthy acai bowl, gourmet hot dog, oven-baked cookie or sweet cinnamon roll — fresh coffee accompaniment at the ready, of course. They've even hosted Ziggy Alberts and Tones and I on occasion!
Talking stallholder goodies, let's start with the epic selection of stunning homewares covering everything from luxe, rattan pet beds to hanging planters, hand painted ceramics to gorgeous, scented candles, wall prints, cushions and floral displays. On the style front, fashion and accessories abound with everything on-trend across well curated racks of light-hearted leisurewear showing a penchant for natural cottons and linens rather than the synthetic mixes of fast fashion. Think playful dresses and tops, linen pants, felt hats, designer tees, bespoke denim, vintage finds, retro sunnies, handmade jewellery and loads of other one-off wardrobe additions. At each market, they also host epic Rack Sales where local chic-seekers sell designer threads they no longer wear with seriously big labels on the go for relatively low bucks. Skincare is also big in The Village Markets stall mix with all-natural moisturisers and cleansers, crafted soaps, body oils and even men's beard balms on offer.
As The Village Markets crew like to say, "shop small and feel good" by supporting homegrown makers and goods that contribute to building creative, lifestyle communities.
Where: Burleigh Heads State School Oval, Lower Gold Coast Highway, Burleigh Heads QLD 4220.
When: The first and third Sunday of each month, 8:20am-1pm.
CARRARA MARKETS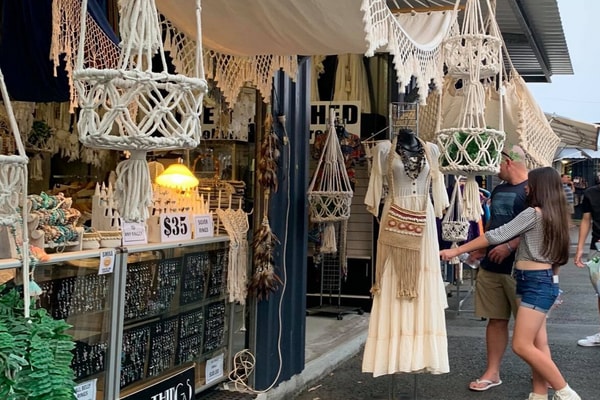 Welcome to Australia's largest permanent weekend marketplace open Saturday's and Sunday's from 7am-3pm. This Gold Coast markets mecca is ginormous, boasting more than 300 stalls across 24 acres with most of it semi-undercover making for a cooler, alfresco shopping experience. Just a stone's throw from Broadbeach and Surfers Paradise in centrally located Carrara, it's super-easy to get to via public transport and if driving's more your preference, then there's plenty of parking onsite and nearby. Whatever you do, give yourself plenty of time to explore this eclectic treasure trove because there are loads of kids activities and causal eats to enjoy as well. It's very easy to see how the Carrara Markets has become a major Gold Coast Tourism attraction over the past 30-years!
Where to start with the massive range of products to explore as you begin your meandering mission through the bustling alleyways — you name it and there's a good chance you'll find it here. Casual lifestyle fashion is around every corner with 100 or so stalls selling the likes of rock'n'roll tees, tie dye bikinis, surf and street wear, sun dresses, kaftans, hoodies and jumpers, rockabilly kit, caps and hats, sunglasses, jewellery, watches, footwear and plenty of kids wear. For the home; check out handmade sculptures, ceramics and pots, clocks, candles and crystals, dream catchers, music memorabilia, original art, posters and prints. Toys and novelties also play their part in the packed Carrara directory, as do Aussie souvenirs, giftware and arts and crafts. There's even vintage fashion, collectables and antiques for the traditionalists and lovers of yesteryear.
All shopping and no play can get the kids down after a stint, and that's why the clever team at Carrara Markets offer some awesome activities for the little ones including Putt Putt Mini Golf, pony rides, a baby animal farm, bungy trampoline, face painting and the enchanting, new butterfly house. When the tummy starts to rumble and the thirst kicks in, choose from 15 cafes for hearty eat-in and takeaway bites, ice cream, fresh juices or a cool cocktail and frosty beer for mum and dad, after all, it is holidays!
It may sound a bit cliché to say, but when it comes to offering something fun for everyone in the family on a Gold Coast day out, Carrara Markets really does tick every box — and then some.
Where: Corner Manchester Road and Gooding Drive, Carrara QLD 4211.
When: 7am-3pm.
HOTA FARMERS & ARTISAN MARKETS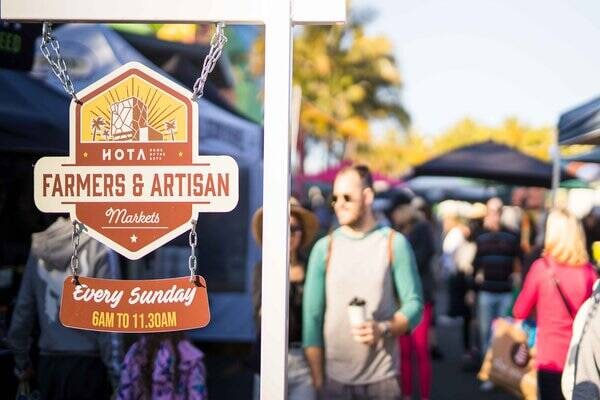 The HOTA Farmers & Artisan Markets are legendary amongst Gold Coast locals and visitors who appreciate fresh food made by local growers, gourmet producers and artisan creators — some even travelling in from the Hinterland, Northern New South Wales and wider South East Queensland regions. Located at the new "Home of the Arts" — or HOTA — these Gold Coast Sunday markets boast a vibrant morning energy that's boosted due to their ideal location surrounded by an inspiring arts precinct, the Nerang River, Evendale Lake and spectacular view overlooking the iconic, Surfers Paradise skyline. These are sunny Sunday mornings done right on "The GC".
If you're staying in a self-contained apartment during your Gold Coast stay, heading into the HOTA Farmers & Artisan Markets is a great way to stock up on, and sample, some of the region's best fare straight from the paddock and crafty, local kitchens. Scanning the stalls with a freshly ground coffee in hand, it's akin to stumbling across a buzzing Mediterranean bazaar that intoxicatingly sets off all your senses — passionate purveyors spruiking the quality of their goods and the multigenerational know-how that goes into creating them. These are fair dinkum farmer and artisan markets offering bespoke products you'd be hard-pressed to find on the shelves of mega, suburban supermarkets.
Tastebuds at the ready, take your leisurely pick from a huge range of seasonal fruits and vegetables, premium meats and poultry, farm-fresh dairy products, seafood straight off the trawler, authentic pasta and sauces, baked goods and artisan breads, internationally inspired smallgoods and an assortment of holistic health foods. Many of the market stallholders are also certified organic, biodynamic and spray-free producers, with vegan, dairy-free and gluten-free foods available covering various dietary needs. There's even a growing sprinkle of stalls offering boutique fashion and handcrafted wears that might grab your eye if you're keen to take home a special souvenir purposefully made for good memories.
Popular with HOTA Farmers and Artisan Market goers is to casually settle into their Sunday by grabbing a coffee and bakery bite for brekky, pulling up some grass with a blanket lakeside and chilling-out listening to the live tunes that float through the fresh, riverside air. It's also a great family experience with plenty of grassy parklands for the kids to run around and a cool lake dip always an option in the warmer months. While in this artsy hood, be sure to check out the awesome HOTA program of movies, shows and events with cool activities scheduled for young ones during major school holidays. Oh, and a walk through the brand-new HOTA Gallery is a must for budding culture vultures and art lovers!
You could say the HOTA Farmers and Artisan Markets — brought to you by Goodwill Projects — really are, easy like a Sunday morning. Operator, Mark Power, sums it up beautifully, "The HOTA Markets are an authentic farmers and artisan market. We're a vibrant blend of country and coastal living offering farm-direct produce from genuine farming families across Queensland and Northern New South Wales, alongside local providores, designers, foodies and baristas. Part of the fabric of the Gold Coast, we're proud to support and foster local small businesses, artists, musicians, social causes and creating an amazing atmosphere every Sunday for locals and visitors alike"! Keep your eyes peeled for pop-up markets too like the HOTA Hawker Night Markets.
Where: HOTA (Home of the Arts), 135 Bundall Road, Surfers Paradise QLD 4217.
When: Every Sunday, 6am-11:30am.
ART & CRAFT ON THE COAST SUNDAY MARKETS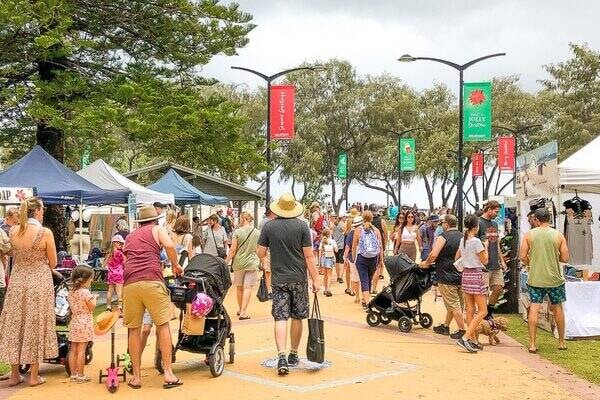 When it's a family owned and operated enterprise, you know there's a good deal of love, passion and hard work that's been put behind it. This is precisely the case with the Art & Craft on the Coast Sunday Markets having been run by the Robbins family for two generations over 30 years since the early 80s. These are the original art and craft community markets to be held in the city with the first humble iteration being staged in Burleigh Heads when thruster surfboards first hit the scene and INXS played in local pubs to a capacity crowd of 300 acid-wash-wearing punters. This markets passion has never waned, and today the Art & Craft on the Coast Sunday Markets now operate on Sunday rotations across popular beachside parks including Burleigh Heads, Broadbeach, Coolangatta and Paradise Point (the later overlooking the picturesque Broadwater).
The continuing ethos behind these Sunday markets "is to support and incubate local artisans, micro businesses and artists so they can make a sustainable living while expressing their artistic expression". Stallholders have direct input into the making of their products be it through design and function or right down to hand manufacturing in their home studio. That's why you're bound to come across some unique finds in what is an amazing shopping montage of gifts, souvenirs, art, craft, fashion, homewares — and in some cases — the ingenious, the weird and the wonderful! One thing's for sure though; if you're after that distinct item and like what you see, then you better grab it fast because you won't readily find these goods in many retail outlets.
The Art & Craft on the Coast Sunday Markets are big, colourful and a-buzz with beachside vibes, hosting more than 100 stalls showcasing authentically produced products, fresh produce, yummy food and live entertainment on dedicated Sundays. And with the beach nearby, kids play areas in the parks and vibrant precincts humming away in neighbouring streets, you can easily lose a day when these sensational markets are at play.
Broadbeach
Where: Kurrawa Park, Old Burleigh Road, beachfront, Broadbeach QLD 4218.
When: The first and third Sunday of each month, 8am-2pm.
Burleigh Heads
Where: Justins Park, The Esplanade, beachfront, Burleigh Heads QLD 4220.
When: The last Sunday of each Month, 8am-2pm.
Coolangatta
Where: Queen Elizabeth Park, Marine Parade beachfront, Coolangatta QLD 4225
When: The second Sunday of each month and fourth Sunday in five-Sunday months, 8am-2pm.
Paradise Point
Where: Paradise Point Parklands, The Esplanade, Paradise Point QLD 4216
When: The fourth Sunday of each month, 8am-2pm.