The Gold Coast's wonderland of ocean-themed fun, Sea World's attractions include serene dolphins, super-cute penguins, sensational sharks, and surprising sea jellies. There's keeper talks and interactive presentations. Shows, including the sublime Affinity Dolphin presentation, the hilarious Seal Guardians and the astounding Thunder Lake Stunt Show.
But, what would a theme park be without the thrill of a roller coaster or other heart-leaping rush?
Some people assume Sea World is less of a mecca for rides than some of the other Gold Coast theme parks, but you won't think that after reading our list of the Top 10 rides at Sea World.
They range from roller coasters to swings-in-the-sky. Some rides are perfectly designed to send your adrenaline levels soaring and others for those who prefer more gentle enjoyment. Kids are well catered for, as are those who are young at heart.
Are you ready to find out more? Hold on tight, it's time to ride…
We're going to count down the 10 top rides in order of scariest to least scary. But, hey, what do we know? You ride them all and let us know what order you'd put them in!
Vortex: The ultimate spin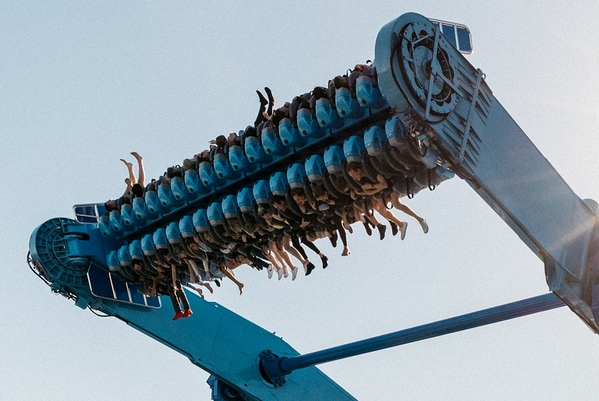 After opening in 2020, The Vortex has become a much-loved Sea World ride. Seated in back-to-back rows, you'll twist, turn and spin just like you would within colossal currents of a real-life vortex.
Located in Sea World's New Atlantis precinct, the Vortex sends you flying 15 metres high. Sure, there'll be great views but will your eyes be open to see them? One of the thrills of this max-thrill level ride is the unpredictability; you never know whether you're about to head up or down, or spin forwards or backwards.
Each side offers different views. So, once you've ridden the Vortex? Time to ride again.
Storm Coaster: A serious splash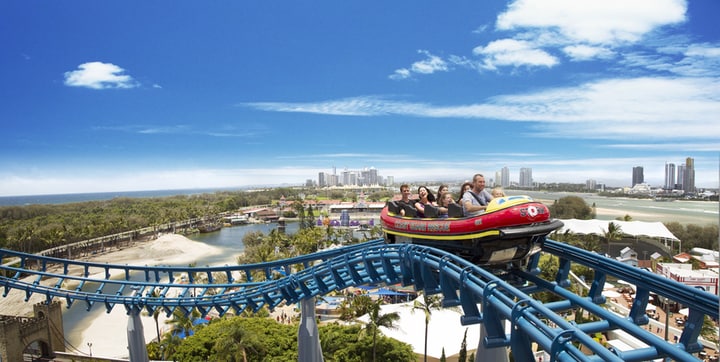 You'll start to get into the imaginary vibe of Sea World's Storm Coaster as you approach this max-level thrill ride. A strong storm has scattered debris and wrecked boats with dire weather predictions as your board. It's time to escape but somehow you know it's not going to be smooth sailing ahead.
The ride starts innocently enough as your rescue boat heads high enough to give you some great views over the park. The serenity is short lived, however. A few twists and turns are your warm-up before the main event: a 20-metre plunge down and through a wave of water.
"You will get wet, you might get soaked" is the apt motto of this ride. Are you brave enough to coast the storm?
Jet Rescue Coaster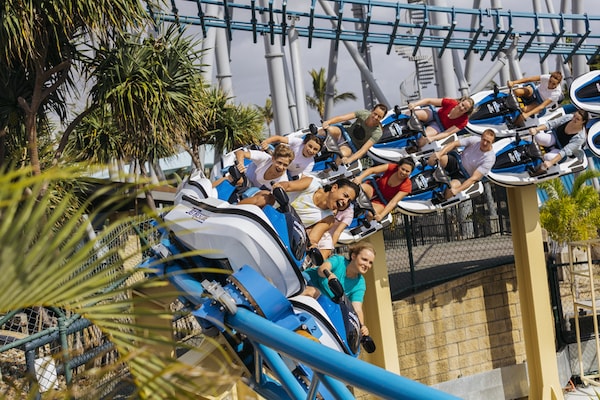 If acceleration is your game, make Jet Rescue Coaster your aim!
A sea lion is trapped and needs your help, so it's time to hop aboard a jet-ski. You'll appreciate there's no time to waste, so I'm sure you won't mind pulling 2.5Gs in order to speed that rescue mission.
The Jet Rescue Coaster does not offer the sort of thrill that comes from falling from great height. Instead, the max-thrill rating comes from the powerful acceleration at the start (take the instructions seriously to hold on tight!) and the ride reaching speeds of up to 70 kilometers an hour. That might not feel fast in a car but it sure does when you're riding a jet-ski on rails!
Leviathan: All-new rollercoaster fun
Coming Soon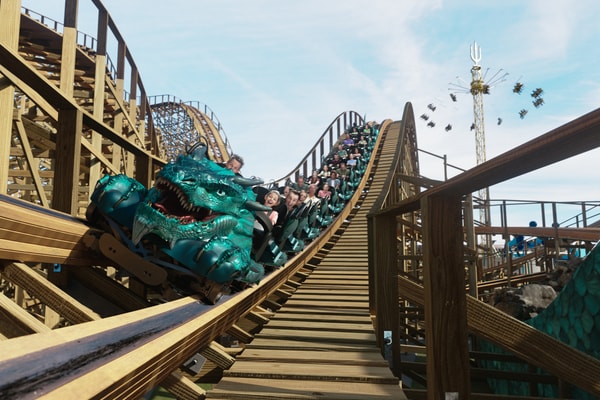 Who doesn't love a good old fashioned roller coaster? You'll love it even more when it's brand new! In fact, the Leviathan, another of Sea World's new rides, is the best of both worlds. The wooden structure means it carries the vibes of classic roller coasters as well as making history as the tallest, fastest and longest wooden roller coaster in Australia.
The Leviathan will rise from the depths of Atlantis to take you on a thundering ride. Ninety seconds might not sound like long but that's more than enough time for a whole lot of dips, turns, near 90-degree banks and, of course, stomach-lurching drops.
Even if you don't ride, the Leviathan is an impressive structure. But we recommend you do more than spectate. Get on board to ride over nearly 1 kilometre of track and enjoy the nearly 30 metre drop!
Trident: Views from on high
Coming Soon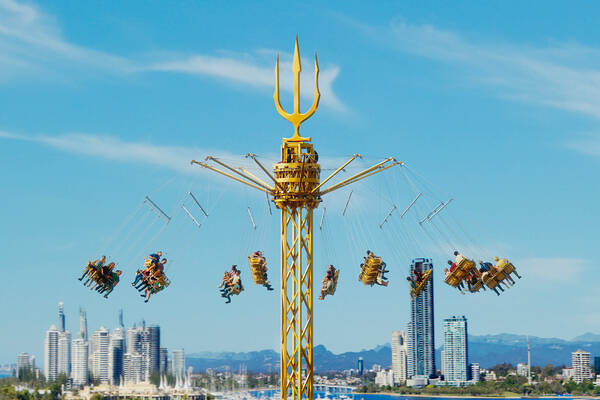 The Trident is the Gold Coast's newest landmark. It tops out at 42 metres, a height not far short of the Arc de Triomphe and the Statue of Liberty!
The views from this height are spectacular. What can you see inland over the Southport Spit and the hustle of the Gold Coast? How far can you see across the vastness of the Pacific Ocean? Once this mild-thrill level ride opens later in 2022, there'll be no need to choose which direction to look, as the ride will spin you around the central golden trident.
Either way, you won't be protected behind glass or a balcony. Instead you'll be securely seated an your own open-air swing, allowing you a true sense of what it would be like to fly.
SpongeBob's Boating School Blast
It's time to go to school but, rest assured, this is the most fun school around! Let SpongeBob and Mrs Puff test your boating skills by testing you out on a rigorous course.
Believe us, this mini-roller coaster is higher on the thrill-level than you might expect. Sure, it's perfect for younger kids but that's not to say it won't spark some adrenalin for bigger people too.
There's no huge drops but you'll definitely pass your boating school exam after zooming and zig-zagging around this super-fast and super-fun ride.
Donatello's Ninja Flyers: Get pedaling!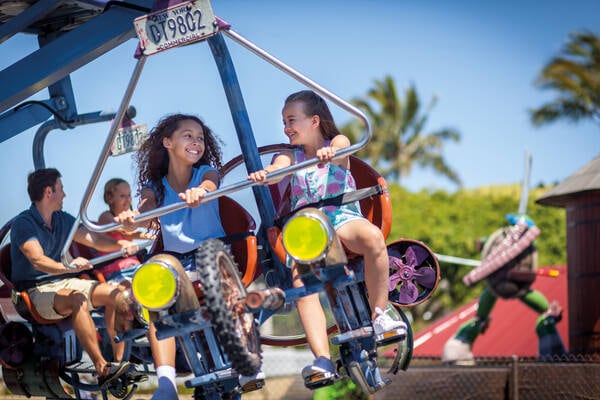 This ride might be in Nickelodeon Land, the kid-friendly part of Sea World, but that doesn't mean there aren't thrills to be enjoyed.
Ninja Turtles are known for their bravery and good deeds. On this moderate level thrill ride, you are in control of a pedal-powered glider in order to get you up high for surveillance duty.
Pedal to head up and glide back down as your fan-powered glider takes you on a super fun ride. With space for two on a glider, this is a perfect ride to share with a friend.
Boots Banana Boogie: Get ready to dance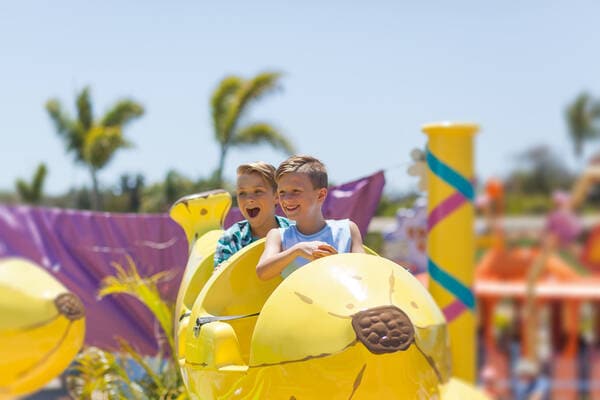 A 'banana-go-round'? Don't worry, it's not that you're not 'peeling well'. Dora's buddy, Boots, has designed this ride based on his favourite fruit.
There's no need to get mushy, Boots' flying bananas make for a smooth ride and he'll be watching over you from his palm tree right in the middle.
There's room for two to a banana (one sitting behind the other) and plenty of space for older-people as well as little ones.
Castaway Bay Battle Boats: Ready, aim, water!
Get in touch with your inner pirate or sea captain on this hilarious battleground that dominates the centre of Sea World's Castaway Bay precinct. Board a Battle Boat and get acquainted with your cannon before it's time to fight!
There's no danger here — other than getting decidedly wet — as the cannons spray jets of water. As your boat moves around the bay, you'll come under 'water' (as opposed to 'fire') from different boats. Will you be merciful or will you blast their boat to smithereens?
With over 80 water cannons in play around the bay, there's sure to be an equal mix of screams and laughter as you battle.
Dora's Fiesta Carousel: Who doesn't love a merry-go-round?
We love a carousel and Dora's Fiesta Carousel is one of the finest classics in this genre.
There's everything you'd expect: horses ready to ride, complete with reigns and twisting golden poles to hold. Will you choose a brown, grey, white or even a more colourful horse?
If you prefer something closer to the ground, there are carriages big enough to fit at least two. Then, there's the glimmering lights and colourful mirrors to make you feel like the most special carousel rider around.
What a perfect way to wind down after a day of fun.
quick FAQs
How many rides are there at Sea World?
More than ten! In addition to our top picks above, you can also check out other rides in the Nickelodeon Land like the Bikini Bottom Crosstown Express and Patrick's Jellyfish Frenzy.
Are the rides at Sea World free?
Once you've bought your Sea World tickets (check out options and prices on the Sea World website), you are free to enjoy all the rides listed here as many times as you like. There are also other amazing experiences, like up close animal adventures or a ride on the Shark Bay Glass Bottom Boat and Y, that need to be booked and cost extra.
Are there any restrictions on who can ride?
Check out the Sea World website or app for details on height, age and health restrictions. Also for any temporary closures for Sea World ride maintenance.
Can I stay at Sea World?
Absolutely! The Sea World Resort is located onsite with Sea World. Staying at the resort means you can maximise your day of theme park fun. Plus, the attractions continue with a 50 metre Lagoon Pool complete with waterfall and spa, a SpongeBob Light Show, a Kids Club and, for the grown-ups, a gym and massage and beauty salon
What should I do next?
Get ready to ride! Plan your trip to Sea World as part of a great Gold Coast holiday with Virgin Australia.