Golden sunrises, golden beaches and frosty, liquid gold to toast good fun under the Queensland sun. This is a place born on the back of warm hospitality — a welcoming smile that invites you to kick back a while. From the famous Hibiscus Room and Surfers Paradise Beer Garden of the 60s to the Playroom and Bombay Rock of the 80s hosting legendary Aussie acts like Cold Chisel and INXS, you never had to wander too far in your Wranglers to find a pumping venue for a night out with friends. Full throttle to 2022 in the DeLorean and now this beachside mecca is home to a bunch of world-class Gold Coast breweries that leisurely entice visitors to go with the local amber flow. From surfing kegs off Kirra Point to sipping kegs in brewery taprooms, there's gold to be found in the streets of paradise IF! you know where to dig. Luckily for you, we've mapped out some of the best in town below, so update the itinerary and get set to sample some award-winning brews that'll pour refreshingly on a salty, parched palette.
BALTER BREWING COMPANY — Currumbin Waters
Balter Brewing Company
14 Traders Way, Currumbin Waters, Gold Coast QLD 4223
Family-friendly.
Founded by world-renowned, local pro surfers Mick Fanning, Joel Parkinson, Josh Kerr and Bede Durbidge with their entrepreneurial business and brewmaster partners, Balter is a Gold Coast brewing success story that's very easy to swallow. And that most likely comes down to their simple, number one brewing philosophy that, "taste buds come first". You see, this is a beer that celebrates joy and encourages folk to bond over an epically brewed frosty or two. Even the name "Balter" pays homage to this quest for unshackled fun, meaning — "to dance artlessly without particular skill or grace, but usually with enjoyment".
Head Brewer and experimental genius, Scott Hargrave, has put Balter on the awards map winning a swag of gold, silver and bronze medals across a range of beers he's crafted with his hops obsessed crew. The Balter IPA has taken home a tonne as has the sessionable Balter Captain Sensible which is "like contributing to your super fund with the pleasure of riding a supercharged jet ski". The top shelf of winners though would have to be the Balter XPA considered a brewing masterpiece as "tropical and floral aromatics set off a fruity palette that will punch your taste buds in the pleasure zone". Some limited specialty drops also pop up every now and then like the juicy Cryohaze that, according to the label, "is like getting flushed in the face with a fruity, fluro firehouse". There's no doubting this creative powerhouse has some of this best flavour descriptions around, cans down!
To sample some of this golden goodness when on the Gold Coast, swing by the recently renovated Balter Taproom in Currumbin Waters that's pouring fresh Balter bevvies from 23 taps as crisp off the tanks as you can get. The incredible, new set up has a super-chilled warehouse feel with loads of comfy seating and mixed-use spaces including a beer garden, local artists playing live on weekend afternoons, food van drop ins and special events like new beer releases, surf industry parties, awards celebrations and fundraisers for people and groups who could do with a community helping hand. The new Balter Taproom can also be booked for private functions with purpose-built facilities now accommodating specific event staging needs. "There's something really special about being able to drink a beer straight from the source", Balter Brand Director and Co-founder, Stirling Howland explains. "Over the years, the Taproom has become a go to spot for friends and the community to gather together to celebrate events or simply catch up over a cold beer. We're proud that Balter has become that place and we are pumped to be welcoming everybody back again".
To capture the essence of what you can expect for a frothing little session at Balter Taproom, nothing sums it up more perfectly than their massive mural hand-painted by talented Queensland artists, Frank & Mimi — "Hot City. Cold Beer. With Enjoyment".
BURLEIGH BREWING — Burleigh Heads
Burleigh Brewing, Burliegh Heads
2 Ern Harley Drive, Burleigh Heads, Gold Coast QLD 4220
Family-friendly with children/under 18 to be supervised by an adult.
Welcome to the OG of craft beer on the Gold Coast brewery circuit, the proudly independent Burleigh Brewing. This is a local success story of epic proportions and the lifelong dream of husband-and-wife founders Brennan and Peta Fielding — Brewmaster and CEO, respectively. Their love of craft beer is reflected in the "deliberately simple" Burleigh Brewing ethos to create "balance, character and soul". Alongside the malt, hops and yeast, these traits are equally as important ingredients that go into crafting multi-award-winning beers currently celebrating 28 World Gold Medals. In this brewery, the essence of the local Burleigh lifestyle is authentically bottled into a diverse range of beers sharing apt names like Burleigh Mid-Tide, Burleigh Blonde and Burleigh Twisted Palm. Think of it as a salty salute to surfed-out, sun-drenched days that end perfectly with friends sipping on a local frosty brewed in the backyard of one of the world's best surf breaks. STOKED!
When you enter the architecturally designed Burleigh Brewing, you can instantly tell it's a facility that brews with passion and purpose. A stack of huge tanks spins their golden goodness in the busy background with the alfresco Taphouse upfront, an inviting industrial-beachy-farmhouse vibe that warrants a good sit and sip sampling from the freshly tapped kegs. The casual seating and dining areas include large share benches, which are a great way to strike up a chat with fellow beer lovers who are always keen to discuss the subtle nuances of an expertly concocted craft number. Like the "tropical aromas and characters of orange, mango and papaya", fruitily ever-present in the Burleigh Twisted Palm, or the revolutionary, 100% natural Burleigh Bighead No-carb Lager traditionally brewed to offer "a full-flavoured, crisp, clean taste". Whatever floats your beer boat, there's plenty to choose from in this progressive thinking Taphouse.
The friendly crew at Burleigh Brewing are also partial to throwing some awesome events that support fellow local artisans like surfboard shapers, custom bike builders, contemporary artists, talented musicians and some of the country's best skaters who are invited to the annual Burleigh Keg Jump to see who ollie can the furthest — up to 11 kegs! Their super-knowledgeable Brew Crew also take brewery tours which should be starting up again soon, and the onsite Burleigh Eats by Street Food Cartel has all your session cravings covered, serving sensational bites like gourmet burgers, fish tacos and open chicken gyros, just the tip of the tasting iceberg.
To put a cap on it, this truly is a world-class craft brewery offering a first-class beer experience that's sure to go down as a must repeat visit whenever you drop by the Aussie beach icon that is Burleigh Heads. As they eloquently put it, "this is your beer".
PRECINCT BREWING CO — Miami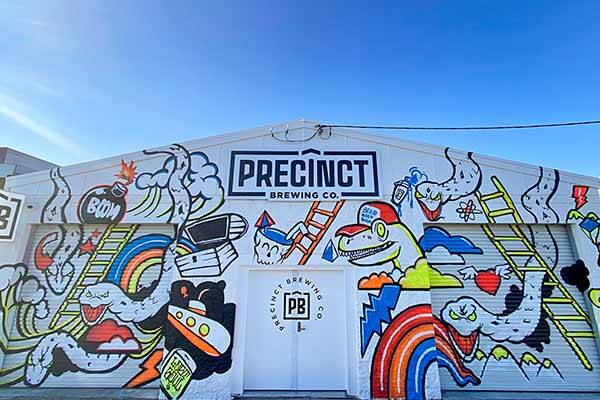 Precinct Brewing Co
17 Christine Avenue, Miami QLD Gold Coast 4220
Family-friendly with children/under 18 to be supervised by an adult.
Say "hello" to the new kid on the block, or Precinct. In essence, this is a brewery built by locals for locals, with two of the Founders owning five other popular Gold Coast venues, so they know what the people want! This brewing dream team "are as passionate about creating first-class beer as they are about building a cool place to enjoy it". And there's no doubt the vision of "cool" has been expertly pulled off with aplomb.
Situated in the bustling urban hub of Miami with funky cafes and distilleries, good hospitality neighbours, Precinct Brewing is a welcome addition to this beachside enclave of boho-chic venues. For starters, the outrageous mural façade of psychedelic snakes, dinosaurs and skulls screams "welcome to the house of fun"! As the team says, "no one likes to beer alone", so they transformed what was a tired old workshop into a state-of-the-art, open plan brewery and taproom that's essentially a huge beer hall for everyone to "beer together". An open roller door at the front and huge bay windows down one side let in natural light and the cool sea breeze straight off the Pacific, creating a fresh, alfresco feel. Rustic timber share tables with benches and dry bars with stools offer up plenty of spots to perch under the open, rafter ceiling surrounded by a contemporary curation of transient art.
The tanks at the onsite brewery are always on the spin and pouring brews of award-winning favourites like the flagship Precinct Lager "made for consumption on any day ending in Y"; the crisp Precinct Session Ale "brewed for sipping in the Gold Coast afternoon sun, especially Miami Hill"; and the Precinct Smashed Berry Sour Ale "a golden kettle sour ale base infused with generous amounts of mixed berry puree". Some more "ephemeral numbers" are also up on the brewer's blackboard and worthy of the tasting paddle to sample the spectrum of the brewmaster's innovative approach to blending pure ingredients sourced through community connections. To keep the Precinct vibe alive, acoustic artists play Friday, Saturday and Sunday afternoons with Tipsy Trivia hosted on Tuesday nights, challenging your general knowledge and pop-culture prowess. Brewery Tours can also be booked with a few package options available.
An onsite restaurant serves classic appetisers, share plates, gourmet pizzas and hearty meals made with fresh, locally sourced produce that's seasonally selected. Some crowd favourites — the crispy pork belly bao, diavola pizza and weekday afternoon wings for just 50 cents a pop! The cheery crew can even match the ideal craft beer to complement your meal which is a refreshing addition to top off what is already a fantastic culinary experience.
When in town, make sure you head down to the cool, new Precinct Brewing Co that truly is "the place to beer".
LOST PALMS BREWING CO — Miami
Lost Palms Brewing Co, Miami
11 Oak Avenue, Miami, Gold Coast QLD 4220
Family-friendly with children/under 18 to be supervised by an adult.
Based in the bustling seaside suburb of Miami, you'd be spot on for thinking Lost Palms Brewery takes its styling cues from the flamboyant shores of the American beachside locale sharing the same name — Miami, Florida. Get set for an 80's pastel pallet of brewing flamboyance with a musk pink building boasting sky blue and retro green highlights an avant-garde welcome to a boutique brewing destination that doesn't mind mixing it up on the craft beer scene. Launched in 2017, everything here just feels light and happy, like the effervescent, carefree days of the pre-internet decade. The funky can art by local designers stays true to the quirky colour cause and they even sell cool hoodies with their neon lights "Lost Palms" logo emblazoned on the back — perfect timing for winter kicking off.
Stepping off the footpath, you're greeted by a huddle of quaint picnic benches with large market umbrellas shading beer aficionados from the warm Queensland sun. Just a stone's throw inside is the tantalising taproom pouring freshly brewed core and limited release beers off 11 taps with banquet and bench seating off to the side — the banter of friendly locals riffing surf tales of the day. Talking liquid amber, the Gold Coast Bitter is a refreshing lager that's an ideal drop to "sit back and wash the weekend away with", while the Talle Daze Hazy Pale pays homage to the local Tallebudgera Creek depicting "tropical vibes and a crisp finish like a winter morning dip". To taste a real expression of beer brewing obsession, try the Hibiscus and Guava Sour, a cheeky Berliner Weisse where "the bright and floral flavours of the Hibiscus are balanced out with the juicy sweetness of tropical guava goodness". Quintessentially Gold Coast that last one. It's all set to go up a notch, too, with a brand new brewhouse featuring state of the art equipment, giving the brew team scope to increase capacity and focus on brewing more exclusive, limited-edition craft beers, which has become their signature style.
The kitchen stays true to the retro, Miami diner vibe with a bunch of casual bites on the menu that wash down perfectly with a well-earned ale or two. Hefty burgers on toasted milk buns include the Falafel, OG Beef and Nashville Chicken options, all served with fries — gluten-free, vegetarian and vegan options are also available on request. If some afternoon sides are more your speed in the setting sun, take your pick from the bowl of fries, falafel bites, chicken tenders or LP snack pack. It's a concise, well-thought-out menu covering off what is a casually cool, alfresco dining experience.
It's clear to see this Gold Coast brewery is anything but lost and right at home with Miami being its brewing muse, from the fun taproom vibe to the vibrant ingredients and energy it brews into its eclectic collection of homegrown beers.
BLACK HOPS BREWING — Burleigh Heads, Biggera Waters
Black Hops Brewing
Black Hops HQ — 15 Gardenia Grove, Burleigh Heads, Gold Coast QLD 4220
Black Hops II — 671 Pine Ridge Road, Biggera Waters, Gold Coast QLD 4216
Family-friendly with children/under 18 to be supervised by an adult.
This is the great Aussie story of mateship and a whole lot of hops, sweat and tears to bring a shared brewing dream to life. Three crafty Gold Coast lads pooled their love of craft beer and chipped away at building what has now become a serious contender on the competitive Australian beer landscape.
In 2014, Founders Dan, Eddie and Govs brewed their first Black Hops beer, the iconic Eggnog Stout, which garnered rave reviews while cementing their burgeoning brewing reputation. With some solid runs on the board, they opened their first brewery and taproom in 2016, Black Hops HQ in Burleigh Heads. As domestic demand grew rapidly from thousands of venues and stockists, Black Hops II was opened three years later in 2019 at Biggera Waters — also the first equity crowdfunding campaign conducted by an Australian brewery with spectacular investor results. These innovative lads are always striving to build community spirit, so much so that their specialty Relief XPA is brewed for the recent flood-affected communities of Queensland and Northern New South Wales with all proceeds going to official charities and organisations co-ordinating relief efforts.
With six beers making the grade in the GABS—Hottest 100 Craft Beers, as well as accolades in several other top Australian awards, their eclectic range of beers truly offer a golden drop for taste buds of all types. If you swing by the original Black Hops HQ at Burleigh, expect a more intimate Taproom experience akin to a mellow speakeasy-style brewery nestled away beachside — a rustic and warm industrial space with the exposed brick, distressed timber décor, festoon lights and blackboard of current brews an authentic taste from the birthplace of Black Hops. Head north half an hour up to Black Hops II, and this primary production facility is an awe-inspiring factory set up with a bank of polished, silver tanks overlooking an industrial-chic Taproom featuring large share benches and stools to savour the fruits of the passionate brewing team. If you're venturing even further north up to Brisbane, there's also a new Black Hops East Brisbane that's recently opened, offering a similar fit-out vibe to Black Hops II, just a tad scaled-down to suit the inner-city urban hub in which it pours from.
Whichever Black Hops you visit, the tasting paddles are a great option to experience the different flavour profiles pouring off the 16 taps with some limited, small batch beers also available for the lucky ones who time it just right. Some delicious awards winners of note include the Black Hops Hornet India Pale Ale, Black Hops G.O.A.T Hazy IPA, Black Hops Pale Ale — and when in roam — the Black Hops East Coast Haze "inspired by the east coast low weather pattern that hits the Gold Coast causing cyclone swell and world class waves". All Black Hops Taprooms host some of the best food trucks around, with Black Hops HQ serving food Friday-Saturday; Black Hops II and Black Hops East Brisbane, Thursday-Sunday.
Coming in at Number 24 on the 2021 Australian Financial Review (AFR) Fast 100 list, you know you're in for a quality craft beer experience when a good thing just keeps getting better.