Since the early 1900s through to today, millions have flocked to this stretch of the Pacific coastline to experience the eclectic selection of restaurants, bars, bistros and beach clubs that dot the famous strip — doors open, sunrise to sunset.
Now, in 2022, the Gold Coast plays home to some of the country's most impressive beach clubs, surf clubs and seaside restaurants that don't hold back when it comes to stunning fit outs, coastal-inspired menus and mind-blowing cocktail and beer lists of international flavour. You could say it's the Aussie beach holiday home that's always keen to serve a cool frosty on the foam. Cheers to that! Now, let's take a deep dive and check out a few Gold Coast Beach Clubs that are making all the right hospitality waves around this spirited city by the sea.
Cali Beach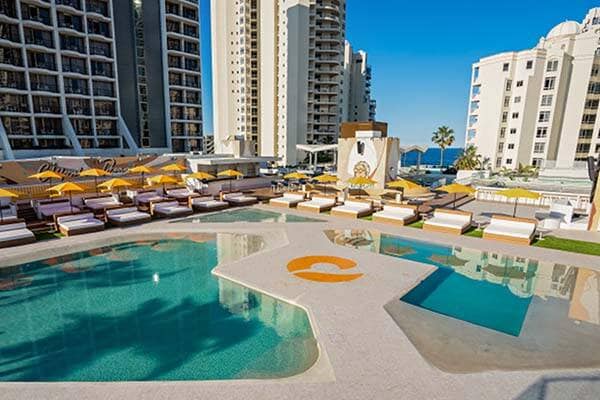 California vibes in the heart of Surfers Paradise — experience a next-level entertainment precinct that redefines beach club hype.
When you walk into Cali Beach, prepare for maximum entertainment impact! This is a water-fuelled playground for adults like no other, with an astounding multi-million dollar fit out making an unforgettable first impression. We're talking an ultra-fresh feel of California-inspired beach decor fused with a pop of sleek Hamptons chic — however you look at it, this is a striking design achievement of first-class standard.
With a rooftop location on Elkhorn Avenue presenting views of the blue Pacific to the east and golden sunset in the west, you can easily lose hours as day sneakily slides into night — or Cali Day Club transitions into Cali After Dark. If you're after the full VIP experience, book a daybed, private booth or cabana in prime poolside locations, complete with table service from the friendly Cali Girls and Guys. If you're after a more casual visit, then simply lay back on one of the comfy lounges or grab a table on the deck — the perfect spot to order a bite off the modern Japanese Cali Beach menu serving top-notch cuisine from the onsite Saké Sisters restaurant.
For a quick fix, the caramelised smoked salmon sushi rolls, chef selection sashimi and lemon thyme fried calamari are popular choices. If the beach club hunger is fully kicking in, then the bug slider or Wagyu striploin should fit the bill — share platters also being another good option. They include fresh fruit, Miss Saké sushi and sashimi, char-grilled skewers and Malibu chips selection. Wandering over to the huge bar, the drinks menu is just as impressive. Tempting signature cocktails are being concocted, like the delectable Manny's Passion (vodka and Passoa shaken with pineapple and passionfruit, strained over ice and topped with a floating passionfruit-drizzled pavlova), pina colada slushies, local and international beers flow on tap and a well-considered wine, sparkling and champagne list (including fancy, French favourites) provides plenty of ice bucket options.
Come for an hour, or come for the day! If you're after an interactive and fun Gold Coast beach club experience, then this gem is hard to beat. With an amazing resident DJ line-up (featuring Sneaky Sound System, Bag Raiders, Stafford Brothers, Hot Dub Time Machine – just to name a few) along with a beach volleyball court, huge outdoor cinema and daily performances by professional dancers; Cali Beach is a must to add to your itinerary. Oh, and the best part? Entry is free, day and night (excluding special ticketed events). Don't forget to pack your best sunnies, swimwear and a bottle of sunscreen too.
For specific venue details, please visit the website.
Where: 21a Elkhorn Avenue, Surfers Paradise, Gold Coast, QLD 4217
La Luna Beach Club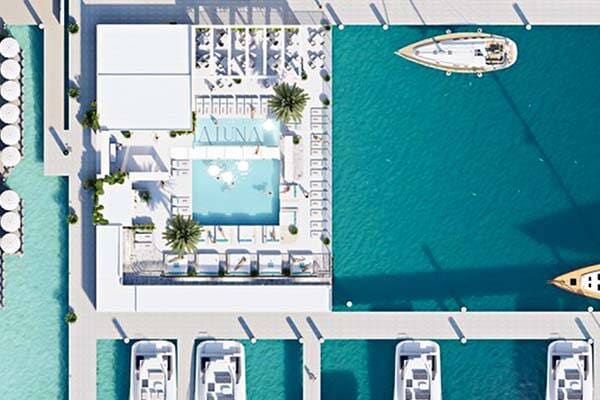 A new beach club is on the rise bringing a slice of sophistication to the Broadwater.
"Live by the sun, dance by the moon." The luminescent sign just off the La Luna Beach Club entrance perfectly encapsulates the enchanting, waterside ambience that overlooks a stunning flotilla of luxury yachts moored at the neighbouring marina — an alluring slice of Mykonos as the glistening Broadwater puts on a mesmerising show akin to the sway of the Aegean. This is a modern Mediterranean experience done so well you'll feel as though you've been teleported to the islands of Greece on that dream overseas holiday.
Recently opening its doors in November 2022, meticulous attention to detail has been the ethos behind this new hospitality delight that invites you to sit down, relax and take your time sharing good food while sipping on your favourite tipple, the sea breeze gently blowing in through the open marina vista. Light timber features, bespoke linen soft furnishings, earthy rendered walls and a lush, creeping vine across the ceiling creates a fresh feel that sits comfortably in the space of boho-luxe. Even the plates are in theme, with gorgeous crockery featuring a lunar look — light and dark versions used for day and night dining, respectively.
The well-curated cuisine offering is a modern Mediterranean fusion of epic tastes. Try woodfired bread and dips off the Mezze, fresh seafood and salads from the Cold Bar, char-grilled premium beef, souvlaki crispy chicken or the homemade gnocchi — just a taste of what you can look forward to. A delicious vegan menu is also available, and the delectable dessert menu serves up some sweet delicacies such as coconut panna cotta, passionfruit semifreddo and chocolate delice.
The La Luna drinks list offers a refined selection of quality sipping options for day and night diners. A quick snapshot includes local and international beers, wines from notable regions (Marlborough — NZ, the Hunter Valley, Margaret River and Barossa Valley, among others), popular sparkling and champagne favourites, classic spirits and sea-inspired signature cocktails that certainly raise the bar.
But there's some big news in the wind that's set to elevate this experience to even greater heights. The launch of the floating La Luna Beach Club! That's right. Owner, The Gennari Group (whose Gold Coast hospitality portfolio also includes Koi Dining, The Loose Moose Tap and Grill House, Roosevelt Lounge, Maggie Choo Asian Fusion and Glass Dining), has secured prime marina space directly in front of La Luna restaurant and is launching a world-class beach club on a custom-made, luxury pontoon. An ingenious and exciting vision, this 840 square metre super club is set to feature an onsite kitchen and bar, two pools to kick back in, 10 cabanas, a private VIP cabana and a seated restaurant for up to 100 guests.
No expense has been spared, nor shortcuts taken, in crafting the uber-chic, contemporary fit out under the guidance of architects, House of August, and hospitality specialists, Space Cubed. The raised cabanas offer adjustable audio levels, USB charges and drawable linen curtains for a touch of privacy. Sumptuous day beds and lounges line the expansive pool deck, while the alfresco restaurant runs down the southern side of the club connecting to the bespoke kitchen and bar. Another wow factor — a feature runway between the two pools that crescendos at a crescent moon showpiece overlooking the Broadwater, perfect for a few holiday snaps!
The Beach Club dining menu will mostly reflect the Mediterranean fusion direction of the accompanying restaurant, with easy cabana bites also available like sushi, sashimi, fresh seafood and more. A top-spec DJ Booth will host reputable acts to play poolside — and to top off this memorable experience — plush, branded beach towels are included in your visit when you book a cabana or day bed (not for keeps though!).
Opening early November, the sensational La Luna Beach Club is an incredible addition to the Gold Coast hospitality scene and one to put on the holiday bucket list if you're keen to spoil yourself with a taste of sophisticated dining style, seaside.
For specific venue details, please visit the website.
Where: 26/74 Seaworld Drive, Marina Mirage, Main Beach, Gold Coast, QLD 4217