In recent years, there's been a global shift in leisure travellers seeking a naturally connected experience with a discerning degree of luxe ever-present in the itinerary. Enter the perfectly juxtaposed world of "glamping" — the modern-day phenomenon that ingeniously mixes the glamour of luxury accommodation with the grounded freedom of camping. It's going off-grid without the grit. Unplugging without disconnecting. Going back to basics but in an elevated kind of way. Take in the beauty of your natural surrounds while kicking back in a deluxe tent complete with an open bath, double bed and front deck overlooking native Australian rainforest — gourmet food service and champagne on ice thrown in the mix for those who don't see a reason to hold back when it comes to "roughing it" 2022 style. If there ever was a getaway experience that epitomises the saying "less is more", then glamping truly captures its essence by allowing nature-loving luxury seekers to easily have their cake and eat it too. So, let's load up the virtual backpack and explore some of the best Gold Coast glamping options that don't disappoint when it comes to spoiling guests, bush to beach.
Nightfall camp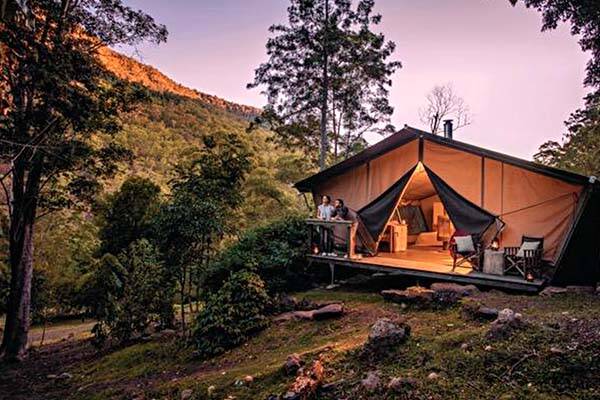 Scenic Rim glamping to soothe the soul.
Where: 3009 Christmas Creek Rd, Lamington, QLD 4285.
Nestled away quietly in the lush remoteness of Lamington National Park sits the elegantly poised Nightfall Camp. A pioneering accommodation vision brought to life in the enchanting Scenic Rim, this luxurious suite of architecturally designed safari tents is an amazing in situ achievement carefully engineered by a team who were diligent not to disturb the direct environmental footprint. And frankly, this is precisely why Nightfall Camp is an inspiring ecotourism masterpiece.
Permanent, artisan crafted tents sit calmly alongside the crystal-clear headwaters and rockpools of Christmas Creek — the bubbling brook, rustling canopy and singing birds are your atmospheric, natural soundtrack. Stepping onto your front deck, refined luxury awaits inside with rustic timber floors, twin vintage bathtubs, a natural stone sink and a central rotating fireplace creating an authentic cabin feel; save for timber walls being replaced by canvas ones that roll up, inviting the outside in through mesh screens. Plush bedding, soft day beds and natural fibre blankets add to a homey feel tailor-made for a mid-afternoon forest nap. A modest kitchenette with a fridge is handy to keep drinks and other goodies at arms' reach while keeping your seclusion that little bit more private. A massage or facial can be booked in your safari tent or by the creek, as can private yoga lessons on the front deck if you feel like reconnecting in the heart of nature's goodness.
Culinary speaking, this is a fully catered experience with a well-considered menu of wholesome, organic meals served by your hosts for breakfast, lunch and dinner — fresh produce sourced from the Nightfall Camp garden, local growers and South East Queensland-based markets. The lunch backpack is a fantastic on-the-go option if you'd like to hit the trail and picnic by a Lamington National Park waterhole or under the cool rainforest canopy.
With four luxury tents available and consistently high demand due to this incredibly bespoke eco experience, early bookings are recommended to secure your glamping getaway at the breathtaking Nightfall Camp.
Woodland Tents at Cedar Creek Lodges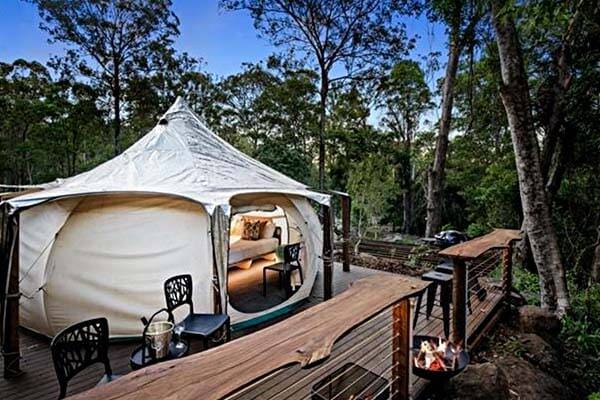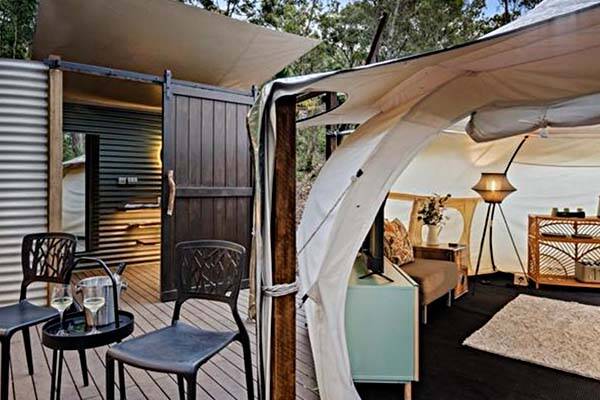 Creek-side glamping with adventure fun.
Where: Tamborine Mountain Rd & Cedar Creek Falls Rd, Tamborine Mountain, QLD 4272.
Situated up on Mount Tamborine sit the six new glamping tents of Cedar Creek Lodges — with four more still to come. Traditionally offering an assortment of comfortable lodges and rooms for travelling guests, the owners discovered they had an idyllic space available creek-side that was virtually custom-made for a spot of upmarket, Tamborine glamping. And boy, did they pull it off with aplomb! No hard yards needed, hiking for miles to get to your desired camping destination — simply turn off Mount Tamborine Road and pull into one of the many onsite car parks to try a taste of Scenic Rim glamping at its best.
This is laidback, luxury lodgings perfectly paired with prime rainforest frontage that would impress even the most passionate nature lover. Spacious, round tents neighbour the natural habitat, encircled by timber decks with BBQs and benches overlooking the pristine creek below. Talking glamping inclusions, you've got a king size bed with luxury bedding, a comfy couch, a TV and fresh furnishings that complement the serene rainforest ambience outside. But the big bonus?! Your own private, outdoor bathroom with rustic decor, feature lighting and a large shower that's open to the elements above — the warm water contrasting to the crisp mountain air under a starlit sky.
The other great thing about glamping at Cedar Creek Lodges is the access you have to the comprehensive amenities, including modern dining at the refurbished Rainforest Restaurant and Lounge Bar, tasty snacks and tipples at the Terrace Kiosk and in-room dining if you don't want to delve out of your cosy hideaway. A huge range of fun activities can also be booked at the onsite Thunderbird Park to level up the adrenaline factor for adults and kids. Try your hand at these cool experiences: TreeTop Challenge Canyon Flyer Zipline, TreeTop Challenge Adventure Park, TreeTop Challenge Juniors, Fairytale Farmers, Fun Fair, Thunderegg Crystal Mine, Laser Skirmish, Pickle Ball, Adventure Mini Golf, Bird Feeding and a rockpool visit. If you'd like a touch of pampering with your glamping, book a hot stone, salt glow or therapeutic massage to truly embrace the Zen that transcends Mount Tamborine.
For an unforgettable Gold Coast glamping experience that offers easy access to quality dining, fun activities and epic bush walks, Woodland Tents at Cedar Creek Lodges is a fantastic option that's just over a one-hour drive from Brisbane and a 45-minute drive from the Gold Coast.
Paradise Country Farmstay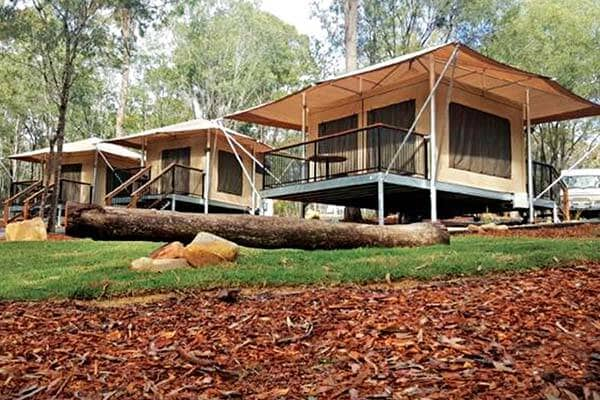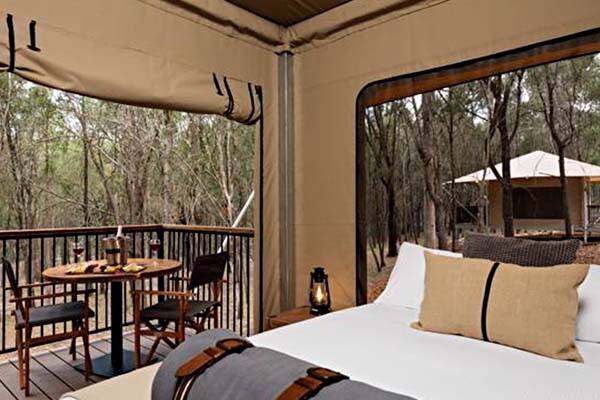 Glamping goodness, down on the farm.
Where: Production Dr, Oxenford, QLD 4210.
The charming Paradise Country lives on the northern end of the Gold Coast in Oxenford and offers a quintessential slice of Aussie farm life with an eclectic family of amazing animals calling it home. Little kids (and big ones) can come face to face with cows, horses, pigs, sheep, farm dogs, chickens and ducks. You can also check out some of Australia's unique and wonderful wildlife, including kangaroos and wallabies, koalas, wombats, Tasmanian devils, birds, reptiles and dingoes. A couple of other cute friends complete this memorable animal experience with the cheeky meerkats and Marmoset monkeys always bringing a smile.
To keep the fun factor flowing, live shows are staged throughout the day, with the Shaun the Sheep Aussie Adventure Show and the Stock Horse Arena and Billy Tea Show both action packed! When the tummy starts to rumble after all this excitement, pull up a chair at the classic Farmhouse Restaurant serving deliciously hearty favourites for breakfast, lunch and dinner. And the icing on the cake? You can stay overnight at the Paradise Country Farmstay, choosing from a selection of beautifully appointed glamping Eco Tents tucked away in a sheltered forest of native gums.
Each rustically appointed Eco Tent is raised off the ground on a timber deck to provide better views and ventilation from the cool air below. A mobility access ramp adjoins the generous front deck, complete with a comfy outdoor setting overlooking the bush scape beyond. Stepping inside, you've got a plush, queen size bed, country timber cabinetry, bar fridge, woven floor mat and crisp bedding with linen and towel service provided — pure glamping extravagance. Family tents offer an additional bunk bed, and you can also upgrade to ensuite tents featuring a quaint, modern bathroom with a toilet, shower and sink. So, depending on your specific accommodation needs, take your pick between the Eco Tent Couple, Eco Tent Couple Ensuite, Eco Tent Family or Eco Tent Family Ensuite. For non-ensuite Eco Tents, onsite amenities are close by, with guest pathways guiding the way.  
If you're a family or couple seeking a fun, Aussie farm experience that can be conveniently packaged, then Paradise Country Farmstay is an all-inclusive glamping option that's sure to provide an authentic taste of Australian outback life on the iconic Gold Coast.
Burleigh Beach Tourist Park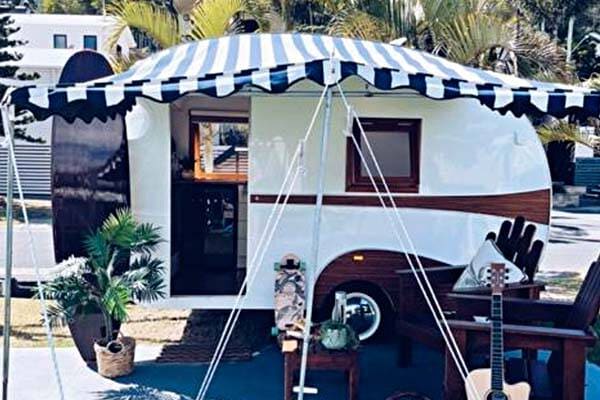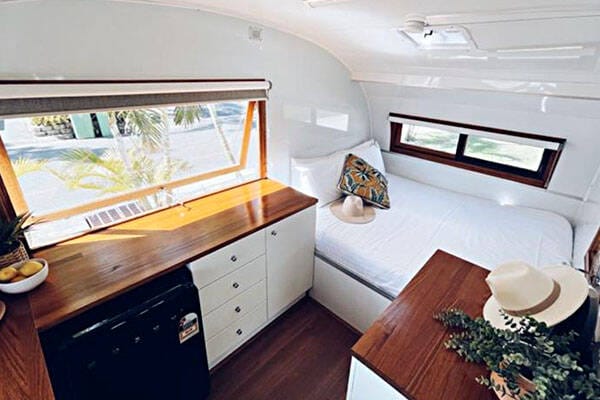 Glamping life, van style.
Where: 36 Goodwin Terrace, Burleigh Heads, QLD 4220.
If you've got a fondness for yesteryear and all the feel-good vibes of 50's nostalgia, then these peachy Gold Coast glamping gems might just be for you. The ingenious operators at Burleigh Beach Tourist Park have custom-made some cute Vintage Vans that would be right at home on the set of "Gidget Goes Hawaii" — the dreamy Moondoggie leaning up his nine-foot malibu alongside. I mean, check them out! Do you get any cooler?
Located just minutes' walk from one of the Gold Coast's most iconic surf breaks, these quaint Vintage Vans will teleport you back to a time when the sun never set on how much fun you could have holidaying beachside. They're airy and spacious inside, featuring a double bed, cabinet tabletop and camp kitchen with BBQ hotplates, microwave, retro mini fridge, toaster, sink and boiling water. Basic crockery and cutlery are supplied (BYO cooking utensils), as is a weekly bed linen and towel refresh. After a solid beach session, the outdoor area offers two Cape Cod style timber chairs shaded by a vintage-look, blue and white striped awning extending from the van. Shared park amenities, including a coin operated laundry, completes this retro-modern, Gold Coast glamping escape.
Located near the bustling Burleigh Heads hub, you get to enjoy a city-meets-sea locale with the revived James Street precinct, an eclectic exploration of boutique shopping, dining and bar-hopping fun.
Sanctuary by Sirromet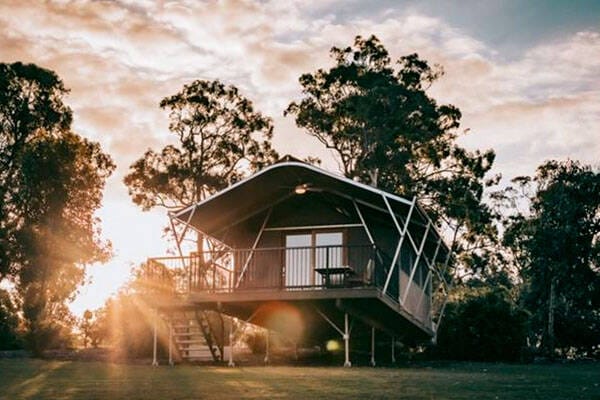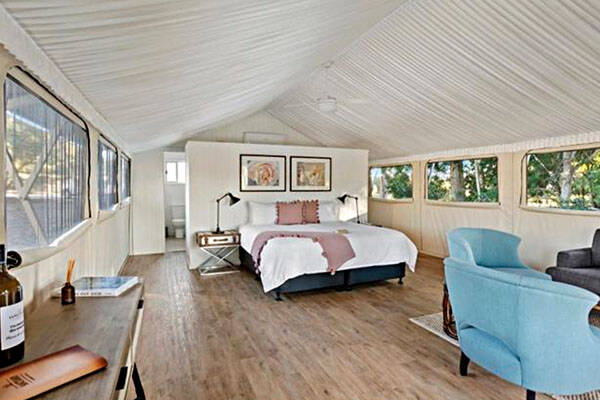 Vineyard glamping, naturally luxurious.
Where: 850 Mount Cotton Rd, Mount Cotton, QLD 4165.
The name Sirromet is synonymous with good wine and good times, thanks to the impressive winery they've established at Mount Nathan on the northern Gold Coast corridor to Brisbane. Sitting atop of the rolling, vineyard hills — the romantic, green vines meandering in the valley below — one could think you're touring the famous, chateau-strewn province of Bordeaux. Here, you've arrived at a truly world-class destination offering wonderful wining, dining and event experiences alongside treasured travel memories.
The passionate team here love hosting intimate wine tours and tastings showcasing behind-the-scenes insights into Sirromet's state-of-the-art winemaking facilities — take home bottles are available should a particular drop play well on your palette. The gorgeous Tuscan Terrace restaurant, perched under the shade of intertwined fig trees, serves a delicious selection of traditional Tuscan fare using fresh, locally sourced produce prepared in home-cooked style.
Lurleen's restaurant is also open exclusively for private functions, weddings and special events. For music lovers, the iconic Day on the Green concert series sees thousands descend on the sloping grass amphitheatre to watch superstar acts perform; we're talking the celebrated likes of Sir Elton John, Rob Thomas, Stevie Nicks, Jimmy Barnes and a host of other legends. And the natural surroundings are just awe-inspiring to wander around, taking in Australia's native flora and fauna.
So, with such an incredible range of things to see and do all in one place, why not extend your experience and stay the night at Sanctuary by Sirromet — be it a romantic celebration or family fun weekend? Cosily huddled away in a haven of Laguna paperbark trees and scribbly gums lies a collection of tented pavilions that literally define what glamping is all about. This is simple elegance and comfortable luxe delivered in a Hamptons-meets-farmhouse feel that invites relaxation in droves. Crisp, white panel room dividers, distressed timber floors, subway tile ensuites and contemporary decor effortlessly combine to make this a glamorous camping stay every step of the way. There are a few pavilion styles to choose from depending on your accommodation needs — a Laguna Suite, perfect for two with a large couples' shower; 14 spacious Premium Pavilions, some with lakeside views; a larger, mobility access Premium Pavilion; and two Family Pavilions that comfortably sleep four. All glamping pavilions feature sizeable decks overlooking the bush backdrop that seem to float in an almost treehouse like vista evoking an authentic campout feel.
If you're keen on a spot of uber-chic glamping with the bonus of delectable, onsite dining, superb wine tasting and quality events, then Sanctuary by Sirromet is one to put on the travel bucket list. Hot tip: get in super-early if you'd like to stay overnight for a future Day on the Green concert.