The information in this article is correct as at the time of publishing. We recommend all guests travelling to check the latest information and advice on the relevant Government websites. The Australian Government information is available at the Department of Home Affairs, Department of Health and Smartraveller. Fiji Government information is available at mcttt.gov.fj.
Since the opening of Fiji's borders to international tourists from 1 December, Australians once again have the chance to access one of the world's great destinations, the land of "bula". The friendly island nation that wraps its visitors in such a famously warm embrace.
To travel once again to Fiji is to experience everything this beautiful nation represents, from family-friendly resort stays, to immersive cultural experiences, world-class diving, snorkelling, and pure, blissful beachside relaxation. This is a country that does tourism well, and we can't wait to get back there to enjoy it.
Of course, this is a post-pandemic world, so not everything is the same as it once was, and that includes travel to Fiji. There are processes in place to protect travellers and to protect the island nation, which currently has a COVID-19 vaccination rate of 70% of total population. The new rules for travellers have been updated from May 1, 2022 and many of the former bubble restrictions have been lifted to ensure your holiday in Fiji is safe along with as relaxing and enjoyable as it always was.
If you're planning to jump on a flight to Nadi (and then flying back home to Australia again), here is everything you need to know for a seamless experience. Though do be aware rules and restrictions have relaxed since December 1, and though everything in this article was correct at the time of publishing, we encourage you to check with both Australian and Fijian authorities before booking and travelling to get the most up-to-date information.
Credit: Tourism Fiji.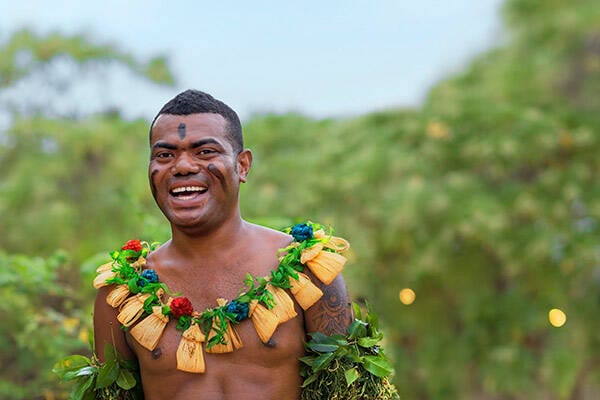 WHO CAN ENTER FIJI?
Anyone travelling on an Australian, New Zealand or American passport – as well as selected others – is now allowed to enter Fiji for the purposes of tourism. Virgin Australia is flying direct from Sydney, Melbourne and Brisbane to Nadi in Fiji.

What are the requirements to leave Australia?
Double-vaccination against COVID-19
You will need to be double-vaccinated against COVID-19 to leave Australia without special permission from the Department of Home Affairs. Provided you have had those two shots – of the AstraZeneca, Moderna, Pfizer, Sinovac, Bharat Biotech, Sinopharm, Sputnik V, or Novavax vaccine – you will be allowed to leave the country for a holiday in Fiji, or anywhere else in the world that is currently accepting tourists. Children under 12 are exempted from this rule.

What are the entry requirements to Fiji?
As of May 1 2022, there are rules to follow to ensure smooth entry into Fiji. They are as follows:
Travellers aged 18+ need to be double-vaccinated against COVID-19 at least 14 days prior to departure
From May 1, fully vaccinated visitors will no longer be required to produce a pre-arrival negative test, in a move that reduces costs for travellers and makes it even easier to travel to
Travellers 12+ will need to show a confirmed pre-booked RAT test booking from entrytest.com booked for the 48-72 hour window of your arrival into Fiji. (Cost around AUD$20)
You will need to undertake a RAT test on arrival into Fiji between 48 and 72 hours of arrival. A test can be conducted at a health centre in Fiji or, at your hotel or resort. To find out if your hotel or resort offers a testing service, click here
Travellers must have medical travel insurance, with international coverage that covers COVID-19, before arriving in Fiji.
Proof of the above
A mask for the airport and the flight

At the airport
You're all set to board your flight to Nadi, what do you need at the airport? You will need proof of vaccination, as well as all standard travel documentation. Note that Virgin Australia's self-check-in counters are currently closed, and it is recommended to arrive at the airport four hours before departure for international flights, to allow time for all of the extra checks that are now necessary.
Credit: Tourism Fiji.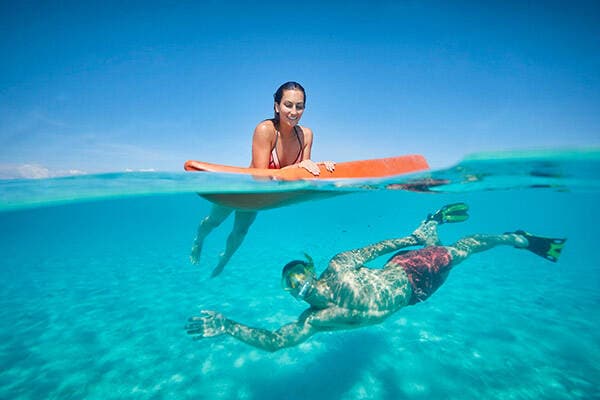 What you'll need to do when in Fiji
On arrival in Nadi, you and your family members can make your way to your hotel after you land. Although not mandatory, its advisable to stay at a Care Fiji Committed resort within Safe Travel areas where this is high vaccination coverage.
During your stay in a hotels or resorts, travellers over 12 will have to take a RAT between day two and three of your stay (48-72 hours) facilitated by the hotel. If you test positive, you will be required to isolate for 7 days, which can be done at your accommodation in which you're completing your quarantine.
Get a negative result, and you're free to get on with your holiday! You're free to move around Fiji as normal.
Other than that, follow all public health measures, including mask-wearing and social distancing where necessary or requested, relax and enjoy.

What you'll need for your return to Australia
Vaccination certificate (or proof of exemption)
A completed Australia Travel Declaration form at least 72 hours before departure
Standard travel documentation
A mask for the airport and flight
Australia does not currently require a pre-departure test upon return from Fiji
There are now very few mandatory requirements to consider on your Fijian holiday. However, take the necessary precautions, plan well and follow the rules, and paradise awaits.
Whether you like a relaxing or an active holiday, Fiji has something for everyone. Book flights to Fiji with Virgin Australia and discover pure paradise for yourself.