Some of the South Pacific's very best over-water bungalows and bures are right here in Fiji. When you book an overwater bungalow, you need never worry if your room will have a view of the lagoon… because you're sleeping right on top of it. Here is five of Fiji's best over-water bungalows.
Laucala Island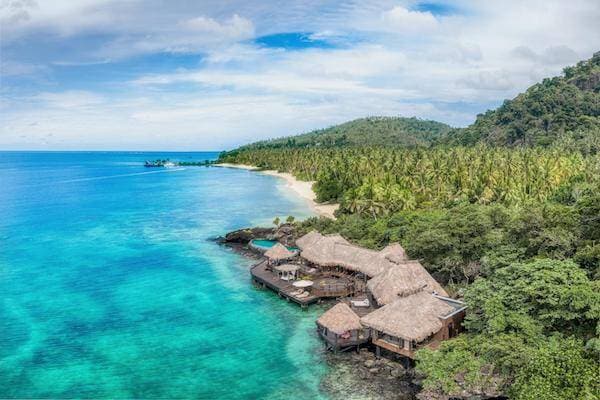 There's no grander overwater bungalow anywhere in the Pacific than Fiji's Luacala Island
Photo by: COMO Hotels and Resorts
You'll need a plane to get to this private island resort, but the 50-minute flight from Nadi's International Airport is worth it. Laucala Island is tiny at just 12 square kilometres - but it's all yours. There are only 25 residences in this Eden-like location where nature and architecture blend together amongst rainforest, beaches and ocean. There's only one over-water bungalow on Laucala Island - but it's a giant, 2000 square metre two-bedroom villa on a split level that floats above a stunning pool lagoon. Guests have the services of their own Tau – Fijian for friend – who takes care of your every wish. Your villa is made from traditional materials like coconut husks and palm leaves, and you'll have your own jetty and wet edge rock pool. Leap straight into the ocean to swim with tropical fish, then dine in a treetop dining area looking across the rainforest. If you can tear yourself away from your private lagoon, the resort has its own yacht, 18 hole championship golf course, game fishing speedboat and offers horse rides along the beach. There's also a wellness centre built amongst tropical gardens and lily pads. At night, follow paths through the rainforest lit up by Tikki torches to your private villa on the ocean.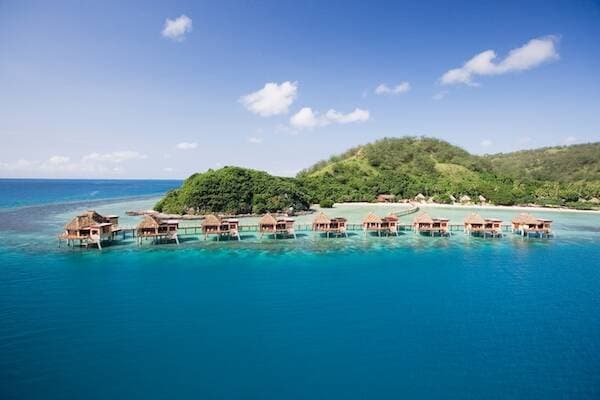 Sleep over a fringing reef at Likuliku Lagoon Resort
Photo by: Tourism Fiji
Likuliku Lagoon Resort (which translates to 'calm waters') was the first resort in Fiji to offer overwater bures. Out here – amongst Fiji's world-renowned Mamanuca Islands (think: Survivor, it's been filmed here numerous times) – you're surrounded entirely by a protected marine sanctuary. Your overwater bure is perched on the edge of fringing reef in the lagoon, and all you need do is jump from your sundeck into a living aquarium beneath you. There are over 400 coral species in Fiji you can explore below, with over 1200 varieties of reef fish, as well as turtles like the endangered Leatherback turtle. Who knows, you might even see a humpback whale pass by from your back deck. While you'll feel like you're in the middle of the South Seas, you're actually only 25 kilometres from Nadi International Airport, and you can reach your resort by fast catamaran or speedboat; or by seaplane or helicopter. From your overwater bure, the resort resembles an ancient Fijian village, with its main building designed to look just like a Fijian canoe house, made from hand-woven thatch with sprawling high ceilings. Laze on your deck with a chef's canapé plate, or eat fresh-caught seafood at the resort's signature restaurant, overlooking a stunning white-sand beach.
Fiji Marriott Resort Momi Bay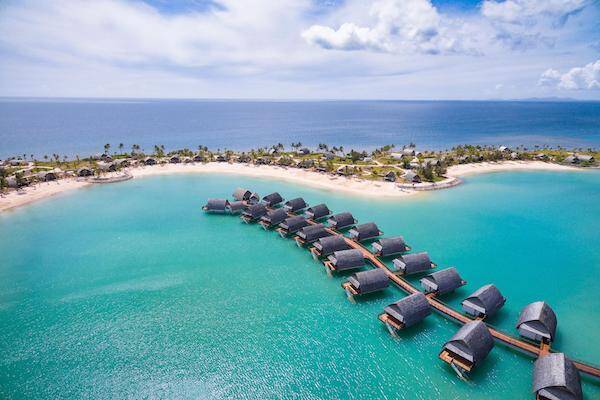 Stay in the only overwater bungalow on Fiji's main island at Fiji Marriott Resort Momi Bay
Photo by: Fiji Marriott Resort Momi Bay.
Nothing epitomises a romantic Fijian escape quite like an overwater bure at this adult's only five-star resort. Order a cocktail in time for a view of the sunset from the private sun deck of your overwater bure with a view over Momi Bay as the sun drops into the ocean off Viti Levu's west coast. These are the only overwater bungalows on Fiji's main island. Sleeping in your overwater bure is the closest thing you can get to sleeping on a boat… although this overwater bungalow doesn't rock with the ocean's swells, and so it comes with a guarantee of no seasickness. And nothing at any resort on Earth feels quite so decadent as stepping straight from your room into the sea below. Should you wish for a different sunset viewing spot, the resort's Sunset Outdoor Pool is the best spot to watch the sunset in all of Fiji, with the sun reflecting across the still waters of the infinity pool. There are three swimming pools to choose from and restaurants featuring fire dancing performances and the harmonies of a local village choir. Should you ever wish to leave your resort, cruises depart for the Yasawa and Mamanuca archipelago of islands from your resort's marina.
Koro Sun Resort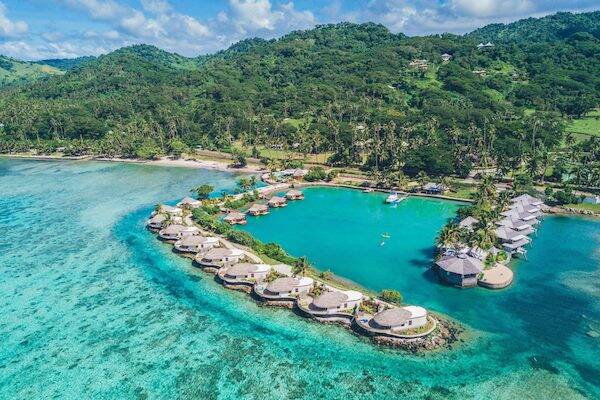 Located within its own private sanctuary on Fiji's second largest island, Koko Sun Resort offers the ultimate in overwater living
Photo by: Koko Sun Resort
Take a connecting flight from Nadi International Airport to the island of Vanua Levu, then take a 15-minute drive up a stunning coastline to your own very private slice of paradise. The overwater bures at Koro Sun Resort are built above your own private lagoon, where you can snorkel and kayak straight from your back steps. Choose between floating bures built within the protected marina of the resort. A ladder from your sundeck drops straight into the water – where you can swim with tropical fish, stingrays, turtles and more. The resort is built within its own 65-hectare sanctuary so that you're surrounded by nothing but blue ocean and rainforest. When you're not swimming, indulge yourself with body treatments at the Rainforest Spa built amongst streams and forest lit up by candles and lanterns. Treat yourself to coconut mud crab and ginger and garlic lobster at a restaurant overlooking the water serving Asian-fusion cuisine. With no dwellings around for kilometres on either side, Koro Sun Resort allows visitors to feel as if they've left the 21st Century behind them.
Musket Cove Island Resort
Musket Cove Resort allows travellers to sleep in an overwater bungalow in the Mamaunca Islands
Photo by: Musket Cove Resort
Located on its own tiny island within an archipelago of 20 of the planet's most desired islands (Castaway was filmed on one of them), Musket Cove Island Resort is that dreamy South Seas escape you've longed for. Known as a magnet for international sailors, Musket Cove offers land-based travellers their own chance to sleep on top of the water. The resort offers six over-water bungalows built on top of a lagoon, so guests sleep surrounded by water. Compare your watery abode with sailors at the resort's iconic yachtie gathering spot, the Yacht Club Island Bar, a barefoot bar set on the sand connected to the resort by a floating marina walkway, the perfect setting for cocktails at sunset. Your overwater bungalow is located amongst 160 hectares of tropical rainforest, gardens and walking trails that you can explore by foot or on kilometres of roadways on a hired cruiser bike. You're close here to the other 19 islands of the Mamanuca archipelago, with regular island hopping excursions, morning dolphin watching safaris and diving and fishing boat excursions. Some of the best surf on Earth is also just a 20-minute boat ride away.