So why don't you make epic tracks in the Outback and become the travel legend, that you knew was always lurking inside of you ready to break free? It's all waiting for you to get your Akubra on as your Virgin Australia flight sets down in Darwin.
Make A Name For Yourself In Katherine
Katherine is a sprawling country town where the tropics meet the outback just a three hours' drive South Of Darwin, with plenty of epic scenery to take in along the way. You'll find a range of accommodation options here including farm stays among cattle ranchers, dressed up hotels, camping grounds and backpacker `palaces' that all make an excellent base for your adventures.
Celebrate your arrival and make new friends at Kirbys Katherine Hotel on Katherine Terrace, which is one of the most lively venues in the `territory' with plenty of theme nights. Sample the generous pub grub. Otherwise, if you're lucky you'll find the local food truck, Spud Man in the carpark, offering a menu of baked potatoes and hot dogs. Now you're really living.
The following day head to.Katherine's natural thermal springs on the banks of the Katherine River. This series of clear pools framed by lush vegetation is as inviting as a postcard from paradise. Thermal springs have many health benefits - however chief among them is just simply feeling good. They'll set you up nicely for all the experiences ahead in a destination that will start your transformation from tourist to travel legend.
Nitmiluk Gorge Is Just Gorgeous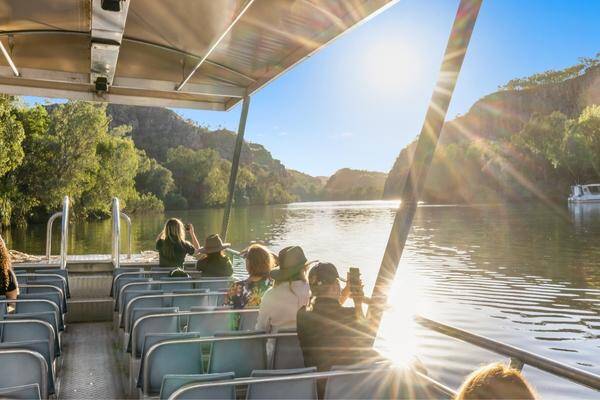 Formerly known as Katherine Gorge, Nitmiluk (pronounced Nit-Me-Look), is the traditional home of the Jawoyn People, who co-manage this 292,008ha National Park with the NT National Parks & Wildlife Commission.
There's several stories on how Nitmiluk was given its name, including that it's derived from the word nitmi (which refers to the cicada song that Nabilil the crocodile heard when he set up camp at the entrance to a particular gorge). Either way, get ready to hear this soundtrack of Outback Australia, which is on stereo replay throughout the region.
Actually Nitmiluk Gorge is not just one gorge but a 12km-long series of 13 breathtaking gorges, which curve laconically along the Arnhem Land Plateau to reach the sea. You may explore it by chopper (no, not a croc's jaws - guides ensure they're always out of reach), sea and on foot.
Rise And Shine On The NItmiluk Dawn Tour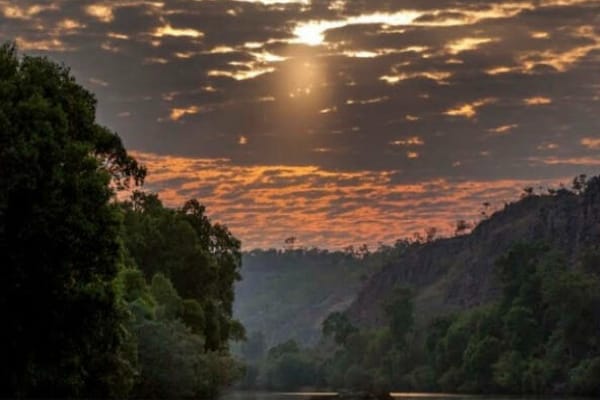 This two-hour Welcome to Country expedition, which departs from 7am from May to October, gets you right up close to the mesmerising glow of the rock formations in the early morning light. A local guide on board will fill you in on this land and its Dreaming stories. Then you'll disembark and stretch your legs along an 400m walk before you join another vessel to take you to the second gorge. The view between the two gorges is spectacular in the rosy dawn just as the wildlife is stirring and the dew is still glistening on the scrub.
This excursion is operated by Nitmiluk Tours with a starting point at Gorge Road about 30 minutes by car from the township of Katherine. No worries if you haven't had the chance to breakfast yet as snacks, tea and coffee is served before the boat slips its moorings.
Paddle Your Own Canoe On The Barrak Barrak 2-Day Adventure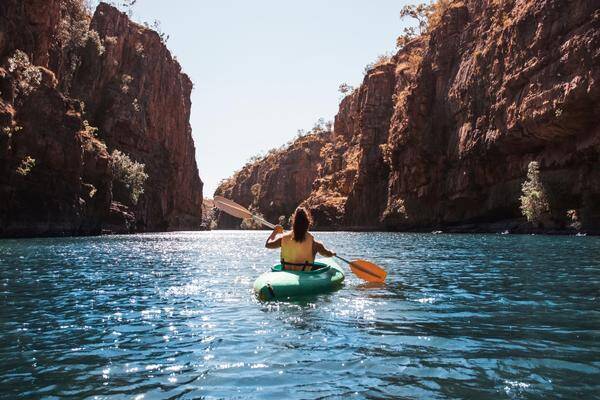 Venture deep into the Nitmiluk Gorge on a two day overnight canoeing adventure and you'll never be content to climb aboard a tour bus again. However you will need to be reasonably fit. This is how it unfolds: A boat transfer will take you to the top of the first gorge and you will start paddling from the 2nd Gorge.
Forget 5 star accommodation - this zillion star Sandy Bank campsite, is located at Smitt Rock, in the 4th Gorge. Bring your own camping equipment along with food and water, then sleep beneath a canopy of twinkling stars in nature's light show..
By day, you'll exploring the Gorge at your own pace. Perhaps taking a dip in the Lillypond seasonal waterfalls or in the shallow rock pools. And you won't only be paddling your own canoe but carrying it as well, over the rocks between each gorge. The payoff is the satisfaction of having an authentic experience and getting your bearings in one of the world's most breathtaking locations.
Operated by Nitmiluk Tours, the Barrak Barrak tour departs daily from June to October. It starts and end at the Nitmiluk Boat Ramp and you'll need a camping permit from Parks and Wildlife and all of your own camping gear along with food and water. Well, you know what they say: It's not about the destination, it's the journey.
Pace Yourself With A Walking Tour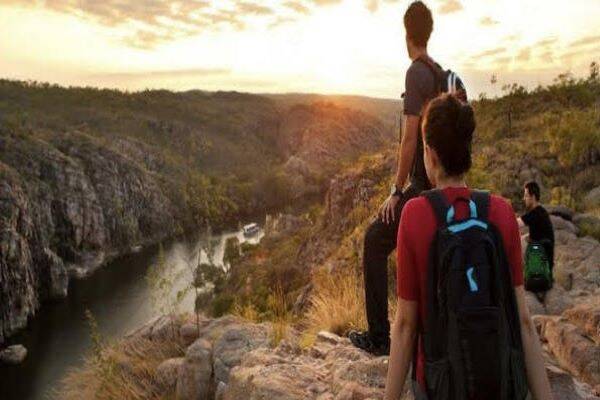 With more than 100km of walking tracks around the gorge, you won't run the risk of being mown down by another tour mob. You could choose any trek from between a one hour stroll to six hours in the bush. Or spend five-days hiking the famous 60km Jatbula Trail along the Arnhem Land Plateau - a dreamtime landscape with its cascading, crystal waterfalls, pink lily strewn rock pools and fluttering butterflies (Butterfly Gorge is home to the black and white butterflies - one of the most beautiful of creatures).
Marvel at the rock art - a reminder that people had been walking this well marked track for thousands of years. Now there's proper camping grounds and toilet facilities, as well as tour guides from Gecko Touring and Trekking or World Expeditions to take you along the way.
Recharge At Cicada Lodge
One of the pure joys of adventure travel is shamelessly pampering yourself along the way because, well, you deserve it. Book into Cicada Lodge with its air conditioning, private balconies overlooking the grey and purple hued scrub, sparkling bathrooms (after camping sites, they'll look as inviting as a luxurious spa). Jump into the swimming pool and then work up an appetite for the inspired cuisine in the Cicada Lode restaurant where the emphasis is on refined, natural produce where you may sample the local oysters and so much more. If you've been camping in the bush, the notion of someone serving you is a treat in itself.
If you're staying at Cicada Lodge and you would like to take a helicopter tour to get an overview of Nitmiluk Gorge, you may be entitled to a complimentary upgrade - an Adventure Swim Tour, which includes a flight over all 13 gorges, plus take the plunge into one of Australia's true blue watering holes.
Nimiluk Tours operates the Nitiluk Scenic Flights and they depart from depart from the helipad located 3km from the Nitmiluk Centre within the spectacular Nitmiluk National Park.
Cutta Cutta Caves Really Cut It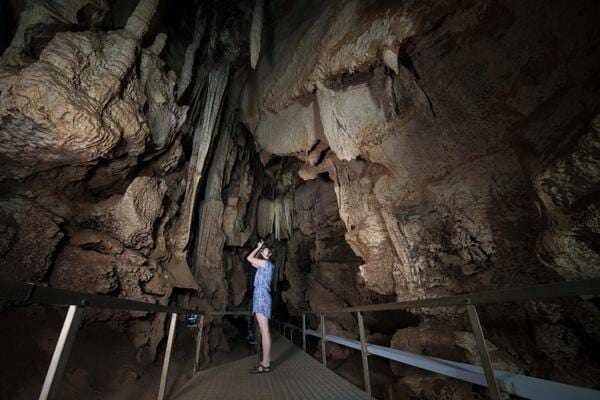 The Cutta Cutta Caves Nature Park, just 27km south of Katherine and easily accessible from the Stuart Highway, is a place of wonder - an underground series of limestone caves, 15 metres below the earth, which was created millions of years ago with the unique formations still growing today
You'll discover scintillating crystals, mysterious lakes and helicites, which defy gravity. The caves are also home to small, blind, albino micro beasts (a variety of shrimp) but they're deep inside and you'll require special permission to venture that far inside the Cutta Cutta.
You'll Never, Never Know…
Consider this: Katherine is just a few hours' drive away from the small pastoral town of Mataranka with its sandy bottomed thermal pool, local art and true bush hospitality. The area was made famous by Jeannie Gunn's 1908 novel We Of The Never Never, written about nearby Elsey Station.
That has long gone but Mataranka now boasts a replica of the Elsey Homestead, so that visitors may understand what it may have been look like to live in such an isolated part of the world. This reproduction of the original homestead was built for the 1980s' film adaptation of We of the Never Never.
The Never Never museum also has much information about about the traditional owners of the land - the Mangarayi and Yangman people.
The essence of being in the Northern Territory is to learn more about its ancient history and to spend with indigenous guides and artists who are always ready to engage you.
It's also about the living creatures who share this land. You may feel awed as you watch enormous barramundi being plucked from a billabong on the twice daily tours of Territory Manor and discover the majesty of these fish.
The Never Never was also one of the locations for Crocodile Dundee . Never Never Safari Tours will take you to the spot where it was filmed with your guide pointing out indigenous rock art along the way.
Journey from Mataranka to learn more about indigenous culture with a full day tour at Djilpin Arts and the spectacular Beswick Falls, Malkgulumbu, which is home to the world-famous Walking With Spirits festival.
Beswick Falls is only accessible with a local guide and you will spend the afternoon walking, swimming or fishing, soaking up the ancient stories of this mystical place.
For a complete change of pace, at the Djilpin Art Centre, you may explore the Blanasi Collection, a showcase of culturally significant art works in the West Arnhem painting style and curated by late elder and dijeridu master, David Blanasi. The tour organiser is Djilpin Arts.
During your holiday in Katherine, you will have no doubt tested your limits by canoeing, swimming, hurling yourself under waterfalls, trekking between the gorges and even climbing into a chopper to take it all in again. Your limbs may feel a little tender now but you will be buzzing about everything that you have done and the extraordinary people you have met along the way. Your legendary status is now complete.