Aching for adventure? The Northern Territory will set your senses on fire like no other place on earth.
From the red sands to the sapphire seas, the options of things to do in the Northern Territory read like the ultimate adventure menu. There's heli fishing, mountain biking, sky diving, meeting crocodiles (preferably only in Darwin's Crocosaurus Cove), cultural deep dives - if thirsting for utterly unique adrenaline Australian experiences, take a long drink of soul juice here.
Up, Up and Away in a Hot Air Balloon
Photo by: Tourism NT, Jesse Lindemann
The first thing to know about the Northern Territory is that it's big. Incomprehensibly, mind blowing-ly big, twice the size of Texas and six times the size of the UK. For a bird's eye view of ochre reds, sandy yellows and jungle greens, rise above it all with a hot air balloon adventure.
Floating silently over road-less desert lands, alongside the rugged West MacDonnell Ranges near Alice Springs with Outback Ballooning is the ultimate thrill and chill experience. The sense of peace is studded with the excitement of a predawn launch and spotting racing red kangaroos below.
Or use air transport as a spectacular way to get from A to B. At Kings Creek Station near Kings Canyon, guests can be choppered to a private camp-site, dining on freshly prepared 'outback fare' and discovering the wonders of the southern night sky by a campfire. Why dine five star, when you can dine under five million? Sign me up.
Hike one of Australia's Iconic Trails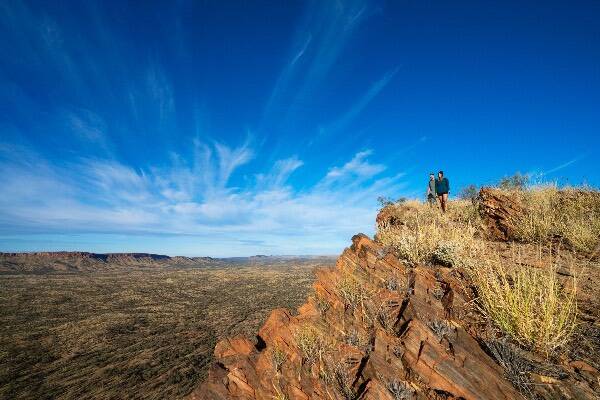 Photo by: Tourism NT, Shaana McNaught
So many hikes, so little time. And not just any hikes, but those considered the best multi-day treks in the world, such as the 231km long Larapinta Trail (voted by National Geographic as one of the world's Top 20 trekking experiences) and the 62km Jatbula Trail.
The beauty of the Larapinta Trail is that it can be broken into 12 snack size pieces (register via the government site here). Or complete a stunning segment with World Expeditions – not only will you soak up the ethereal scenery of vast flood plains, razorback rocky outcrops and the glorious scale of this ancient land, but land nightly in an eco-camp with three course meal and hot showers. So, not exactly suffering.
It's a tough call between this and hiking an ancient Song Line used by the Jawoyn people on The Jatbula Trail. The track winds through Nitmiluk Gorge, traverses the western edge of the Arnhem Land escarpment and finishes with a splash at Edith Falls. Generations of Jawoyn have left an almost tangible energy in the waterholes, sandstone plateau scrub, woodlands, monsoon forests and riverine landscapes.
If commitment shy, have a dalliance with the 39km Tabletop Track in Litchfield National Park or the Giles Track running 22km between Kings Canyon and Kathleen Springs. For short and sweet, the three hour Valley of the Winds trek around Kata Tjuta also known as the Olgas) is an astounding adventure, all before lunch.
Mountain Bike Mania
Photo by: Tourism NT, Flow Mountain Bike
Berms, hucks, rocky outcrops slots and trails snaking through rolling hills.…the Northern Territory has them all. Mountain biking is booming in the Top End and park managers are working double time to create cycle access areas. With hundreds of kilometres of hand-built singletrack, Alice Springs offers more winter singletrack miles than anywhere in Australia.
Mountain bikers know what we mean when we say there's bike-tatsic grippy soil here, but anyone can appreciate the pull of cycling alongside sweeping landscapes, flood plains, crocodiles, buffalos and barramundi.
In the Katherine region take on the newly opened 20km network next to Nitmiluk Gorge (and bring your bathers). For a true adventure, pedal through the ancient lands of Kakadu National Park and Litchfield National Park on a new five day, 1000km Australian Cycle Tours supported Top End trip.
And not to be left out, in Central Australia preliminary work is underway for the epic 200km Red Centre Adventure Ride traversing the West MacDonnell National Park. Watch these spokes.
Get Your Motor Running on a Motorised Safari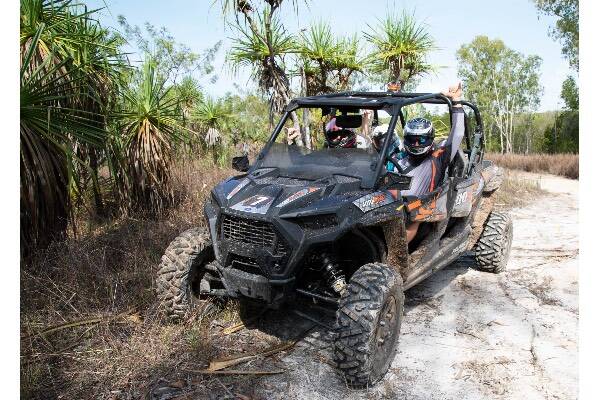 Photo by: Tourism NT
Do you prefer life in the fast lane? Then swap two wheels for four on an SSV safari adventure in the Charles Darwin National Park. You'll have a blast exploring the WW11 sites that are part of a military network that formed Australia's front-line defence. There's not only former ammunition storage bunkers and testing sites, but some of Australia's most significant wetlands, woodlands and local indigenous areas. Plus some off-roading into Hidden Valley and it's all only a 4km rev from Darwin.
Or for a radically different vibe, just an hour away head for the Top End tropical wilderness of Rum Jungle. With NT Adventure Park you'll not only quad bike along dirt roads to isolated look outs, but be introduced to native plants and vegetation in the Batchelor and Litchfield regions. Take your hand off the throttle to see frilled neck lizards, reptiles, and a mountain of wildlife in their natural environment. 

Heli Fishing
Say what? Heli fishing?! This is next level fishing and surely what James Bond would do if he ditched the tuxedo for a day. Let's be clear, no one is fishing from a helicopter. Rather it's the fishing version of a pub crawl.
On a day trip Heli Fishing Darwin with Fish The Top End, you'll helicopter between extraordinary fishing spots with around two hours of spectacular flight time over wetlands teeming with waterbirds and crocodiles.
Airborne Solutions also travel to remote spots, with an actual pub crawl. The Heli Fish Pub Crawl combines helifishing with heli pub-bing, landing at Goat Island Lodge, Darwin River Tavern and Crab Island Resort. With some rock star landings to surprise the local wildlife.
Experience a Welcome to Country (Tiwi Islands and Arnhem Land)
Photo by: Tourism NT
Australian Aboriginal culture is the oldest continual culture in the world spanning 65,000 years. There are over 40 indigenous language groups in the Northern Territory, from the Arrernte in Central Australia to the Yolngu in Arnhem Land and the Tiwi people of the Tiwi Islands, each with own unique cultural elements passed down generation to generation. And any immersion starts with a Welcome to Country.
Short on time? Larrakia descendent Trent Lee, kicks off a Saltwater Cultural Tour in Darwin with a Welcome to Country before a three-hour cultural exploration including Larrakia language tips and skills.
Further afield, combine art in your culture adventure in the art rich Tiwi Islands. A Tiwi by Design trip includes a Welcome to Country by the Wurrumiyanga community with a smoking ceremony and totem dances. Further again is Arnhem Land, this far flung, northern wedge containing some of Australia's most untouched landscapes and the art centres of Jilamara Arts and Crafts Association, Yirrkala's Buku-Larrnggay Mulka Centre and Ramingining's Bula'bula Arts Aboriginal Corporation. A Welcome to Country in this region one of the most remote and unforgettable Northern Territory cultural adventures possible.
Dip a Kayak Paddle at Katherine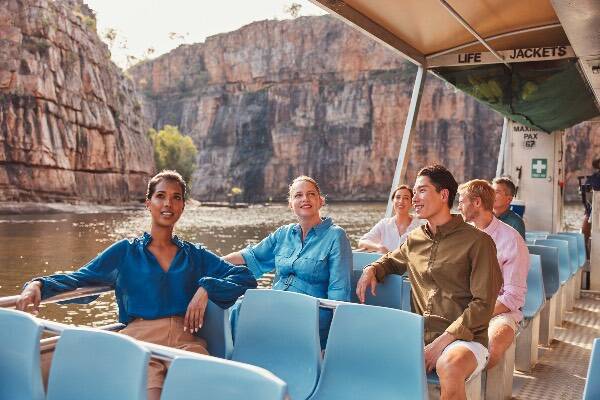 Photo by: Tourism NT + Tourism Australia
Contrary to popular belief the Northern Territory is a glorious Water World with lakes, dams, water holes, and waterfalls. Liquid adventures are a drop away.
Darwin has a plethora of paddle spots; croc-free, man made Lake Alexander is popular with locals) and kilometres of coastline. But Katherine 300km south of Darwin, is where to launch. Why? The Nitmiluk Gorge.
It's not one gorge, it's a series of twelve, some are kayak friendly and some not (hello crocs). But to splash deeper into the region, join a tour with Nitmiluk Tours (owned and operated by Jawoyn people) who are the exclusive provider of Nitmiluk Gorge, the indigenous place of the Cicada dreaming. Stay at their accommodation and take tours including a sunset dinner, rock cave art exploration and ancestor footstep walk. But if an outdoor lover, you'll love the spiritual serenity of the overnight canoe tour, past the first gorge into the more secluded 5th, 6th and 7th gorges. The landscapes in each gorge vary dramatically - each with its own shape, colours, beautiful sandstone walls and in some instances, breathtaking waterfalls.
Do Go Chasing Waterfalls
Photo by: Tourism NT, Ashley Dobson
Bring your bathers, aqua lovers. After an overload of thrill, take time-out in a surprising array of water-y options. There are thermal waters at Mataranka and Bitter Springs near Katherine, bizarre 'Lost City' sandstone spires surround a Bukalara Range waterhole and palm trees are the unexpected sight at the Central Desert's Birthday Waterhole.
But waterfalls are where it's at. The element of surprise is part of their appeal; amongst the brittle scrub creeks and rivers converge with explosive power to create falls and swimming holes fit for mermaids.
Kakadu's impressive Jim Jim Falls are 200m high with a perfect natural swimming pool below, Barramundi Falls entice with a secluded, Garden-of-Eden vibe, lush with towering sandstone walls and the waterholes of the West McDonnell Ranges may be some of the NT's most Instagrammable spots- pin drop the sandy Ormiston Gorge and the slot canyon of Redbank Gorge.
Litchfield's Florence Falls shower a plunge pool while nearby Tjaynera Falls is one of the Northern Territory's best kept secrets (accessible only via a 4WD – you might be lucky enough to flap your mermaid flippers in solitude). And add Finke Gorge National Park to any list, hosting the exotic flora of Palm Valley and enough swimming spots for days. Our top tip? A secret beach and cheeky rope swing in Gleen Helen Gorge (swim through to the right).
Enjoy Hump Day Riding a Camel
Photo by: Tourism NT, Che Chorley
You'll want hump day to be every day. We can't talk about adventure in the Northern Territory and forget camels, the ships of the desert that carried the original outback explorers. For a brief or broader encounter, you'll find expert cameleers all over the Northern Territory from Uluru, Alice Springs, through the Ilparpa Valley, the MacDonnell Ranges and Kings Canyon.
But Alice Springs is Camel Central. Trek through the magnificent red gums of the Todd River, with Pyndan Camel Tracks. The settling sounds of the bush before nightfall is a magical moment, bonding with your new gentle friend before finishing with drinks and authentic bush tucker.
Camel culture here is no gimmick - it's so ingrained in Territory life that the Uluru Camel Cup is in its ninth year and billed as the biggest small event in the Northern Territory including an Outback Ball. And it's all for a good cause - proceeds support the Royal Flying Doctor Service.
Meet Rock Stars – Like Uluru, Karlu Karlu and Kata Tjuta
Photo by: Tourism NT, The Salty Travellers
If there is one image people have of Australia it's Uluru, the 348 metre monolith rising from the arid Red Centre sands. Visitors come for the rock and discover the people who make its history come alive; you'll be hearing Pukulpa ngalya yanama, nganampa ngurakutu… Welcome to our country.
From Uluru to the red-rock domes of Kata Tjuta, the breathtaking Karlu Karlu (Devil's Marbles) and the sculpted cliffs of Kings Canyon, the Northern Territory is loaded with rocks stars. And it's not just these headliners, almost every gorge and range testify to ancient, unique geology.
But one of the greatest natural wonders of the world is Uluru. Not only is it a 550-million-year-old monolith but is a deeply spiritual place. You can feel a powerful presence on approach, a captivating sizzle best explained on a walk with a Traditional Owner revealing clandestine plant and animal life interlaced with local wisdom.
For the local Aboriginal people, the Anangu, this area hosts special cultural significance where earth and memories exist as one, and it's impossible to leave without feeling a connection to the land. There are more than 101 culturally appropriate activities to experience in the region – so there's no reason not to rock on.