Utterly unique and steamily seductive, this list of twenty things to do in the Northern Territory's capital is just a sizzling sample of what awaits in the exotic Top End.
So Hot Right Now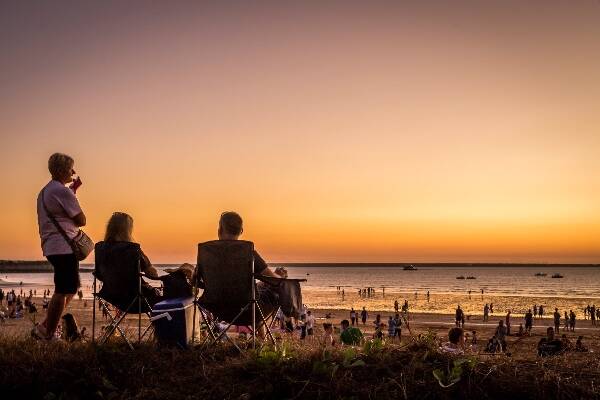 Darwin is so hot right now. And we're not talking about a recent appreciation for its laid-back vibe, thriving arts scene, and access to natural splendours. It's literally hot, in winter months leave southern States engulfed in layers to be greeted in a bear hug of 31-degree average heat. Don't discount wet season (tropical summer). Tourist numbers drop, those remaining pull up deck chairs for electrical storm displays, and thrice-daily twenty-minute downpours provide wonderful drama. The best time to visit Darwin is anytime.
Ignite Creativity at The Darwin Festival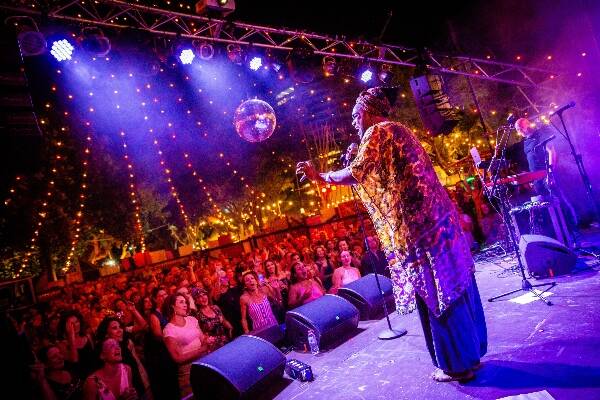 Photo by: Darwin Festival - Duane Preston
Roll up, roll up. This multi-location, multi event 18-day (and night) extravaganza drew 148,000 culture lovers pre pandemic. The festival of music, theatre and cabaret successfully turns the mirror on the thriving, confident artistic scene by tapping into the breadth and extraordinary creativity of NT talent. This year Grammy nominated UK soulstress Arlo Parks and Australian comic virtuoso Tim Minchin make their Darwin debuts.
Be Blown Away at the Museum and Art Gallery of the Northern Territory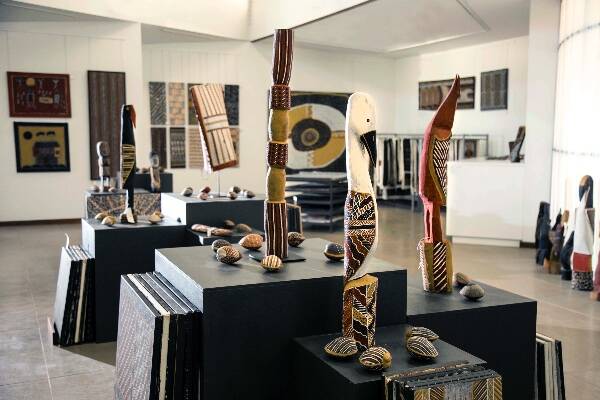 Photo by: Tourism NT
So, this is what a cyclone sounds like. The darkened sound booth at MAGNT (Museum and Art Gallery of the Northern Territory) plays a recording of 1974's Cyclone Tracey, which decimated the town and left 300, 000 homeless. The terrifying audio combines roaring wind with corrugated iron tearing into fibro walls, houses exploding from their piers and trees cracking (the anemometer broke at 217 km/ph). Don't miss the extensive collection of indigenous art from the Telstra National Aboriginal and Torres Strait Islander Art Awards (NATSIAA) exhibition, refugee boat examples and the croc Sweetheart. The best bit? It's one of Darwin's free attractions.
Darwin's Top Sunset Sundowners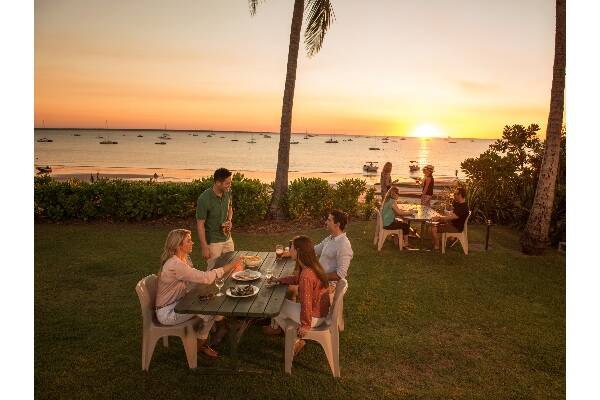 Photo by: Tourism NT - Adrian Brown
The Darwin Ski Club has been described as, 'The Best Place on the Planet'. Big call. Almost disappointingly, it's not a quirky ski club but a water ski club. This plastic table and lawn affair is perched on Fannie Bay, a Darwin landmark to watch the setting sun throw crimson hues over the Timor Sea. Also try the nearby Darwin Sailing Club or Boat Trailer Club.
Brave the Crocosaurus Cove Cage of Death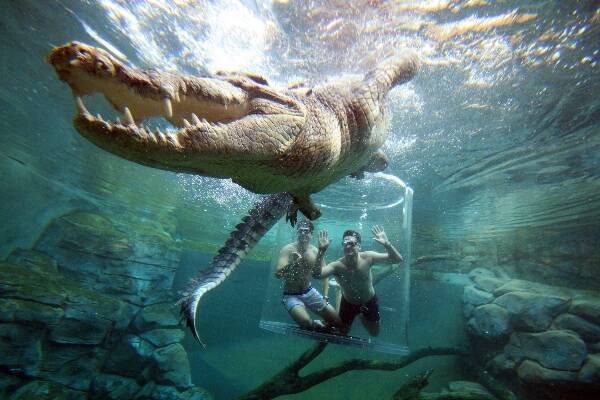 Photo by: Tourism NT - Shaana McNaught
How many cities boast A Cage of Death? Crocosaurus Cove is croc-arama, a landmark multi-level aquarium for these stomping and chomping reptilian locals. But if being lowered into enclosures in the Cage of Death, (a plexiglass tube) isn't thrilling enough, meet them up close on the Adelaide River. The Spectacular Jumping Crocodiles river cruise is where to see exactly that – it's not the place to drop your hat in the water.
The Chinese Museum - Darwin's Best Kept Secret
This pocket rocket of a museum is off the beaten track, open by appointment (email: museum@chungwahnt.asn.au 24 hours in advance). But what a find. The Chinese played an enormous part in Darwin since arriving in 1874 to work on the Pine Creek Railway. Complete lists of the community's family trees, wartime evacuees, and documented WWII bombing memories make it both incredibly moving and one of the most comprehensive collections of an ethnic group in any capital city. You wouldn't be the first to be moved to tears.
Mindil Markets And More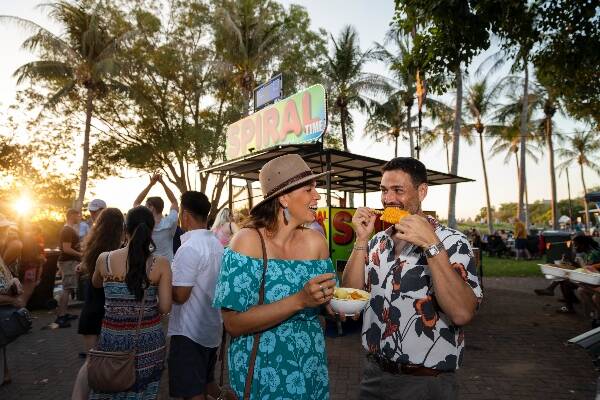 Photo by: Tourism NT - Shaana McNaught
Darwin has a basketful of markets. At renowned Mindil Beach Sunset Market grab a mango smoothie and mudcrab roll at sunset among the crowds in fishermen pants twirling fire sticks (Thursday and Sunday nights in April October, 4pm – 9pm). On weekends, Rapid Creek Markets (7am – 2pm) is where locals grocery shop for fresh produce and hard to find Asian ingredients. Saturday at Parap Markets (8am - 2pm) is for art lovers with multiple galleries nearby.
Lap Up Local Life at The Wharf and Deck Chair Cinema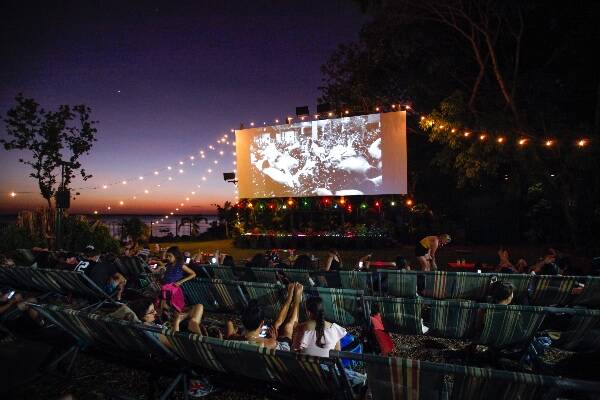 Photo by: Tourism NT - Friederike Franze
This is the best thing to do in Darwin. For the ultimate taste of Territory lifestyle, do a Wharf dinner and Deckchair Cinema combination whammy. Snare a seafood Pho from Portside Char and Grill while elevated above the Timor Sea (due to the eight metre tides). Seafood and Asian together? So Darwin. Then head for Deckchair Cinema, loll back and envy the locals their Friday ritual.
Experience The Front Line at The Darwin MiliTary Museum
Photo by: Tourism NT - Shaana McNaught
Some overlook that Darwin was bombed. But bombed it was, with the first Japanese raid on February 19, 1942 and 63 subsequent bombings over two years. Darwin was (and is) Australia's front line, and the East Port Fortifications at Fannie Bay featuring remnants of bunkers, command posts and gun placements brings history to life. Visits to the WWII Oil Storage Tunnels and the Darwin Military Museum are significant Darwin attractions recognising it's extraordinary past.
Take To the Streets for People Watching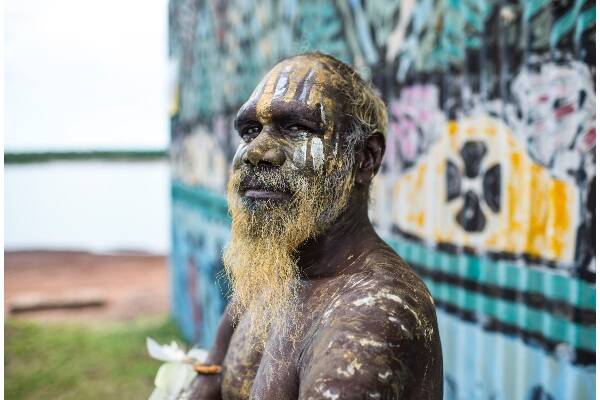 Photo by: Tourism NT - Shaana McNaught
Just soaking up the atmosphere is a top Darwin activity, with a melange of multi racial residents and customs. From Japanese and Indonesian pearl-shell diving descendants to visiting outback cowboys, local indigenous clan members, backpacking Scandinavians and more, all walks of life are represented. As the city lives outdoors pick any street corner in the town centre and watch the world wander by.
Explore Street Art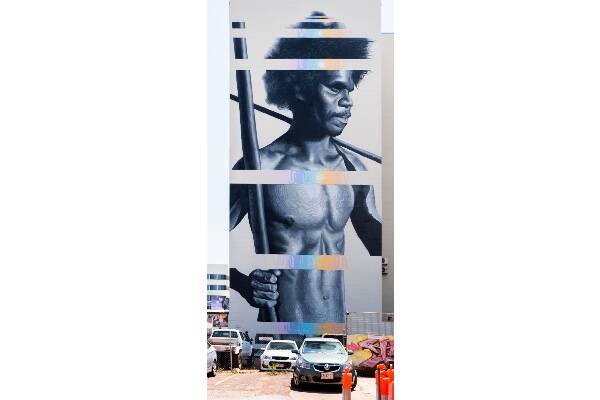 Photo by: Tourism NT - Darwin Street Art Festival
Get your graffiti on around Darwin's main street. Multi-storey murals from the Darwin Street Art Festivals have revitalised buildings into powerful public art displays. Now the art is coming off the wall in the best way via technology – thirteen of the 60 murals have augmented reality. Download the Darwin Street Art Festival app for 3D Darwin sightseeing.
darwinstreetartfestival.com.au
Delve Into Darwin's Indigenous Culture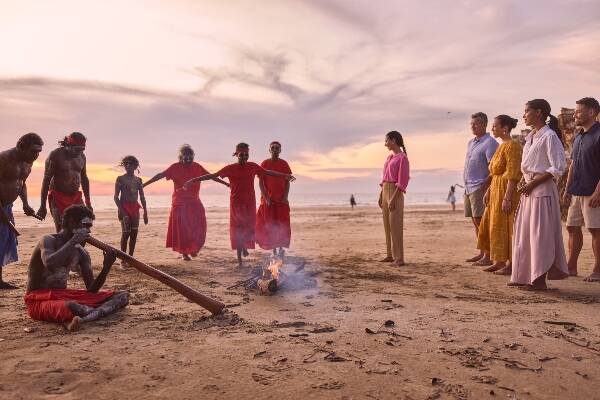 Photo by: Tourism NT and Australia
The Aboriginal Larrakia people are the Traditional Owners of Darwin's land and surrounding sea and their 60,000-year-old culture is rich and thriving. The Matboerrma Walk in the George Brown Botanic Gardens gives insight on how the Larrakia people harness native plants (download the app), head to the bush food café at Lyon's Cottage drop into a multitude of galleries including the Aboriginal Fine Arts Gallery or go direct to the artist with a Sea Link ferry ride and tour of the Tiwi Island art centres
Go Troppo For Tropical Architecture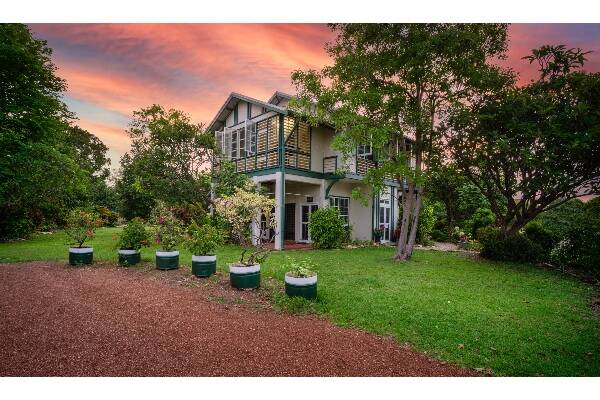 Photo by: Tourism NT - Shaana McNaught
Burnett House is a rare authentic Darwin house, built for high-ranking officials, that survived cyclones and bombings. Step up the stairs and back in time to a simpler moment, when life was about louvered windows, a mosquito net and a balcony set for an afternoon G & T. A hidden attraction is their Devonshire Tea on the third Sunday of the month in the 70-year-old azalea garden.
Revel In Nature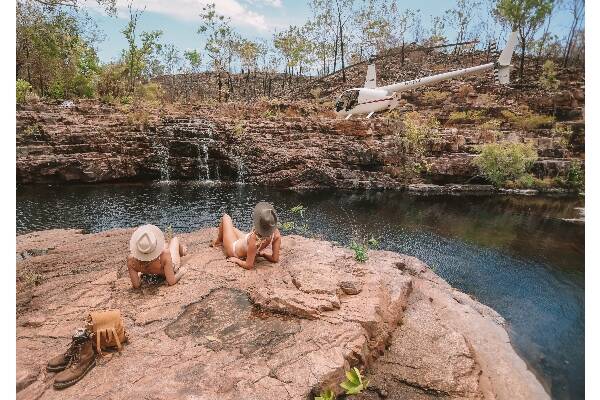 Photo by: Tourism NT - Lucy Ewing
Surrounding Darwin is an abundance of natural splendours. There's the culturally rich Tiwi islands, mesmerising Arnhem Land, infinite Kakadu Park but Litchfield Park is the most easily accessed. In 90 minutes from Darwin you can be sitting under Florence Falls, seeing five-metre-high termite cathedrals, or heading to a billabong for an Aboriginal Welcome to Country greeting. This may sound touristy, but with Offroad Dreaming expert guides it's s the real deal.
Pause for a Cuppa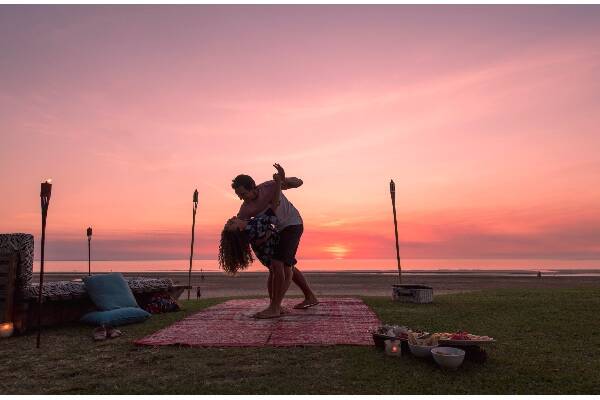 Photo by: Tourism NT - Shaana McNaught
There aren't many cafes requiring passing security to enter, but Speaker's Corner Café is one of them. Located in Parliament House, this café is a locals' secret, loved for the outdoor tables on manicured lawns. Four Birds (next door to the ABC you'll run into a journalist or three) is the spot for a Melbourne-esque latte, as is Parap's Laneway. You'll find the funky squad and relocating east coast families pulling into a hammock at beachside De La Plage.
Chill With A Cool Beverage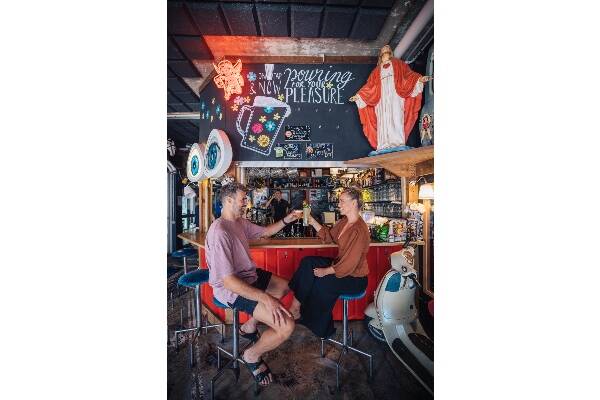 Photo by: Tourism NT - Backyard Bandits
Nothing slides down better on a hot day than a cold beer. Or a mango, watermelon, and lime juice. Or a lengthy gin menu. The latter can be found upstairs at Charlie's of Darwin, part of a buzzing night scene around the intersection of Knuckey Street and Austin Lane. There you'll also find The Loading Bay (sister to Little Miss Korea). Head to Parap's Darwin Railway Club (aka The Rails) for the best live music and if it's beer you're thirsting for, Six Tanks Brew Pub is all about craft beers (with yes, six tanks). For a chaser, add Willing Distillery, retro-themed Babylon, new 1920s-inspired cocktail lounge Hanky Panky and circus-themed bar Lola's Pergola tp your drinks menu.
Food, Glorious Food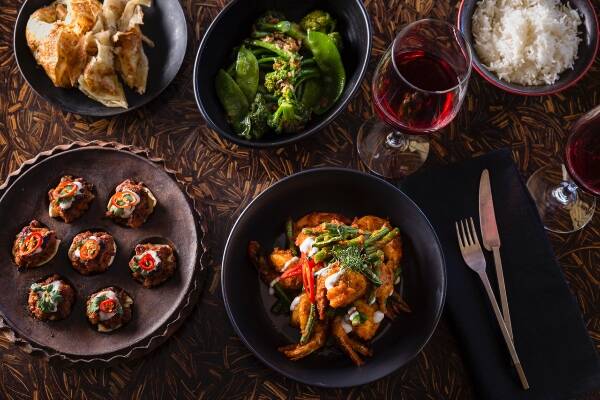 Photo by: Tourism NT
From the ramshackle gem of The Laska House and its East Timorese flavours, to dumplings at Little Miss Korea , YOTS Greek in Cullen Bay, and coconut crusted crocodile at Pee Wee's On The Point, the multicultural offerings are mouth watering. Heading the food charge is Hanuman Darwin, a fusion of Thai and Indian flavours by Darwin's celebrity chef Jimmy Shu. For the latest and greatest, head out on a 3 hour degustation tour and meet the chefs with Darwin Gourmet Tours.
Splash in the Darwin Waterfront Precinct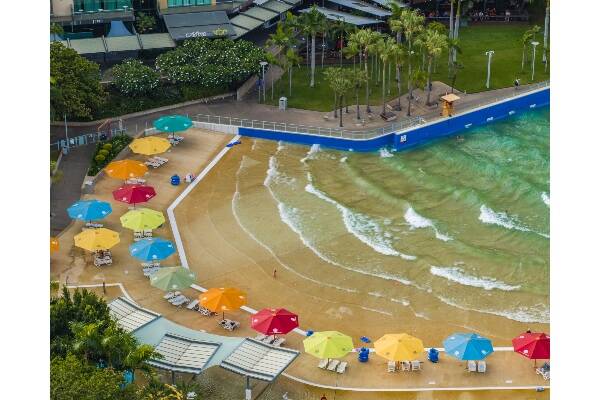 Photo by: Tourism NT
Swim in the sea and risk being chomped by a crocodile. Alternatively, merrily dolphin dive around the Darwin Waterfront Precinct. There's the 4,000 square metre wave pool with separate area for little ones, the free Recreation Lagoon (continuously replenished with fresh, filtered seawater) and a bucket of dining options a stone's throw from the water. Or venture beyond the seawall for sunset cruises, fishing tours or jet ski adventures.
The Airport Which Never Sleeps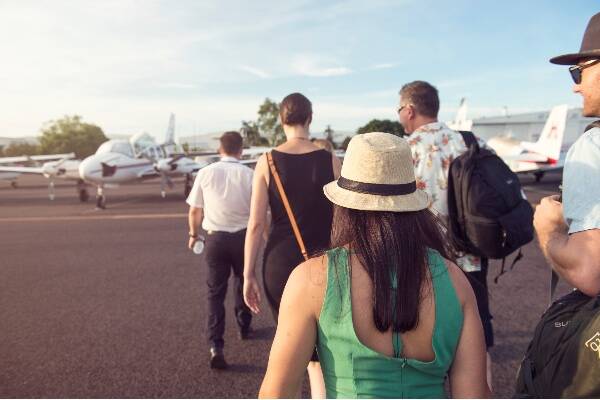 Photo by: Tourism NT - Shaana McNaught
The city may sleep, but Darwin International Airport doesn't. It doubles as a military base, thus there's oddly no curfew. Unconventional airport times (2am departure anyone?) means a seamless transit from dance floor to flight, squeezing the maximum from holiday time.
Solo Travellers
The population average is 33 years old, and 30% are transient. For solo flyers it's a friendly town. "Hi welcome to Darwin, can I buy you a drink?" is an oft-heard phrase. It's just that kind of place.