This city is the keeper of important Australian history, and Darwin's museums and galleries provide some of the best insights into Australia's Indigenous art and culture, its military and aviation history, the destruction of Cyclone Tracy – and of course, the Northern Territory's crocs. Darwin is the place of the Larrakia people, the traditional custodians of the land who have had a special connection with the earth and wildlife here for more than 65,000 years.
Make time to experience these Darwin museums and galleries when you visit, and uncover much more than you expected on your Darwin holiday.
Visit the Museum and Gallery of the Northern Territory (MAGNT)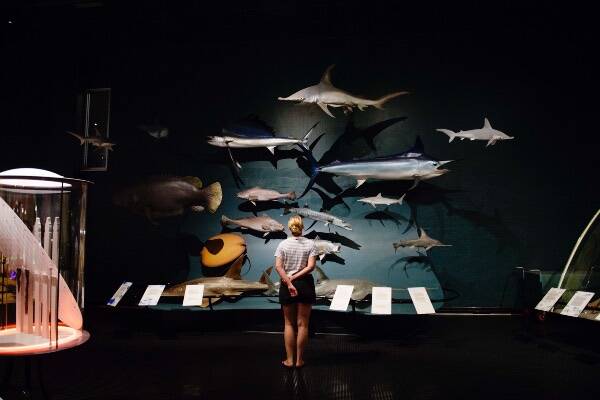 Photo by: Tourism NT - Elise Derwin
In a beautiful spot on Larrakia Land overlooking Fannie Bay, the Museum and Gallery of the Northern Territory (MAGNT) is the best starting point to discover internationally renowned art, science and historical collections, as well as its engaging public program to encourage immersion and interest in the arts, science and nature.
The MAGNT houses resident exhibitions including Transformations which traces human's evolutionary timeline, and is the home of the Telstra National Aboriginal and Torres Strait Islander Art Awards (NATSIAA) showcasing the very best contemporary Indigenous art. Join creative workshops, listen to talks from artists, historians, ecologists and scientists and tour the museum's acclaimed exhibitions and say hello to Sweetheart the saltwater crocodile.
MAGNT is also home to the Cyclone Tracy Museum where you can feel, hear, see and learn about the devastation the cyclone brought to Darwin in December 1974.
Address: 19 Conacher Street, The Gardens, Darwin
​Opening hours: Daily from 10.00am – 4.00pm
Entry is free
Traditional boats and canoes at the Colin Jack-Hinton Maritime Gallery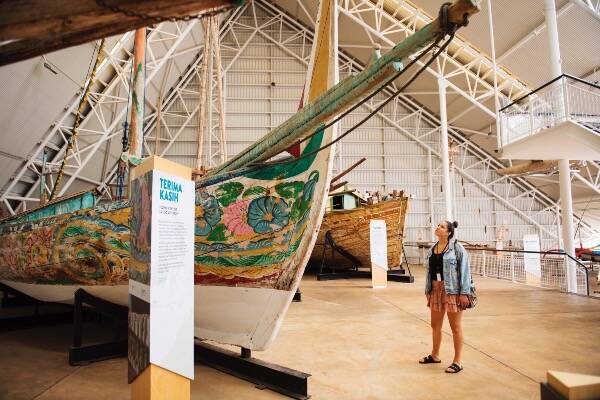 Photo by:: Tourism NT - Elise Derwin
Immerse yourself in a special part of Australia's maritime history at Darwin's maritime museum. The spacious gallery houses traditional boats and canoes that are connected to Australia's Top End through trade and exploration. From pearl luggers to outrigger canoes, each vessel tells a story of the ocean and the seas, of Australia's relationship with South East Asian and Pacific nations, and how mastery of the ocean has developed and evolved over the years.
Address: 19 Conacher Street, The Gardens, Darwin
​Opening hours: Daily from 10.00am to 4.00pm
Entry is free
Explore prison history at Fannie Bay Gaol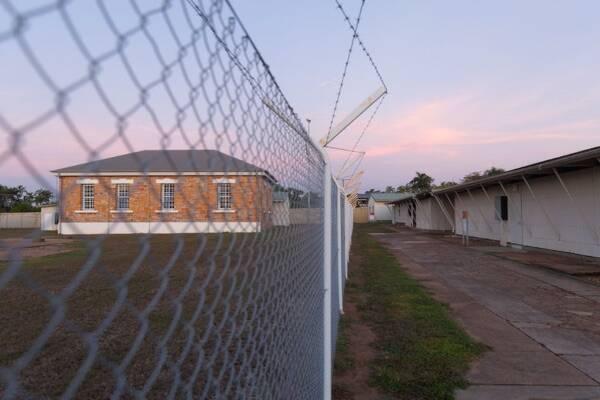 For almost 100 years Fannie Bay Gaol was Darwin's main prison for both men and women. There was a special garden in the female prisoners' block to 'keep them busy' and a "native" area for Aboriginal prisoners. The last executions in Darwin were held at Fannie Bay Gaol in 1952, and visitors can see the original gallows – built especially for the executions – and pull the level for the trap door.
Make sure to tour original buildings, built in the late 1800s and early 1900s and read stories about daily life and prisoners who were incarnated here. It's a 10 to 15 minute walk from here to the 1934 Qantas Hanger.
Address: Corner of East Point Rd & Ross Smith Ave, Fannie Bay, Darwin
​Opening hours: Wednesday to Sunday from 10.00am to 2.00pm
Entry is free
Defence of Darwin Experience at the Darwin Military Museum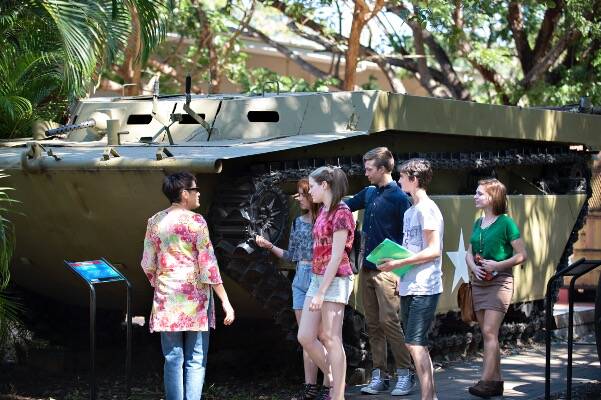 Photo by: Tourism NT - Shaana McNaught
The Japanese bombing of Darwin Harbour on 19 February 1942 was the biggest military attack on Australia in history, and the Defence of Darwin Experience should be top of your list of museums to visit in Darwin to learn all about it. Interactive exhibits share the terror and impact of 188 Japanese aircraft attacking the harbour, and the memorabilia housed in this museum is the best in Australia – you will need at least a few hours here.
Exhibits include first-hand accounts from men and women who experienced the bombing, a short film explaining the bombing - and sharing actual footage of the attack from 75 years ago - and exhibits about the impact the bombing had on life in Darwin.
You can also download the Defence of Darwin Experience app and explore 16 World War II heritage sites around the Top End including airfields, a field hospital and a plane crash site. This self-guided tour also takes you on two walks along the Darwin Esplanade and includes images, footage and accounts from people who were part of Darwin's rich military history.
Address: 5434 Alec Fong Lim Drive, East Point, Darwin
​Opening Hours: Monday to Saturday from 9.30am to 4.00pm; Sunday: 10.00am to 3.00pm
Entry: Adults $20, children & seniors $10, children under 5 are free
Find old transport treasures at the 1934 Qantas Hanger Darwin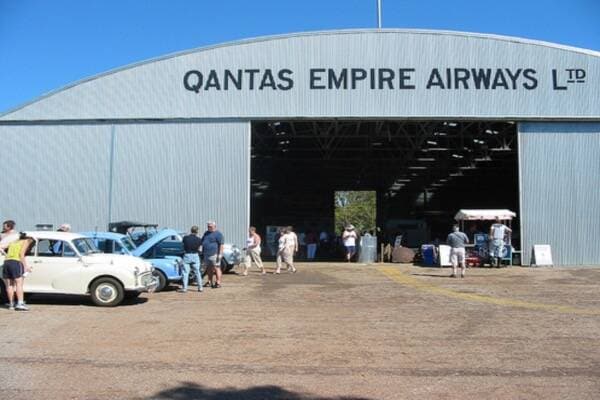 If you're interested in machinery then a peek inside the old Qantas hanger will really get your pulse racing. Originally built in 1934 to house the Qantas and Empire Airways planes servicing the England to Australia route, inside you will find a treasure trove of antique cars, locomotives, engines, motorbikes, buses, trucks, fire engines and the first solar car.
Address: 22 MacDonald St, Parap NT 0820
Opening hours: Monday to Friday 9.00am to 4.00pm, Sunday 9.00am to 12.00pm
Entry is by donation
Explore vintage planes at the Darwin Aviation Museum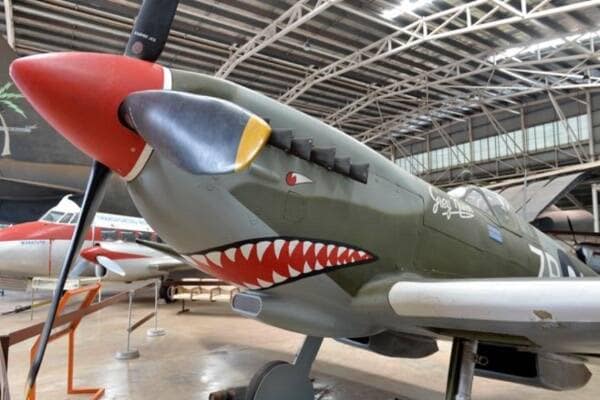 Photo by: Tourism NT - Elise Derwin
History lessons are fascinating and fun here at the Darwin Aviation Museum, one of the best museums in Darwin to visit, and perfect for all the family. Learn all about Darwin and Australia's aviation history, see 19 aircraft – you can even climb inside - including a rare B52 Mitchell bomber, and relics from crashed aircraft. The inspirational story of Amy Johnson, the first female pilot to fly alone from Britain to Australia in 1930 is shared here alongside other aviation achievements.
Address: 557 Stuart Highway, Winnellie NT 0820
Opening hours: Every day from 9:00am – 5:00pm

Learn about Darwin's modern cultural history at the Northern Territory Chinese Museum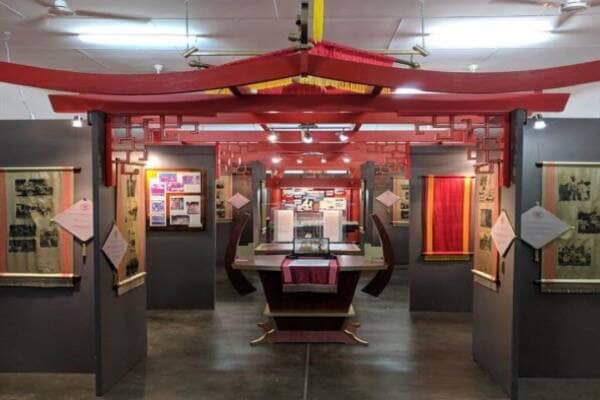 The Chung Wah Society cares for Darwin's Chinese Temple, the Chinese Museum and holds Chinese festivals and culture performances throughout Darwin. Chinese people arrived in Darwin in 1974 and immediately started contributing to the growth and success of the city. Browse artefacts, photographs and memorabilia and learn about the important role Chinese people have played in the development of Darwin and the Northern Territory.
Address: 25 Woods St, Darwin City NT 0800, Australia
Open by appointment: Contact Neville 0488 595 881
Chinese Temple
Opening hours: Daily from 8.00am to 4.00pm
Entry is free
Royal Flying Doctor Service Darwin Tourist Facility & the Bombing of Darwin Harbour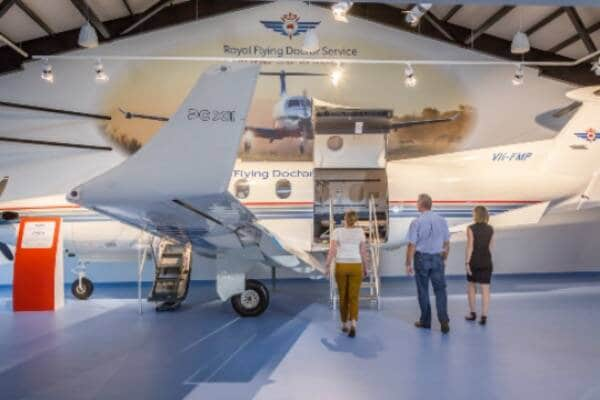 Photo by: Tourism NT - Nick Pincott
The Royal Flying Doctor Service (RFDS)
Australia's Royal Flying Doctor Service (RFDS) was started by Reverend John Flynn to provide medical and health services to the outback, and it arrived in the Northern Territory in 1939. The museum is full of interactive exhibits sharing the work of pilots, engineers, doctors and nurses, and their stories of providing essential medical services to the outback. Test the pedal radio used to communicate with the RFDS, watch virtual reality stories as patients relive their experiences, and watch a hologram of John Flynn as he shares his vision for the RFDS.

The Bombing of Darwin Harbour
Learn about the 1942 bombing of Darwin Harbour at this world class Darwin museum. The bombing of Darwin Harbour bought devastation to Darwin city and fear to Australia, and the museum is full of interactive exhibits, first person accounts and replica ships and aircraft. A full size replica of the Japanese zero aircraft used in the attack hangs from the ceiling, and visitors can experience the bombing through the largest virtual reality production in the world.
Address: 45 Stokes Hill Road, Stokes Hill Wharf, Darwin 
Opening hours: Daily 9.00am to 4.00pm (last entry 3pm) Public Holidays: 10:00am - 3:00pm (last entry @ 2:00pm)
Swim with Crocs at Crocosaurus Cove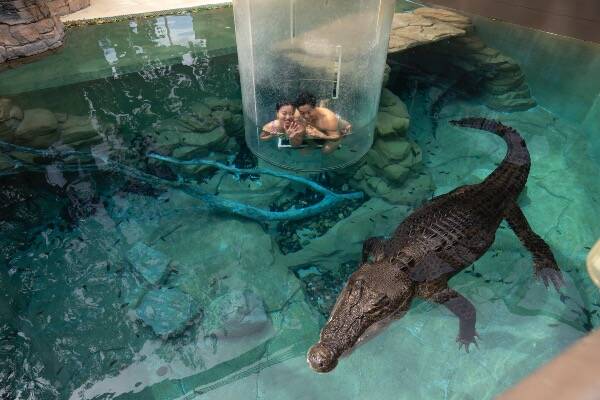 Photo by: Tourism NT - Shaana McNaught
Crocosaurus Cove is home to the world's largest collection of Australian reptiles and some of the Australia's biggest saltwater crocodiles. It will get your blood pumping and your adrenaline rushing because here in Darwin at Croc Cove you can dive with a huge saltwater crocodile for 15 minutes in a glass cage – it's called the Cage of Death and it is not for the faint hearted!
If you're not feeling up to swimming with crocs, the museum is full of exhibits and educational shows. There are more than 70 reptile species and you get up and personal with many of them in the daily Meet the Reptile shows. The Big Croc Feeding show is at 11.30am and 12.30pm daily and visitors will meet famous residents such as Burt, the star of the Aussie movie, Crocodile Dundee. You can swim with juvenile crocs in Croc Cove's unique swimming pool that makes it look like you are actually swimming with the crocodiles, and feed crocs from fishing lines with meat attached to the end and watch as they leap from the water to grab it.
You can also hold a baby croc, see an aquarium show and explore the turtle billabong. Make sure you have time to check out the World of Crocs with 14 different Crocodilian wax replicas on display!
Address: 50 Mitchell St, Darwin City
Opening hours: Daily from 9.00am to 6.00pm (last entry 5pm)
Tickets start from $38 for adults and $23 for children. Check out family passes too.
Ride in a World War II truck on the Darwin History & Wartime Experience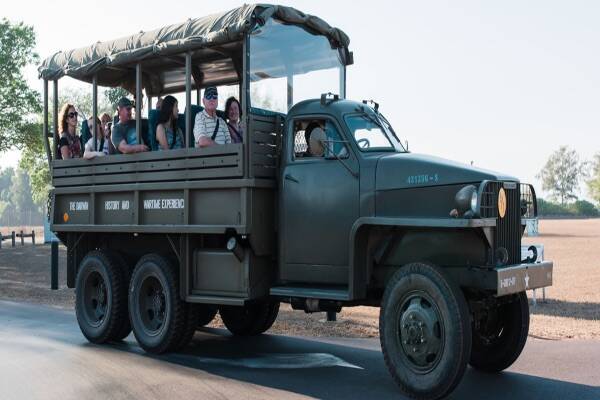 Climb aboard a World War II army truck to and step back in time to experience Darwin's military past. This fun guided tour will take you around Darwin in an authentic World War II truck to learn about and experience Darwin's military and natural history. The tour visits historical landmarks, buildings and museums including Government House, Fort Hill Wharf & Harbour, Parliament House, Charles Darwin National Park, Ammunitions storage bunkers, East Point Gun Battery & Military precinct, Anti-aircraft gun emplacements and the 1934 QANTAS hangar.
You guide will share everything about pre-war Darwin, the bombing of Darwin Harbour and the impact of Cyclone Tracy, and introduce some of Darwin's most notorious and beloved characters.
Address: Meet at outside the Tourist Information Office at the top of Smith St Mall, on the corner of Bennett St and Smith St.
Tours start from $50 per person
Indigenous Art at The Mason Gallery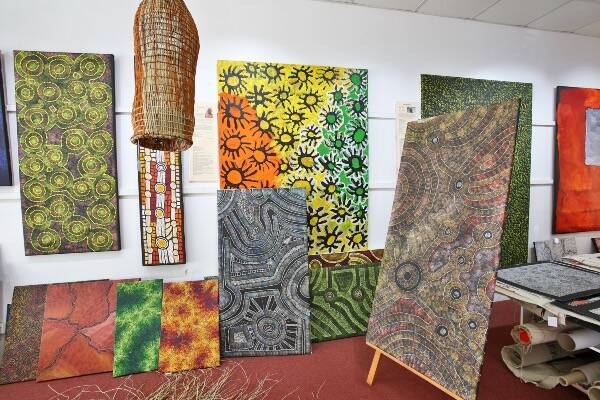 Photo by: Tourism NT
The Mason Gallery is a family business sharing and selling Indigenous works from many of the major artists from the Western Desert, Utopia Eastern Desert, Arnhem Land and the Top End. The Mason Gallery, run by daughter Debra, is one of the most reputable galleries in the Northern Territory for its close connection with the communities of Arnhem Land and exhibits and sells stunning artworks, pandanus woven baskets, bowels and mats and wooden carvings.
Address: Shop 7, 21 Cavenagh Street, Darwin
Explore Darwin's Street Art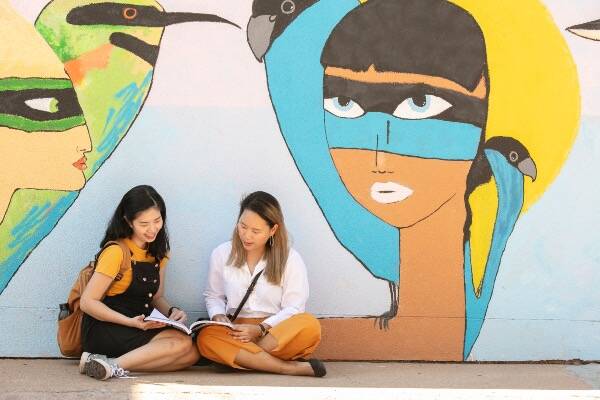 Photo by: Tourism NT - George Frangopoulos
Since 2017 the Darwin Street Art Festival has been brightening the streets of Darwin with incredible artworks and murals that create an outdoor gallery on the walls of the city streets. In August and September each year, local, national and international artists descend on Darwin's streets for two weeks, taking over the city and sharing their artwork on its walls. You can wander the streets at any time to see Darwin's street art, and take a self guided tour.