There's no denying it: when it comes to natural swimming holes, Kakadu's offerings are up there with the best of them. Most famously, the national park is known for Gunlom Falls, which has an oft-photographed pool at its top, like nature's ultimate infinity pool. These five swimming spots are lesser known, but just as magical. Which is your favourite?
1. Motor Car Falls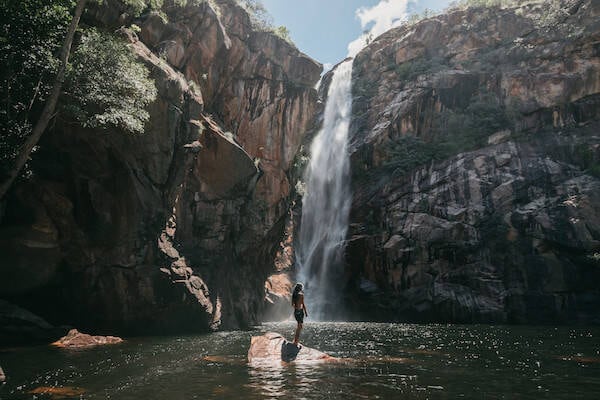 Trek the 7.5km-return Yirmikmik walking trail to reach this life-sized terrarium: a breathtaking forest-green swimming pool set beneath cavernous cliffs and a large, flat 'launching pad' boulder. Motor Car Falls is frequented by lace-wing butterflies and black wallaroos; best of all, it's open all year round.
2. Kurrundie Falls

Follow the longer 14km-return Yirmikmik trail, passing Motorcar Falls, to arrive at this perfect picnic spot: Kurrundie Falls. Here, a cluster of boulders drops down to a teal-toned pool. On the site's far side, a slip of polished rock leads to a waterfall so artful it's reminiscent of sculptures from the modernist art era.
3. Maguk Falls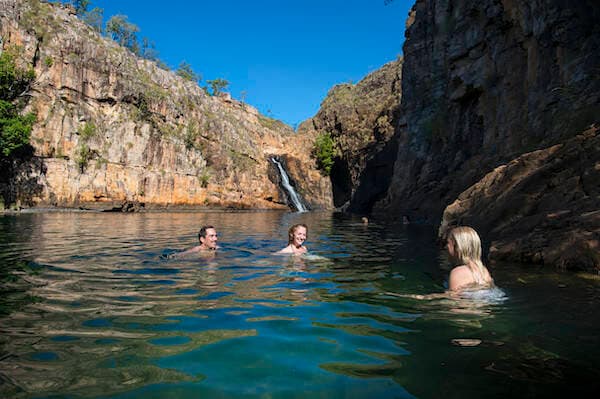 Embark on the Maguk Walk and be rewarded with photogenic swimming spots you'll never forget. Hidden behind wattle trees, Maguk Falls' lower pools are a magnet for visitors to the southern region of Kakadu, but a lesser-known gem is this site's upper pools. These offer jaw-dropping views to the dark cliffs and waters below, as well as a private swimming hole walled by peach-coloured stone.
4. Moline Rockhole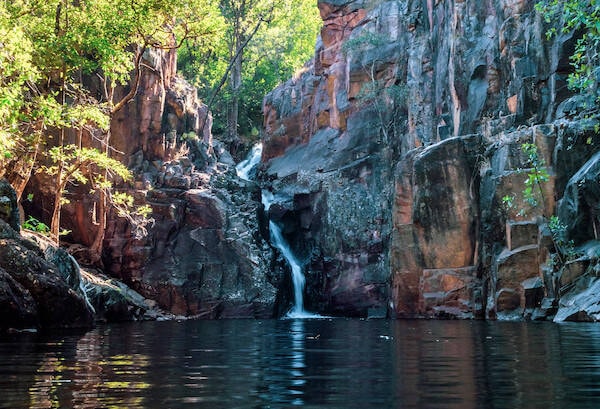 Set a short distance off the Arnhem Highway (five kilometres from the Mary River Ranger's Station), Moline Rockhole is a small waterhole with decidedly pretty surrounds. Fish fill its crystal clear waters, it's open all year round, and there's a camping spot for one tent if you happen to get lucky and find yourself without wild swim rivals.
5. Koolpin Gorge
Accessible with a permit or on a Spirit of Kakadu tour, Koolpin Gorge is an 'island' within Kakadu, in that it's home to wildlife species found only in this area – such as the hooded parrot and the Kakadu dunnart (a small endangered marsupial). Follow Koolpin Creek uphill on the Jarrangbarnmi Walk to a heart-shaped plunge pool and a network of intricate waterfalls.
Keen to visit? Start your trip to Kakadu with a flight to Darwin. Check out airfares now!